3 Key Erik Karlsson Rookie Cards – Beckett Pricing Insider
Sometimes, you just have to wait. For months on end, the NHL community has been buzzing about the possibility of star defensemen Erik Karlsson being traded
That finally happened last Thursday as the Senators sent the two-time Norris Trophy winner to San Jose in exchange for four players and four draft picks. The move ended months of speculation about Karlsson being moved after he did not resign with Ottawa in early July and trade offers from Dallas and Tampa Bay did not come to fruition.
With the waiting finally over, and the dust settling before training camps start to open, Sharks fans and Karlsson collectors alike should be ready to make some trades of their own when it comes to his cardboard.
Here are three key Erik Karlsson Rookie Cards you should be looking for to add to your collection.
2009-10 The Cup Erik Karlsson Auto Patch RC #125 /249 (High BV – $400)
As high-end collecting goes in hockey, there are none more so than The Cup from Upper Deck. Currently, that is where you will find the most expensive Erik Karlsson Rookie Card. Only three rookies in the set that had a print run of 99, and thankfully for Karlsson collectors he wasn't one of them. Collectors of The Cup know that you can expect to pay a premium for these cards, depending, of course, on the patch associated with the card. Typically, the nicer the patch, the higher the asking price. In this case, Erik isn't going to break the bank and finding one may not be too difficult as Senators collectors may start to move them.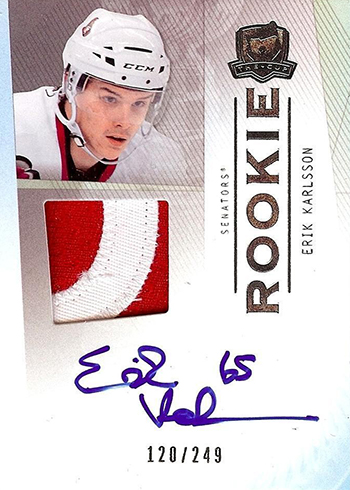 2009-10 SP Authentic Erik Karlsson RC Autograph #209 /999 (High BV – $200)
While you may not find his Rookie from The Cup readily available, you shouldn't have that issue with SP Authentic. It helps that high book tops out at $200, but you can regularly find them on the secondary market in the $125-$175 range. This is one of those cards where the asking price isn't astronomical and yet it's still a great autographed piece to have in your collection. If you are looking for a mid-range pickup, then look no further. You found it.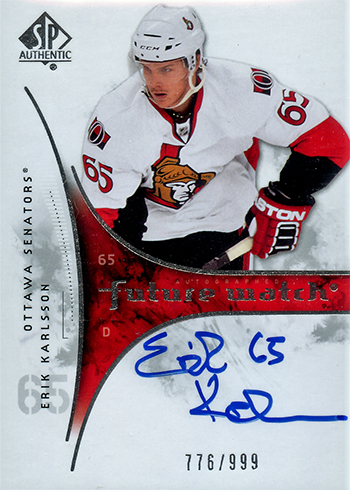 2009-10 Upper Deck Erik Karlsson RC YG #210 (High BV – $60)
If you aren't looking to roll out the Brink's truck or you're a collector on a budget, then Karlsson's Young Guns should be about right. It's affordable with a high book of just $60 and you can typically find more than a few on the secondary market for less than that. This particular card has found itself on the Hot List more than once during the last calendar year as well, so you know it's popular.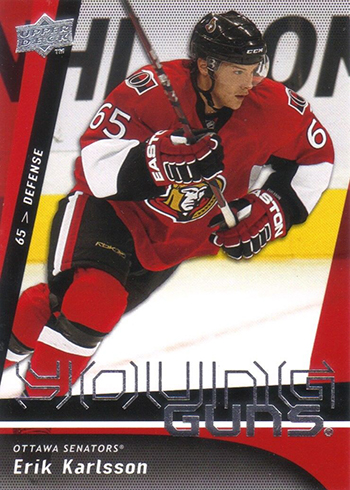 This edition of the Beckett Pricing Insider is sponsored by Classic Auctions.