3 Key Card Sales: Joe DiMaggio – Beckett Pricing Insider
This edition of the Beckett Pricing Insider is sponsored by MVP Sports Collectibles.
On November 27th, 1947, Joe DiMaggio bested Ted Williams for the American League MVP award by a single vote point. While DiMaggio's season was nothing to scoff at – a .315 average with 20 home runs and 97 RBI for the World Champion Yankees – Ted Williams had turned in one of the greatest single-season performances in baseball history, winning the AL Triple Crown with a .343 average, 32 home runs and 162 runs batted in.
While not as popular as fellow Yankee legends Babe Ruth and Mickey Mantle, DiMaggio is still a heavily collected player in the hobby.
Let's take a look at a few key recent Joe DiMaggio card sales from the secondary market.
1933-36 Zeenut PCL Joe DiMaggio Batting #109 – $1,400
The cards in this issue highlight Minor League players in the Pacific Coast League, including a young Joe "DeMaggio" as his name was spelled on the card. This ungraded example has seen better days and was offered for sale poor condition.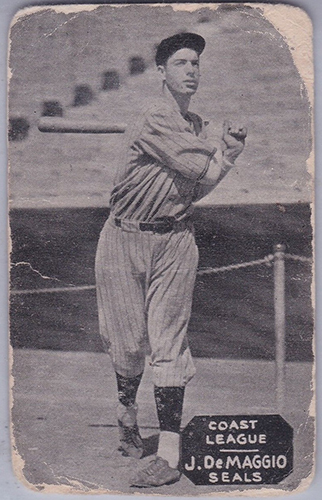 2018 Topps Luminaries Cut Signature Relics Joe DiMaggio #CSJD 1/1  – $901.50
One of two different DiMaggio cut signature cards in this insert set, he appears on 290 other certified autograph cards in the Online Price Guide. This one has some added notoriety thanks to its relic swatch.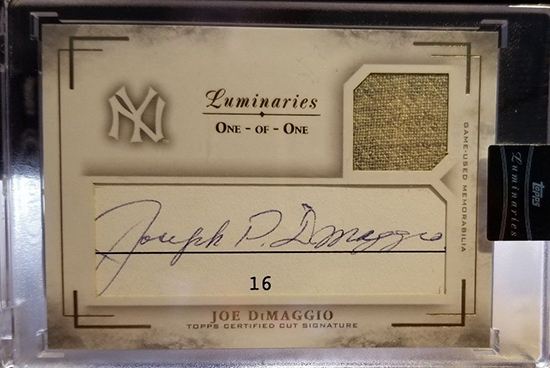 2004 Sweet Spot Classic Signatures Red Joe DiMaggio #SSA34 /86 – $700
The Sweet Spot autograph cards were some of the most innovative cards ever produced when they were released in 2001. While the majority of the Sweet Spot autograph cards feature signatures on a baseball-like leather, a handful of cards were produced through the product's run that featured actual "sweet spot" sections of real baseballs cut to fit on a card. This DiMaggio was one of those examples, as he had died five years before this card was produced. Adding to the desirability of this example, a signature with the "Yankee Clipper" inscription was used.