3 Key 2019 Panini Prizm Draft Picks Football – Beckett Pricing Insider
This edition of the Beckett Pricing Insider is brought to you by GTS Distribution. Watch Go GTS Live – The Hobby's Web Show, every Thursday at 9 PM EST.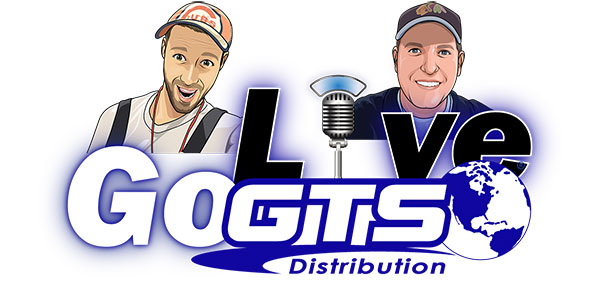 It is the start of a new collecting year and the first 2019 Panini football product has dropped. 2019 Panini Prizm Draft Picks has been live for almost a couple of weeks now and collectors are eating it up. With autographs from all of the hottest draft prospects and tons of colored parallels to chase, there's lots to be found.
Below are some of the biggest sales so far, setting the pace for the product.
2019 Panini Prizm Draft Picks Autograph Prizms Camo #101 Kyler Murray /15 – $530
Of course, we have to start with the projected first overall pick. Nine of the top ten sales from this product so far belong to Kyler Murray. With the draft around the corner, interest in his cards are going to remain high.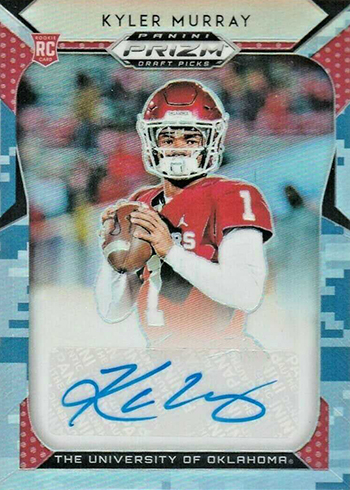 2019 Panini Prizm Draft Picks Autograph Prizms Gold #126 Nick Bosa /10 – $300
Bosa is going to be joining his brother, Joey, in the NFL shortly. He is being touted as the best player in the 2019 draft class and is a nightmare pass rusher for quarterbacks. Many are projecting he'll go second overall to the San Francisco 49ers. If he can help turn that team around and they start winning the potential is there for his card values to rise even higher than they already are.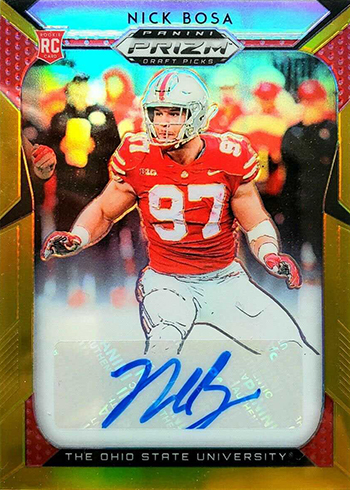 2019 Panini Prizm Draft Picks Autograph Prizms Mojo #110 Drew Lock /20 – $200
Lock is arguably the best quarterback in the draft not named Kyler Murray. Predictions have him going to Denver to one day be their franchise play caller. It helps when John Elway thinks highly of you.