3 Key 2018-19 Upper Deck Trilogy Sales: Beckett Pricing Insider
This edition of the Beckett Pricing Insider is sponsored by Grizzly Sports Cards.

Upper Deck's latest hockey product dropped on Friday which meant the hobby had the weekend to respond and react to what 2018-19 Upper Deck Trilogy had to offer. As should be expected it was Canucks rookie standout Elias Pettersson that garnered the most attention out of the box, but there were a few other players that warranted some attention as well. Here's a look at 3 Key 2018-19 Upper Deck Trilogy Sales that happened over the weekend.
 Marc-Andre Fleury Personal Scripts (Sold for $86)
Much like Pettersson, this shouldn't really be much of a surprise either. The Vegas fan base is still riding the wave that took them to the Stanley Cup Finals last season and a huge part of that success was the outstanding play of Fleury. When you pair that with the very timely inscription of "Vegas Born" add by the netminder what you have is a card that any Golden Knights fan will want to add to their collection. The Personal Scripts set has overall odds of 1:800 packs, but when the breaking down the group odds they get a little bit tougher. Look for collectors to chase this set as it's a standout in Trilogy this year.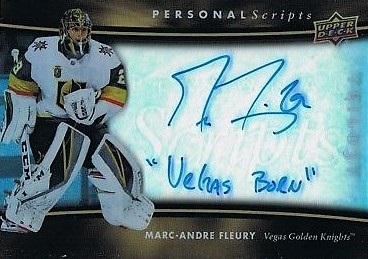 Jesperi Kotkaniemi Black Parallel (Sold for $70)
Jesperi Kotkaniemi has been a strong second to Pettersson on the rookie secondary market this season. Well, if not second, definitely Top 5 with Mittlestadt, Dahlin, and Heiskanen in the mix as well. What Kotkaniemi has going for him, like Fleury above, is the strong fan base of Montreal. If everything stays the course, you can expect for the Canadiens young center to stay in that group of five for the rest of the season. Of note here as well, if Kotkaniemi's black parallel sold for $70, so you can expect that a Petterson from the same set would be at least three figures.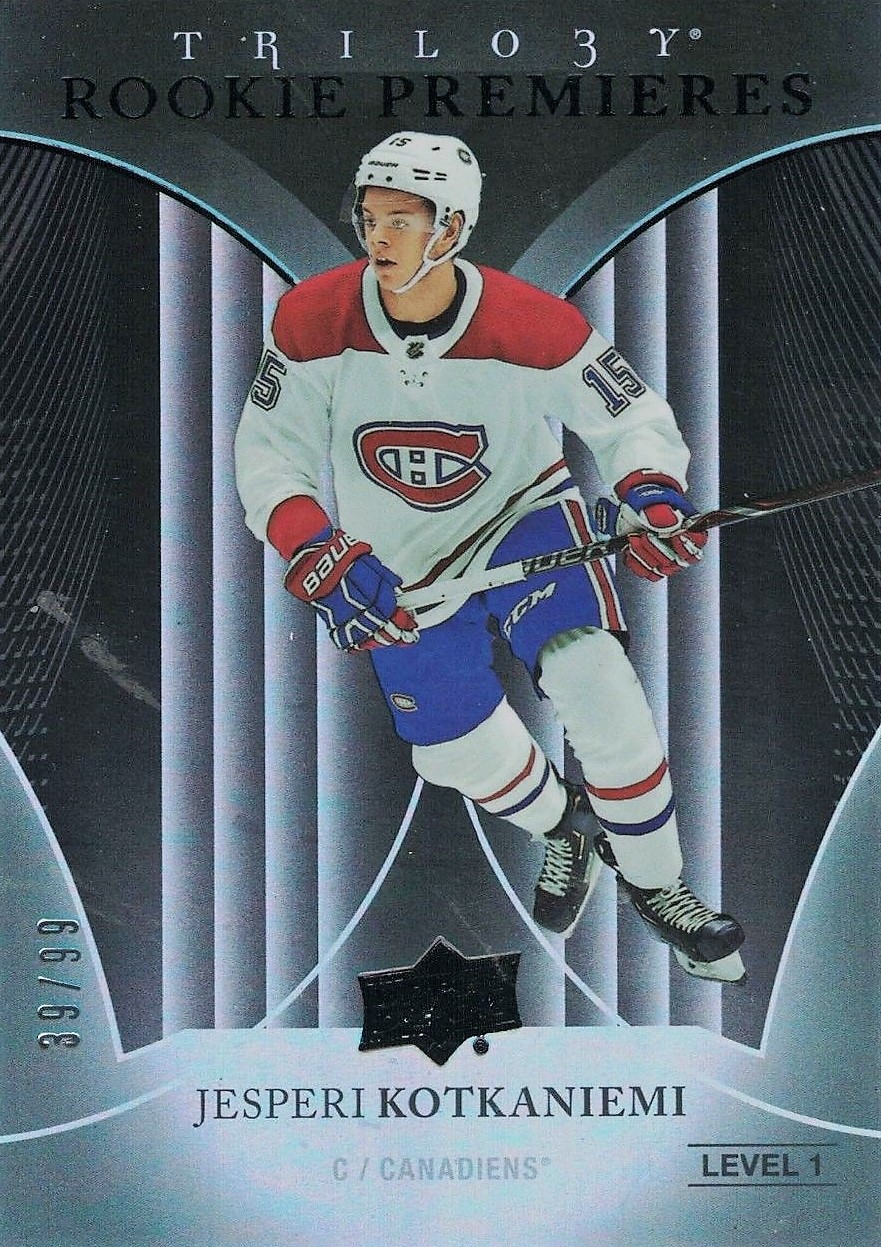 William Nylander Honorary Triple Swatches (Sold for $32)
This is a great of example of what Upper Deck gets right when it comes to relics on cards, especially from a set at this mid-range price point. While the Nylander example here won't set the world on fire at $32, there are some other guys in the set with a lower print run that would demand a premium, say for example McDavid, Crosby, and Price numbered to five copies each.