3 Giannis Antetokounmpo Rookie Cards on the Move, Graded Edition – Beckett Pricing Insider
Giannis Antetokounmpo, among the front-runners for NBA MVP, has led Milwaukee's ascension in the Eastern Conference. Here are three of his Rookie Cards whose graded versions are heating up:
1. 2013-14 Panini Prizm #290 Giannis Antetokounmpo RC
Currently Number Five on the Beckett Basketball Hot List, this Prizm issue has become the go-to Antetokounmpo Rookie Card for collectors.
Despite this popularity, Gem Mint versions took a price hit last summer, dipping below the $100 mark and occasionally barely surpassing raw card values. However, BGS 9.5 prices have come roaring back into the $200 range, with non-black label 10s approaching $400.
Some may scoff at the sheer number of high-grade versions on the market, but currently, supply is not outpacing demand.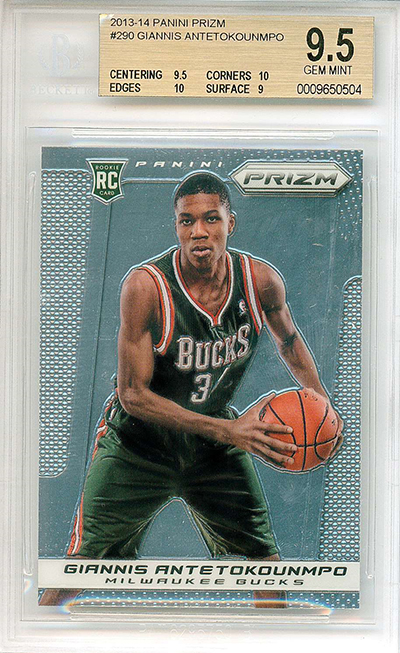 2. 2013-14 Panini Gold Standard #231 Giannis Antetokounmpo RC Auto Jersey
The combination of jersey swatch and on-card autograph makes this RC an appealing target for many collectors. Recent Gem Mint sales have been strong, approaching $800 territory.
This card does tend to grade out well, with 214 of 305 submissions receiving the 9.5 distinction. Main condition issues are the left-to-right front centering and an all-tan card back that reveals any edge and corner chipping.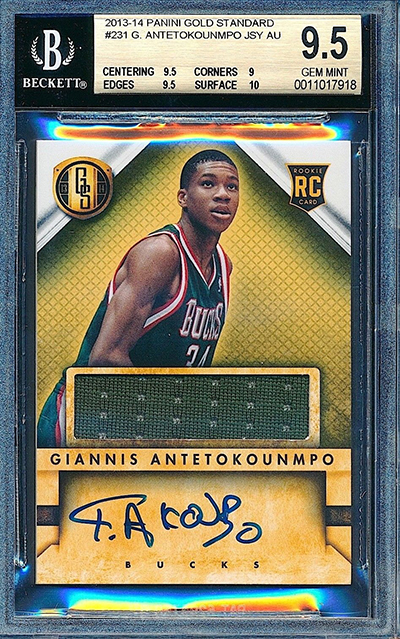 3. 2013-14 Select #178 Giannis Antetokounmpo RC
Another affordable option with Prizm –like qualities, the Select RC has recently experienced a serious uptick in price. Over the course of a few months, Gem Mints have basically doubled in value to the current $80 range. Mint 9s are selling strong at high book or slightly above.
This Select rookie offering is a surefire grading candidate as about 90 percent of submissions have received grades of 9.5 or 10.