3 Edgar Martinez Cards to Keep an Eye On – Beckett Pricing Insider
This edition of the Beckett Pricing Insider is sponsored by MVP Sports Collectibles.
Edgar Martinez is used to waiting.
He signed with the Seattle Mariners as an amateur free agent in December, 1982. Martinez remained in the minors for more than four years until he made his MLB Debut late in the 1987 season when he would hit .372 in just 13 games.
Despite his initial successes in the majors, the Mariners sent him in AAA for most the 1988 season. It wasn't until 1990 when he would become a mainstay in the Mariners lineup.
Originally a third baseman, an injury during an exhibition game just before the 1993 season forced Martinez into becoming a designated hitter. This is where he would excel as one of the best in the league. Unfortunately, this move to DH has caused him to suffer when it comes to Hall of Fame votes.
This being his tenth, and last, year on the Writers ballot, Edgar seems to be in a good place to earn a spot this year. After getting over 70 percent last year, a little short of the 75 percent required, we can see thanks to Ryan Thibodaux and his handy vote tracker that Martinez has been chosen on more than 90 percent of the ballots made public thus far. This is up significantly from last year. Even if that percentage makes a similar drop once private votes are tallied, it looks like one could almost call Martinez a lock for 2019 induction.
Martinez has over 3,800 cards in the Beckett database. Although a beloved player by many, this hasn't translated into huge prices for his cards.
Here are some key Edgar Martinez cards from over the years.
1988 Fleer Glossy Edgar Martinez
A parallel of sorts to his base 1988 Fleer Rookie Card, the only Edgar Martinez RC, this card can be identified by the slick finish on the front of the card. Raw, this card sells for as low as $5-$10. But graded Gem Mint copies can reach as high as $100-$150.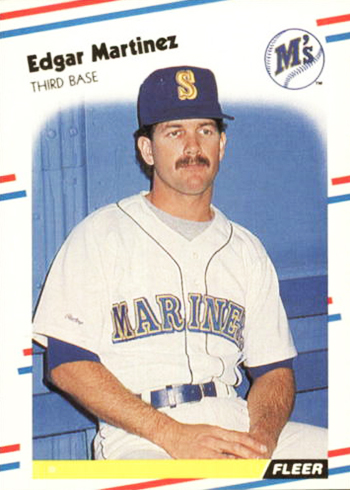 1986 Chattanooga Lookouts ProCards Edgar Martinez
This is one of a handful of Edgar Martinez minor league cards. In fact, it's the first. It sells for just around $15-$20 in raw condition. Because of the manufacturing process, these can be hard to find in Mint condition so some of the graded versions can sell for a premium.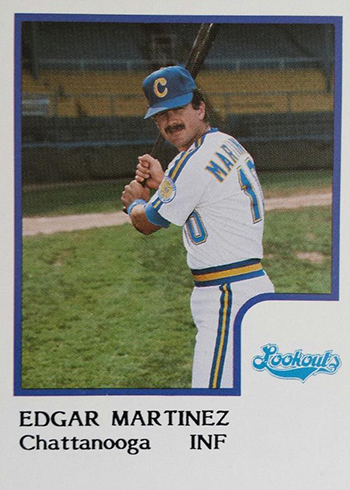 2016 Finest Greats Autographs Edgar Martinez
Edgar Martinez has been a regular signer over the years. This on-card autograph numbered out of 300 can be seen as a great deal with sales going from $10-$20.