2023 Topps Allen & Ginter Baseball Checklist, Team Set Lists and Details
When you click on links to various merchants on this site, like eBay, and make a purchase, this can result in this site earning a commission.
2023 Topps Allen & Ginter Baseball brings back all of the variety and eccentricity that has been a part of the brand since it was reintroduced in 2006. That means and old-time look, lots of tobacco-sized minis, baseball and non-baseball subjects and some inserts that are downright goofy. It's all part of the Allen & Ginter charm.
Hits combine to land three per hobby box. These include autographs, memorabilia cards, rip cards or buybacks featuring original Allen & Ginter cards from more than 100 years ago.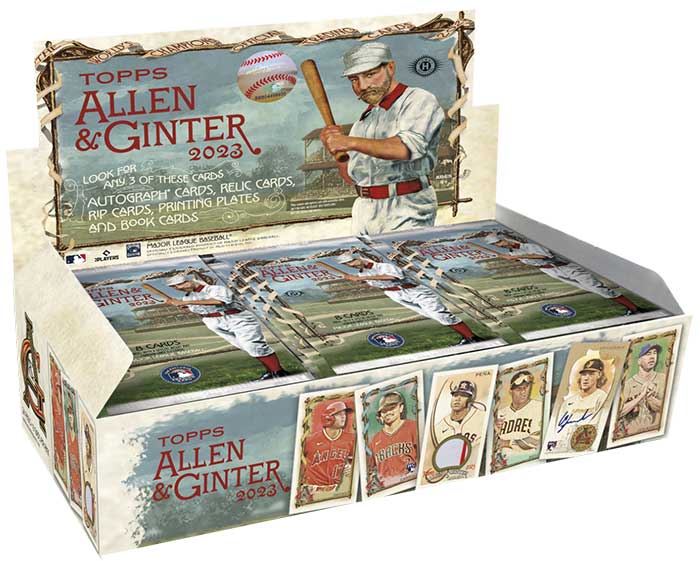 2023 Topps Allen & Ginter Baseball Checklist Overview
Besides a tweaked design and updated roster of players and subject, there's not much new to the base set. Once again, it's a 350-card affair with the final 50 being short prints. Veterans, rookies and retired stars all find their way onto the checklist. There's also a selection of non-baseball celebrities and figures.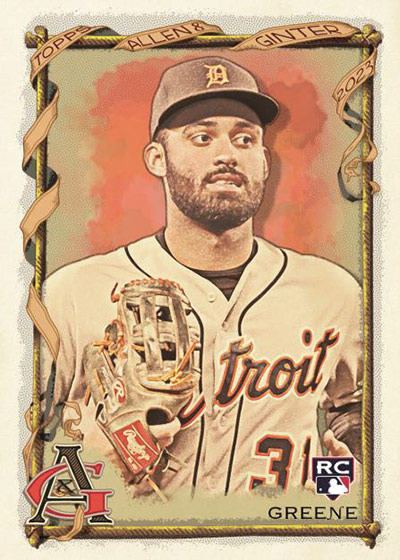 As always, if you're strictly into sets featuring only baseball players, Allen & Ginter isn't the place.
Standard-sized parallels don't come in many versions. New Foil Filigree cards make their debut, landing approximately one per hobby box. Silver Portrait parallels are back as hot box exclusives. There are also one-of-one Glossy versions.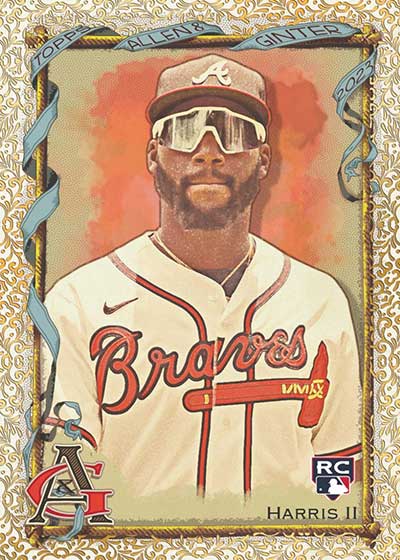 The one-per-pack minis offer more options. Besides the regular Minis, there are:
Allen & Ginter Back Mini – 1:5 packs, SP – 1:65 packs
Black Border Mini – 1:10 packs, SP – 1:130 packs
No Number Mini – 50 copies each
Brooklyn Back Mini – /25
Framed Mini Printing Plates – 1/1
Glossy Mini – 1/1
Wood Mini – 1/1 (hobby only)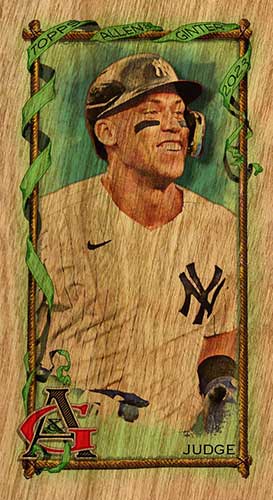 On top of these are some partial parallel sets that cover 150 cards:
Stained Glass Minis – 25 copies each
Metal Minis – 3 copies each
Framed Cloth Mini – /10
Autographs and Memorabilia Cards
Most of the product's signatures are Framed Mini Autographs. Similar to the base set, it's not just baseball players. Celebrities and pop culture figures are also on the checklist of signers.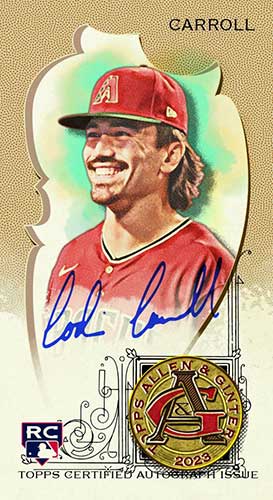 Autographed Relic Book Cards (/10) pair a signature with a jumbo swatch from one player. Dual Autographed Relic Book Cards (/10) have signatures and memorabilia from a pair of players.
Standard memorabilia cards in 2023 Topps Allen & Ginter Baseball have three different designs. Two of these are full-sized. The other takes the form of Framed Mini Relics. Full-sized cards have swatches from a mix of players and non-baseball figures. Framed Mini Relics are strictly baseball.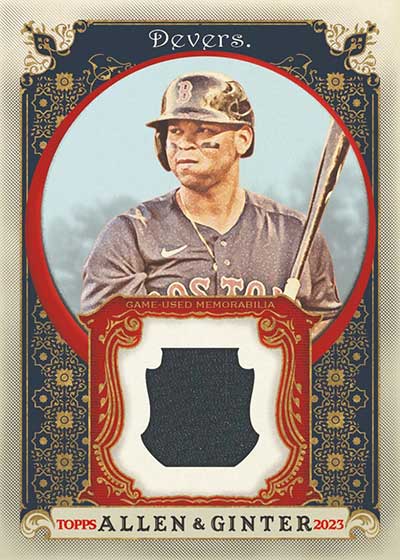 Relics aren't just jerseys, bats and other clothing. Hobby-exclusive DNA Relics (/25) come with fossils attached to them.
Cut Signatures and 100 Allen & Ginter Framed Originals are all one-of-ones.
Rip Cards
2023 Topps Allen & Ginter Baseball lets it rip once again with the line's trademark Rip Cards. Landing two per hobby case (about 1:6 boxes), these are regular-sized cards that act as a house for a mystery mini card. In order to uncover the mini, the Rip Card has to be, well, ripped. In the process, its minty status is gone.
Hobby-exclusive Dual Rip Cards have a pair of minis while randomly inserted Boxloader Rip Cards have three.
All of the minis found inside Rip Cards are exclusives and not available loosely in packs. As for what's possible:
Mini Exclusives – new mini cards expanding the set from #351-400
Metal Exclusive Minis – /3
Wood Exclusive Minis – 1/1
Stained Glass Exclusive Minis – 1 per Boxloader Rip Card
Artists Originals – 1/1
Additional Inserts
It's in the standard inserts that Allen & Ginter's eclectic nature really comes through. And the dad jokes.
Baseball-themed full-sized inserts include In Action (two per case) and Spotless Spans, which highlight a variety of player streaks.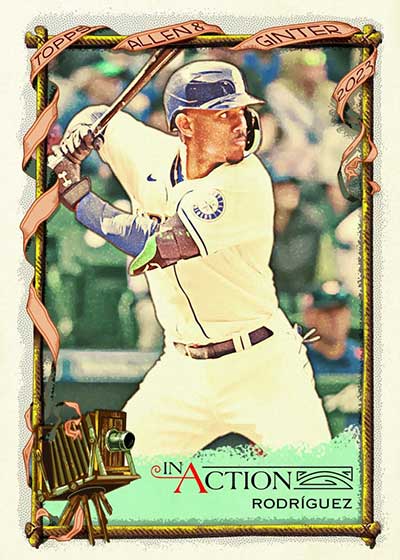 When it comes to non-baseball themes, Music to Your Ears offers up trading cards for musical instruments from different corners of the world. Fun in the Sun! heads outside for summertime activities. TALON-ted lays the word play on thick. Not only is this a set about birds, but birds with big talons.
Mini inserts keep with the mix of baseball and non-baseball themes. That said, they're mostly not baseball related.
Only In… spotlights unique features of different MLB stadiums. No-hitters are the benchmark for Rarest of the Diamond. Cards in this insert set are all achievements that happen less frequently.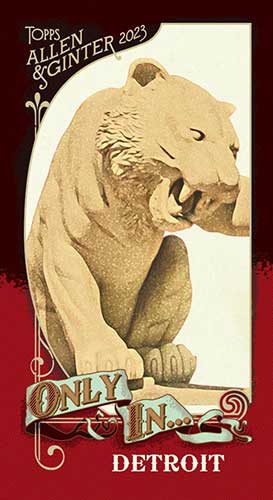 By Any Other Name is all about people named Allen. UNESCO World Heritage Sites get cards World of Wonder.
For the foodies, there are a couple of mini inserts, Save Room for Dessert and International Delights.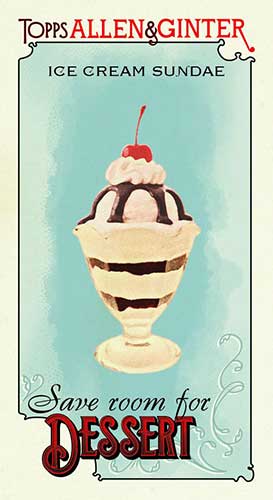 Box Toppers
2023 Topps Allen & Ginter Baseball hobby boxes all come with one boxloader card. These, however, take several different forms.
Allen & Ginter Boxloaders offer up oversized versions of select base cards. N43 Boxloaders give another nod to the original 1888 set. Some cards in both of these have autographs numbered to 15 and under.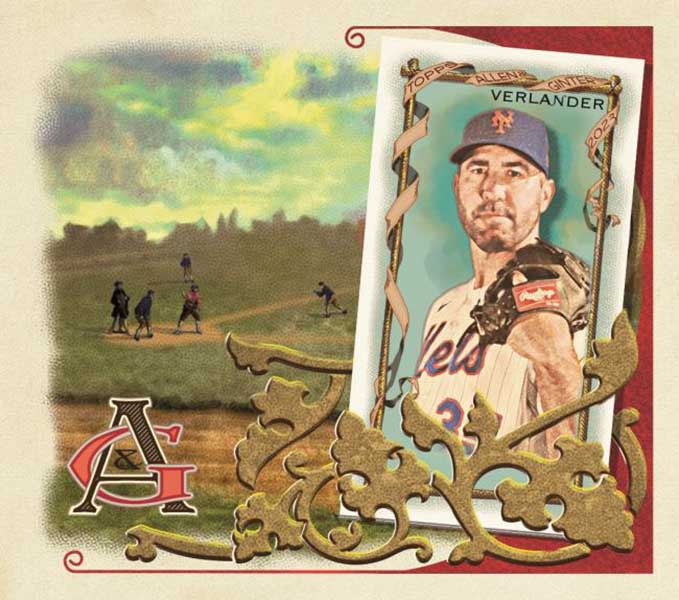 Only In… also has a larger boxloader version. Cards in this set have 500 copies each.
2023 Topps Allen & Ginter Baseball cards at a glance:
Cards per pack: Hobby – 8
Packs per box: Hobby – 24
Boxes per case: Hobby – 12
Set size: 350 cards
Release date (subject to change): September 22, 2023
Shop for 2023 Topps Allen & Ginter Baseball boxes on eBay:
What to expect in a hobby box:
Autographs, Memorabilia Cards, Rip Cards or Buybacks – 3 Total
Inserts – 24
Mini Cards – 24
Foil Filigree Parallels – 1
Boxloaders – 1
2023 Topps Allen & Ginter Baseball Checklist
You can also download a customizable spreadsheet copy of the checklist:
Please note that print runs for cards without serial numbers have not been announced.
Recent Topps Allen & Ginter Baseball releases: