2023 Bowman Baseball Checklist, Team Set Lists, Odds and Details
When you click on links to various merchants on this site, like eBay, and make a purchase, this can result in this site earning a commission.
2023 Bowman Baseball marks the dawn of a new MLB prospect class. Coming in several different forms, there's the typical mix of Bowman and Bowman Chrome content, headlined by Chrome Prospect Autographs and a rainbow of Refractors.
Standard hobby boxes promise one autograph. Hobby jumbo boxes have three.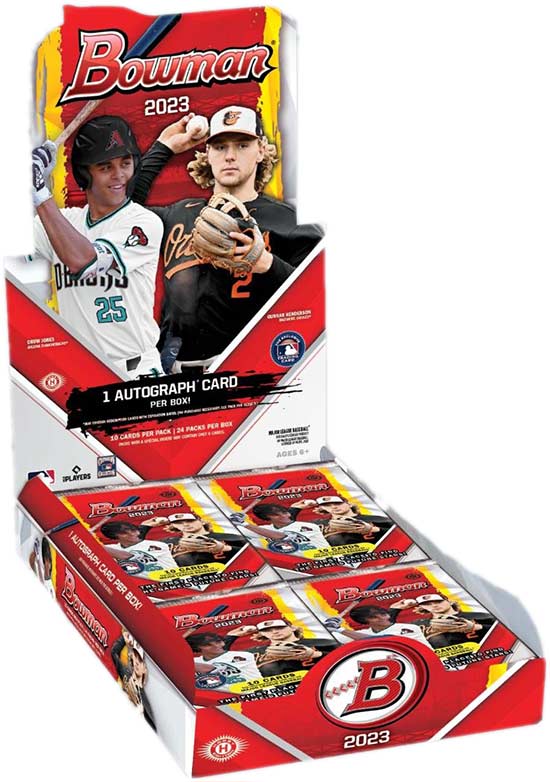 2023 Bowman Baseball Checklist Overview
The standard base set is a mix of 100 rookies and veterans. These are done on standard stock under just the Bowman banner. Their Chrome counterparts will come later in the year in a separate release.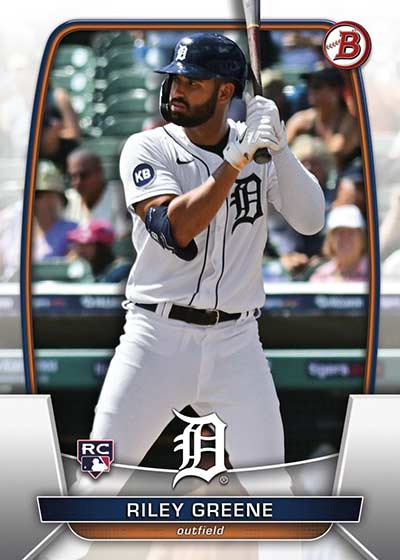 The Prospects checklist has 150 cards. These are available in both Bowman and Bowman Chrome. The player mix is the same in both sections. It's more the look and feel with Chrome being considered the more premium leaning of the two. Players making their first Bowman appearance will be noted as such.
Collectors can find a large mix of parallels in all sections of the set. For the Chrome Prospects, these include some colors that have new patterned Lunar Crater Refractors.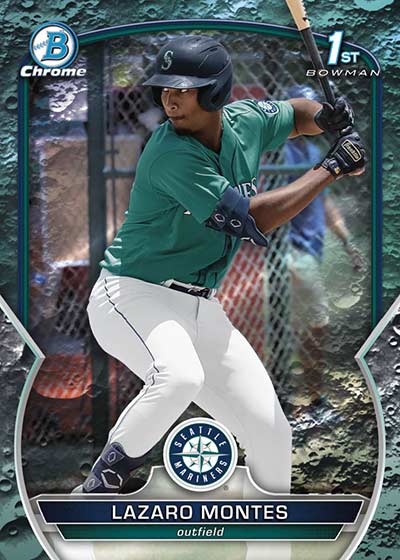 Autographs and Other Inserts
The cornerstone Chrome Prospect Autographs are back, offering some of the first MLB signatures from dozens of players. Among them is Druw Jones, the second overall pick in the 2022 draft. The outfielder was the biggest exclusion from 2022 Bowman Draft. More than 100 players have on-card autographs in this part of the set.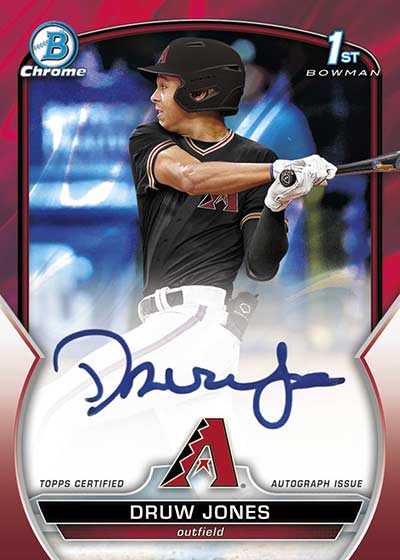 Similar Chrome Rookie Autographs are also available. These highlight players who have already made their MLB debuts.
Bowman Prospect Autographs are once again exclusive to retail. These use standard Bowman stock and have stickers instead of on-card ink.
Other signature inserts on the 2023 Bowman Baseball checklist include Dual Prospect Autographs and another Bowman Ultimate Autograph Book Card that opens to showcase 24 players.
Other inserts are a mix of familiar themes and new ones.
Bowman Scouts' Top 100 offers a countdown of the game's best prospects from Topps' perspective.
Rookie of the Year Favorites and Bowman Invicta are also both back with new installments.
Debuting inserts include Modern Prospects, Sights on September and Bowman Spotlights.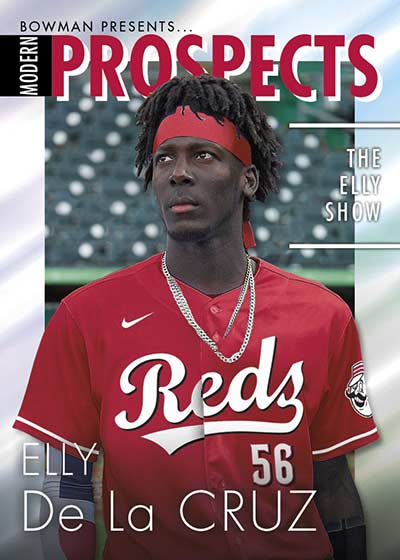 Select cards in all standard insert sets also have autographs.
2023 Bowman Baseball cards at a glance:
Cards per pack: Hobby – 10, Hobby Jumbo – 32, Blaster – 12
Packs per box: Hobby – 24, Hobby Jumbo – 12, Blaster – 6
Boxes per case: Hobby – 12, Hobby Jumbo – 8, Blaster – TBA
Set size: 100 cards
Release date: April 26, 2023
Shop for 2023 Bowman Baseball Boxes on eBay:
What to expect in a hobby box:
Hobby jumbo box:
2023 Bowman Baseball Checklist
You can also download a customizable spreadsheet copy of the checklist:
Please note that print runs for cards without serial numbers have not been announced.
Recent Bowman Baseball releases: