2022 zerocool Jackass Checklist and Details
When you click on links to various merchants on this site, like eBay, and make a purchase, this can result in this site earning a commission.
2022 zerocool Jackass marks the first time the TV series and movie franchise has landed an official trading card set. It's also zerocool's second release using their Blind Dutch Auction format where the market essentially sets the price.
The checklist highlights both the past and present of Jackass through both the stunts and the people doing them. Celebrities and athletes who have filmed with the crew are also in the set.
2022 zerocool Jackass Checklist Details
The main base set is personality driven. Consisting of 50 total cards, it has a handful of subsets: Rookies, Legends, Cameos and Group Shots. Twelve of the cards are short prints that are harder to pull.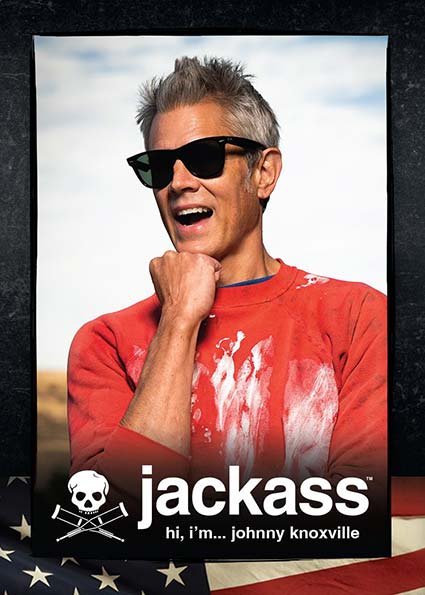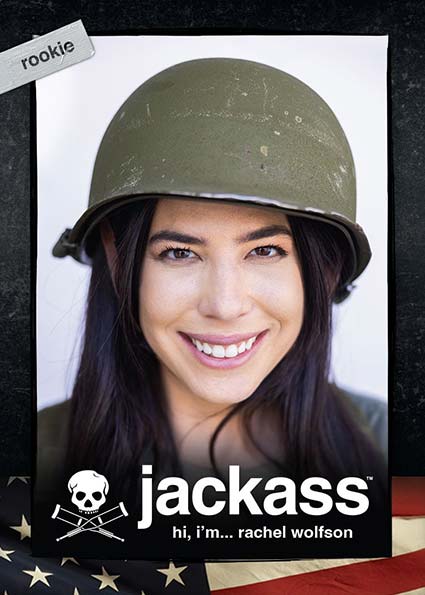 Parallels include Silver (250 copies each), Holo (/100), Blue (/50), Red (/25), Gold (/10), Player (/5) and Black Ice (1/1). There's also Card Zero, which is "#/0" but each has one copy. Basically, think of it as a gimmicked way to number a one-of-one.
SP cards are limited to Silver and Card Zero parallels.
Besides the likes of Johnny Knoxville, Steve-O, Chris Pontius and Wee Man, the set moves forward to new cast members from Jackass Forever like Rachel Wolfson and Jasper. Celebrity appearances include Tony Hawk, Tyler the Creator, Machine Gun Kelly and Eric André.
Three insert sets are essentially thematic extensions of the base set, available in the same quantities. These include Behind the Lens (30 cards), Movie Posters (10 cards) and Stunts (70 cards). Parallel levels and print runs basically match up with the main set. The lone exception is that inserts have no Player versions.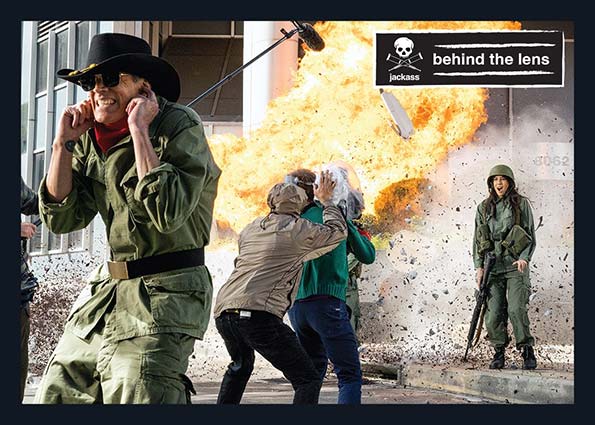 The autographs don't cover everyone in the base set but the majority of the show's stars are among the signers. Knoxville, Steve-O, Pontius, Wee Man, Wlfson, Jeff Tremaine and producer Dimitry Elyashkevich all have autographs. Tony Hawk, PK Subban, Spike Jonze and Butterbean are among the celebrity signers.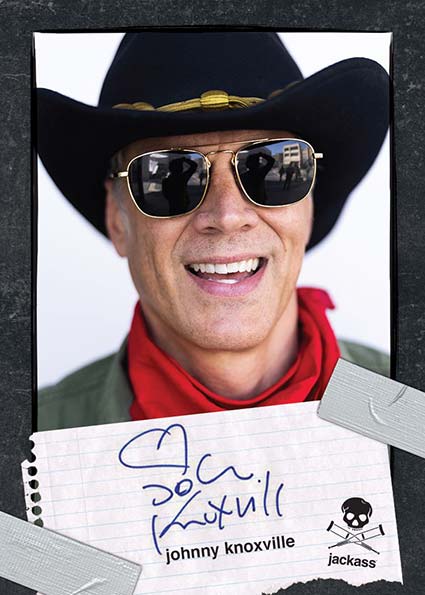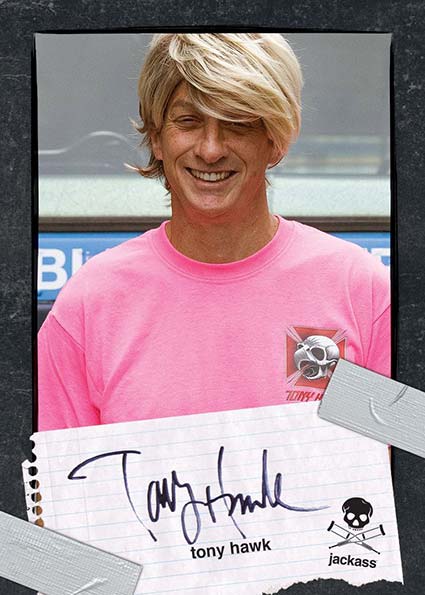 How to Get Boxes
This is the second zerocool release to use their Blind Dutch Auction format to sell boxes, following VeeFriends. From April 5-7 collectors will be able to place bids on the zerocool website. The idea is bid what you're willing to pay.
When the auction concluded, the bids were ranked. With 9,500 boxes available through the blind dutch auction, the top 9,500 bids were allocated boxes. However, bidders only pay the clearing price (the lowest accepted bid) even if they were willing to pay more. zerocool has a video on their YouTube page that explains it. Here, the clearing price was $101.
Although 9,500 boxes are available through the public sale, there are 10,000 total. The remaining are held back for promotions and quality assurance. Bleeker Trading Cards in New York also has 50 boxes that have exclusive packaging.
This plays into zerocool trying something different with the boxes themselves. There are several different colorways, some more rare than others. This doesn't necessarily impact the cards inside but it adds another layer to its potential collectability.
2022 zerocool Jackass trading cards at a glance:
Cards per pack: 5
Packs per box: 10
Boxes per case: 8
Print run: 10,000 boxes/1,250 cases
Set size: 50 cards
Release date: April 5, 2022
Shop for 2022 zerocool Jackass boxes on eBay:
2022 zerocool Jackass Checklist
You can also download a customizable spreadsheet copy of the checklist:
Please note that print runs for cards without serial numbers have not been announced.
Base
Base Set Checklist
50 cards.
Parallels:
Silver – 250 copies
Holo – /100
Blue – /50
Red – /25
Gold – /10
Player – /5
Black Ice – 1/1
Card Zero – /0 (1 copy)
SP cards have only Silver and Card Zero parallels.
1 Johnny Knoxville
2 Johnny Knoxville SP
3 Steve-O
4 Steve-O
5 Chris Pontius
6 Chris Pontius SP
7 Dave England
8 Dave England SP
9 Danger Ehren
10 Danger Ehren SP
11 Wee Man
12 Wee Man SP
13 Preston Lacy
14 Preston Lacy SP
Rookies
15 Eric Manaka
16 Eric Manaka SP
17 Jasper
18 Jasper SP
19 Poopies
20 Poopies SP
21 Rachel Wolfson
22 Rachel Wolfson SP
23 Zach Holmes
24 Zach Holmes SP
Legends
25 Sean Cliver
26 Dimitry Elyashkevich
27 Rick Kosick
28 Lance Bangs
29 Loomis Fall
30 Spike Jonze
31 Jeff Tremaine
Cameos
32 Butterbean
33 Danielle O'Toole
34 Dark Shark
35 DJ Paul
36 Eric André
37 Jalen Ramsey
38 Mat Hoffman
39 Machine Gun Kelly
40 Francis Ngannou
41 P.K. Subban
42 Rob Dyrdek
43 Tony Hawk
44 Tory Belleci
45 Tyler the Creator
Group Shots
46 Full Cast – Beach
47 Full Cast – Beach Pyramid
48 Jackass Forever Group Opening
49 Jackass OG Cast
50 Jackass Rookie Cast
Autographs
2022 zerocool Jackass Checklist – Autographs
Signatures Checklist
30 cards.
Parallels:
Holo – /100
Blue – /50
Red – /25
Gold – /10
Player – /5
Black Ice – 1/1
Card Zero – 1/1
js-bb Butterbean (Eric Esch)
js-cp Chris Pontius
js-de Dave England
js-dj DJ Paul (Paul Beauregard)
js-dm Dimitry Elyashkevich
js-do Danielle O'Toole
js-ds Dark Shark (Compston Wilson)
js-ea Eric Andre
js-em Ehren McGhehey
js-em Eric Manaka
js-fn Francis Ngannou
js-jd Jasper Dolphin (Davon Wilson)
js-jk Johnny Knoxville
js-jt Jeff Tremaine
js-lb Lance Bangs
js-lf Loomis Fall
js-mh Mat Hoffman
js-p Sean "Poopies" McInerney
js-pl Preston Lacy
js-ps PK Subban
js-rd Rob Dyrdek
js-rk Rick Kosick
js-rw Rachel Wolfson
js-sc Sean Cliver
js-sj Spike Jonze
js-so Steve-O
js-tb Tory Belleci
js-th Tony Hawk
js-wm Wee Man (Jason Acuna)
js-zh Zach Holmes
Inserts
2022 zerocool Jackass Checklist – Inserts
Behind the Lens Checklist
30 cards.
Parallels:
Silver – 250 copies
Holo – /100
Blue – /50
Red – /25
Gold – /10
Black Ice – 1/1
Card Zero – /0 (1 copy)
btl-1 Bayou Obstacle
btl-2 Beehive Tetherball
btl-3 Clipper Cam
btl-4 Cup Pogo
btl-5 Dave Toilet
btl-6 Johnny Dildo
btl-7 Dildo Explosion
btl-8 Flamingo
btl-9 Gloria
btl-10 Grenade
btl-11 Jasper and Dark Shark
btl-12 The Lube Slide
btl-13 Milkshake
btl-14 The Longjump
btl-15 Open Rainbow
btl-16 Pedal Power
btl-17 Pontiusaurus 1
btl-18 Pontiusaurus 2
btl-19 Pontiusaurus 3
btl-20 Puppet Show
btl-21 Sabotage
btl-22 Saloon
btl-23 Spike and Tony
btl-24 Steve-O Opening
btl-25 Sweatsuit
btl-26 Jeff and Irving
btl-27 Jeff and Preston
btl-28 Vulture
btl-29 Weeman Opening
btl-30 WeemanTank
Movie Posters Checklist
10 cards.
Parallels:
Silver – 250 copies
Holo – /100
Blue – /50
Red – /25
Gold – /10
Black Ice – 1/1
Card Zero – /0 (1 copy)
mp-1 Jackass Forever: Bullfighter
mp-2 Jackass Forever: Kite Flight
mp-3 Jackass Forever: Cannon Shot
mp-4 Jackass Forever: Toilet Explosion
mp-5 Jackass Number Two: Rocket
mp-6 Jackass 3D: Jet Ski
mp-7 Jackass 3D: Dog Bite
mp-8 Jackass Number Two: Finnish Poster
mp-9 Jackass Number Two: Japanese Poster
mp-10 Jackass 3D: Russian Poster
Stunts Checklist
70 cards.
Parallels:
Silver – 250 copies
Holo – /100
Blue – /50
Red – /25
Gold – /10
Black Ice – 1/1
Card Zero – /0 (1 copy)
s-1 the baby alligator
s-2 the bottle rocket
s-3 the butt x-ray
s-4 department store boxing
s-5 golf course air horn
s-6 the anaconda ball pit
s-7 the butt chug
s-8 the fart mask
s-9 the fire hose rodeo
s-10 the fish hook
s-11 irving and gloria
s-12 the mini loop
s-13 the puppet show
s-14 the big red rocket
s-15 party boy
s-16 the tiny toilet
s-17 the toro totter
s-18 men in underpants
s-19 the yak charge
s-20 beauty and the beast
s-21 the bed of nails
s-22 the poof
s-23 the field goal
s-24 the helicockter
s-25 the high five
s-26 the invisible man
s-27 the exploding room
s-28 the jet ski
s-29 pin the tail on the donkey
s-30 the poocano
s-31 the poo cocktail supreme
s-32 the sweatsuit cocktail
s-33 tee-ball
s-34 wee lacy
s-35 european vacation
s-36 the woodpecker
s-37 the backdrop
s-38 the boarkake
s-39 the bull magician
s-40 the bush of bees
s-41 the coffee truck prank
s-42 the cup test: pogo
s-43 the cup test: hockey
s-44 the cup test: mma
s-45 the cup test: softball
s-46 the dum dum game
s-47 the electric tap dance
s-48 the human ramp
s-49 the hurricane slide
s-50 the flight of icarus
s-51 tackled by jalen ramsey
s-52 the marquee explosion
s-53 slimed by the pontiusaurus
s-54 zackass
s-55 scorpion lip injections
s-56 the milkshake
s-57 the mush
s-58 musical chairbags
s-59 pontiusaurus
s-60 the quiet game: poopies
s-61 the quiet game: rachel
s-62 the quiet game: steve-o
s-63 the speed ballbag
s-64 the tarantula helmet
s-65 the toilet geyser
s-66 the triple wedgie
s-67 underwater fire farts
s-68 the vulture
s-69 down the clown
s-70 the bathing beauty
Boxes
2022 zerocool Jackass Checklist – Boxes
The following is the list of box styles and print runs released by zerocool.
Silver – 4,979 boxes
Red – 2,480 boxes
Green – 1,490 boxes
Purple – 890 boxes
Black – 50 boxes
Rainbow – 50 boxes – given to cast and crew as well as select promotional partners
Gold – 10 boxes
Cracked Ice – 1 box