2022 Upper Deck Team Canada Juniors Hockey Checklist and Details
When you click on links to various merchants on this site, like eBay, and make a purchase, this can result in this site earning a commission.
2022 Upper Deck Team Canada Juniors Hockey cards highlight both the men's and women's squads representing the maple leaf on the international stage. The checklist isn't overly complicated but it does take a varied approach with a mix of autographs, inserts and parallels.
Hobby boxes are led by the promise of four hits, at least one of which is either an autograph or autograph patch card. Collectors can also look for blasters this year that include some exclusive parallels, not to mention a lower price tag.
2022 Upper Deck Team Canada Juniors Hockey Checklist Overview
The full base set has 150 cards covering Canada's U18, U20 and Women's teams. That said, it's broken down into three distinct sections.
The first 69 are standard player cards. Parallels for these include:
Red – 1 per hobby pack
Rose Gold – 1:2 blaster packs
Pattern Foilboard – 1:5 hobby packs
Red Pattern Foilboard – 1:15 hobby packs
Clear Cut – 1:40 hobby packs
Green Pattern Foilboard – 1:120 blaster packs
Exclusives – /100 (hobby only)
Gold Pattern Foilboard – /25 (hobby only)
High Gloss – /10 (hobby only)
Finite – 1/1 (hobby only)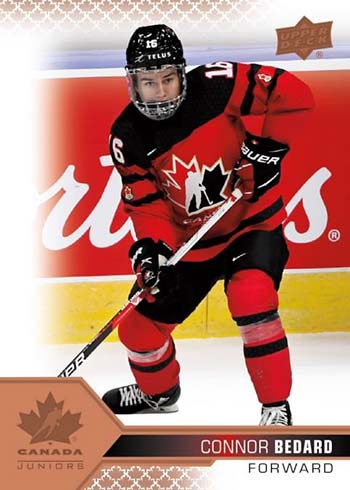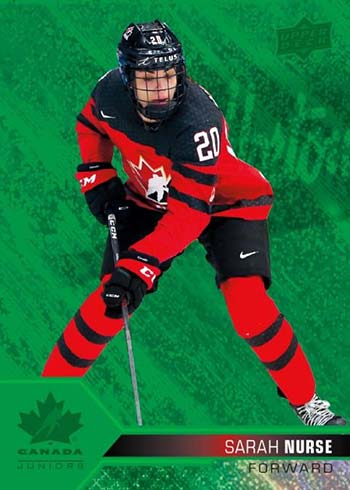 Pride of the Program covers #70-100.
Program of Excellence returns to round out the set's final 50 cards. These are short prints, landing 1:4 hobby packs and 1:3 blaster packs. Parallels, all of which are hobby-exclusive, include Clear Cut (1:80 packs), Exclusive (/100), High Gloss (/10) and Finite (1/1).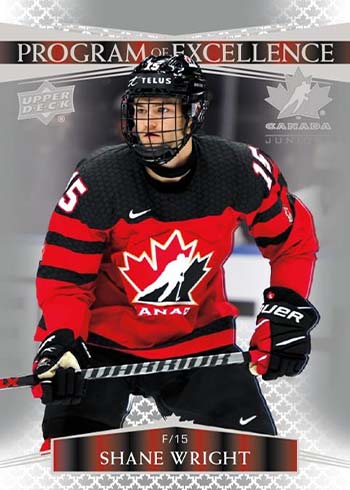 Much of the product's signatures and memorabilia cards stem out of the base set as well.
For standard player cards, Jersey cards fall 1:7 hobby packs while Signatures are 1:120 hobby and 1:480 blaster packs. Black Signatures versions have just five copies each. Auto Patch cards, another hobby-exclusive, are numbered to either 199 or 125 depending on the player.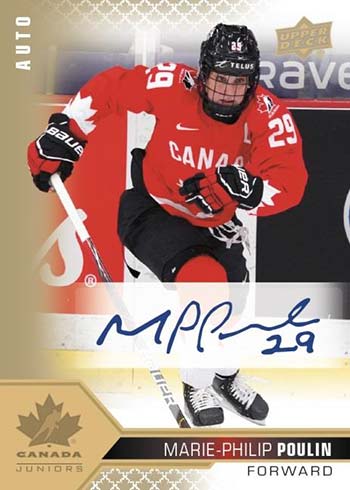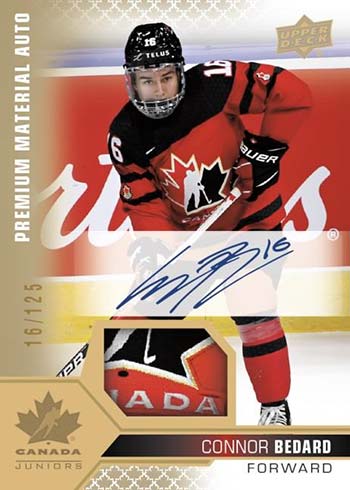 While Pride of the Program cards don't have standard parallels, they do have premium versions in the form of Jersey (1:57 hobby), Signatures (1:144 hobby, 1:480 blaster), Auto Patch (/25) and Black Signatures (1/1).
Program of Excellence Autographs are 1:120 hobby packs.
Because the 2022 World Junior Championship tournament was pushed back several months at the last-second, some of the memorabilia for U20 players come from pre-tournament games.
Additional Inserts and Autographs
Prospectus Momentus returns for a second season. Players on these are either recent NHL draft picks or are projected to be taken in the near future. Base versions are 1:10 hobby and 1:6 blaster packs. Parallels include Electric Red (/549), Electric Blue (/349), Electric Yellow (/149), Electric Gold (/99), Electric Orange (/75), and Electric Pink (/15). Select cards also have autographs, which are a tough 1:180 packs.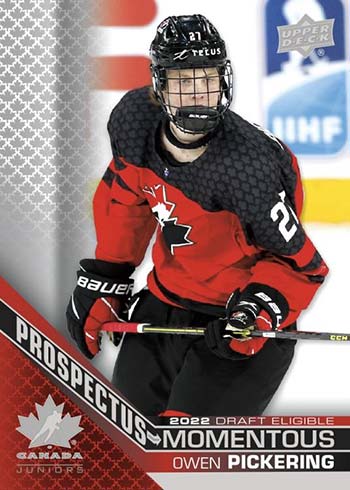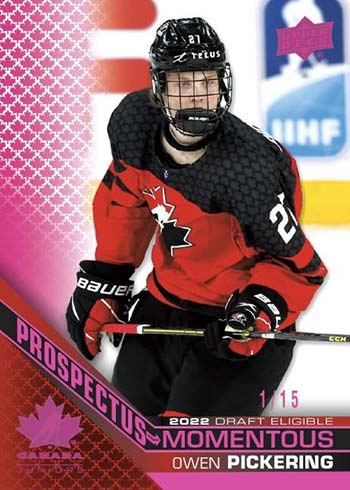 Medal Hopefuls (1:90 hobby) are new for 2022. These use a die-cut design and have additional Red (/22) parallels.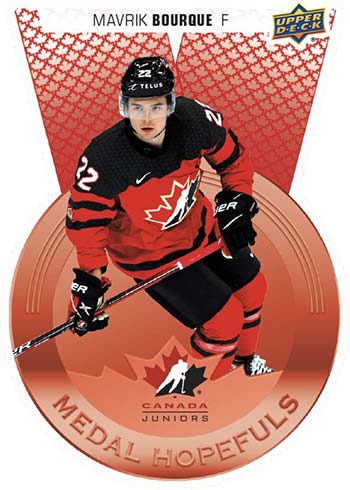 Other inserts on the 2022 Upper Deck Team Canada Juniors checklist include Sparkling Standouts (1:28 hobby), Team Canada Acetates (1:320 hobby, 1:240 blaster) and Team Canada FX (1:112).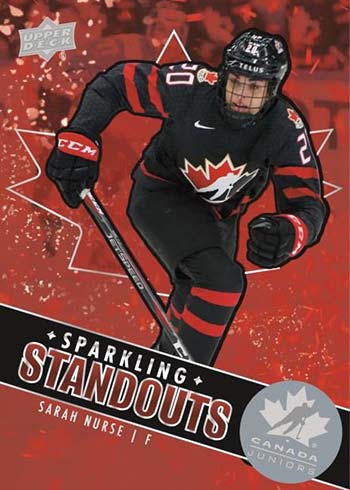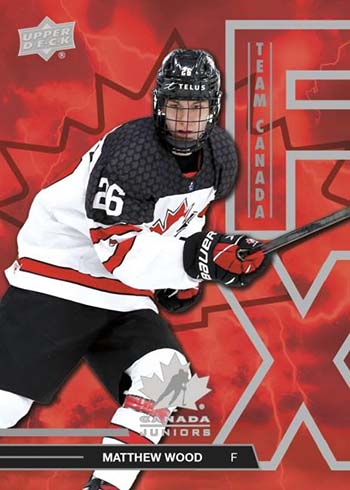 2022 Upper Deck Team Canada Juniors Hockey cards at a glance:
Cards per pack: Hobby – 6, Blasters – 5
Packs per box: Hobby – 15, Blasters – 6
Boxes per case: Hobby – 12, Blasters – 20
Set size: 150 cards
Release date: February 8, 2023
Shop for 2022 Upper Deck Team Canada Juniors Hockey boxes on eBay:
What to expect in a hobby box:
Autographs or Autograph Patch Cards – 1 Total
Additional Autographs or Memorabilia Cards – 3 Total
Medal Hopefuls, Sparkling Standouts, Team Canada Acetates or Team Canada FX – 1 Total
Program of Excellence or Prospectus Momentus – 6 Total
Foilboard Parallels – 4
Red Foil Parallels – 15
What to expect in a blaster box:
Prospectus Momentus – 1
Program of Excellence – 2
Rose Gold Parallels – 3
2022 Upper Deck Team Canada Juniors Hockey Checklist
You can also download a customizable spreadsheet copy of the checklist:
Please note that print runs for cards without serial numbers have not been announced.
Recent Upper Deck Team Canada Juniors Hockey releases: