2022 Upper Deck Spider-Man: Into the Spider-Verse Trading Cards Set to Swing Into Action
2022 Upper Deck Spider-Man Into the Spider-Verse trading cards arrive more than three years after Miles Morales took to the big screen. While not the timeliest of release frames, the film still very much resonates. It also brings a different look and approach than sets for the superhero's other recent films.
2022 Upper Deck Spider-Man: Into the Spider-Verse Checklist Overview
One of the perks of putting out a set well after the film's release is that there's no concern about unfinished scenes or potential spoilers. From the opening scene through to when the credits roll, it's all up for grabs. The base set uses 90 cards to retell the story.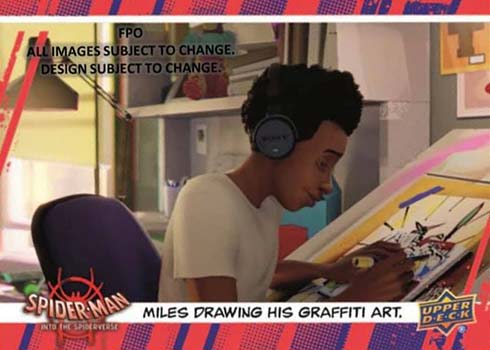 Parallels come in a few levels starting with Peter Parker Red, which are approximately one per pack. Spider P.I. are a little tougher, falling three per box. Canvas parallels, which are about two per caseSpectral Spider versions add a faint UV webbing design to the background as well as serial numbering. One-of-one Printing Plates are also available.
Inserts come in a variety of levels, mixing in both fun themes and more traditional modern hits.
Sticker cards are exclusive to hobby and land five per box.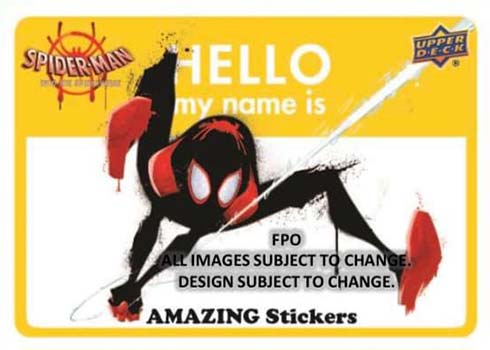 My Story cards bring a little bit of shine rainbow foilboard stock.
Dimensions Collide are a box hit. Using lenticular technology, when tilted these flip between a standard image and one with a "glitch" effect.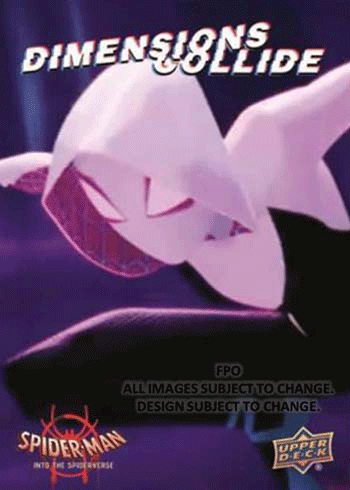 Manufactured patch cards arrive in the form of In the Vault. These have a few different patch themes. Letterman versions each have a letter that can be put together to spell "SPIDER-VERSE." Other patches are a mix of characters and their masks. Ultimate Gold versions are a case hit and have serial numbers.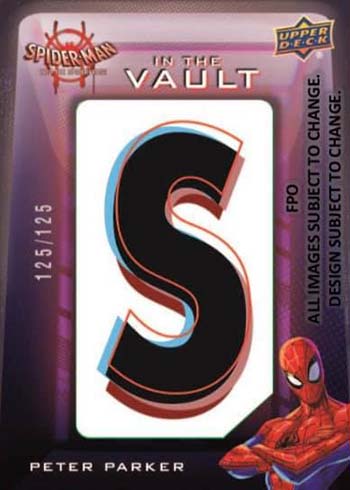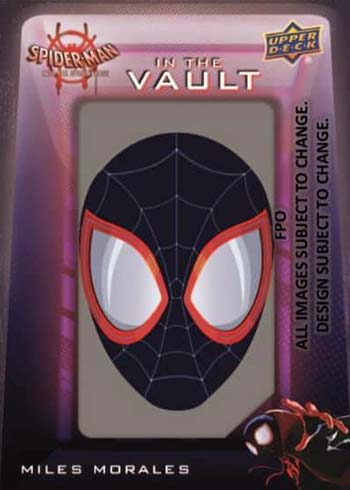 Talent autographs feature signatures from those involved in the film.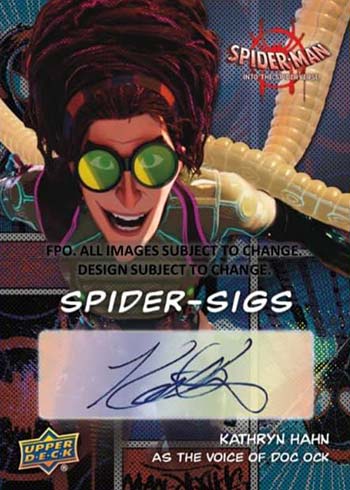 Sketch cards, which are two per case, have original artwork inspired by the movie.
2022 Upper Deck Spider-Man: Into the Spider-Verse trading cards at a glance:
Cards per pack: Hobby – 7
Packs per box: Hobby – 15
Boxes per case: Hobby – 16 (two 8-box inner cases)
Set size: 90 cards
Release date (subject to change): March 2, 2022
What to expect in a hobby box:
Dimensions Collide Lenticular – 1
My Story Rainbow Foilboard – 4
Stickers – 5
Spider-P.I. Parallels – 3
Peter Parker Red Parallels – 15
The full 2022 Upper Deck Spider-Man: Into the Spider-Verse checklist will be up as soon as it's available, likely shortly before the set's release.