2022 Upper Deck Marvel Allure Brings a Rainbow Bridge of Sorts to Trading Cards
2022 Upper Deck Marvel Allure trading cards give the Marvel Cinematic Universe a chromium makeover. Similar to hockey, that means an expansive rainbow for subject matter that's already colorful.
Hobby boxes have a solid mix of content including an average of at least one parallel and one short print per pack. Each box has either an autograph, sketch card, Infinity Stone card, Steel parallel or Printing Plate.
2022 Upper Deck Marvel Allure Checklist Overview
The base set has a total of 150 cards. Of these 50 are short prints. Like 2021 Upper Deck Marvel Black Diamond, it's a character-driven set spanning the entirety of the Infinity Saga.
Although still a relatively young brand, one of the hallmarks of Allure — and virtually every chromium set from every manufacturer — is its parallel rainbow. Colors and patterns here include:
Black Rainbow
Red Prism
Orange Slice Die-Cut
Steel
Portal
Magenta
Storm – /199
Green Quartz – /99
White Diamond – /50
Blue Line – /35
Purple Rainbow Die-Cut – /10
Golden Treasures – 1/1
Printing Plates – 1/1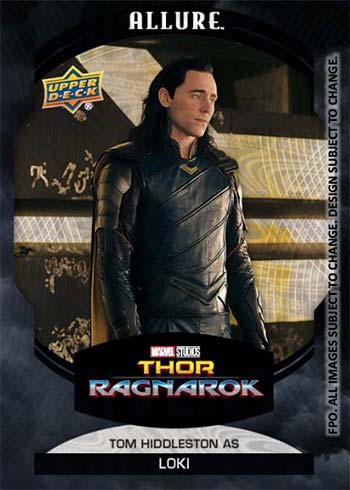 Select base cards come with autograph versions as well. Red Rainbow, Purple Rainbow Die-Cut (/10) and Golden Treasures (1/1) are among the colors here.
According to Upper Deck, there's a large roster of signers. Chris Evans (Captain America), Chris Hemsworth (Thor), Elizabeth Olsen (Scarlet Witch), Anthony Mackie (Falcon) and Paul Bettany (Vision) are among the headliners.
Additional Inserts
The 2022 Upper Deck Marvel Allure checklist has a handful of other inserts.
Among them are Character Posters and Movie Posters, which offer chrome trading card versions of the familiar artwork that have lined movie theatres for more than a decade.
Nemesis, Symmetry and numbered Infinity Stones inserts are also available.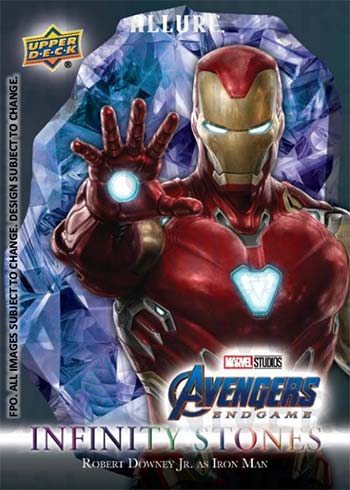 Sketch Cards are also part of the release. Each of these has original artwork with cards coming in both horizontal and vertical formats.
2022 Upper Deck Marvel Allure trading cards at a glance:
Cards per pack: Hobby – 9
Packs per box: Hobby – 8
Boxes per case: Hobby – 20
Set size: 150 cards
Release date (subject to change): June, 2022
What to expect in a hobby box:
Autographs, Sketch Cards, Infinity Stone, Steel Parallels or Printing Plates – 1 Total
Character Posters, Movie Posters or Nemesis Inserts – 5 Total
Super Rare or Parallels /199 or Less – 1 Total
Additional Parallels – 8
Short Prints – 8
2022 Marvel Allure Autograph Signers
The following is a tentative list of autograph signers for Allure. It is subject to change and more names may be added.
Hayley Atwell
Paul Bettany
Elizabeth Debicki
Winston Duke
Chris Evans
Karen Gillan
Chris Hemsworth
Pom Klementieff
Anthony Mackie
Tim Blake Nelson
Elizabeth Olsen
Jeremy Renner
John Slattery
Cobie Smulders
Georges St-Pierre
Sebastian Stan
Tilda Swinton
Emily VanCamp
Benedict Wong
The full 2022 Upper Deck Marvel Allure checklist will be added as soon as it's available, likely shortly before the product's release.