2022 Topps Pro Debut Baseball Variations Guide
The 2022 Topps Pro Debut Baseball Variations offer more cards from some of the top players on the checklist.
Ten cards get the SSP treatment that look like regular base cards. However, they use different photos on the front — and have longer odds.
There is no running theme that connects the variations. A couple stand out for their backgrounds or poses, but most simply give a second look where the player might be fielding instead of batting or wearing a different colored jersey.
Will the Codes Work?
These is one of those sets where the variations are pretty subtle and might not jump out right away. If you think you might have one of the SSPs and don't have this page and its gallery handy, the CMP codes on the back do help.
Direct your eyes directly to the bold final line of the fine print on the back. After the Topps website address, there's a CMP code. This code changes for different card types. It's a manufacturing thing. But that change in code is helpful in telling if you have a base card or a variation.
These are the last three digits you need:
Base Cards – 420
Variations – 450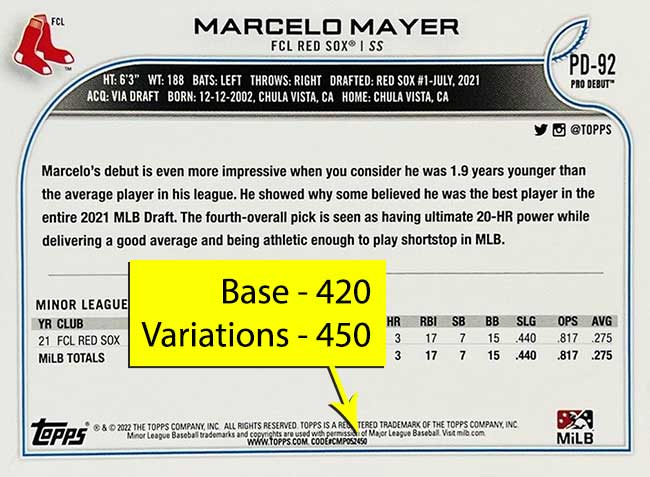 2022 Topps Pro Debut Baseball Variations Checklist
The following is a quick list of all the players with variations. If you're looking for a particular card, click on the link to see what's currently available on eBay.
PD-59 Jasson Dominguez
PD-92 Marcelo Mayer
PD-102 Jordan Lawlar
PD-104 Kahlil Watson
PD-115 Blaze Jordan
PD-127 Cristian Santana
PD-139 Henry Davis
PD-153 Oscar Colas
PD-172 Roberto Campos
PD-189 Elly De La Cruz
2022 Topps Pro Debut Baseball Variations Gallery
PD-59 Jasson Dominguez, Tampa Tarpons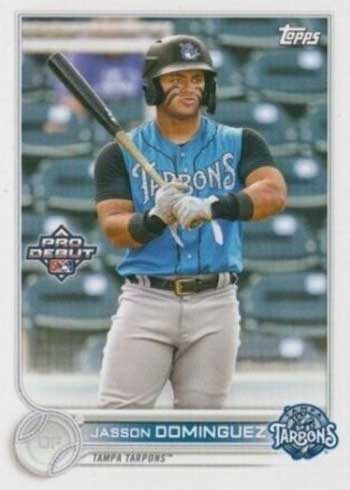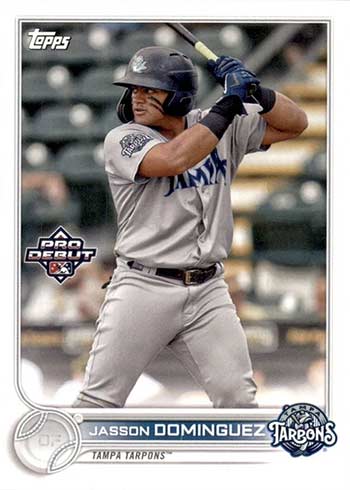 PD-92 Marcelo Mayer, FCL Red Sox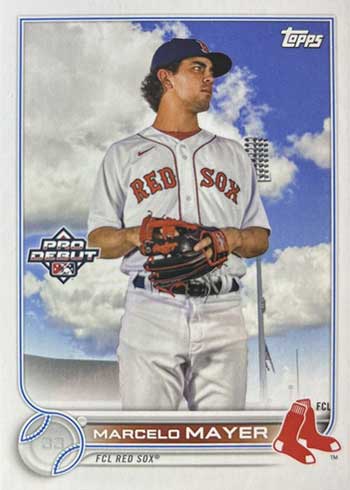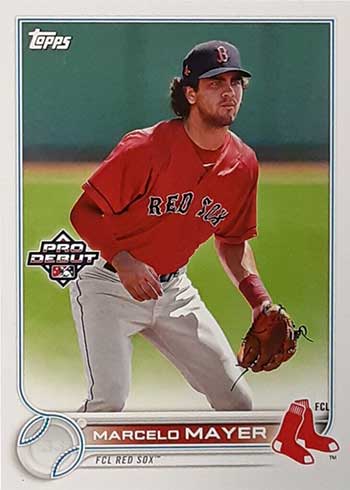 PD-102 Jordan Lawlar, ACL Diamondbacks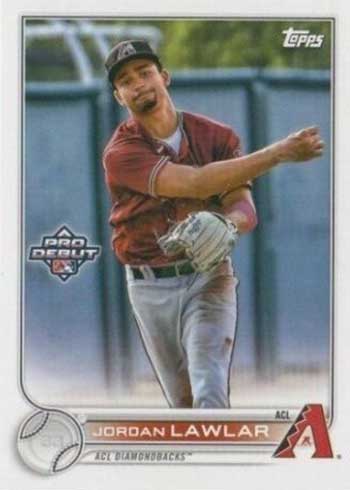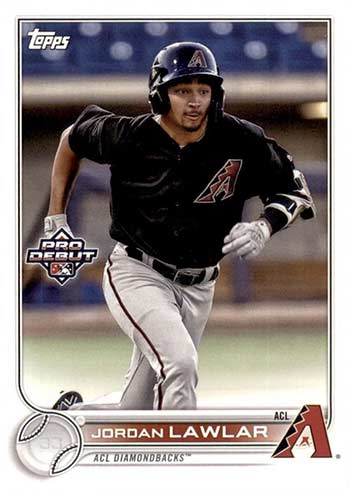 PD-104 Kahlil Watson, FCL Marlins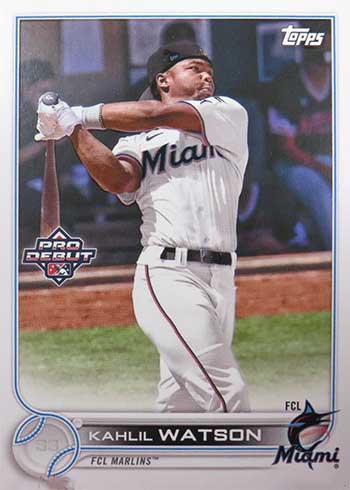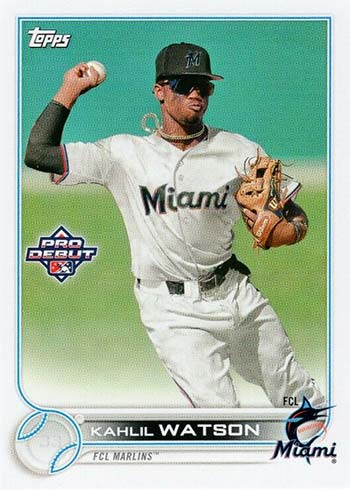 PD-115 Blaze Jordan, Salem Red Sox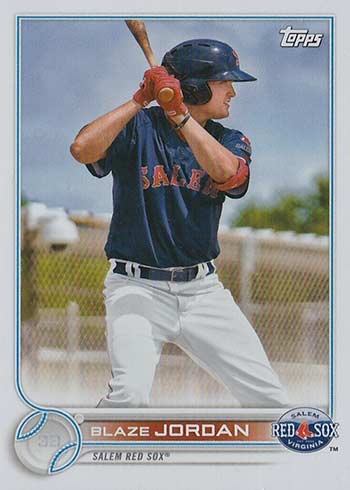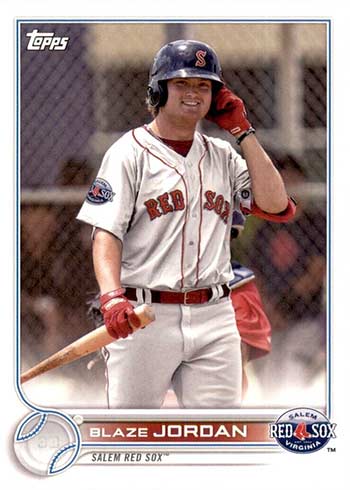 PD-127 Cristian Santana, Lakeland Flying Tigers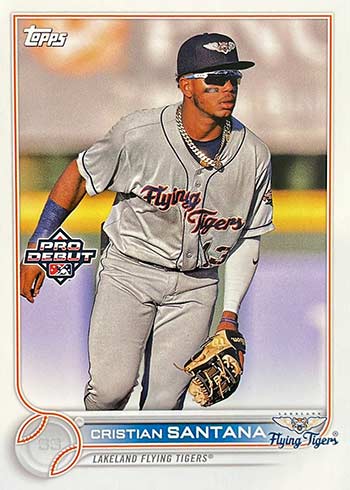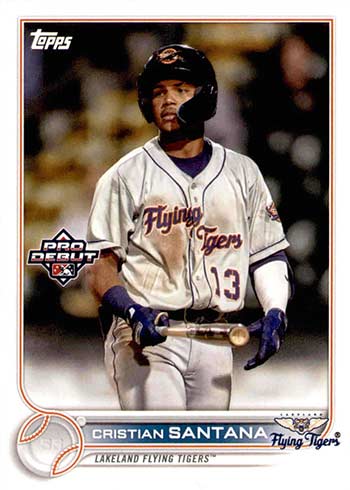 PD-139 Henry Davis, Greensboro Grasshoppers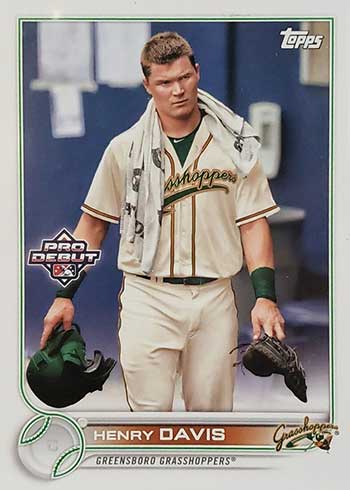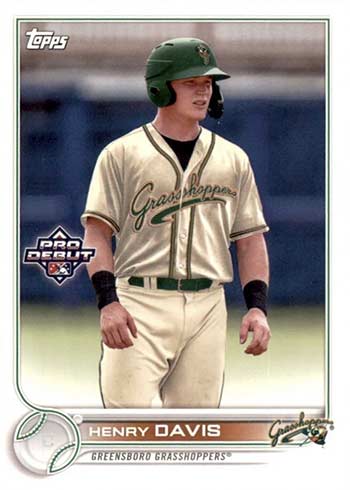 PD-153 Oscar Colas, Winston-Salem Dash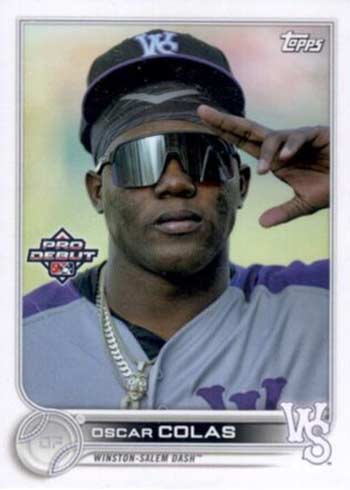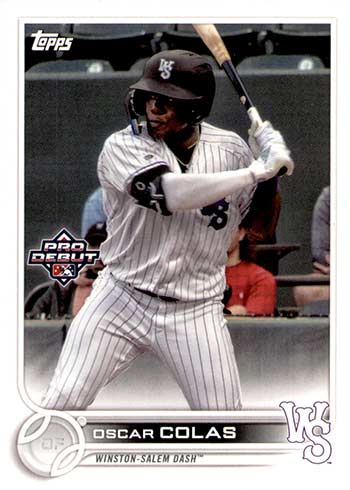 PD-172 Roberto Campos, Lakeland Flying Tigers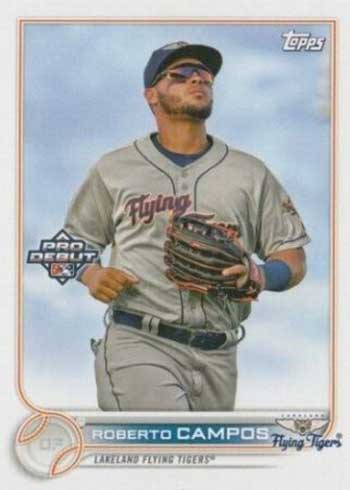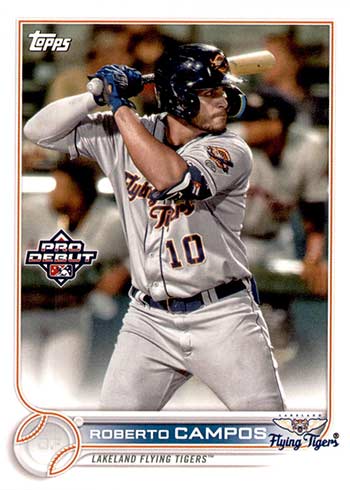 PD-189 Elly De La Cruz, Dayton Dragons