2022 Topps Heritage Elvis Presley Checklist and Details
When you click on links to various merchants on this site, like eBay, and make a purchase, this can result in this site earning a commission.
2022 Topps Heritage Elvis Presley channels 1956, the year the entertainment icon first broke through to stardom. That also happened to be when Topps made their first set of Elvis trading cards. It's that release that's the foundation for this modern set.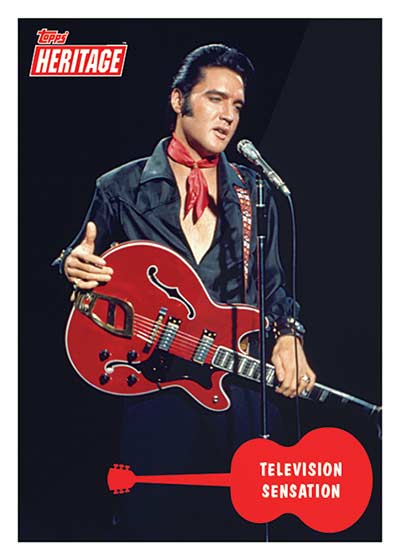 Available as an online-exclusive through the Topps website, the 40-card base set charts his musical career and personal life. The design mimics the 1956 set with new photos and content. As a modern set, that also means parallels, all of which are serial-numbered: Facsimile Signature (/199), Aloha (/25), Gold Record Foil (/5) and Platinum Record Foil (1/1).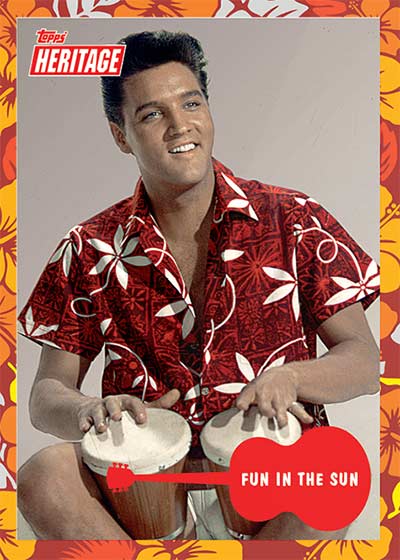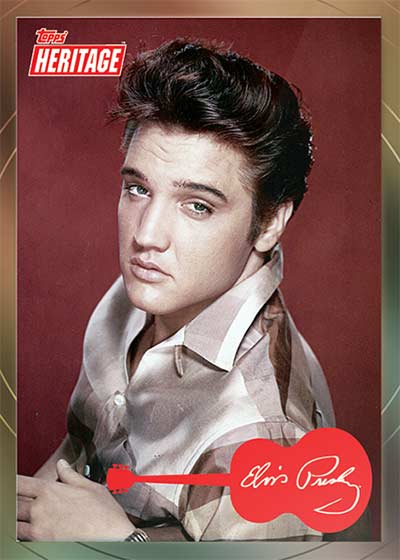 The original 1956 Topps Elvis Presley set includes cards for his big-screen debut, Love Me Tender with a slightly different design. It's homaged in Heritage with a 10-card insert set that dives deeper into Presley's other film roles.
Rounding out the checklist is a memorabilia card with a swatch from one of Presley's shirts.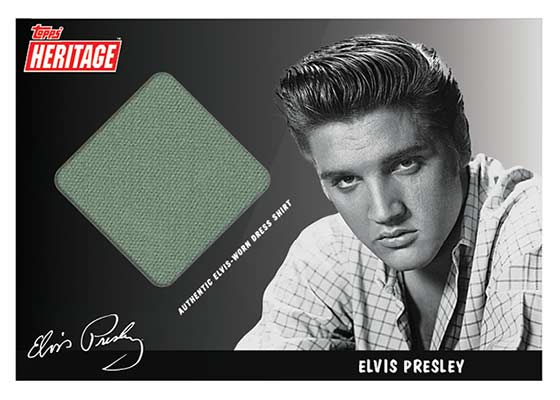 2022 Topps Heritage Elvis Presley packs cost $9.99 on the Topps website. Each includes seven base cards plus one parallel or insert. Packs are available through December 16.
2022 Topps Heritage Elvis Presley trading cards at a glance:
Cards per pack: 8
Packs per box: 1
Set size: 40 cards
Release date: November 17, 2022
What to expect in a pack:
Base Cards – 7
Inserts, Relic Cards or Parallels – 1
2022 Topps Heritage Elvis Presley Checklist
You can also download a spreadsheet copy of the checklist:
Please note that print runs for cards without serial numbers have not been announced.
Base Set Checklist
40 cards.
Parallels:
Facsimile Autograph – /199
Aloha – /25
Gold Record Foil – /5
Platinum Record Foil – 1/1
1 Signature
2 Play Ball!
3 Elvis at Home
4 Stage Presence
5 Soft & Mellow
6 On-Stage Passion
7 Philanthropy
8 Military Service
9 Elvis on Set
10 International Icon
11 Strummin'
12 Taking it Easy
13 Aloha!
14 Elvis' Versatility
15 Karate
16 Elvis' Philosophy
17 Shining Star
18 Presley Press Conference
19 Elvis & Scatter
20 Facing the Cameras
21 Fresh Face
22 Fun in the Sun
23 Jumpsuits
24 Tour of Duty
25 Rockin' on Stage
26 Relaxing
27 Television Sensation
28 Elvis the Heartthrob
29 Elvis the Sportsman
30 Singing With the Heart
31 A Well-Dressed Man
32 Elvis: a Dual-Threat
33 Million Dollar Smile
34 The Humble Superstar
35 All Eyes on Elvis
36 Reading
37 Star Quality
38 Elvis Via Satellite
39 Hanging Out Backstage
40 Checklist
Movie Design Checklist
10 cards.
M1 Love Me Tender (1956)
M2 Jailhouse Rock (1957)
M3 King Creole (1958)
M4 G.I. Blues (1960)
M5 Flaming Star (1960)
M6 Blue Hawaii (1961)
M7 Kid Galahad (1962)
M8 Viva Las Vegas (1964)
M9 Rustabout (1964)
M10 Change of Habit (1969)
Relic Checklist
1 card.
R1 Elvis Presley – Shirt Relic