2022 Topps Finest MLS Details
2022 Topps Finest MLS marks the first time the brand has been used for the North American soccer league. Like other Finest sets elsewhere, it's another chromium release led by colorful Refractors and autographs. The difference here versus other similar set ups like Topps Chrome and Stadium Club Chrome, is in the designs. Overall, they're busier and more abstract, also bringing in lots of colors even before taking parallels into account.
Hobby boxes are packaged as a pair of six-pack mini boxes. Each mini box includes one autograph.
2022 Topps Finest MLS Checklist Overview
The core of the base set has 100 cards. It's all current players and rookies. Each has more than ten parallels:
Refractors – 1:3 packs
Purple Refractors – /250
Speckle Refractors – /175
Blue Refractors – /150
Pink Prism Refractors – /125
Neon Green Refractors – /99
Aqua Refractors – /75
Gold Refractors – /50
Orange Refractors – /25
Red Refractors – /5
Superfractors – 1/1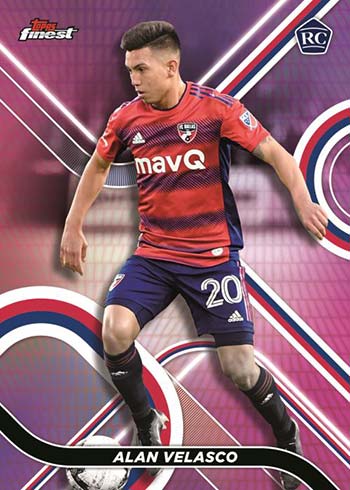 In addition to the main base set, there are Extended Base short prints that are tougher to pull. Refractors for these are limited to:
Aqua Refractors – /75
Gold Refractors – /50
Red Refractors – /5
Superfractors – 1/1
Autographs and Other Inserts
Most of the signatures in 2022 Topps Finest MLS fall under Base Autographs. These carry a virtually identical design as the main set. Refractors, Aqua Refractors (/75), Gold Refractors (/50), Red Refractors (/5) and Superfractors (1/1) are also available. For Extended Base Autographs, one-of-one Superfractors are the only parallels.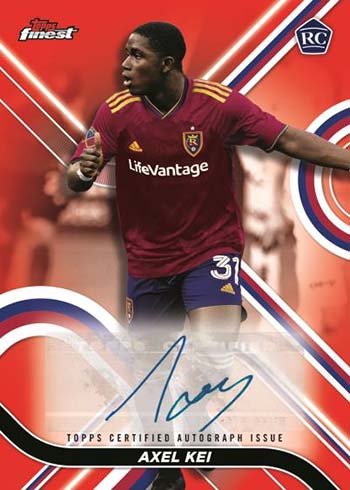 At 1:3 packs, Prized Footballers are the most common standard inserts. Top MLS players make up the checklist for these. Gold Refractors (/50), Red Refractors (/5) and Superfractors (1/1) make up the main parallel mix. However, there are also case-hit Fusion versions: Yellow/Red, Blue/Red (/45), Orange/Red, Green/Red (/25), Pink/Red, Red/Red (/5), Black/Gold, and Rose Gold/Gold (1/1).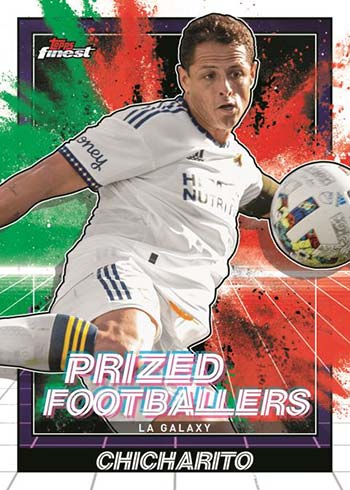 PITCHuresque (1:6 packs) may be big on puns for its name, but these inserts also draw from art for their design. Images, which come from key moments, are surrounded by a frame (as part of the card, not an actual frame like some Topps cards have) and given a canvas-like background filter.
2022 Topps Finest Centurions draw inspiration from similar inserts in 1998 Finest Baseball. It's not exactly the same, but many elements are.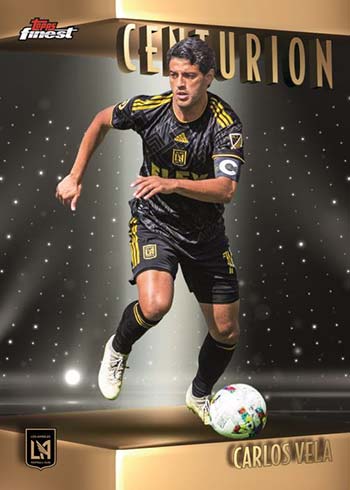 PITCHuresque and Centurions have Gold Refractor (/50), Red Refractor (/5) and Superfractor (1/1) parallels. Select cards from these and Prized Footballers also have autographs.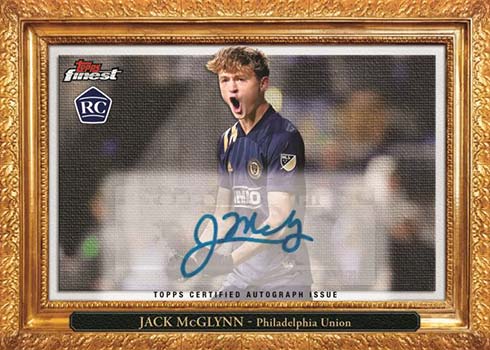 2022 Topps Finest MLS soccer cards at a glance:
Cards per pack: Hobby – 5
Packs per box: Hobby – 12 (two 6-pack mini boxes)
Boxes per case: Hobby – 8
Set size: 100 cards
Release date (subject to change): December 23, 2022
What to expect in a hobby box:
Autographs – 2
PITCHuresque – 2
Prized Footballers – 4
Refractors – 4
The full 2022 Topps Finest MLS checklist and team set lists will be up as soon as they're available, likely shortly before its release.