2022 Topps Chrome Black Star Wars Goes to the Dark Side
When it comes to Star Wars, the Dark Side is nothing new. However, 2022 Topps Chrome Black Star Wars is. Taking the metallic stock Topps Chrome is known for, Black puts a bit of a different twist on it. The configuration is also a change, going for a more premium approach.
Hobby boxes have just four cards, one of which is an autograph.
2022 Topps Chrome Black Star Wars Checklist Overview
At 100 cards, the base set isn't exactly big. However, when there are only two per box, completing it is a challenge. The checklist centers on characters, taking some of the franchise's biggest names.
Parallels combine to land one per pack. Like all things Chrome, they're Refractors. However, with the dark backdrop, you need to look to the background highlights to spot the color and rainbow reflection. The parallel rainbow consists of:
Refractors – /199
Green Refractors – /99
Blue Refractors – /75
Gold Refractors – /50
Orange Refractors – /25
Magenta Refractors – /10
Red Refractors – /5
Superfractors – 1/1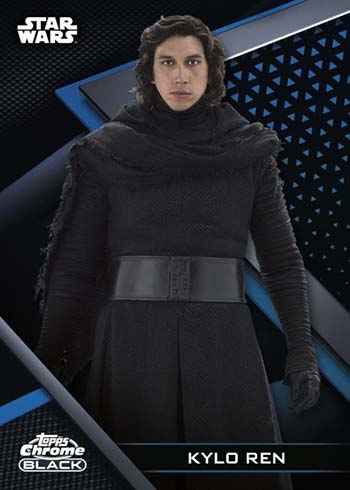 Autographs
Autographs are the only other inserts in the product. That said, they come in four different designs.
Topps Chrome Black Autographs are the most common and come with additional Green Refractors (/99), Gold Refractors (/50), Orange Refractors (/25), Red Refractors (/5) and Superfractors (1/1).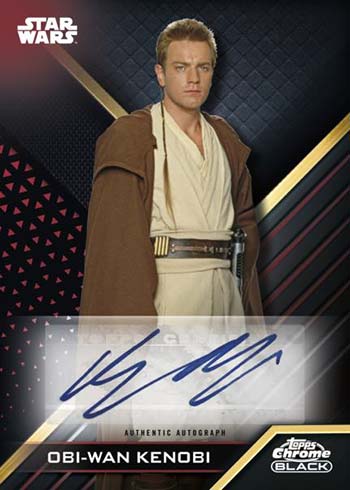 B Design Autographs change up the layout a little bit. Refractors for these are limited to Gold (/50), Orange (/25), Red (/5) and Superfractor (1/1).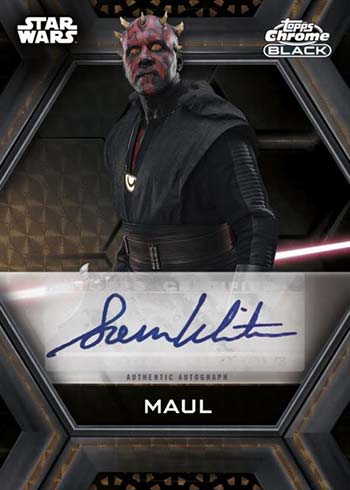 Galactic Black Autographs and Dark Side Autographs round out the checklist. Parallels for these are scarce, limited to just Red Refractors (/5) and Superfractors (1/1).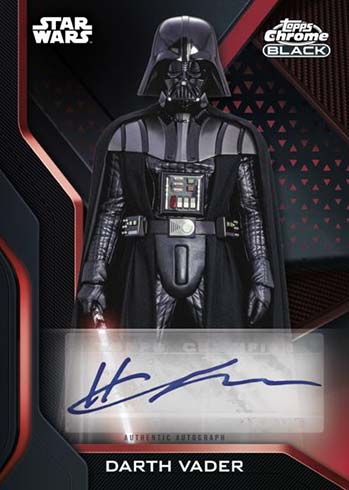 2022 Topps Chrome Black Star Wars trading cards at a glance:
Cards per pack: Hobby – 4
Packs per box: Hobby – 1
Boxes per case: Hobby – 12
Set size: 100 cards
Release date (subject to change): September 28, 2022
What to expect in a hobby box:
Autographs – 1
Parallels – 1
Base Cards – 2
The checklist will be up as soon as it's available, likely shortly before it comes out.