2022 Panini Instant UFC Checklist and Details
2022 Panini Instant UFC marks the second year for the print-to-order series.
Available exclusively through Panini's website, the checklist is an evolving one that highlights big matches, moments and title changes throughout the year.
In the days — not weeks or months — following such events, cards are made available online. Typically there's a one-week sales window. Whatever's ordered during that time is what's made with the print run noted on the back. After that, the secondary market is the only way to get them, which can sometimes be tough.
Individual cards are $9.99 each through Panini. Discounts are available for lots of five, 10 and 25 copies of the same card. If there are several cards at any given time, Panini will often offer a discount on bundles for every card in a given week.
In addition to the base 2022 Panini Instant UFC cards, there are additional parallels, Versicolor (/5) and Black (1/1). These are available separately and are available until they sell out. Some cards may get autographs as well.
Artist Series Posters
The Artist Series Posters make a return. Although part of 2022 Panini Instant UFC, these card do have separate numbering.
Instead of photos, these cards have an artist's take on a marquee card, making for a variety of styles.
Artist Series Poster cards have a similar sales format as regular cards.
2022 Panini Instant UFC Checklist
This checklist will grow throughout the year. Known print runs are noted. If you're looking for a particular card, click on the links to see what's currently available on eBay.
Parallels:
Versicolor – /5
Black – 1/1
UFC 270 – January 22, 2022
1 Jack Della Maddalena – Della Maddalena TKOs Rodriguez in UFC Debut – 317
2 Victor Henry – Henry Wins Debut Via Unanimous Decision – 161
3 Michael Morales – Morales Defeats Giles Via First Round TKO – 223
4 Said Nurmagomedov – Nurmagomedov Submits Stamann in First Round – 98
5 Michel Pereira – Pereira Defeats Fialho Via Unanimous Decision – 80
6 Deiveson Figueiredo – And New…World Flyweight Champion – 81
7 Francis Ngannou – Ngannou Retains World Heavyweight Championship Title – 124
UFC 271 – February 12, 2022
8 Bobby Green – Green Earns Decision with Striking Clinic – 83
9 Renato Moicano – Moicano Submits Hernandez in Second Round – 83
10 Jared Cannonier – Cannonier KOs Brunson in the Second – 83
11 Tai Tuivasa – "Bam Bam" Records Fifth Straight Knockout Win – 125
12 Israel Adesanya – Adesanya Retains Middleweight Title Via Unanimous Decision – 193
UFC Fight Night – February 26, 2022
13 Islam Makhachev – Makhachev Earns 10th Straight Win – 193
UFC 272 – March 5, 2022
14 Umar Nurmagomedov – Nurmagomedov Extends Unbeaten Streak – 1,114
15 Maryna Moroz – Moroz Dominates in Emotional Win – 112
16 Jalin Turner – Turner Victorious Via TKO for 4th Straight Win – 103
17 Serghei Spivac – Spivac TKOs Hardy in the First Round – 108
18 Kevin Holland – Holland Successful in Welterweight Return – 90
19 Bryce Mitchell – Thug Nasty' Dominates in Unanimous Decision Win – 107
20 Rafael Dos Anjos – Dos Anjos Wins Via Unanimous Decision – 93
21 Colby Covington – Covington Earns Decision Win Over Masvidal – 99
UFC Fight Night – March 19, 2022
22 Muhammad Mokaev – Mokaev Victorious via Guillotine Choke – 1,109
23 Ilia Topuria – Topuria KOs Herbert in the Second Round – 394
24 Molly McCann – McCann Wins Via Spinning Back Elbow – 229
25 Paddy Pimblett – Pimblett Wows the Home Crowd with Rear-Naked Choke Submission – 661
26 Paddy Pimblett / Molly McCann – Pimblett Celebrates Submission Win with McCann – 605
27 Tom Aspinall – Aspinall Submits Volkov in the First – 246
UFC 273 – April 9, 2022
28 Mike Malott – Malott Impresses in UFC Debut with First Round TKO
29 Ian Garry – Garry Improves to 9-0 via Unanimous Decision
30 Mark Madsen – Madsen Beats Pichel via Unanimous Decision
31 Mackenzie Dern – Dern Defeats Torres via Split Decision
32 Khamzat Chimaev – Chimaev and Burns Electrify the Crowd
33 Aljamain Sterling – The Undisputed Bantamweight Champion
34 Alexander Volkanovski – Volcanovski Makes Statement with a Dominant Title Defense
UFC Fight Night – April 30, 2022
35 Natan Levy – Levy Earns First UFC Win
36 Alexandr Romanov – Romanov Improves to 16-0 Via First Round Submission
37 Marlon Vera – Vera Defeats Font Via Unanimous Decision
UFC 274 – May 7, 2022
38 Andre Fialho – Filaho KOs Vancamp in the First Round
39 Randy Brown – Brown Earns Split Decision Win Over Williams
40 Ovince Saint Preux – Saint Preux Defeats Shogun Via Split Decision
41 Michel Chandler – Chandler Lands Incredible KO Kick on Ferguson
42 Carla Esparza – And New…Women's Strawweight Champion
43 Charles Oliveira – Oliveira Submits Gaethje in the First Round
UFC Fight Night – May 14, 2022
44 Andre Petroski – Petroski Submits Maximov in the First Round
45 Tatsuro Taira – Taira Wins Unanimous Decision in UFC Debut
46 Allan Nascimento – Nascimento Wins in UFC Debut
47 Manuel Torres – Torres TKOs Camacho in UFC Debut
UFC 275 – June 11, 2022
48 Silvana Gomez Juarez – Performance of the Night
49 Maheshate – Maheshate TKOs Garcia in UFC Debut
50 Josh Culibao – Culibao Defeats Choi Via Split Decision
51 Jack Della Maddalena – Della Maddalena TKOs Emeev in the First Round
52 Jake Matthews – Matthews KOs Fialho in the Second Round
53 Joanna Jedrzejczyk – Jedrzejczyk Announces Retirement
54 Zhang Weili – Weili KOs Jedrzejczyk Via Spinning Backfist
55 Valentina Shevchenko – Shevchenko Retains Title Via Split Decision Win
56 Jiri Prochazka – And New…Light Heavyweight Champion
UFC Fight Night – June 18, 2022
57 Roman Dolidze – Dolidze Dazzles with First Round Knockout
58 Phil Hawes – Hawes Earns TKO Win in the Second Round
59 Ricardo Ramos – Ramos KOs Chavez with Spinning Back Elbow
60 Jeremiah Wells – Wells Wins Fifth in a Row via Knockout
61 Adrian Yanez – Yanez Defeats Kelley Via TKO
62 Gregory Rodrigues – Rodrigues Stuns Marquez in the First Round
63 Damir Ismagulov – Ismagulov Continues Win Streak
UFC Fight Night – June 25, 2022
64 Carlos Ulberg – Ulberg Scores 75-Second TKO
65 Umar Nurmagomedov – Nurmagomedov Records 15th Straight Win
66 Shavkat Rakhmonov – Rakhmonov Extends Win Streak to 16-0
67 Mateusz Gamrot – Gamrot Goes the Distance with Tsarukyan, Earning Unanimous Decision Win
UFC Hall of Fame – June 30, 2022
68 Doohoo Choi / Cub Swanson – UFC Hall of Fame Class of 2022 Fight Wing Inductee
69 Daniel Cormier – UFC Hall of Fame Class of 2022 Modern Wing Inductee
70 Khabib Nurmagomedov – UFC Hall of Fame Class of 2022 Modern Wing Inductee
71 Khabib Nurmagomedov / Daniel Cormier – UFC Hall of Fame Class of 2022 Modern Wing Inductees
UFC 276 – July 2, 2022
72 Andre Muniz – Muniz Dominates in Unanimous Decision Win
73 Dricus Du Plessis – Du Plessis Climbs the Ranks with Another Win
74 Donald Cerrone – Cowboy Calls It a Career
75 Jim Miller – Miller Becomes UFC's All Time Wins Leader
76 Jalin Turner – Turner Submits Riddell in the First Round
77 Sean O'Malley / Pedro Munhoz – O'Malley vs. Munhoz Ends in a No Contest
78 Bryan Barberena – Barberena TKOs Lawler in the Second Round
79 Alex Pereira – Pereira Makes Statement to Become Top 10 Middleweight Contender
80 Alexander Volkanovski – Volkanovski Ends Trilogy Versus Holloway 3-0
81 Israel Adesanya – Adesanya Entertains with Epic Walkout
82 Israel Adesanya – Adesanya Retains the Middleweight Title
UFC Fight Night – July 16, 2022
83 Matt Schnell – Schnell Pulls Off "Comeback of the Year" Contender
84 Muhammad Mokaev – Mokaev Improves to 8-0 Via Unanimous Decision Win
85 Molly McCann – McCann Lands Second Consecutive Spinning Back Elbow for KO
86 Paddy Pimblett – Pimblett Submits Leavitt in the Second Round
87 Paddy Pimblett – Pimblett Celebrates After Submission Win
UFC 277 – July 30, 2022
88 Michael Morales – Morales Celebrates After Improving to 14-0
89 Magomed Ankalaev – Ankalaev TKOs Smith in the Second Round
90 Alexandre Pantoja – Pantoja Submits Perez in the First Round
91 Sergei Pavlovich – Pavlovich Victorious Via TKO
92 Brandon Moreno – Moreno Defeats Kara-France for Interim Belt
93 Amanda Nunes – And New…Bantamweight Champion
UFC Fight Night – August 6, 2022
94 Cory McKenna – McKenna Makes History with Von Flue Choke Submission
95 Bryan Battle – Battle Delivers Head Kick for Knockout Win
96 Terrance McKinney – McKinney Adds Another First Round Finish
97 Juliana Miller – The Ultimate Fighter Flyweight Winner
98 Mohammed Usman – The Ultimate Fighter Heavyweight Winner
99 Geoff Neal – Neal KOs Luque in the Third Round
100 Jamahl Hill – Hill's TKO Win Closes Out Historic UFC Vegas 59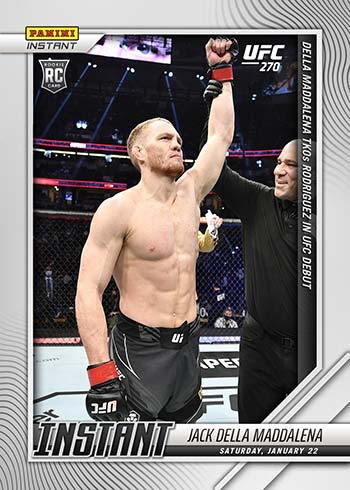 Artist Series Posters
AS270 UFC 270: Ngannou vs. Gane by Jonathan Bartlett – 212
AS271 UFC 271: Adesanya vs. Whittaker 2 by Jeremy Lord – 396
AS272 UFC 272: Covington vs. Masvidal by Cesar Moreno – 379
AS273 UFC 273: Volkanovski vs. The Korean Zombie by Ivan Tao
AS274 UFC 274: Oliveira vs. Gaethje by James Jirat Patradoon
AS275 UFC 275: Teixeira vs. Prochazka by Carles Garcia O'Dowd
AS276 UFC 276: Adesanya vs. Cannonier by Adam Osbourne
AS277 UFC 277 Pena vs. Nunes 2 by Alexis Franklin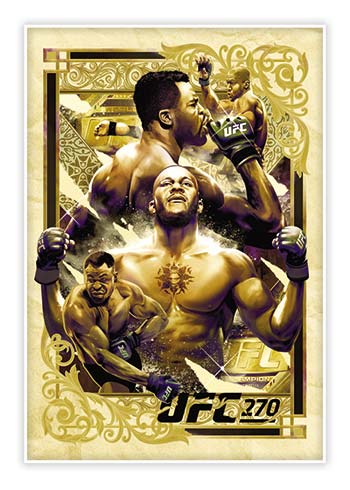 Fight Posters
UFC270 UFC 270: Ngannou vs. Gane – 75
UFC271 UFC 271: Adesanya vs. Whittaker 2 – 83
UFC272 UFC 272: Covington vs. Masvidal – 83
UFC273 UFC 273: Volkanovski vs. The Korean Zombie – 88
UFC274 UFC 274: Oliveira vs. Gaethje – 70
UFC275 UFC 275: Teixeira vs. Prochazka