2022 Onyx Nimbus Multi-Sport Checklist and Details
2022 Onyx Nimbus Multi-Sport is a new high-end release from the card maker. With it comes cards and autographs from standouts in baseball, basketball, football, soccer and more. The checklist has several Hall of Fame-caliber names, current superstars and up-and-coming prospects.
Four-card boxes include a pair of on-card autographs.
2022 Onyx Nimbus Multi-Sport Checklist Overview
The core of the release is limited to just 25 athletes. They include Albert Pujols, Mike Tyson, Juan Soto and Kalr-Anthony Towns. Young stars such as Trinity Rodman, Catarina Macario, Jackson Holliday and Elly De La Cruz are also featured.
Great time with Mike Tyson today!! Signing his Nimbus cards and other surprises! Also, a big thank you to Ryan @FitermanSports ! pic.twitter.com/5IjAR8xQtI

— Onyx Authenticated (@Onyx_Authentic) January 22, 2023
All autographs come with on-card signatures and are done on thick 130 pt. stock. They're also hand-numbered and come already in a one-touch holder.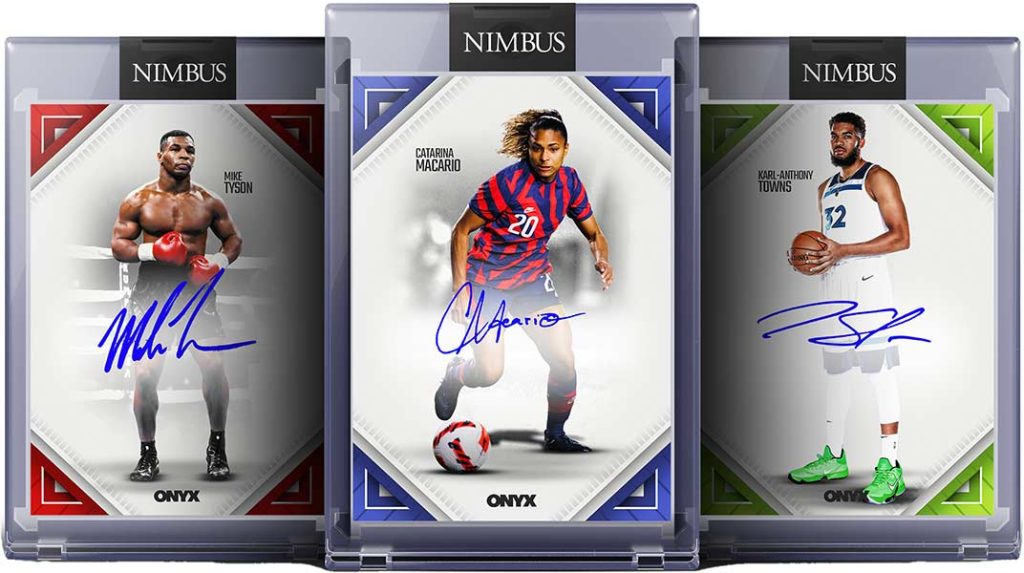 Some cards have inscriptions and dual autographs are also possible.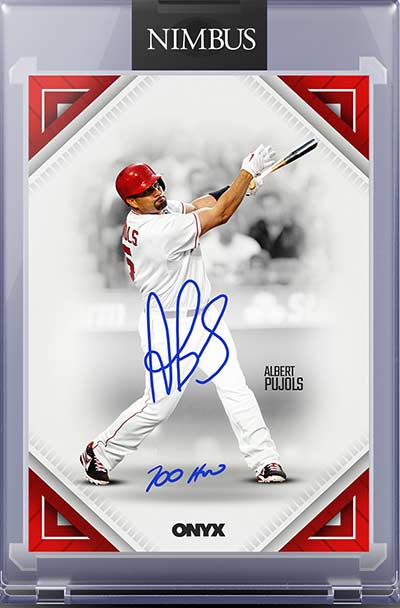 2022 Onyx Nimbus Multi-Sport cards at a glance:
Cards per pack: 4
Packs per box: 1
Boxes per case: 4
Release date: February 3, 2022
Shop for 2022 Onyx Nimbus boxes on eBay:
What to expect in a hobby box:
2022 Onyx Nimbus Multi-Sport Checklist
Please note that print runs for cards without serial numbers have not been announced.
Specifics on card numbers and different versions have not been confirmed.
Players List
25 cards.
Kayshon Boutte – Football
Dylan Crews – Baseball
Gavin Cross – Baseball
Elly De La Cruz – Baseball
Chase Dollander – Baseball
Druw Jones – Baseball
Melchie Dumorney – Soccer
Jess Fishlock – Soccer
Jackson Holliday – Baseball
Spencer Jones – Baseball
Jordan Lawler – Baseball
Dylan Lesko – Baseball
Will Levis – Football
Catarina Macario – Soccer – Redemption
MacKenzie Mgbako – Basketball
Kevin Parada – Baseball
Albert Pujols – Baseball
Trinity Rodman – Soccer
OJ Simpson – Football
Jaxon Smith-Njigba – Football
Juan Soto – Baseball
CJ Stroud – Football
Karl-Anthony Towns – Basketball
Mike Tyson – Boxing
Juju Watkins – Basketball
Limited Edition Cards
8 players.
Josh Allen – Football
Jonathan David – Soccer
Wander Franco – Baseball
Ricky Henderson – Baseball
Justin Herbert – Football
Chipper Jones – Baseball
Bijan Robinson – Football
Ichiro Suzuki – Baseball