2022 Industry Summit Award Winners
When you click on links to various merchants on this site, like eBay, and make a purchase, this can result in this site earning a commission.
The 2022 Industry Summit Awards were handed out on Wednesday, the final day of the conference. The annual awards honor the best in the hobby for cards and other areas of the industry.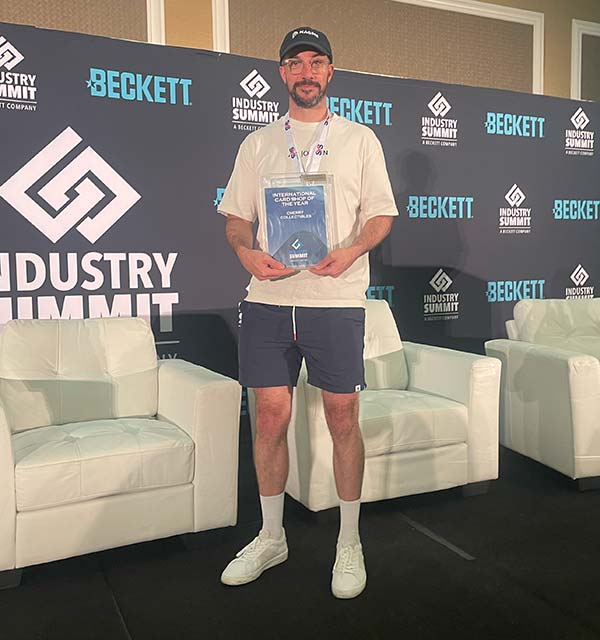 For trading card products, they cover the previous year (2021 and 2020-21). Winners were determined by a public vote held prior to the Summit.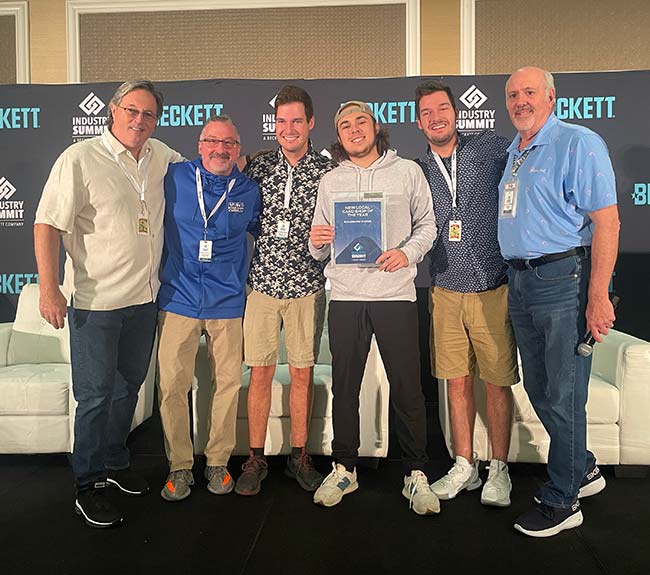 Best Baseball Product: 2021 Panini National Treasures Baseball
Best Basketball Product: 2020-21 Panini Prizm Basketball
Best Football Product: 2021 Panini National Treasures Football
Best Hockey Product: 2020-21 SP Authentic Hockey
Best Collegiate Product: 2021 Panini National Treasures Football
Best Non-Sports Product: 2021 Topps Star Wars Galaxy Chrome
Best Golf Product: 2021 SP Authentic Golf
Best Soccer Product: 2020-21 Panini Obsidian Soccer
Best MMA Product: 2021 Panini Prizm UFC
Best Racing Product: 2021 Topps Chrome Sapphire Formula 1
Best Wrestling Product: 2021 Topps Chrome WWE
Best Multi-Sport Product: 2021 Topps Allen & Ginter
Best Non-Traditional Release: 2021 Topps Now
Best Trading Card Game Product: 2021 Pokemon Sword and Shield Evolving Skies
Best Autograph Card: 2020-21 Immaculate Collection Dual Logoman Autographs Larry Bird/Luka Doncic 1/1
Best Memorabilia Card: 2020-21 Panini Flawless Triple Logoman LeBron James 1/1
Card of the Year: 2020-21 Panini Flawless Triple Logoman LeBron James 1/1
Product of the Year: 2020-21 Panini Flawless Basketball
Re-Pack Product of the Year: Hit Parade by Dave & Adam's
Best Manufacturer Customer Service: Topps
Best Single-Day Promotion: Panini Black Friday
Best Ongoing Promotion: Panini 1st Off the Line
Hobby Supplier of the Year: UltraPRO
Hobby Influencer of the Year: Sports Card Nonsense – Jesse Gibson and Mike Gioseffi
Sports Artist of the Year: Lauren Taylor
Local Card Shop of the Year: Dave & Adam's Card World
International Card Shop of the Year: (tie) Cherry Collectibles, Dave & Adams Amsterdam
New Local Card Shop of the Year: Roadshow Cards
Distributor of the Year: GST Distribution
Breaker of the Year: Hitman Sport Breaks
Auction House of the Year: Pristine Auction
Hobby Podcast of the Year: Sports Card Nonsense – Jesse Gibson and Mike Gioseffi