2022 Donruss UFC Checklist and Details
2022 Donruss UFC might be the first set of MMA cards for the brand, but it's bringing some familiar elements for those who have collected it in other sports. It also gives UFC a more traditional flagship-style release as Panini has focused primarily on chrome and high-end products with the license so far.
The checklist is large and includes not only a variety of inserts and parallels, but lots of them with 60 combined in every hobby box. One autograph and one memorabilia card can also be expected.
2022 Donruss UFC Checklist Overview
The Donruss name has more than 40 years of history in sports cards, dating back to the early 1980s with baseball and golf. Things have evolved since then and today's Donruss sets look a lot different as a result. Still, there is a sort of nostalgic punch behind many of the themes and designs.
The base set includes couple of different card styles. The majority of the checklist consists of standard fighter cards. However, there's also the Rated Rookies subset, one of the most iconic parts of Donruss' legacy.
Collectors can look for several levels of parallels including hobby-only versions like Holo Laser Gold and Holo Laser Black.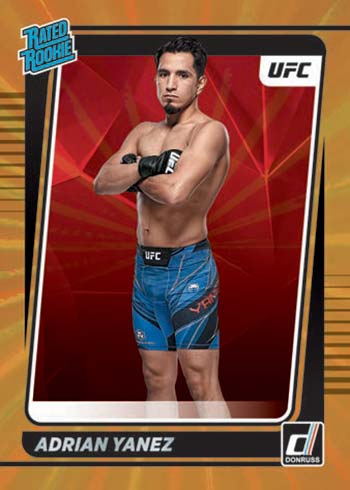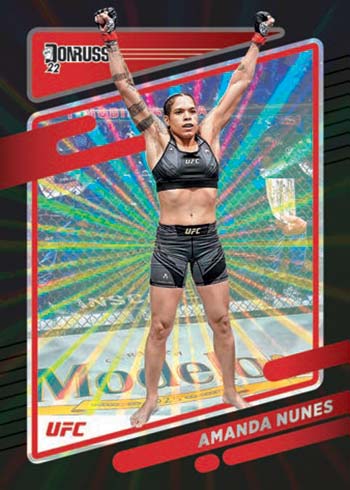 Voices of the Octagon cards venture outside of the fighters and bring announcers and other UFC personalities into the fold. Besides regular parallels, select cards also have rare autographs.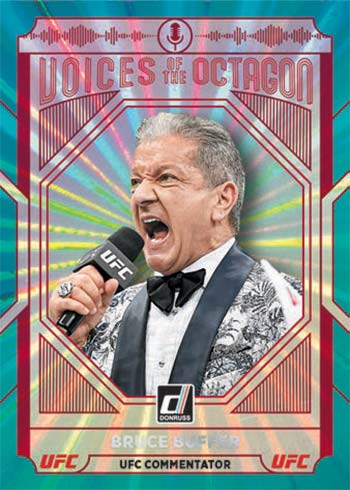 More ink can be found in Signature Series and Rated Rookie Signatures.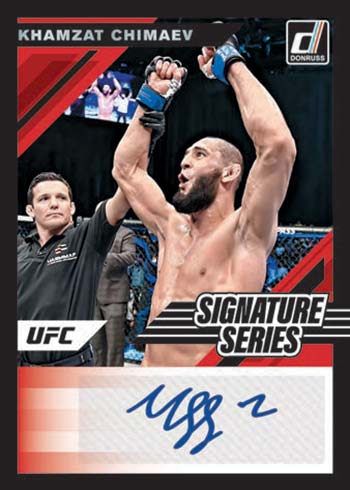 Octagon Canvas Materials ranks among the product's memorabilia offerings.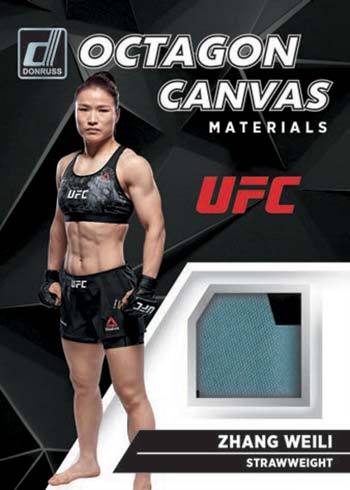 Many of the product's other inserts have roots in recent basketball and football sets.
Crunch Time takes inspiration from cereal box designs.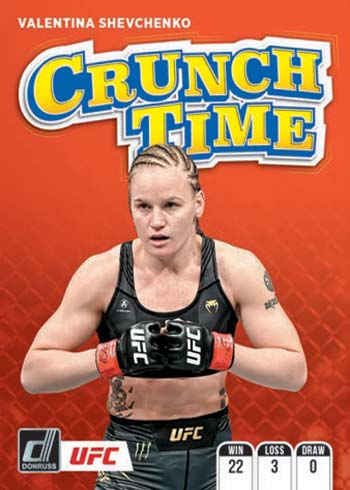 Taking a page from comic books, Octagon Marvels mimic the layout of covers.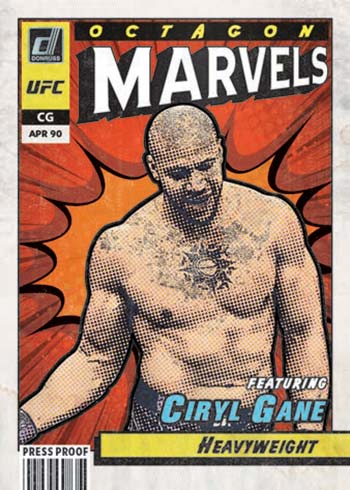 There's also Retro Series that might remind some of dressing up in the finest acid was jeans and going to the local portrait studio with a neon-infused backdrop.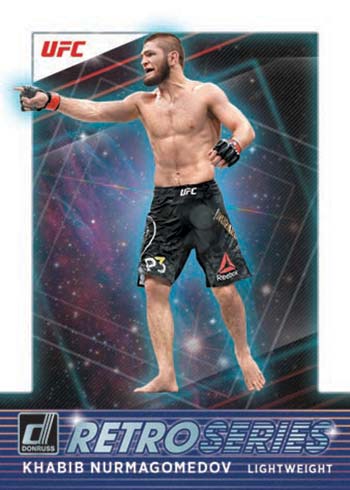 2022 Donruss UFC at a glance:
Cards per pack: Hobby – 30
Packs per box: Hobby – 10
Boxes per case: Hobby – 10
Set size: 225 cards
Release date: May 6, 2022
Shop for 2022 Donruss UFC boxes on eBay:
What to expect in a hobby box:
Autographs – 1
Memorabilia Cards – 1
Inserts or Parallels – 60 Total
2022 Donruss UFC Checklist
You can also download a customizable spreadsheet copy of the checklist:
Please note that print runs for cards without serial numbers have not been announced.