2022 Clearly Donruss Football Checklist, Team Sets and Details
When you click on links to various merchants on this site, like eBay, and make a purchase, this can result in this site earning a commission.
2022 Clearly Donruss Football is transparent in its approach — literally. The idea is that it takes the 2022 Donruss Football design, as well as some of its inserts and themes, and does it on acetate stock.
This also gives it a more premium feel. Configuration wise, hobby boxes include one autograph and another insert. For Rookie Cards collectors, Rated Rookies average out to one per pack.
2022 Clearly Donruss Football Checklist Overview
The base set is a condensed 100-card checklist split evenly between veterans and Rated Rookies. Parallels, which combine to fall two per hobby box, include:
Gold
Mosaic Holo
Purple – /175
Blue – /99
Orange – /75
Red – /49
Green – /25
Black – /10
Gold Holo – /5
Platinum Holo – 1/1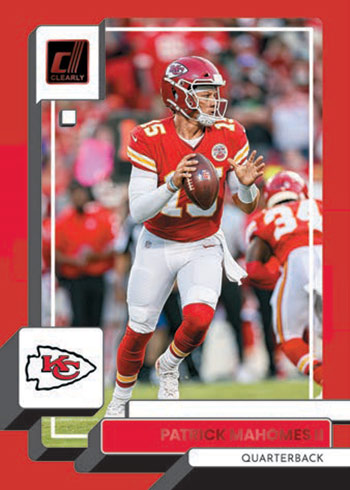 Rookies also have RR Logo Holo versions.
Autographs and Other Inserts
Clearly Rated Rookie Autographs are where the majority of the product's signature appear. These have a similar mix of parallels as the base set:
Mosaic Holo
RR Logo Holo
Purple – /175
Blue – /99
Orange – /75
Red – /49
Green – /25
Black – /10
Gold Holo – /5
Platinum Holo – 1/1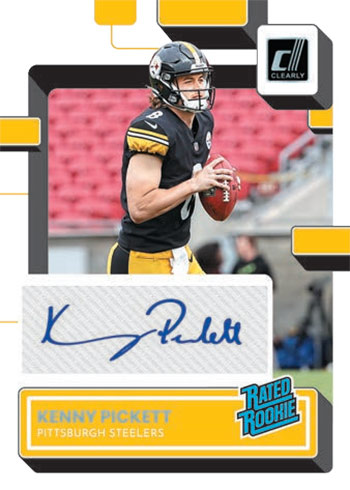 With Clearly Donruss Football only in its second year as a standalone product, there are lots of recent stars who never got the acetate treatment for their Rated Rookie cards. Enter Clearly Retro Rated Rookies, which go back to recreate cards for Patrick Mahomes, Lamar Jackson, Josh Allen and more. Platinum Holo parallels are all one-of-ones.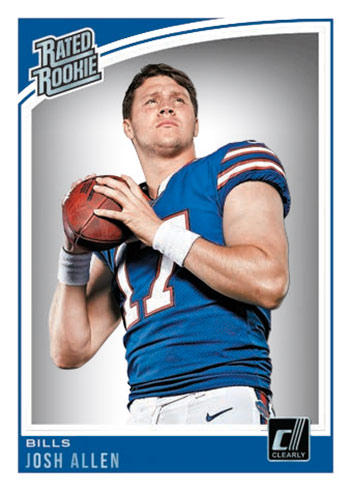 Super Bowl winners are the theme for Champions, which also have Mosaic Holo, Red (/49), Green (/25), Silver Holo (/10), Gold Holo (/5) and Platinum Holo (1/1) versions. Some cards also get the autograph treatment.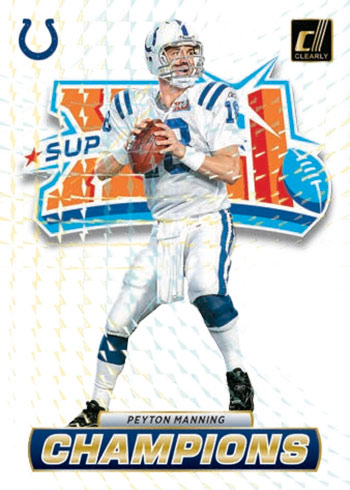 Clearly The Rookies offer a transparent turn for the familiar insert set. Parallels for these are similar to Champions.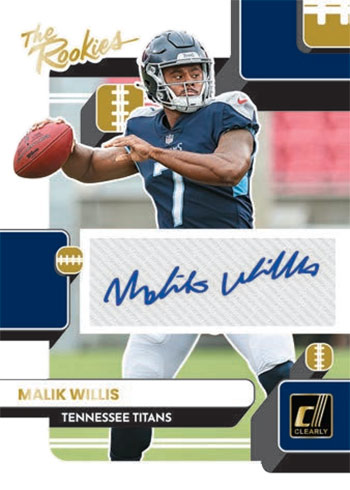 The 2022 Clearly Donruss Football checklist has three short print insert sets.
First up is a new spin on something very familiar in football — Downtown. Like the inserts found in 2022 Donruss Football, these showcase players and their cities with illustrations.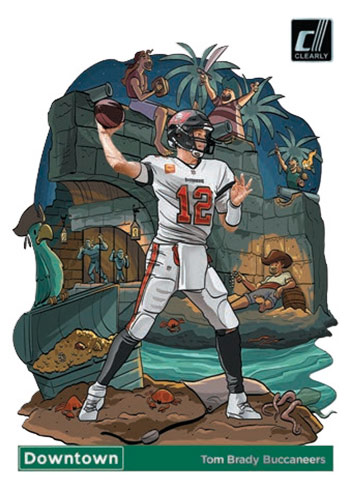 Gridiron Marvels draw their inspiration from comic covers.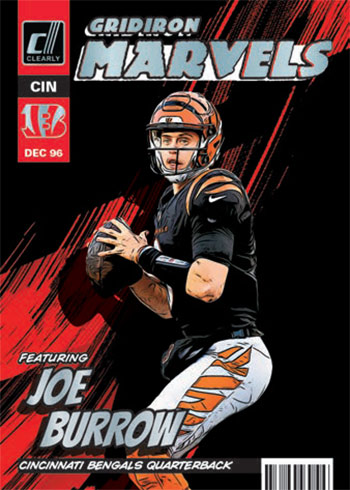 There's also new Nu-Clear cards. These have a definite '90s vibe.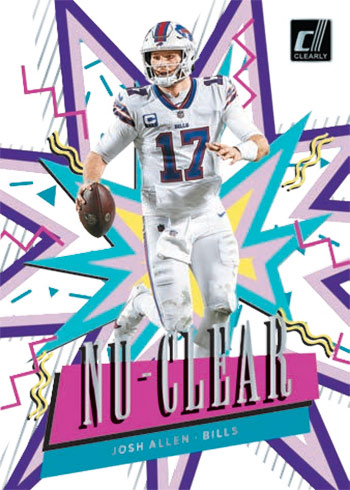 2022 Clearly Donruss Football cards at a glance:
Cards per pack: Hobby – 5
Packs per box: Hobby – 4
Boxes per case: Hobby – 16
Set size: 100 cards
Release date (subject to change): April 21, 2023
Shop for 2023 Clearly Donruss Football boxes on eBay:
What to expect in a hobby box:
Autographs – 1
Inserts – 1
Parallels – 2
Rated Rookies – 4
2022 Clearly Donruss Football Checklist
You can also download a customizable spreadsheet copy of the checklist:
Please note that print runs for cards without serial numbers have not been announced.
Recent Clearly Donruss Football releases: