2022-23 Upper Deck Tim Hortons Hockey Checklist, Team Set Lists — The Ultimate Guide
When you click on links to various merchants on this site, like eBay, and make a purchase, this can result in this site earning a commission.
2022-23 Upper Deck Tim Hortons Hockey cards mark the eighth installment of the popular promotional set. Available at participating restaurants across Canada beginning Monday, October 3, the checklist brings a lot of familiar elements as well as some new ones.
Packs continue to cost $1 each with the purchase of most drinks or $1.99 on their own.
2022-23 Upper Deck Tim Hortons Hockey Checklist Overview
At 120 cards, the checklist is a big one for a food issue release. However, it is down slightly from the 125 in the 2021-22 set. The main focus is on top stars with a few young players mixed in. Tim Horton leads off the base set once again.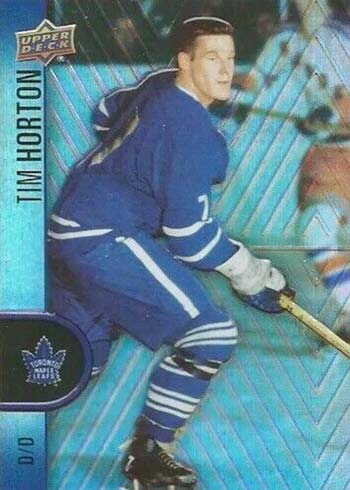 The usual suspects like Connor McDavid, Alex Ovechkin and Sidney Crosby are also on the 2022-23 Upper Deck Tim Hortons Hockey checklist. There are no Rookie Cards, though, which is typical for the release.
Cards continue to be done in foil with embossed highlights. This has been the case since the first promotion in 2015-16.
Backs have a headshot along with player vitals and limited stats.
It's also worth noting that stats on the back only go up to the 2020-21 season. This is because of the tight production schedule required to ensure the set releases on time. The card industry is still dealing with some supply chain issues and with the large production run of this set, it required more time to print and a cut-off date before the 2021-22 regular season came to a close.
2022-23 Upper Deck Tim Hortons Hockey Inserts
2022-23 Upper Deck Tim Hortons Hockey cards packs have seven different insert sets available in them.
Red Die-Cuts return. The largest of these sets, there are 40 cards with one landing every four packs. While these have a similar layout as the base set other than the rounded corners and red background, there are some different players here.
Flow of Time is the toughest of the regular inserts, falling 1:24 packs. Done on lenticular stock to make them look 3-D, they show two photos of the featured player — one from early in their career and another more recent one.
Gold Etchings (1:8 packs) and Superstar Showcase (1:6 packs) box use intricate gold foil to highlight their designs. Both have 18 cards.
Hockey Triumphs might not have cutting-edge photography, but they do have standout photos of big moments and celebrations from the past couple of seasons.
Other insert sets on the 2022-23 Upper Deck Tim Hortons Hockey card checklist include InMotion Phenoms (18 cards, 1:12 packs) and Spectrum Standouts (18 cards, 1:9 packs).
Top Draft Choice returns as a redemption. In the past these have been for a card of the first overall pick in the NHL Draft. There's also a special Wayne Gretzky card. Odds on each of these is 1:12,000 packs.
Autographs and Memorabilia Cards
Hits are also available in 2022-23 Upper Deck Tim Hortons Hockey, but only as redemptions. NHL Signatures has 15 different players, which are a mix of top superstars and young players. Landing 1:7,200 packs, there are a total of 2,623 available. Print runs for specific cards are not known.
NHL Jersey Relic Signatures add a swatch to the mix. Just 150 are available across the entire production run. Odds are 1:125,867 packs. The six-card checklist includes Connor McDavid, Jonathan Toews and Elias Pettersson.
Tim Hortons spokesman Sidney Crosby and Nathan MacKinnon both appear on Superstars Signature cards. Crosby's has 87 copies while MacKinnon's is limited to 100.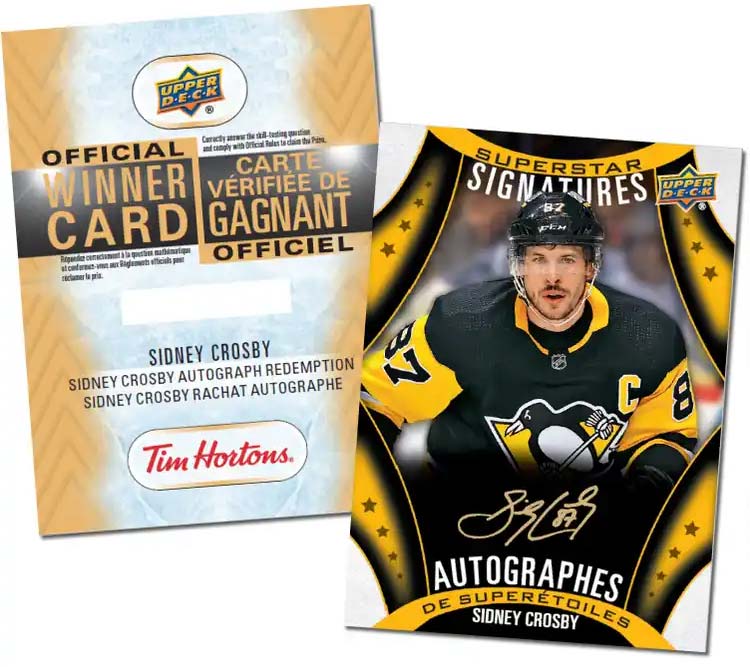 Rounding out the signatures in 2022-23 Upper Deck Tim Hortons Hockey is another installment in the Timbits Autographs run. This time, it's New Jersey's Dawson Mercer. Just 100 copies exist.
As for strictly memorabilia cards, NHL Jersey Relics is the lone set. Eighteen players are available with a total of 10,489 available. That works out to 1:1,800 packs.
2022-23 Upper Deck Tim Hortons Hockey redemptions can be redeemed on this site.
For those looking for a way to house their cards, a custom album is available for purchase at restaurants.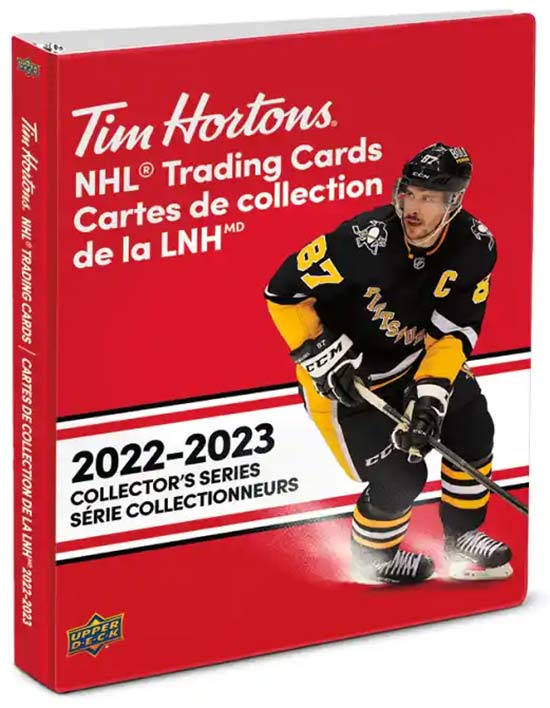 More on 2022-23 Upper Deck Tim Hortons Hockey Cards
The promotion starts on October 3 and is scheduled to run through November 14, 2022. That said, there's the usual caveat that supplies could run out sooner. Even then, it can vary by region, city and even restaurant.
According to the promotion's rules, a minimum of 18,800,800 packs were produced. That's about enough for one for every other person in Canada.
In addition to hockey cards, prize cards are randomly inserted as well as part of the Collect to Win promotion. In addition to thousands of cups of coffee and doughnuts, other prizes include X Box consoles, a trip to the 2023 Stanley Cup Finals and a chance to meet Sidney Crosby at an NHL game.
Trade Nights are back at select restaurants. These will be held on November 2 and November 9. A map showing participating restaurants is posted on the Collect to Win website.
2022-23 Upper Deck Tim Hortons Hockey cards at a glance:
Cards per pack: 3
Packs per box: 100
Set size: 120 cards
Release date: October 3, 2022
Shop for 2022-23 Upper Deck Tim Hortons Hockey cards on eBay:
2022-23 Upper Deck Tim Hortons Hockey Checklist
You can also download a customizable spreadsheet copy of the checklist:
Please note that print runs for cards without serial numbers have not been announced.
Base
Base Set Checklist
120 cards.
Buy on: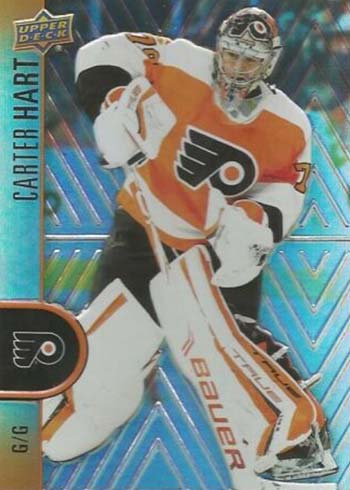 1 Tim Horton
2 Timo Meier
3 John Klingberg
4 Miro Heiskanen
5 Aaron Ekblad
6 Brock Boeser
7 Brady Takchuck
8 Alex Ovechkin
9 Sam Reinhart
10 Artemi Panarin
11 Jonathan Huberdeau
12 Alex DeBrincat
13 Alexis Lafrenière
14 Nick Suzuki
15 Frederik Andersen
16 Mitch Marner
17 Vladimir Tarasenko
18 Tim Stützle
19 Marc-Andre Fleury
20 Sebastien Aho
21 Brayden Point
22 Tyson Barrie
23 Adam Fox
24 Matt Dumba
25 Darnell Nurse
26 Charlie McAvoy
27 Nikolaj Ehlers
28 Elias Lindholm
29 Nathan MacKinnon
30 Jack Campbell
31 Carey Price
32 Johnny Gaudreau
33 Cam Talbot
34 Auston Matthews
35 Thatcher Demko
36 Mats Zuccarello
37 Patrice Bergeron
38 Boone Jenner
39 Alex Nedeljkovic
40 Elias Pettersson
41 Leon Draisaitl
42 Brendan Gallagher
43 Quinn Hughes
44 Andrew Mangiapane
45 Devon Toews
46 Trevor Zegras
47 Tomas Hertl
48 Gabriel Landeskog
49 Jordan Binnington
50 John Carlson
51 Rasmus Dahlin
52 Moritz Seider
53 Dylan Larkin
54 Nazem Kadri
55 Mark Scheifele
56 Kris Letang
57 Erik Karlsson
58 Roman Josi
59 Jake Guentzel
60 Jakob Chychrun
61 Mark Stone
62 Mikael Granlund
63 Brad Marchand
64 Alex Tuch
65 John Gibson
66 Lucas Raymond
67 Jacob Markstrom
68 Taylor Hall
69 Thomas Chabot
70 Tyler Toffoli
71 Evgeni Malkin
72 Anthony Duclair
73 P.K. Subban
74 Alex Pietrangelo
75 Drake Batherson
76 Carter Hart
77 Victor Hedman
78 Kyle Connor
79 Jack Eichel
80 Joel Farabee
81 Teuvo Teravainen
82 Jack Hughes
83 Nikita Kucherov
84 Matt Duchene
85 Evgeny Kuznetsov
86 Ryan O'Reilly
87 Sidney Crosby
88 Patrick Kane
89 Blake Wheeler
90 David Pastrnak
91 Steven Stamkos
92 Jack Roslovic
93 Jordan Kyrou
94 Andrei Vasilevskiy
95 William Nylander
96 Brent Burns
97 Connor McDavid
98 Chandler Stephenson
99 Drew Doughty
100 Seth Jones
101 Dylan Cozens
102 Igor Shesterkin
103 Dawson Mercer
104 Cale Makar
105 Matthew Tkachuk
106 Nico Hischier
107 Clayton Keller
108 Troy Terry
109 Connor Hellebuyck
110 Jason Robertson
111 Mathew Barzal
112 Aleksander Barkov
113 Cole Caufield
114 Sean Couturier
115 Kirill Kaprizov
116 Andrei Svechnikov
117 Anze Kopitar
118 John Tavares
119 Brock Nelson
120 Phil Kessel
Autographs
2022-23 Upper Deck Tim Hortons Hockey Checklist – Autographs
Nathan MacKinnon Superstars Signature Checklist
1 card.
100 made.
1:188,800 packs.
Distributed via redemption.
Nathan MacKinnon
NHL Jersey Reilc Signatures
6 cards.
150 made.
1:125,867 packs.
Distributed via redemption.
Jamie Benn
Kirby Dach
Connor McDavid
Elias Pettersson
Jesse Puljujarvi
Jonathan Toews
NHL Signatures Checklist
15 cards.
2,623 made.
1:7,200 packs.
Distributed via redemption.
Morgan Barron
Matt Boldy
Michael Bunting
Quinton Byfield
Jamie Drysdale
Parker Kelly
Spencer Knight
Connor McDavid
Ryan Murray
Martin Necas
Elias Pettersson
Tyler Seguin
Jeremy Swayman
Jonathan Toews
Chris Wideman
Sidney Crosby Superstars Signature Checklist
1 card.
87 made.
1:217,012 packs.
Distributed via redemption.
Sidney Crosby
Timbits Autographs Checklist
1 cards.
100 made.
1:188,800 packs.
Distributed via redemption.
Dawson Mercer
Memorabilia
2022-23 Upper Deck Tim Hortons Hockey Checklist – Memorabilia Cards
NHL Jersey Relics Checklist
18 cards.
10,489 made.
1:1,800 packs.
Distributed via redemption.
Tyler Bertuzzi
Brent Burns
Sidney Crosby
Leon Draisaitl
Brendan Gallagher
Carter Hart
Kirill Kaprizov
Anze Kopitar
Chris Kreider
Elias Lindholm
Ryan O'Reilly
Elias Pettersson
Carey Price
Mikko Rantanen
Mark Scheifele
Steven Stamkos
John Tavares
Brady Tkachuk
Inserts
2022-23 Upper Deck Tim Hortons Hockey Checklist – Inserts
Flow of Time Checklist
18 cards.
1:24 packs.
Buy on: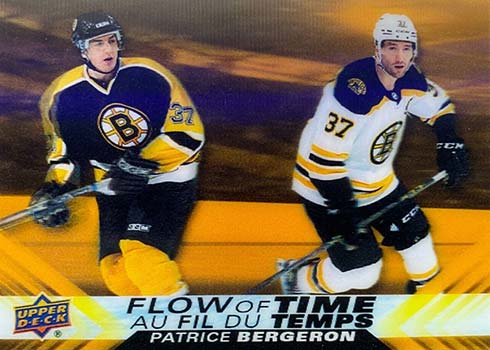 NT-1 Sidney Crosby
NT-2 Brent Burns
NT-3 Jonathan Toews
NT-4 Patrick Kane
NT-5 Patrice Bergeron
NT-6 Brad Marchand
NT-7 Kris Letang
NT-8 Anze Kopitar
NT-9 Nathan MacKinnon
NT-10 Connor McDavid
NT-11 Auston Matthews
NT-12 Nikita Kucherov
NT-13 Jamie Benn
NT-14 Steven Stamkos
NT-15 Jonathan Huberdeau
NT-16 Drew Doughty
NT-17 Alex Ovechkin
NT-18 Carey Price
Gold Etchings Checklist
18 cards.
1:8 packs.
Buy on: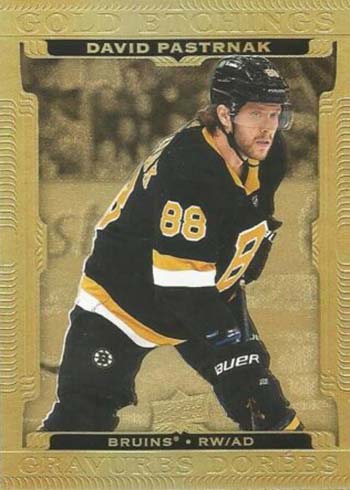 G-1 Nahtan MacKinnon
G-2 SIdney Crosby
G-3 Alex Ovechkin
G-4 Andrei Svechnikov
G-5 Carey Price
G-6 Connor McDavid
G-7 Auston Matthews
G-8 David Pastrnak
G-9 Artemi Panarin
G-10 Mark Scheifele
G-11 Elias Pettersson
G-12 Quinn Hughes
G-13 Nick Suzuki
G-14 Tim Stützle
G-15 Leon Draisaitl
G-16 Steven Stamkos
G-17 Johnny Gaudreau
G-18 Jonathan Huberdeau
Hockey Triumphs Checklist
18 cards.
1:5 packs.
Buy on: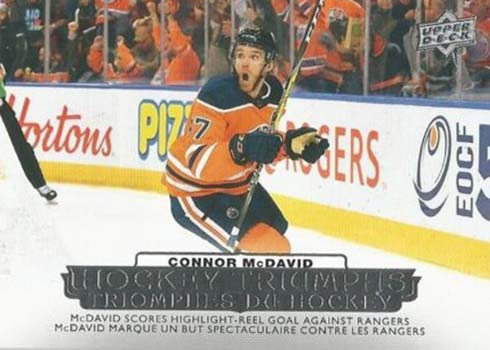 HT-1 Auston Matthews
HT-2 SIdney Crosby
HT-3 Alex Ovechkin
HT-4 Mark Stone
HT-5 Patrick Kane
HT-6 Steven Stamkos
HT-7 Brady Tkachuk
HT-8 Connor McDavid
HT-9 Kevin Fiala
HT-10 Darnell Nurse
HT-11 Mitch Marner
HT-12 Andrei Vasilevskiy
HT-13 Nikolaj Ehlers
HT-14 Cole Caufield
HT-15 Lucas Raymond
HT-16 Trevor Zegras
HT-17 Marc-Andre Fleury
HT-18 Joe Thornton
InMotion Phenoms Checklist
18 cards.
1:12 packs.
Buy on: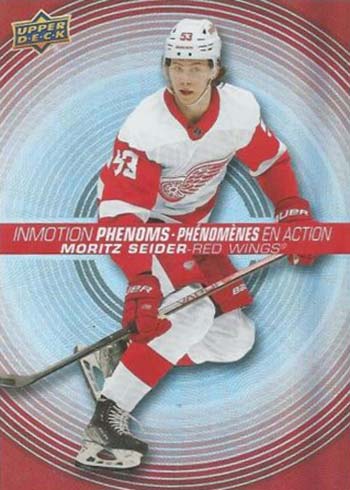 PM-1 Arthur Kaliyev
PM-2 Tim Stützle
PM-3 Jason Robertson
PM-4 Cole Caufield
PM-5 Tanner Jeannot
PM-6 Trevor Zegras
PM-7 Moritz Seider
PM-8 Dawson Mercer
PM-9 Michael Bunting
PM-10 Lucas Raymond
PM-11 Cale Makar
PM-12 Lukas Reichel
PM-13 Jamie Drysdale
PM-14 Jack Quinn
PM-15 Jonathan Dahlen
PM-16 Jeremy Swayman
PM-17 Spencer Knight
PM-18 Alexis Lafrenière
Red Die-Cut Checklist
42 cards.
1:4 packs.
Buy on: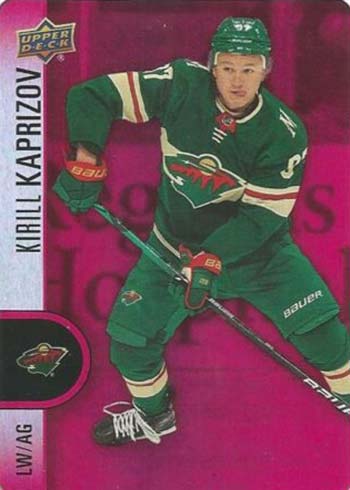 DC-1 Connor McDavid
DC-2 Sidney Crosby
DC-3 Nathan MacKinnon
DC-4 Alex Ovechkin
DC-5 Patrick Kane
DC-6 Steven Stamkos
DC-7 Cale Makar
DC-8 Mitch Marner
DC-9 Brady Tkachuk
DC-10 Quinn Hughes
DC-11 Jack Hughes
DC-12 Carey Price
DC-13 Elias Pettersson
DC-14 Artemi Panarin
DC-15 David Pastrnak
DC-16 Adam Fox
DC-17 Andrei Svechnikov
DC-18 Brent Burns
DC-19 Jaden Schwartz
DC-20 Kirill Kaprizov
DC-21 Ryan O'Reilly
DC-22 Jake Guentzel
DC-23 Brad Marchand
DC-24 Andrei Vasilevskiy
DC-25 Brayden Point
DC-26 Mark Scheifele
DC-27 Miro Heiskanen
DC-28 Auston Matthews
DC-29 Troy Terry
DC-30 Leon Draisaitl
DC-31 Chris Kreider
DC-32 Kyle Connor
DC-33 Matthew Tkachuk
DC-34 Johnny Gaudreau
DC-35 Jordan Kyrou
DC-36 John Tavares
DC-37 Aleksander Barkov
DC-38 Nick Suzuki
DC-39 Rasmus Dahlin
DC-40 Marc-Andre Fleury
DC-41 Lucas Raymond
DC-42 Moritz Seider
Spectrum Standouts Checklist
18 cards.
1:9 packs.
Buy on: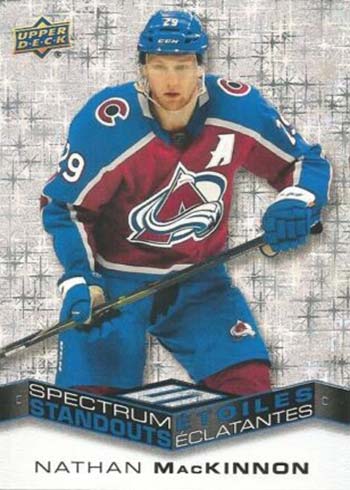 C-1 Sidney Crosby
C-2 Connor McDavid
C-3 Nathan MacKinnon
C-4 Alex Ovechkin
C-5 Auston Matthews
C-6 Patrick Kane
C-7 Elias Pettersson
C-8 Brad Marchand
C-9 Nikita Kucherov
C-10 Mitch Marner
C-11 Quinn Hughes
C-12 Lucas Raymond
C-13 Marco Rossi
C-14 Jack Quinn
C-15 Matt Boldy
C-16 William Nylander
C-17 Nazem Kadri
C-18 Tyler Bertuzzi
Superstar Showcase Checklist
18 cards.
1:6 packs.
Buy on: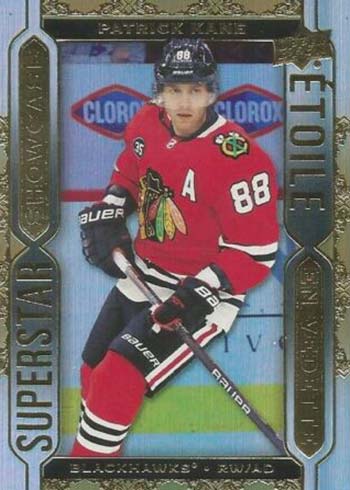 SS-1 Connor McDavid
SS-2 Leon Draisaitl
SS-3 Auston Matthews
SS-4 Sidney Crosby
SS-5 Alex Ovechkin
SS-6 Patrik Kane
SS-7 Nathan MacKinnon
SS-8 Elias Pettersson
SS-9 Brad Marchand
SS-10 Cale Makar
SS-11 Mitch Marner
SS-12 Mark Scheifele
SS-13 Brady Tkachuk
SS-14 Matthew Tkachuk
SS-15 Nick Suzuki
SS-16 Brayden Point
SS-17 Morgan Rielly
SS-18 Chris Kreider
Top Draft Pick Redemption Checklist
1 card.
1,573 produced.
1:12,000 packs.
Wayne Gretzky Tribute Checklist
1 card.
1,573 produced.
1:12,000 packs.
WG-1 Wayne Gretzky
Team Sets
2022-23 Upper Deck Tim Hortons Hockey Team Set Checklists
Want to know what cards your favorite team has in 2022-23 Upper Deck Tim Hortons Hockey? Here's the checklist broken down by team. Scroll through or click below to go directly to that team.
Please note that parallels are not included here. Please check the main checklist in the other tab for parallel specifics and insertion rates.
2022-23 Upper Deck Tim Hortons Hockey Checklist – Anaheim Ducks
Base
46 Trevor Zegras
65 John Gibson
108 Troy Terry
Hockey Triumphs
HT-16 Trevor Zegras
In Motion Phenoms
PM-6 Trevor Zegras
PM-13 Jamie Drysdale
NHL Signatures
Jamie Drysdale
Red Die-Cut
DC-29 Troy Terry
2022-23 Upper Deck Tim Hortons Hockey Checklist – Arizona Coyotes
Base
60 Jakob Chychrun
107 Clayton Keller
120 Phil Kessel
2022-23 Upper Deck Tim Hortons Hockey Checklist – Boston Bruins
Base
26 Charlie McAvoy
37 Patrice Bergeron
63 Brad Marchand
68 Taylor Hall
90 David Pastrnak
Flow of Time
NT-5 Patrice Bergeron
NT-6 Brad Marchand
Gold Etchings
G-8 David Pastrnak
In Motion Phenoms
PM-16 Jeremy Swayman
NHL Signatures
Jeremy Swayman
Red Die-Cut
DC-15 David Pastrnak
DC-23 Brad Marchand
Spectrum Standouts
C-8 Brad Marchand
Superstar Showcase
SS-9 Brad Marchand
2022-23 Upper Deck Tim Hortons Hockey Checklist – Buffalo Sabres
Base
51 Rasmus Dahlin
64 Alex Tuch
101 Dylan Cozens
In Motion Phenoms
PM-14 Jack Quinn
Red Die-Cut
DC-39 Rasmus Dahlin
Spectrum Standouts
C-14 Jack Quinn
2022-23 Upper Deck Tim Hortons Hockey Checklist – Calgary Flames
Base
28 Elias Lindholm
32 Johnny Gaudreau
44 Andrew Mangiapane
67 Jacob Markstrom
70 Tyler Toffoli
105 Matthew Tkachuk
Gold Etchings
G-17 Johnny Gaudreau
NHL Jersey Relics
Elias Lindholm
Red Die-Cut
DC-33 Matthew Tkachuk
DC-34 Johnny Gaudreau
Superstar Showcase
SS-14 Matthew Tkachuk
2022-23 Upper Deck Tim Hortons Hockey Checklist – Carolina Hurricanes
Base
15 Frederik Andersen
20 Sebastien Aho
81 Teuvo Teravainen
116 Andrei Svechnikov
Gold Etchings
G-4 Andrei Svechnikov
NHL Signatures
Martin Necas
Red Die-Cut
DC-17 Andrei Svechnikov
2022-23 Upper Deck Tim Hortons Hockey Checklist – Chicago Blackhawks
Base
12 Alex DeBrincat
88 Patrick Kane
100 Seth Jones
Flow of Time
NT-3 Jonathan Toews
NT-4 Patrick Kane
Hockey Triumphs
HT-5 Patrick Kane
HT-17 Marc-Andre Fleury
In Motion Phenoms
PM-12 Lukas Reichel
NHL Jersey Relics Signatures
Kirby Dach
Jonathan Toews
NHL Signatures
Jonathan Toews
Red Die-Cut
DC-5 Patrick Kane
Spectrum Standouts
C-6 Patrick Kane
Superstar Showcase
SS-6 Patrik Kane
2022-23 Upper Deck Tim Hortons Hockey Checklist – Colorado Avalanche
Base
29 Nathan MacKinnon
45 Devon Toews
48 Gabriel Landeskog
54 Nazem Kadri
104 Cale Makar
Flow of Time
NT-9 Nathan MacKinnon
Gold Etchings
G-1 Nahtan MacKinnon
In Motion Phenoms
PM-11 Cale Makar
NHL Jersey Relics
Mikko Rantanen
NHL Signatures
Ryan Murray
Red Die-Cut
DC-3 Nathan MacKinnon
DC-7 Cale Makar
Spectrum Standouts
C-3 Nathan MacKinnon
C-17 Nazem Kadri
Superstar Showcase
SS-7 Nathan MacKinnon
SS-10 Cale Makar
Nathan MacKinnon
2022-23 Upper Deck Tim Hortons Hockey Checklist – Columbus Blue Jackets
Base
38 Boone Jenner
92 Jack Roslovic
2022-23 Upper Deck Tim Hortons Hockey Checklist – Dallas Stars
Base
3 John Klingberg
4 Miro Heiskanen
110 Jason Robertson
Flow of Time
NT-13 Jamie Benn
In Motion Phenoms PM-3 Jason Robertson
NHL Jersey Relics Signatures
Jamie Benn
NHL Signatures
Tyler Seguin
Red Die-Cut
DC-27 Miro Heiskanen
2022-23 Upper Deck Tim Hortons Hockey Checklist – Detroit Red Wings
Base
39 Alex Nedeljkovic
52 Moritz Seider
53 Dylan Larkin
66 Lucas Raymond
Hockey Triumphs
HT-15 Lucas Raymond
In Motion Phenoms
PM-7 Moritz Seider
PM-10 Lucas Raymond
NHL Jersey Relics
Tyler Bertuzzi
Red Die-Cut
DC-41 Lucas Raymond
DC-42 Moritz Seider
Spectrum Standouts
C-12 Lucas Raymond
C-18 Tyler Bertuzzi
2022-23 Upper Deck Tim Hortons Hockey Checklist – Edmonton Oilers
Base
22 Tyson Barrie
25 Darnell Nurse
41 Leon Draisaitl
97 Connor McDavid
Flow of Time
NT-10 Connor McDavid
Gold Etchings
G-6 Connor McDavid
G-15 Leon Draisaitl
Hockey Triumphs
HT-8 Connor McDavid
HT-10 Darnell Nurse
NHL Jersey Relics
Leon Draisaitl
NHL Jersey Relics Signatures
Connor McDavid
Jesse Puljujarvi
NHL Signatures
Connor McDavid
Red Die-Cut
DC-1 Connor McDavid
DC-30 Leon Draisaitl
Spectrum Standouts
C-2 Connor McDavid
Superstar Showcase
SS-1 Connor McDavid
SS-2 Leon Draisaitl
Wayne Gretzky Tribute
WG-1 Wayne Gretzky
2022-23 Upper Deck Tim Hortons Hockey Checklist – Florida Panthers
Base
5 Aaron Ekblad
9 Sam Reinhart
11 Jonathan Huberdeau
72 Anthony Duclair
112 Aleksander Barkov
Flow of Time
NT-15 Jonathan Huberdeau
Gold Etchings
G-18 Jonathan Huberdeau
Hockey Triumphs
HT-18 Joe Thornton
In Motion Phenoms
PM-17 Spencer Knight
NHL Signatures
Spencer Knight
Red Die-Cut
DC-37 Aleksander Barkov
2022-23 Upper Deck Tim Hortons Hockey Checklist – Los Angeles Kings
Base
99 Drew Doughty
117 Anze Kopitar
Flow of Time
NT-8 Anze Kopitar
NT-16 Drew Doughty
In Motion Phenoms
PM-1 Arthur Kaliyev
NHL Jersey Relics
Anze Kopitar
NHL Signatures
Quinton Byfield
Base
19 Marc-Andre Fleury
24 Matt Dumba
33 Cam Talbot
36 Mats Zuccarello
115 Kirill Kaprizov
Flow of Time
NT-2 Brent Burns
Hockey Triumphs
HT-9 Kevin Fiala
NHL Jersey Relics
Kirill Kaprizov
NHL Signatures
Matt Boldy
Red Die-Cut
DC-20 Kirill Kaprizov
DC-40 Marc-Andre Fleury
Spectrum Standouts
C-13 Marco Rossi
C-15 Matt Boldy
Montreal Canadiens
Base
14 Nick Suzuki
31 Carey Price
42 Brendan Gallagher
113 Cole Caufield
Flow of Time
NT-18 Carey Price
Gold Etchings
G-5 Carey Price
G-13 Nick Suzuki
Hockey Triumphs
HT-14 Cole Caufield
In Motion Phenoms
PM-4 Cole Caufield
NHL Jersey Relics
Brendan Gallagher
Carey Price
NHL Signatures
Chris Wideman
Red Die-Cut
DC-12 Carey Price
DC-38 Nick Suzuki
Superstar Showcase
SS-15 Nick Suzuki
Nashville Predators
Base
58 Roman Josi
62 Mikael Granlund
84 Matt Duchene
In Motion Phenoms
PM-5 Tanner Jeannot
New Jersey Devils
Base
73 P.K. Subban
82 Jack Hughes
103 Dawson Mercer
106 Nico Hischier
In Motion Phenoms
PM-8 Dawson Mercer
Red Die-Cut
DC-11 Jack Hughes
Timbits Autographs
Dawson Mercer
New York Islanders
Base
111 Mathew Barzal
119 Brock Nelson
NHL Jersey Relics
John Tavares
Red Die-Cut
DC-36 John Tavares
New York Rangers
Base
10 Artemi Panarin
13 Alexis Lafrenière
23 Adam Fox
102 Igor Shesterkin
Gold Etchings
G-9 Artemi Panarin
In Motion Phenoms
PM-18 Alexis Lafrenière
NHL Jersey Relics
Chris Kreider
Red Die-Cut
DC-14 Artemi Panarin
DC-16 Adam Fox
DC-31 Chris Kreider
Superstar Showcase
SS-18 Chris Kreider
Ottawa Senators
Base
7 Brady Takchuck
18 Tim Stützle
69 Thomas Chabot
75 Drake Batherson
Gold Etchings
G-14 Tim Stützle
Hockey Triumphs
HT-7 Brady Tkachuk
In Motion Phenoms
PM-2 Tim Stützle
NHL Jersey Relics
Brady Tkachuk
NHL Signatures
Parker Kelly
Red Die-Cut
DC-9 Brady Tkachuk
Superstar Showcase
SS-13 Brady Tkachuk
Philadelphia Flyers
Base
76 Carter Hart
80 Joel Farabee
114 Sean Couturier
NHL Jersey Relics
Carter Hart
Pittsburgh Penguins
Base
56 Kris Letang
59 Jake Guentzel
71 Evgeni Malkin
87 Sidney Crosby
Flow of Time
NT-1 Sidney Crosby
NT-7 Kris Letang
Gold Etchings
G-2 SIdney Crosby
Hockey Triumphs
HT-2 SIdney Crosby
NHL Jersey Relics
Sidney Crosby
Red Die-Cut
DC-2 Sidney Crosby
DC-22 Jake Guentzel
Spectrum Standouts
C-1 Sidney Crosby
Superstar Showcase
SS-4 Sidney Crosby
Superstar Signatures
Sidney Crosby
San Jose Sharks
Base
2 Timo Meier
47 Tomas Hertl
57 Erik Karlsson
96 Brent Burns
Flow of Time
NT-2 Brent Burns
In Motion Phenoms
PM-15 Jonathan Dahlen
NHL Jersey Relics
Brent Burns
Red Die-Cut
DC-18 Brent Burns
Seattle Kraken
Red Die-Cut
DC-19 Jaden Schwartz
St. Louis Blues
Base
17 Vladimir Tarasenko
49 Jordan Binnington
86 Ryan O'Reilly
93 Jordan Kyrou
NHL Jersey Relics
Ryan O'Reilly
Red Die-Cut
DC-21 Ryan O'Reilly
DC-35 Jordan Kyrou
Tampa Bay Lightning
Base
21 Brayden Point
77 Victor Hedman
83 Nikita Kucherov
91 Steven Stamkos
94 Andrei Vasilevskiy
Flow of Time
NT-12 Nikita Kucherov
NT-14 Steven Stamkos
Gold Etchings
G-16 Steven Stamkos
Hockey Triumphs
HT-6 Steven Stamkos
HT-12 Andrei Vasilevskiy
NHL Jersey Relics
Steven Stamkos
Red Die-Cut
DC-6 Steven Stamkos
DC-24 Andrei Vasilevskiy
DC-25 Brayden Point
Spectrum Standouts
C-9 Nikita Kucherov
Superstar Showcase
SS-16 Brayden Point
2022-23 Upper Deck Tim Hortons Hockey Checklist – Toronto Maple Leafs
Base
1 Tim Horton
16 Mitch Marner
30 Jack Campbell
34 Auston Matthews
95 William Nylander
118 John Tavares
Flow of Time
NT-11 Auston Matthews
Gold Etchings
G-7 Auston Matthews
Hockey Triumphs
HT-1 Auston Matthews
HT-11 Mitch Marner
In Motion Phenoms
PM-9 Michael Bunting
NHL Signatures
Michael Bunting
Red Die-Cut
DC-8 Mitch Marner
DC-28 Auston Matthews
Spectrum Standouts
C-5 Auston Matthews
C-10 Mitch Marner
C-16 William Nylander
Superstar Showcase
SS-3 Auston Matthews
SS-11 Mitch Marner
SS-17 Morgan Rielly
2022-23 Upper Deck Tim Hortons Hockey Checklist – Vancouver Canucks
Base
6 Brock Boeser
35 Thatcher Demko
40 Elias Pettersson
43 Quinn Hughes
Gold Etchings
G-11 Elias Pettersson
G-12 Quinn Hughes
NHL Jersey Relics
Elias Pettersson
NHL Jersey Relics Signatures
Elias Pettersson
NHL Signatures
Elias Pettersson
Red Die-Cut
DC-10 Quinn Hughes
DC-13 Elias Pettersson
Spectrum Standouts
C-7 Elias Pettersson
C-11 Quinn Hughes
Superstar Showcase
SS-8 Elias Pettersson
2022-23 Upper Deck Tim Hortons Hockey Checklist – Vegas Golden Knights
Base
61 Mark Stone
74 Alex Pietrangelo
79 Jack Eichel
98 Chandler Stephenson
Hockey Triumphs
HT-4 Mark Stone
2022-23 Upper Deck Tim Hortons Hockey Checklist – Washington Capitals
Base
8 Alex Ovechkin
50 John Carlson
85 Evgeny Kuznetsov
Flow of Time
NT-17 Alex Ovechkin
Gold Etchings
G-3 Alex Ovechkin
Hockey Triumphs
HT-3 Alex Ovechkin
Red Die-Cut
DC-4 Alex Ovechkin
Spectrum Standouts
C-4 Alex Ovechkin
Superstar Showcase
SS-5 Alex Ovechkin
2022-23 Upper Deck Tim Hortons Hockey Checklist – Winnipeg Jets
Base
27 Nikolaj Ehlers
55 Mark Scheifele
78 Kyle Connor
89 Blake Wheeler
109 Connor Hellebuyck
Gold Etchings
G-10 Mark Scheifele
Hockey Triumphs
HT-13 Nikolaj Ehlers
NHL Jersey Relics
Mark Scheifele
NHL Signatures
Morgan Barron
Red Die-Cut
DC-26 Mark Scheifele
DC-32 Kyle Connor
Superstar Showcase
SS-12 Mark Scheifele
Previous Upper Deck Tim Hortons Hockey releases: