2022-23 Upper Deck Ice Hockey Details
When you click on links to various merchants on this site, like eBay, and make a purchase, this can result in this site earning a commission.
2022-23 Upper Deck Ice Hockey brings its familiar mix of clarity. Not so much a symbolic gesture, it's about the focal point acetate stock cards come printed on, giving them a distinct transparent look.
Hobby boxes deliver one autograph or memorabilia card along with a handful of other inserts and lots of parallels. The cornerstone Ice Premieres rookies are also back, landing at least two per box.
2022-23 Upper Deck Ice Hockey Checklist Overview
The full base set, which consists of 250 cards, has three distinct sections.
It begins with 100 veteran stars and 50 standard rookies, which land one per pack. Parallels are the same for these:
Green – 1:2 packs, Rookies 1:3 packs
Orange – 1:9 packs, Rookies 1:18 packs
Purple – 1:18 packs, Rookies 1:36 packs
Ice Blue – 1:180 packs, Rookies 1:360 packs
Greyscale – /99
Black – 1/1
Next come the Ice Premieres, which go deep with 150 cards, all of which feature rookies and are done on acetate. All have serial numbers as well, although to varying levels. They can have 1299, 999, 499, 249 or 99 copies.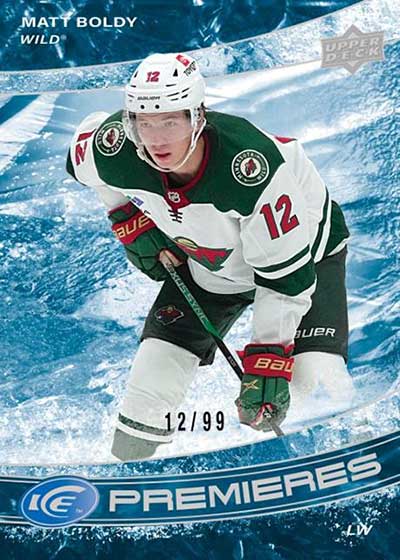 Parallels are more consistent across all 150 cards:
Green – /599
Red – /299
Gold – /99
Black – 1/1
Select base cards also get hit upgrades. For veterans, there are Jersey (1:84 packs), White Snowflake Autographs (1:320 packs), Gold Patch (/25), numbered Gold Patch Autographs and Red Autographs (/5).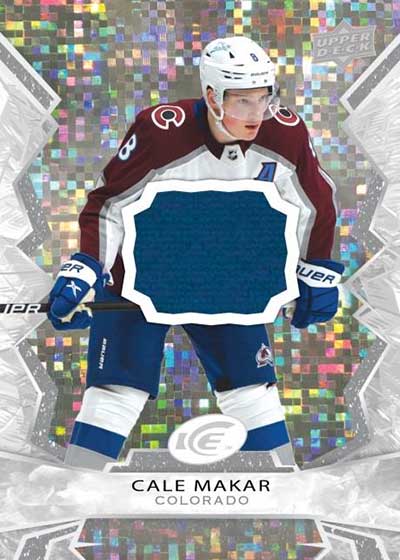 Base Rookies get Jersey (1:84 packs), White Snowflake Auotgraphs (1:160 packs), Gold Patch Autographs and Red Autographs (/5).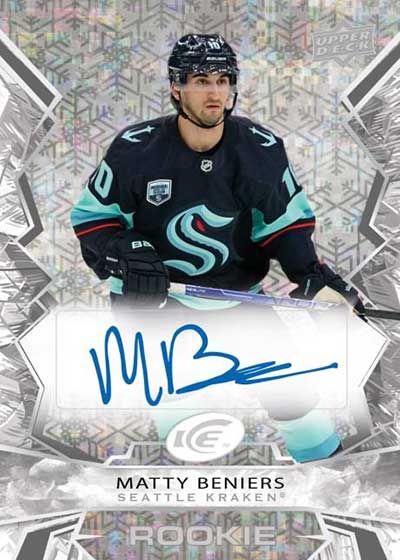 When it comes to Ice Premieres, Jersey versions are 1:60 packs while print runs for autographs range from a high of 199 copies down to just 25. Auto Patch (/10) and Black Auto Patch (1/1) cards round things out.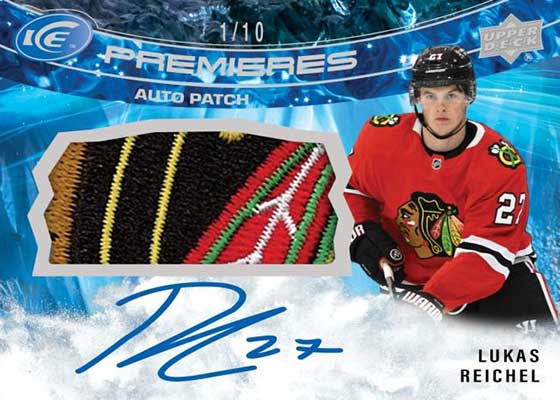 Autographs and Other Inserts
2022-23 Upper Deck Ice has a lot more going on than just the base set and its various spinoffs.
When it comes to autograph inserts, there's Glacial Graphs (1:288 packs), which also have Black parallels.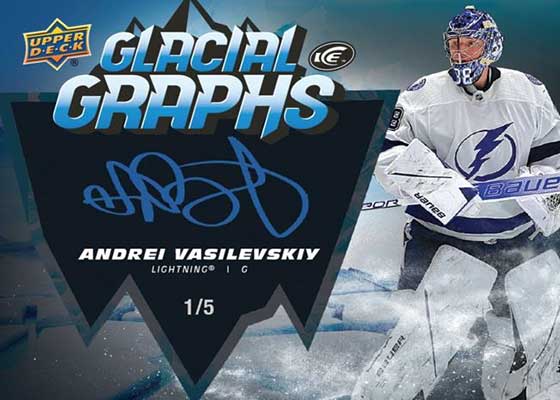 Signature Swatches (1:576 packs) added more autographed memorabilia cards. These also have Black versions.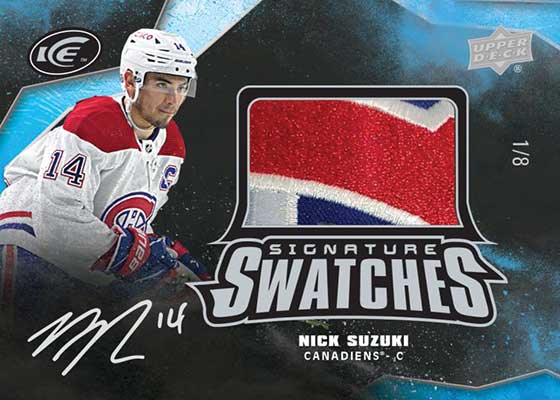 Standard inserts are a mix of familiar themes and new ones.
Sub Zero has both veteran Stars (1:21 packs) and Rookies (/999 or /599). Both have low-numbered Gold versions (Stars /8, Rookies /24). Select freshmen also have rare variations (1:960 packs), Blue Autographs (1:144 packs) and Variant Green Autographs (/25).
Ice Crystals bring a die-cut design. Like Sub Zero, vets (1:5 packs) and rookies (1:12 packs) fall at different rates. Parallels are Frigid (/99) and new Neon (/10), which also happen to be hobby exclusives.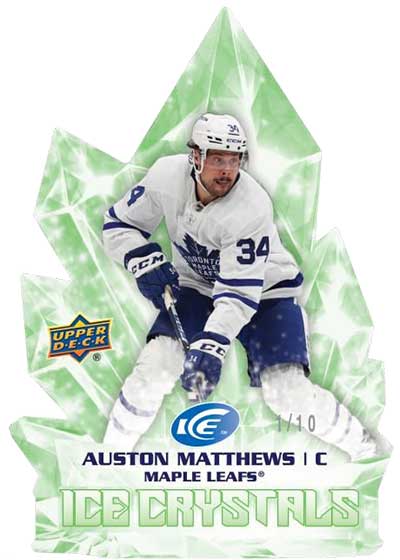 Rip cards return with Frozen in Ice (1:24 packs). Collectors can choose to keep these in tact or open them up to see what's inside. Gold (/25) and Black (/5) versions add further levels to the checklist. The smaller inner cards are Ice Premieres Minis, which also have Gold (/99) and Black (/15) versions.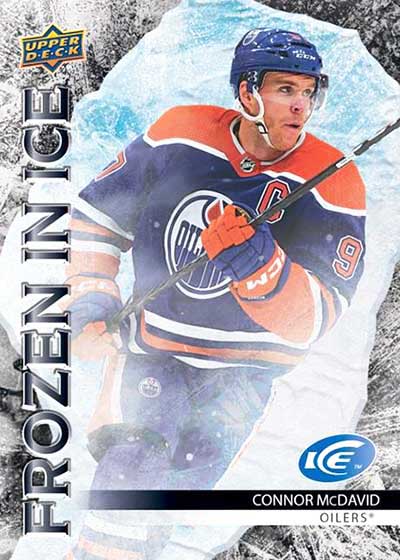 Other inserts include 2012-13 Ice Premieres Retro (/149) and Cool Cuts, which have Stars (1:60 packs), Rookies (1:60 packs) and Legends (1:120 packs).
2022-23 Upper Deck Exquisite Collection
2022-23 Upper Deck Ice is another place where collectors can find 2022-23 Exquisite Hockey cards. All are only in hobby packs.
Exquisite Collection Material Signatures have both autographs and memorabilia. Base versions are numbered and come with Gold (/5) and Black (1/1) parallels.
There are also Exquisite Collection Rookie Signatures that have either 99 or 49 copies, depending on the player. Gold (/25) and Black (1/1) versions are here as well.
Taking things back in the design department are 2003-04 Rookie Patch Auto (/25) and 2009-10 Rookie Patch Auto (/25) cards.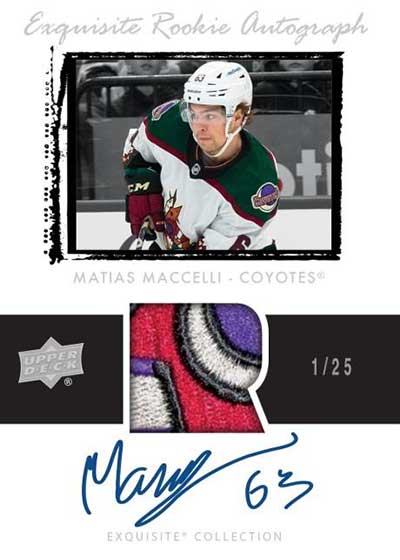 It's not all signatures and swatches. Collectors can also land Exquisite Collection Rookies (/349) that have Blue Spectrum (/199), Gold Spectrum (/49) and Black (1/1) parallels.
2022-23 Upper Deck Ice Hockey cards at a glance:
Cards per pack: Hobby – 6
Packs per box: Hobby – 12
Boxes per case: Hobby – 24 (two 12-box inner cases)
Set size: 250 cards
Release date (subject to change): October 18, 2023
What to expect in a hobby box:
Autographs or Memorabilia Cards – 1
Ice Crystals – 3
Sub Zero – 1
Green Parallels – 12
Orange Parallels – 1
Ice Premieres – 2
Recent Upper Deck Ice Hockey releases:
The full 2022-23 Upper Deck Ice Hockey checklist and team set lists will be up as soon as they're available, likely shortly before the product's release.