2021 Upper Deck Marvel X-Men Metal Universe Checklist and Details
When you click on links to various merchants on this site, like eBay, and make a purchase, this can result in this site earning a commission.
2021 Upper Deck Marvel X-Men Metal Universe brings back one of the wildest trading card lines of the '90s. With it comes a nostalgic deep dive in past designs, over-the-top themes and the return of popular inserts. Of course, there's Precious Metal Gems, a Metal Universe staple.
While there's plenty of throwback appeal, there are lots of fresh takes and modern art, all based in the vast world of the X-Men.
2021 Upper Deck Marvel X-Men Metal Universe Checklist Overview
The base set is a big one with 200 total cards. The first half is the shell set. The remaining 100 cards are part of the High Series. These are short prints that land three in every four packs. This makes them available in smaller numbers but still not exceptionally tough.
The base design finds its roots in 1995 Fleer Marvel Metal. This means two designs, both the regular one and the tweaked Alternate M subset, which is similar to some of the first Metal Universe sports card sets.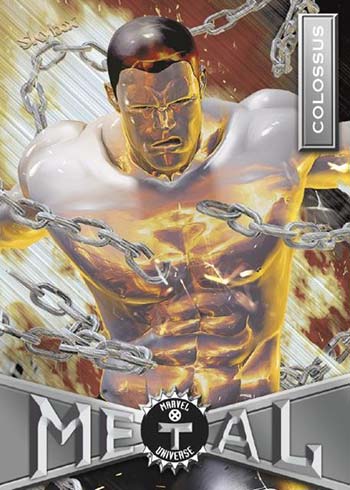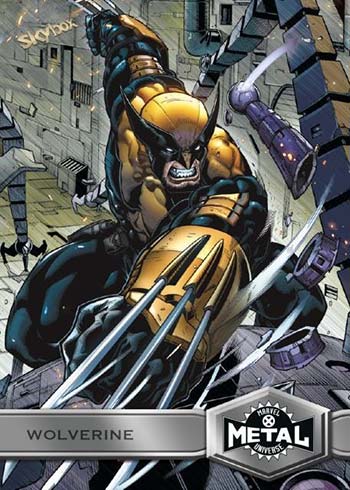 Parallels come in several forms. Gold are the most common at 1:4 packs, approximately three per box. Others include Grandiose, Pink (/75) and Purple F/X (1/1).
Precious Metal Gems are also available for all 200 cards in Red (/90) and Green (/10).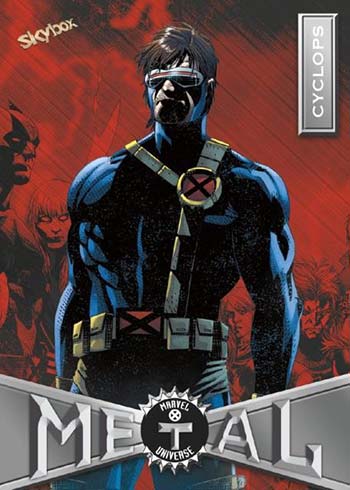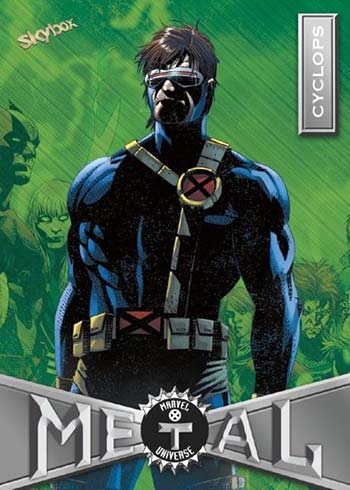 Hobby boxes should have one serial-numbered parallel.
Inserts
For several insert sets, 2021 Upper Deck Marvel X-Men Metal Universe draws from the brand's sporting past.
Platinum Portraits are among the most distinct making the jump over. At 1:600 packs, they're also among the toughest. Like the past, faces are made using stippling, small dots put together to make a picture.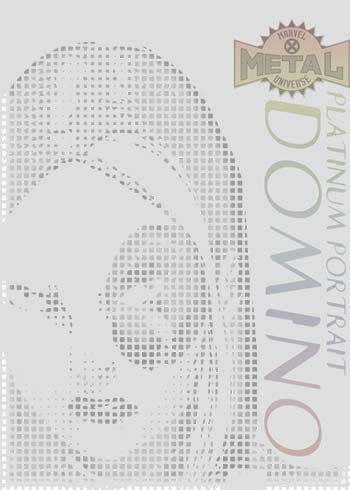 Palladium is done on acetate stock. Further making them distinct is the fact that they're die-cut. These are expected at a rate of one per box, but with 50 cards on the checklist, sets will be a challenge.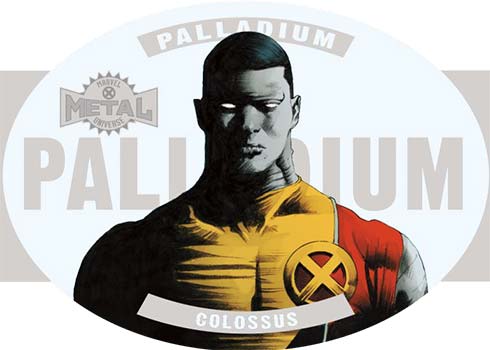 Planet Metal (1:72 packs) is another throwback insert. The design finds its roots in 1997-98 Metal Universe Basketball. Here, they actually live up to their name and are done on metal. Parallels are available in Copper (/85), Platinum (/49) and Gold (/15).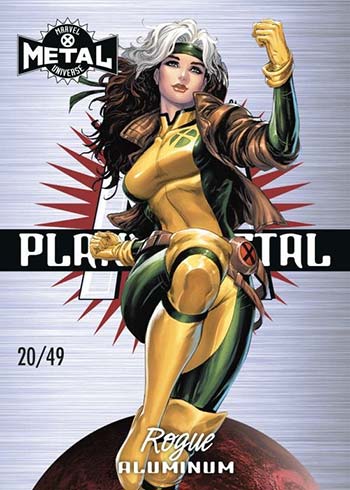 For Blast Furnace, the name originates in 1997 Metal Universe Baseball. That's where the similarities end. Done on patterned rainbow foil stock, the design is completely new. These land 1:48 packs and 1:576 for the handful of short prints at the end of the checklist.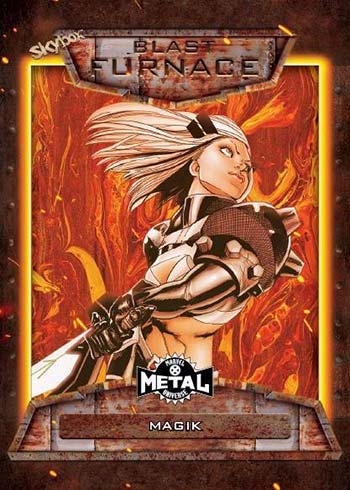 2021 Upper Deck Marvel X-Men Metal Universe has some new insert themes as well. Arc Weld (1:48 packs, SP – 1:576 packs) use stock that's similar to Blast Furnace and lets the sparks fly.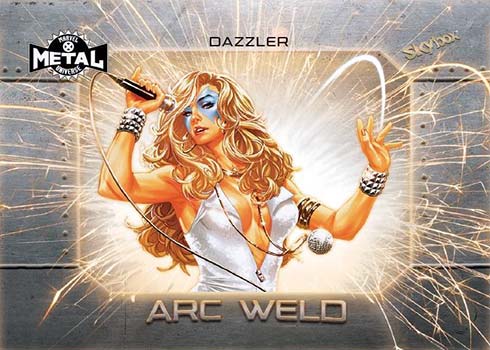 Purely Periodic uses the Periodic Table of Elements as its foundation. This not only translates into their overall look, but their print runs as well. Numbering varies base on where they land on the table.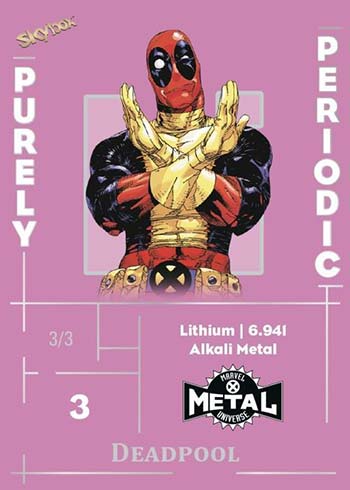 Geodes (1:96) are done to look like shadowbox cards with X-Men characters appearing to float inside beautiful rocks.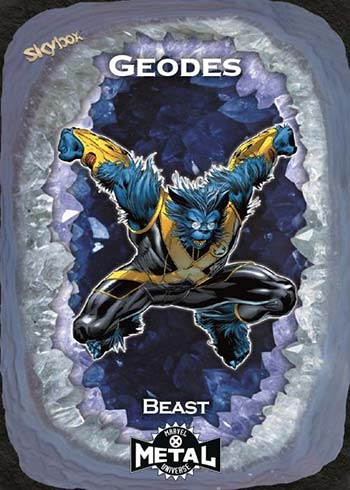 Other inserts include Comic Cuts, which have panels cut from original comic books, 1995 Marvel Metal Buybacks (/10) and sketch cards.
2021 Upper Deck Marvel X-Men Metal Universe trading cards at a glance:
Cards per pack: 6
Packs per box: 12
Boxes per case: 12
Set size: 200 cards
Release date: June 23, 2021
Shop for 2021 Upper Deck Marvel X-Men Metal Universe boxes on eBay:
What to expect in a hobby box:
Palladium – 1
Pink, Red PMG or Green PMG Parallels – 1
Gold Parallels – 3
Grandiose Parallels – 2
2021 Upper Deck Marvel X-Men Metal Universe Checklist
You can also download a customizable spreadsheet copy of the checklist:
Please note that print runs for cards without serial numbers have not been announced.