2021 Upper Deck Goodwin Champions Takes a Trip Around the World of Sports
2021 Upper Deck Goodwin Champions remains the trading card potluck that it's been for years. That hasn't changed. But some of its ingredients have, most notably an expanded number of Exquisite cards and the introduction of chromium to the brand. But it's still got a broad mix of athletes, eclectic insert styles and cornerstone hits.
Hobby boxes come with two hits. These aren't limited to just traditional autographs and memorabilia cards, though. Manufactured patches, historical relics and lenticular cards are among the other possibilities in this broad category.
2021 Upper Deck Goodwin Champions Checklist Overview
The main 2021 Goodwin Champions set has 150 total cards. The first 100 make up the shell set with the remaining 50 falling under the Splash of Color banner.
Splash of Color are short prints once again, landing 1:7 packs. They've undergone a bit of a design change. The "splash" and "color" are still there, but the backgrounds appear to be white this time around. This comes after numerous years of black backdrops.
For some, the most noticeable change in the product will be the parallels. In the past, they've been done as a variety of mini cards. This year, it's full-sized chrome cards instead. Covering the basic shell set, regular Platinum cards are 1:7 packs.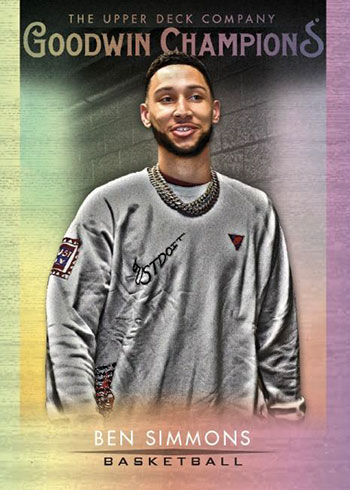 Additional parallels include:
Rainbow – 1:20
Red – 1:30
Blue – 1:60
Orange Prism – /399
Pink Traxx – /299
Cosmic – /99
Purple Pulsar – /23
Green Wave – /10
Golden Treasures – 1/1
All 150 base cards also have Printing Plates.
Goudey Goodies
The Goudey line continues to compliment the base set. This set totals 50 cards
Regular Goudey inserts, which offer more cards of top athletes in the set, land 1:7 packs. Platinum parallels land in similar colors and quantities as the base set.
Goudey Autographs are among the easier signatures to pull in 2021 Upper Deck Goodwin Champions. Base versions fall 1:100 hobby packs.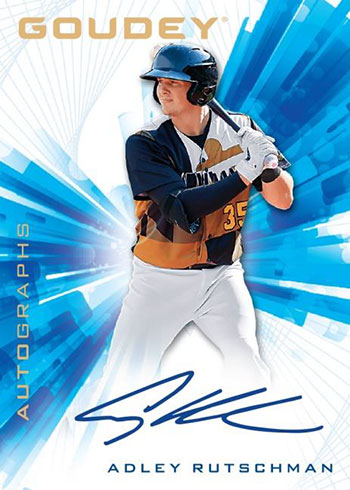 The best of the best are found in Goudey Sport Royalty Autographs. At 1:8,000 packs, they're also some of the rarest cards on the checklist.
Goudey Sport Royalty Memorabilia cards come in a few different forms. Regular relics are 1:1,520 packs while Dual Swatch versions are 1:2,880. Whether it's one piece of memorabilia or two, there are also numbered Premium parallels.
Exquisite Content
For several years, Goodwin Champions has been home to some Exquisite content. Usually, though, it's luxury-level autographs. Those can still be found here, but there's some more readily available pieces as well.
First up are base-style Exquisite cards. Carrying the typical premium design features the brand is known for, both regular cards and Exquisite Rookies are numbered to 99. Gold Spectrum (/10) and Black (1/1) parallels are also available. Some of these cards — both base and parallels — also come with autographs.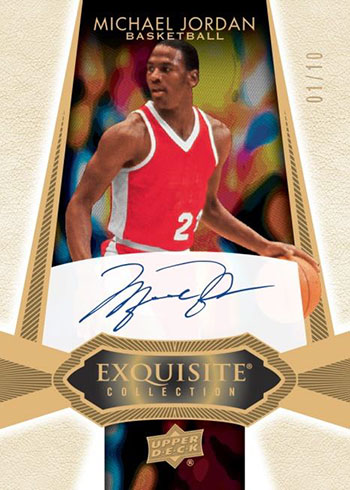 Additional Exquisite Rookie Patch Autograph (/99) cards can also be found. These also have their own Gold Spectrum (/10) and Black (1/1) versions.
Exquisite Signature Kicks rare back. These have massive sneaker pieces embedded in them and are joined by on-card autographs. And it's not just sneaker swatches. They draw from the most recognizable parts of shoes including the tongue, sole and laces.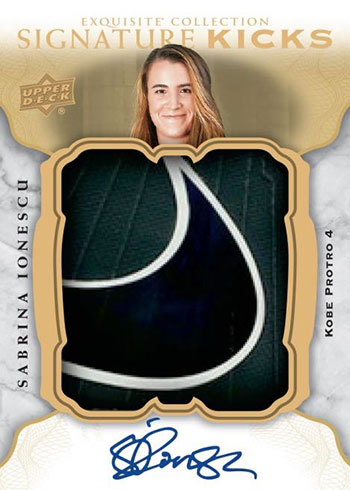 Falling in both vertical and horizontal formats, Exquisite Signature Kicks are inserted as planned redemptions. Given their thickness it would be hard to hide them in packs.
Additional Autographs
Goodwin Autographs take the base design and add on-card signatures. Signers are a mix of athletes from sports both in and out of the mainstream as well as TV, movies and other parts of pop culture.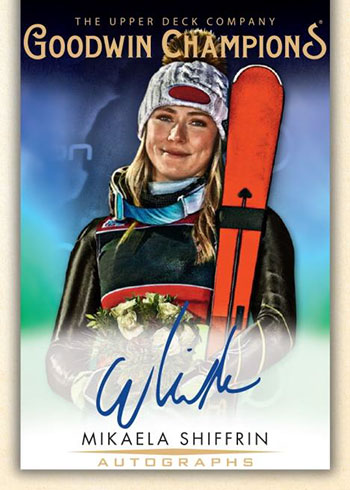 Besides basic signatures, there are Horizontal (1:640), Inscribed (1:1,200) and Splash of Color (1:1,920) versions.
Jumping back almost two decades are 2003-04 Retro SP Authentic Rookie Authentics Autographs. Depending on the player, these have either 299 or 199 copies.
Among the signers in 2021 Upper Deck Goodwin Champions are: Naomi Osaka, Sabrina Ionescu, Chloe Kim, Adley Rutschman, Jonathan Kuminga, Teofimo Lopez, Sky Brown, Cori "Coco" Gauff, and Mikaela Shiffrin.
Memorabilia Cards
Goodwin Memorabilia (1:60) take a similar approach as their signature counterparts. However, instead of autographs, there are swatches. Dual Swatch (1:400) and Splash of Color (1:600) versions are also available as well as Premium parallels at all three basic levels.
The term "memorabilia" is used broadly in Goodwin Champions. It's an approach Indiana Jones would probably appreciate if he were a) real and b) a card collector.
One of the most obvious places where this comes through is in the mix Museum Collection inserts. In the past, these have often followed a unifying theme. However, this year, there are several. Lady Luck Relics (1:1,280) have casino chips from a variety of notable casinos.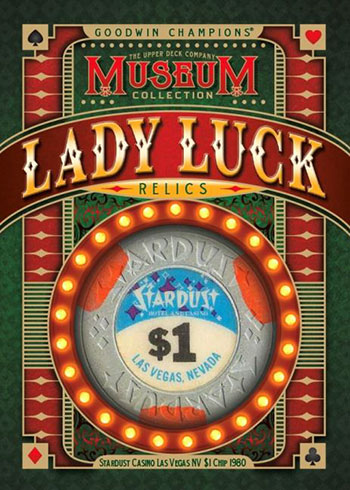 Legendary Ship Relics (/25) have pieces of the USS Constitution. Oversized versions are also available via redemption.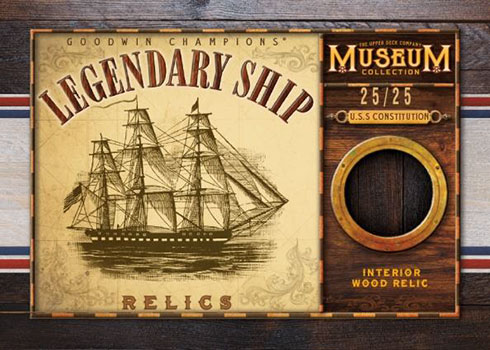 The final group of Museum Collection relics carry a Space theme. These are 1:2,000 hobby packs.
World Traveler Map Updates have pieces of maps in them. These have five tiers of rarity ranging from 1:145 packs on the common side to 1:8,056 for the toughest of the short prints.
More historical memorabilia is available in Centuries of Progress World's Fair Relics (1:1,760), Entomology Oversized Relics (redemptions), Historic United States Currency Relics (1:1,120), and Impactful Legacies Vintage Stamps (1:640).
Additional Inserts
The manufactured patch theme in 2021 Upper Deck Goodwin Champions is going to the birds. Feathered Creatures cards continue with the brand's legacy of challenging set builds. Part of the reason is the built in challenge of several levels of short prints. The most common of the patch cards are 1:80 packs (approximately every fourth hobby box). The fifth tier is the toughest at 1:7,680 packs.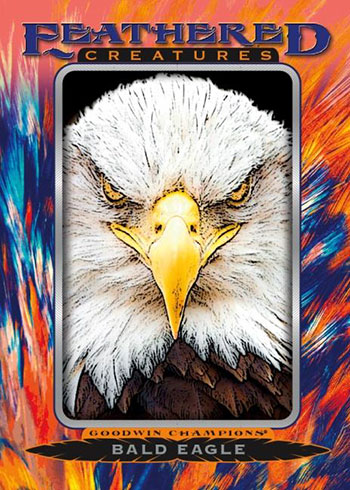 The nature theme continues into new Animal Kingdom Painted Art cards, which have ten copies each.
More original art is available in Goodwin Masterpieces. Art of the Ages (1/1) are mini recreations of famous pieces. They're joined by a new Founding Fathers (/10) theme.
Collectors can build a deck of Goodwin Playing cards. For each suit, 2 through Kings combine to land 1:14 packs. Aces are short prints, falling 1:320 packs.
Michael Jordan Platinum Legacy (1:320) offers the first chromium cards of the icon since Topps Chrome during his playing days. Autographs for these are one-of-ones.
2021 Upper Deck Goodwin Champions Bounty Program
2021 Upper Deck Goodwin Champions does have a Bounty chase. To qualify, collectors will have to put together a full set of Splash of Color Lenticular cards (Tier 1 – 1:40, Tier 2 – 1:178, Tier 3 – 1:1,600).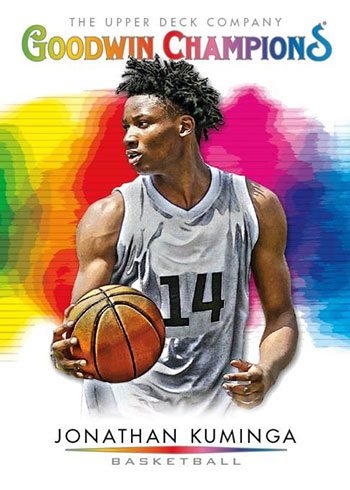 Those that do and register the codes through Upper Deck's Bounty website can receive special exclusives not available in packs. For the first 25 people to finish, there's a Splash of Color Red Ink Autograph from Naomi Osaka.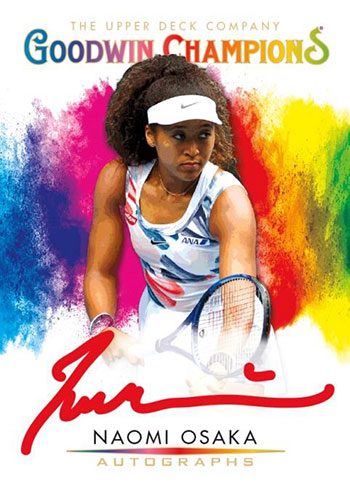 2021 Upper Deck Goodwin Champions at a glance:
Cards per pack: Hobby – 5
Packs per box: Hobby – 20
Boxes per case: Hobby – 16 (two 8-box inner cases)
Set size: 150 cards
Release date: June 9, 2021
What to expect in a hobby box:
Autographs, Memorabilia Cards, Relics, Manufactured Patch or Lenticular Cards – 2 Total
Platinum Chromium Cards – 6
Goudey or Splash of Color – 6 Total
Recent Goodwin Champions sets:
The full 2021 Upper Deck Goodwin Champions checklist will be posted as soon as it's available, likely shortly before the set comes out.