2021 Upper Deck Black Widow Heads to e-Pack
Much like the film it's based on, 2021 Upper Deck Black Widow trading cards are getting a traditional release format. Instead of the usual packs and boxes, it's heading to e-Pack. Not only that, but it's a drawn out marathon of sorts spanning four-plus months from start to finish.
Although there are no autographs connected to the product, there are memorabilia cards, sketch cards and other inserts on the overall checklist.
Packs, which are sold on the digital e-Pack platform, come with four cards — three base plus one insert. All cards in the release do have physical counterparts that can be delivered.
2021 Upper Deck Black Widow Checklist Overview
A complete base set has 90 cards. However, it's not quite that simple. The checklist is divided into multiple sections with a good chunk of it not getting unveiled at once. Each Tuesday, there's a new pack drop. Inside is the week's standard base card plus one of two short prints. This continues for 18 weeks until the set is complete.
But that only takes things up to 54 cards.
The final 36 are High Series cards, which fall a combined one per pack. These have no slow roll. All are available from the start. Sounds simple? In essence it is, but there's even more to these. High Series cards come in four separate tiers making some tougher to pull than others.
Printing Plates are available for all 90 cards.
Inserts
The final card in each 2021 Upper Deck Black Widow pack is an insert.
Covert Fragments lead the way with Black Widow memorabilia. Based on preview images, swatches from these are a little more liberal in their approach with at least some coming from the production of other films Scarlett Johansson's character has appeared in.
Other insert themes include:
Family Reunion (8 cards)
Globetrotting (10 cards)
Red Guardian (8 cards)
Sisterhood (8 cards)
Taskmaster's Target (12 cards)
All five of these have Printing Plates as well.
Achievements
Not all 2021 Upper Deck Black Widow cards are available in packs. A handful of achievements give collectors incentive for building various aspects of the product.
For starters, there are Widow's Bite inserts every three weeks. To unlock one, collectors must redeem all three base cards and six base short prints connected to it. The first 24 collectors to redeem a full set of all six Widow's Bite cards receive a Printing Plate.
Sketch cards are only available as achievements. To get two, you have to be one of the first 81 people to redeem all 36 base High Series cards, the six-card Widow's Bite Achievement, plus the Globetrotting, Red Guardian, Sisterhood and Family Reunion insert sets.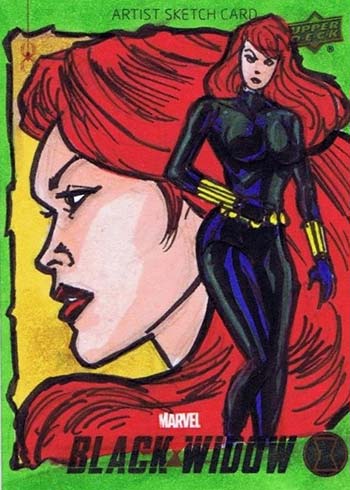 Each week, 999 packs will be released. They drop every Tuesday at 9 AM PST. There's a limit of three packs per transaction.
2021 Upper Deck Black Widow trading cards at a glance:
Cards per pack: 4
Set size: 90 cards
Release date: October 5, 2021
2021 Upper Deck Black Widow Checklist
Base
Base Set Checklist
90 cards.
Parallels:
Printing Plates – 1/1 (each has Black, Cyan, Magenta and Yellow versions)
1 Natasha
2 TBA
3 TBA
4 TBA
5 TBA
6 TBA
7 TBA
8 TBA
9 TBA
10 TBA
11 TBA
12 TBA
13 TBA
14 TBA
15 TBA
16 TBA
17 TBA
18 TBA
Short Prints
1 per pack.
19 Natasha on the Run
20 Natasha Never Gives Up
21 TBA
22 TBA
23 TBA
24 TBA
25 TBA
26 TBA
27 TBA
28 TBA
29 TBA
30 TBA
31 TBA
32 TBA
33 TBA
34 TBA
35 TBA
36 TBA
37 TBA
38 TBA
39 TBA
40 TBA
41 TBA
42 TBA
43 TBA
44 TBA
45 TBA
46 TBA
47 TBA
48 TBA
49 TBA
50 TBA
51 TBA
52 TBA
53 TBA
54 TBA
High Series
1 per pack.
Tier 1
55 Yelena Romanoff Widow's on Roof
56 A Safe House
57 Natasga Romanoff Mysterious Object
58 Getaway Location
59 Yelena Belova Pointed Weapon
60 Sisters Reunited in Budapest
61 Natasha Romanoff Battles Taskmaster
62 Sisters on the Move
63 Sisters Encounter New Obstacle
64 Yelena Belova's Wounds
65 Yelena Belova Smile
66 Gathered Around Taskmaster
Tier 2
67 Natasha Romanoff Behind Her Shoulder
68 Alexi Shostakov Talks with Daughters
69 Yelena Belova After Rescue
70 Alexi Shostakov Daughter's Arm
71 Yelena Belova Open Field
72 Natasha Romanoff on Phone
73 A Little Rusty
74 Family Discussion
75 Alexi Shostakov Shows of Suit
76 Natasha Romanoff Snow Suit and Gun
Tier 3
77 Task Force Patrols
78 Mason with Helicopter
79 Mason Chats with Natasha Romanoff
80 Mason's Important Call
81 Taskmaster's Claws
82 Taskmaster Remains Vigilant
83 Alexi Shostakov on an Undercover Mission
84 Alexi Shostakov Undercover in the 1990s
Tier 4
85 Natasha Romanoff Ready for Action
86 The Tank
87 Natasha Romanoff Rides Away
88 Taskmaster on a Bridge in Norway
89 Alexi Shostakov Shows Off His Tattoos
90 Natasha Romanoff Rescues Alexi Shostakov
Autographs
2021 Upper Deck Black Widow Checklist – Memorabilia Cards
Covert Fragments Checklist
6 cards.
CF-5 Black Widow Tan Jacket
CF-7 Black Widow Catsuit
CF-8 Black Widow Leather
CF-10 Black Widow Catsuit
CF-11 Black Widow Metallic Leather
CF-12 Black Widow Catsuit
Memorabilia
2021 Upper Deck Black Widow Checklist – Inserts
Family Reunion Checklist
8 cards.
Parallels:
Printing Plates – 1/1 (each has Black, Cyan, Magenta and Yellow versions)
FR-1 Melina Vostokovna
FR-2 Natasha Romanoff
FR-3 Red Guardian
FR-4 Yelena Belova
FR-5 Mason
FR-6 Melina Vostokovna
FR-7 Yelena Belova
FR-8 Black Widow
Globetrotting Checklist
10 cards.
Parallels:
Printing Plates – 1/1 (each has Black, Cyan, Magenta and Yellow versions)
GB-1 Tony Stark's Mansion, Malibu
GB-2 Lincoln Memorial, Washington, D.C.
GB-3 New York City
GB-4 Avengers Tower, New York City
GB-5 Leipzig/Halle Airport, Schkeuditz, Saxony
GB-6 New Avengers Facility, New York
GB-7 Wakanda
GB-8 Budapest, Hungary
GB-9 10880 Malibu Point, 90265
GB-10 Triskelion, Washington D.C.
Red Guardian Checklist
8 cards.
Parallels:
Printing Plates – 1/1 (each has Black, Cyan, Magenta and Yellow versions)
RG-1 In the Prison
RG-2 Ready to Fight
RG-3 Passion
RG-4 Relaxed
RG-5 Out of Shape
RG-6 Arm Wrestle
RG-7 Bring It On
RG-8 The Red Guardian
Sisterhood Checklist
8 cards.
Parallels:
Printing Plates – 1/1 (each has Black, Cyan, Magenta and Yellow versions)
SH-1 Sisterly Love
SH-2 Yelena
SH-3 Conversation
SH-4 Sisters
SH-5 Nat
SH-6 Wounded
SH-7 Motorcycle
SH-8 Melina
Sketch Cards Checklist
8 artists.
Distributed as Achievement awards.
Adam Angel
Jerry Bennett
Rich Hennemann
Jucylande Junior
Brian Kong
Sherwin Santiago
Johnny Segura
Tim Shinn
Taskmaster's Target Checklist
12 cards.
Parallels:
Printing Plates – 1/1 (each has Black, Cyan, Magenta and Yellow versions)
TT-1 Natasha Romanoff
TT-2 Melina Vostokoff
TT-3 Red Guardian
TT-4 Yelena Belova
TT-5 Natasha Romanoff
TT-6 Melina Vostokoff
TT-7 Red Guardian
TT-8 Yelena Belova
TT-9 Black Widow
TT-10 Red Guardian
TT-11 Melina Vostokoff
TT-12 Yelena Belova
Widow's Bite Achievement Checklist
6 cards.
Not in packs.
Given as achievements for redeeming qualifying base cards.
Parallels:
Printing Plates – 1/1 (each has Black, Cyan, Magenta and Yellow versions)
WB-1 Natasha Romanoff
WB-2 TBA
WB-3 TBA
WB-4 TBA
WB-5 TBA
WB-6 TBA