2021 Topps Tribute Baseball Checklist and Details
When you click on links to various merchants on this site, like eBay, and make a purchase, this can result in this site earning a commission.
2021 Topps Tribute Baseball is another installment from one of the early lines to promise a hit per pack. That doesn't change with six-pack hobby boxes delivering three autographs and three memorabilia cards.

2021 Topps Tribute Baseball Checklist Overview
The base set, which comes with a premium design to match to overall product, has 90 cards. It's a mix of veterans and retired greats. Tribute is one of the early releases in the season that offers a large dose of past players throughout its checklist.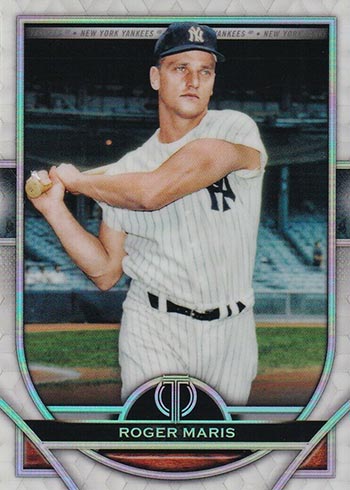 Ten 2021 Rookies are also available on a separate part of the checklist. Drawing from top players making their debut in 2020, these are short prints combining to land 1:18 packs. That works out to approximately every third box or two total per case.
All base cards and 2021 Rookies have the same assortment of parallels: Green (/99), Purple (/50), Red (/10) and Black (1/1).
Autographs
While there are some new autograph themes in 2021 Topps Tribute Baseball, not all of them are. Tribute Autographs return as the dominant signature set on the checklist. Base versions come with serial numbers as do its parallels: Blue (/150), Green (/99), Purple (/50), Orange (/25), Red (/10), Printing Plates (1/1) and Black (1/1).
Iconic Perspectives and League Inauguration Autographs (/99) are among the returning inserts. These have Orange (/25), Red (/10) and Black (1/1) versions as well.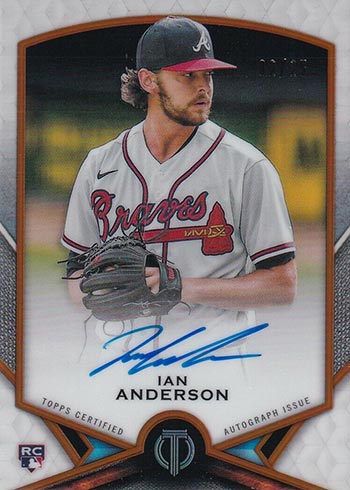 Green Monster Wall Graphs (/25) not only have autographs but a piece of Boston's famed stadium centerpiece as well.
Among the other autographed memorabilia cards on the checklist are Autograph Patches (/50) and Prime Patch Autographs (1/1).
2021 is going to bring a lot of 70th anniversary to Topps' baseball card portfolio. Here it's in the form of Tribute to Topps Autographs. These use a variety of designs from the years to showcase new cards and ink. All come numbered including the Purple (/50), Orange (/25), Red (/10) and Black (1/1) parallels.
Engraved Greats Autographs is another new addition to the 2021 Topps Tribute Baseball checklist. Signers here are all award winners through the years.
Tribute Tandem book cards (/25) open up to reveal a pair of autographs.
The Tribute Career Achievement Award series of autographs continues for another year. After focusing on Sandy Koufax in 2018, Hank Aaron in 2019 and Mike Trout in 2020, this time the focus is on Derek Jeter. These are some of the most difficult cards to pull in the product as each is a one-of-one.
Memorabilia Cards
Relics come in four general themes.
Stamp of Approval come with just a single swatch, however each comes with a hologram from MLB Authentication. This means you can look up the specific game it's from and dig a little deeper into what happened that day.
Dual Relics and Tribute Triple Relics center on delivering multiple swatches. For the Dual Relics, there are both single- and multi-player cards.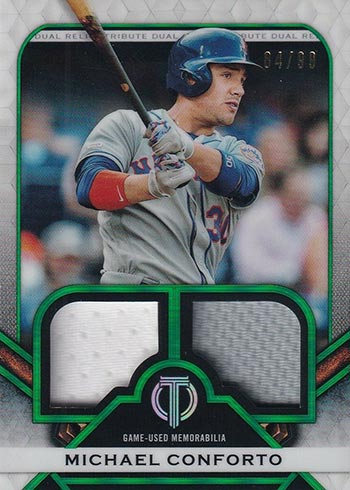 For all three of these memorabilia sets, base versions come numbered to 150. Additional parallels include Green (/99), Purple (/50), Orange (/25), Red (/10) and Black (1/1).
Milestone Relics (/10) are back. Like Stamp of Approval cards, these have MLB Authentication. However, the relic piece comes from an important game or event worthy of a special callout. Select cards also have one-of-one autograph versions with a jumbo swatch.
2021 Topps Tribute Baseball cards at a glance:
Cards per pack: 3
Packs per box: 6
Boxes per case: 6
Set size: 100 cards
Release date: April 7, 2021
Shop for 2021 Topps Tribute Baseball boxes on eBay:
What to expect in a hobby box:
Autographs – 3
Memorabilia Cards – 3
2021 Topps Tribute Baseball Checklist
You can also download a customizable spreadsheet copy of the checklist:
Please note that print runs have not been released for cards without serial numbers.