2021 Topps Sterling Baseball Is All Super-Premium Autographs and Relics
2021 Topps Sterling Baseball heads right to the big stuff. Boxes have just two cards. The first is an autograph relic numbered to 25 or less. The second might be something along the same lines or it could be a "unique" one-of-one relic or autograph relic. Things like special patches, bat knobs and cut signatures fall under this category.
2021 Topps Sterling Baseball Checklist Overview
Most of the autograph memorabilia card fall under one of four categories. All have base versions with print runs of 25 copies each and each has two relic pieces. Signatures all come on-card.
Sterling Debuts makes a debut of its own. Rookies get the spotlight, drawing from the deep crop of standouts that got their first MLB action during the shortened 2020 season.
Premier batters get the call for Sterling Swings while it's pitching greats who are the focus of Sterling Strikes. For both of these, it's not just current players who make up the checklist. Past greats are there, too.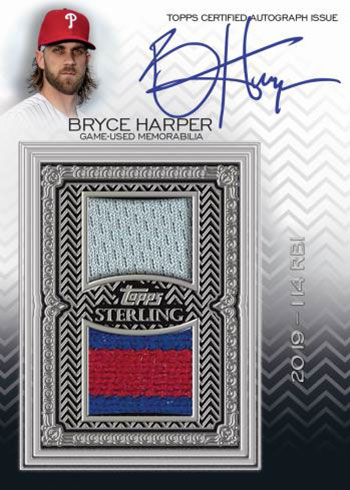 Sterling Seasons Autograph Relics get a little more specific in their timeframes on the card, noting some of the great years top players have had.
For all four of these thematic sets, there are three levels of parallels that not only have smaller print runs but additional swatches: Blue (/10, three pieces), Red (/5, four pieces) and Silver (1/1, five pieces).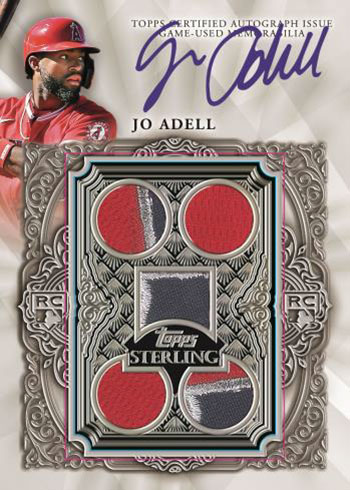 Sterling Splendor Jumbo Autographed Patch cards go for a massive memorabilia piece rather than multiple smaller ones. Base versions of these have just five copies each with additional Red (/3) and Silver (1/1) parallels also available.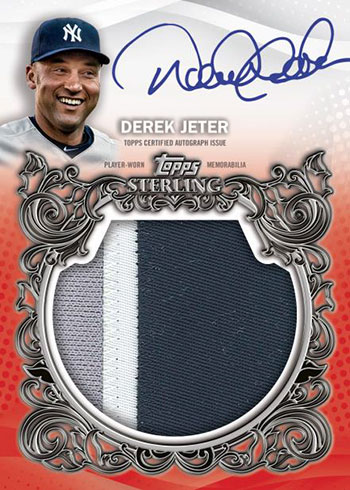 Sterling Sets Dual (/15) and Triple (/10) Autograph Relics feature multiple players. Parallels for both come in Red (/5) and Silver (1/1). For the Duals, Red versions have two pieces per player (four total) and three for Silver (six total).
For most of the one-of-one unique relics, pieces are automatically recognizable as to what part of the equipment they come from. These include bat knobs, bat nameplates and jersey letters. Some of the bat knobs and nameplates also have autograph versions.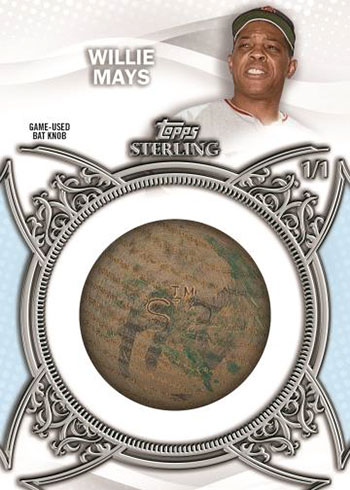 The cut signatures checklist isn't just baseball stars. Entertainers and politicians are also available.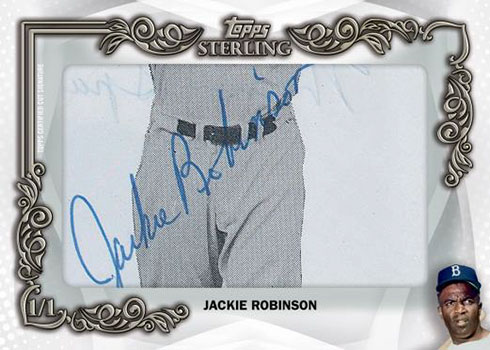 Finally, there's Legendary Relics (1/1), which have three pieces of memorabilia from all-time greats.
The Topps Sterling brand returned in 2020 after a ten-year break.
2021 Topps Sterling Baseball cards at a glance:
Cards per pack: 1
Packs per box: 2
Boxes per case: 8
Release date: March 24, 2021
What to expect in a hobby box:
Autograph Relics – 1
Additional Autograph Relics, 1/1 Memorabilia or 1/1 Autograph Memorabilia Cards – 1
The full 2021 Topps Sterling Baseball checklist and team set lists will be up as soon as they're available, likely shortly before the set's release.