2021 Topps Star Wars Chrome Legacy Checklist and Details
When you click on links to various merchants on this site, like eBay, and make a purchase, this can result in this site earning a commission.
2021 Topps Star Wars Chrome Legacy marks the second time this year that the Force is getting the chromium treatment. But while Star Wars Chrome Galaxy focuses on art, Chrome Legacy is about stories and characters.
Hobby boxes come packaged as a pair of mini boxes, each with six packs. There's two hits per master hobby box, at least one of which is either an autograph or sketch card.

2021 Topps Star Wars Chrome Legacy Checklist Overview
While the base set covers a lot of ground, it doesn't touch on all aspects of the Star Wars Saga. Rather, it's the more recent films and TV shows:
The Rise of Skywalker
Rogue One
Solo
The Mandalorian
The Clone Wars
Rebels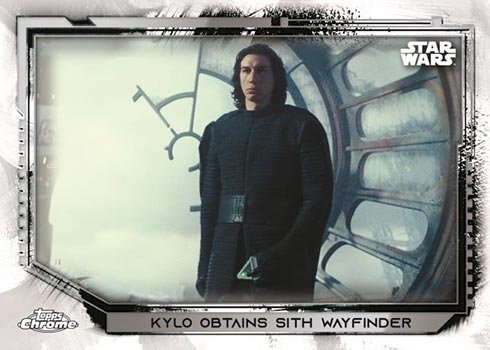 The checklist highlights key story moments. And there are lots of them with the checklist clocking in at a sizeable 200 cards.
Every base card has a handful of parallels, all of which are standard to Topps Chrome:
Refractors – 1:3 packs
Blue Refractors – /99
Green Refractors – /50
Orange Refractors – /25
Black Refractors – /10
Red Refractors – /5
Superfractors – 1/1
Autographs and Other Inserts
The bulk of the product's autographs come from three similar themes, each of which comes with a slightly different design: Age of Republic, Age of Rebellion, Age of Resistance.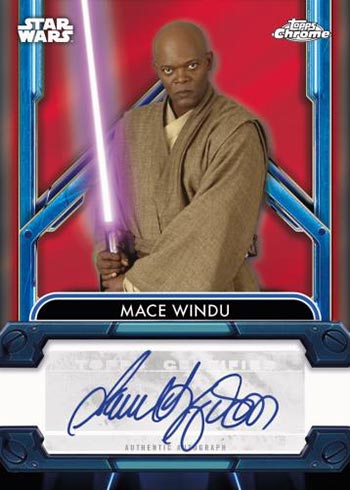 Parallels are similar to those used in the base set: Blue Refractors (/99), Green Refractors (/50), Orange Refractors (/25), Black Refractors (/10), Red Refractors (/5) and Superfractors (1/1).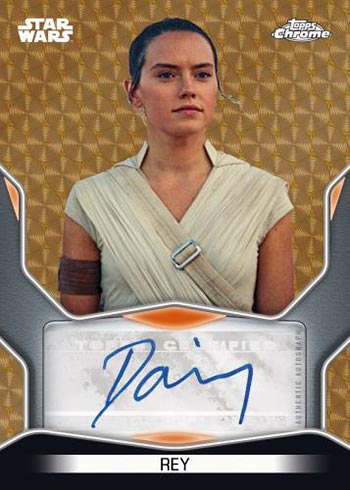 Dual Autographs are also part of the product.
Original artwork is found on Chrome Legacy's sketch cards. In addition to traditional cards, there are also shaped versions.
Commemorative Ship Medallions are the third type of hit. Base versions come with serial numbers along with their Refractor parallels: Green (/50), Orange (/25), Black (/10), Red (/5) and Superfractors (1/1).
2021 Star Wars Chrome Legacy has three additional insert sets: Mandalorian Concept Art, Visions Concept Art and Wielders of the Lightsaber. Each also has Green Refractor (/50), Orange Refractor (/25), Black Refractor (/10), Red Refractor (/5) and Superfractor (1/1) versions.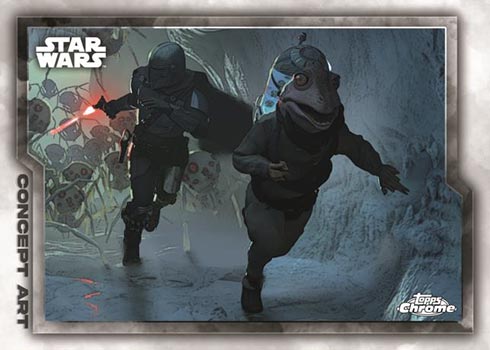 2021 Topps Star Wars Chrome Legacy trading cards at a glance:
Cards per pack: Hobby – 5
Packs per box: Hobby – 12
Boxes per case: Hobby – 8
Set size: 200 cards
Release date: October 20, 2021
Shop for 2021 Topps Star Wars Chrome Legacy boxes on eBay:
What to expect in a hobby box:
Autographs or Sketch Cards – 1 Total
Additional Autographs, Sketch Cards or Medallion Cards – 1
Refractors – 4
2021 Topps Star Wars Chrome Legacy Checklist
You can also download a spreadsheet copy of the checklist:
Please note that print runs for cards without serial numbers have not been announced.
Base
Base Set Checklist
200 cards.
Parallels:
Refractors
Blue Refractors – /99
Green Refractors – /50
Orange Refractors – /25
Black Refractors – /10
Red Refractors – /5
Superfractors – 1/1
1 Kylo Ren Obtains the Sith Wayfinder
2 Kylo Ren Finds Palpatine on Exegol
3 Palpatine Reveals the Final Order
4 Rey in Training
5 Finn and Poe Deliver Intelligence
6 Lando Calrissian Helps the Resistance
7 Chewbacca Taken by the First Order
8 Rey and the Team Travel to Kijimi
9 C-3po's Memory Reveals the Wayfinder
10 Rey Learns Who She Is
11 The Team Rescues Chewbacca
12 The Falcon Flies to Kef Bir
13 Rey & Kylo Ren Battle Amongst the Waves
14 Rey Heals Kylo Ren
15 Luke Skywalker Tells Rey to Face Palpatine
16 Ben Solo Sees a Memory of Han Solo
17 The Resistance Prepares to Attack
18 Rey Confronts Her Grandfather
19 Lando Calrissian Brings Reinforcements
20 Ben Solo Destroys the Knights of Ren
21 Ben Solo and Rey Take on Palpatine
22 Palpatine Drains Power from Rey and Ben Solo
23 The Fleet Attacked by Force Lightning
24 Rey Hears the Voices of Past Jedi
25 Rey Deflects the Force Lightning
26 Palpatine Is Destroyed by Rey
27 Ben Solo Uses the Force to Revive Rey
28 The Resistance Defeats the Final Order
29 Rey Buries the Lightsabers on Tatooine
30 Rey States Her Name as "rey Skywalker"
31 Director Krennic Finds Galen Erso
32 Young Jyn Erso Escapes the Empire
33 Bodhi Rook Flees the Empire
34 Cassian Learns of an Imperial Defector
35 Jyn Erso Meets Mon Mothma
36 Jyn & Cassian Team With K-2so
37 Chirrut & Baze Battle the Stormtroopers
38 Saw Gerrera Reveals the Message from Galen Erso
39 Director Krennic Destroys Jedha City
40 Grand Moff Tarkin Meets With Director Krennic
41 Bodhi Rook Leads the Team to Eadu
42 Jyn Erso Is Too Late to Save Her Father
43 Director Krennic Talks With Darth Vader
44 The Mission to Steal the Death Star Plans
45 Rogue One Heads to Scarif
46 Cassian, Jyn & K-2so Sneak Into the Base
47 Admiral Raddus Defeats the Star Destroyers
48 Cassian & Jyn Find the Schematics
49 Director Krennic Ambushes Jyn & Cassian
50 Jyn Transmits the Death Star Plans
51 Tarkin Destroys the Compromised Base
52 The Rebel Fleet Prepares for Hyperspace
53 Vader's Destroyer Intercepts Rebels
54 Vader Pursues the Stolen Plans
55 Darth Vader Attacks the Rebels
56 Rebels Fight to Hand Off the Stolen Plans
57 A Small Starship Evades Vader's Grasp
58 The Plans Are Delivered to Princess Leia
59 The Rebellion Now Has Hope
60 Han & Qi'ra Run from the White Worms
61 Qi'ra Is Captured During Escape Attempt
62 Han Escapes, but Vows to Return
63 Han Encounters Tobias Beckett
64 Solo Meets Chewbacca in the Pit
65 Beckett Teams With Solo & Chewie
66 Beckett & the Team Try to Steal Coaxium
67 Enfys Nest Ruins the Hijacking Plans
68 Beckett Loses Val & Rio Durant
69 Han & Chewie Vow to Help Beckett
70 Han Finds Qi'ra With Crimson Dawn
71 The Team Meets With Dryden Vos
72 Han Suggests Kessel Run to Obtain Coaxium
73 Qi'ra Brings the Team to Lando Calrissian
74 Han Challenges Lando to Sabacc
75 Lando Joins the Mission for a Share of Profits
76 Han Solo Sees the Millennium Falcon
77 L3-37 Instigates Revolt on Kessel
78 The Team Steals the Coaxium & Flees the Empire
79 The Millennium Falcon Lands on Savareen
80 Enfys Nest Reveals Her Crew to Be Rebels
81 Han Attempts to Outsmart Dryden Vos
82 Beckett Betrays Dryden Vos, Takes Chewie
83 Qi'ra Defeats Dryden Vos
84 Han Goes After Beckett
85 Qi'ra Contacts Maul
86 Han Defeats Beckett
87 Han Gives the Coaxium to Enfys Nest
88 Han Wins the Millennium Falcon from Lando
89 Master Yoda Begins a Secret Mission
90 Yoda Takes on Ventress and Her Army
91 The Toydarian People Learn About the Jedi
92 The Malevolence Wreaks Havoc on the Jedi
93 The Jedi Take Down the Malevolence
94 Cad Bane & Aurra Sing Attack Senate Building
95 Darth Sidious Hires Cad Bane
96 Cad Bane Goes for the Jedi Holocron
97 Obi-wan Kenobi Meets With Duchess Satine
98 Ahsoka Tano Stops Aurra Sing on Florrum
99 Boba Fett & Bossk Are Arrested
100 Ahsoka Tano Protects Senator Amidala
101 Cad Bane Breaks Ziro from Prison
102 Darth Sidious Meets With Count Dooku
103 The Jedi Descend on Mortis
104 Chewbacca Helps Ahsoka Escape
105 Krell and Dooku Become Allies
106 Lux & Ahsoka Tano Escape from Vizsla
107 Obi-wan Kenobi Battles Maul & Savage Opress
108 Anakin Skywalker Contacts Hondo Ohnaka
109 Yoda Teaches Younglings on Ilum
110 Mandalore Under Attack
111 Order 66 Is Activated
112 Ahsoka Tano & Captain Rex Try to Stop Maul
113 Darth Vader Finds Ahsoka Tano's Lightsaber
114 Ezra Bridger Joins Ghost Crew in Their Getaway
115 Zeb Orrelios Hijacks a Tie Fighter
116 Ezra Bridger Starts His Jedi Training
117 Kanan Jarrus Struggles as a Mentor
118 Grand Moff Tarkin Visits Lothal
119 Agent Kallus Meets Darth Vader
120 Darth Vader Attacks Lothal
121 The Ghost Crew Locates Captain Rex
122 Ezra Bridger & Chopper Find Ketsu Onyo
123 Ahsoka Tano Meets With Kanan
124 Ezra Learns About His Parents
125 Leia Talks With Ezra & Kanan
126 Chava Reveals the True Force Names
127 Ezra Bridger Opens the Sith Holocron
128 Kanan Jarrus Rescues the Ghost Crew
129 Obi-wan Kenobi Watches a Young Luke Skywalker
130 Ezra & Sabine Destroy Interdictor-class Cruisers
131 Kanan Jarrus Uses the Force to Control the Blast
132 Sabine Wren & Zeb Orrelios Take on Rukh
133 Ahsoka Tano's Final Battle With Darth Vader
134 The Plan to Liberate Lothal
135 The Imperials Are Defeated
136 The Command Center Is Destroyed
137 The People of Lothal Celebrate
138 The Ghost Crew Go Their Separate Ways
139 Hera & Rex Remain With the Rebels
140 The Mural of the Ghost Crew on Lothal
141 Mando Meets With Greef Karga
142 Mando Accepts a New Mission
143 Grogu Is Discovered by Mando
144 Kuiil Helps Mando Negotiate
145 Grogu Uses the Force
146 Mando Hands Over Grogu
147 Mando Rescues Grogu from the Lab
148 Mando & Grogu Land on Tatooine
149 Mando Takes a Job from Ranzar Malk
150 The Team Tries to Capture Mando
151 X-wings Attack Ranzar Malk's Station
152 Grogu Force Heals Greef Karga
153 Moff Gideon Arrives on Nevarro
154 Troops Fire on Mando's Crew
155 Moff Gideon Demands Grogu
156 Troopers Take Grogu from Kuiil
157 IG-11 Rescues Grogu
158 Mando Is Injured in Battle
159 IG-11 Removes Mando's Helmet
160 The Armorer Is the Only One Left
161 Mando Is Told to Bring Grogu to the Jedi
162 The Team Escapes on a Lava River Ferry
163 Troopers Ambush the Tunnel Exit
164 IG-11 Saves the Team by Self-Destructing
165 Moff Gideon Attacks in a Tie Fighter
166 Mando Takes Down the Tie Fighter
167 Mando Embarks on a New Mission
168 Moff Gideon Survives the Crash
169 Moff Gideon Ignites the Darksaber
170 Mando and Grogu Fly Away
171 Mando Meets the Marshal
172 The Krayt Dragon Attacks
173 The Krayt Dragon Slain by Mando
174 The Frog Lady Meets Grogu
175 The Razor Crest Is Attacked by Spiders
176 The New Republic Saves the Razor Crest
177 Mando Meets Other Mandalorians
178 Bo-katan Kryze Offers Mando a Job
179 Mando Lands on Nevarro
180 The Imperial Base Is Destroyed
181 Ahsoka Tano Meets Grogu
182 Ahsoka & Mando Defeat Morgan Elsbeth
183 Grogu's Bond With Mando
184 Ahsoka Gives the Spear to Mando
185 Mando Brings Grogu to Tython
186 Grogu on the Seeing Stone
187 Boba Fett & Fennec Shand Arrive
188 Mando, Fett & Shand Battle Troopers
189 Dark Troopers Take Grogu
190 Mayfeld & Mando Work Together
191 Pirates Attack the Rhydonium
192 Mando Takes Off His Helmet for the Code
193 Dr. Pershing Is Captured
194 Mando Asks for Help on His Mission
195 Crash Landing on Moff Gideon's Cruiser
196 Stormtrooper Battle on the Bridge
197 Mando Beats Gideon & the Darksaber
198 Luke Skywalker Destroys the Dark Troopers
199 Grogu Meets Luke Skywalker & R2-D2
200 Mando Says Good-bye to Grogu
Autographs
2021 Topps Star Wars Chrome Legacy Checklist – Autographs
Age of Rebellion Autographs Checklist
25 cards.
Parallels:
Blue Refractors – /99
Green Refractors – /50
Orange Refractors – /25
Black Refractors – /10
Red Refractors – /5
Superfractors – 1/1
ARB-AT Alan Tudyk
ARB-BDW Billy Dee Williams
ARB-BM Ben Mendelsohn
ARB-DC Dermot Crowley
ARB-DY Donnie Yen
ARB-FJ Felicity Jones
ARB-FW Forest Whitaker
ARB-GE Giancarlo Esposito
ARB-HF Harrison Ford
ARB-IM Ian McDiarmid
ARB-JB Jeremy Bulloch
ARB-JM John Morton
ARB-KB Ben Burtt
ARB-MB Mark Boone Jr.
ARB-MC Michael Carter
ARB-MM Mads Mikkelsen
ARB-MP Michael Pennington
ARB-MQ Mike Quinn
ARB-NN Nick Nolte
ARB-PM Peter Mayhew
ARB-PR Pam Rose
ARB-RA Riz Ahmed
ARB-RD Rosario Dawson
ARB-TW Taika Waititi
ARB-WH Werner Herzog
Age of Republic Autographs Checklist
10 cards.
Parallels:
Blue Refractors – /99
Green Refractors – /50
Orange Refractors – /25
Black Refractors – /10
Red Refractors – /5
Superfractors – 1/1
ARP-AB Ahmed Best
ARP-AE Ashley Eckstein
ARP-DL Daniel Logan
ARP-DT David Tennant
ARP-EM Ewan McGregor
ARP-HC Hayden Christensen
ARP-JAT James Arnold Taylor
ARP-LM Lewis Macleod
ARP-RP Ron Perlman
ARP-SLJ Samuel L. Jackson
Age of Resistance Checklist
18 cards.
Parallels:
Blue Refractors – /99
Green Refractors – /50
Orange Refractors – /25
Black Refractors – /10
Red Refractors – /5
Superfractors – 1/1
ARS-AD Adam Driver
ARS-AS Andy Serkis
ARS-BDW Billy Dee Williams
ARS-CF Carrie Fisher
ARS-DC Dave Chapman
ARS-DG Domhnall Gleeson
ARS-DM Dominic Monaghan
ARS-DR Daisy Ridley
ARS-EE Emun Elliott
ARS-GC Gwendoline Christie
ARS-GG Greg Grunberg
ARS-HF Harrison Ford
ARS-JB John Boyega
ARS-KB Kenny Baker
ARS-KL Ken Leung
ARS-MQ Mike Quinn
ARS-NA Naomi Ackie
ARS-TW Tom Wilton
Dual Autographs Checklist
5 cards.
/25 or less.
DA-BA John Boyega / Naomi Ackie
DA-FR Carrie Fisher / Daisy Ridley
DA-FM Harrison Ford / Peter Mayhew
DA-MJ Ewan McGregor / Samuel L. Jackson
DA-RQ Deep Roy / Mike Quinn
Memorabilia
2021 Topps Star Wars Chrome Legacy Checklist – Inserts
Commemorative Ship Medallions Checklist
40 cards.
Parallels:
Green Refractors – /50
Orange Refractors – /25
Black Refractors – /10
Red Refractors – /5
Superfractors – 1/1
SM-BBT BB-8
SM-BKT Biggs Darklighter
SM-BM Baze Malbus
SM-BR Bodhi Rook
SM-C Chewbacca
SM-C3 C-3PO
SM-CA Captain Cassian Andor
SM-CI Chirrut Îmwe
SM-DK Director Krennic
SM-DV Darth Vader
SM-DVD Darth Vader
SM-DVT Darth Vader
SM-EAX Ello Asty
SM-FT Finn
SM-GE Galen Erso
SM-GVD General Veers
SM-HS Han Solo
SM-JE Jyn Erso
SM-JPX Jess "Testor" Pava
SM-JVT Jon "Dutch" Vander
SM-K2 K-2SO
SM-KRT Kylo Ren
SM-LC Lando Calrissian
SM-LO Princess Leia Organa
SM-LS Luke Skywalker
SM-LST Luke Skywalker
SM-LSX Luke Skywalker
SM-MT Grand Moff Tarkin
SM-NNX Nien Nunb
SM-PDT Poe Dameron
SM-PDX Poe Dameron
SM-R2 R2-D2
SM-RT Rey
SM-SD Stormtrooper
SM-SG Saw Gerrera
SM-SWX Snap Wexley
SM-TIE TIE Fighter Pilot
SM-TLX Tallie Lintra
SM-WAT Wedge Antilles
SM-WAX Wedge Antilles
Mandalorian Concept Art Checklist
15 cards.
Parallels:
Green Refractors – /50
Orange Refractors – /25
Black Refractors – /10
Red Refractors – /5
Superfractors – 1/1
MCA-1 Doug Chiang, John Park – Season 1, Episode 1
MCA-2 Doug Chiang – Season 1, Episode 2
MCA-3 Brian Matyas – Season 1, Episode 3
MCA-4 Christian Alzmann – Season 1, Episode 4
MCA-5 Christian Alzmann – Season 1, Episode 5
MCA-6 Doug Chiang – Season 2, Episode 1
MCA-7 Brian Matyas – Season 2, Episode 1
MCA-8 Christian Alzmann – Season 2, Episode 2
MCA-9 Brian Matyas – Season 2, Episode 3
MCA-10 Ryan Church – Season 2, Episode 4
MCA-11 Christian Alzmann – Season 2, Episode 5
MCA-12 Christian Alzmann – Season 2, Episode 5
MCA-13 Ryan Church – Season 2, Episode 6
MCA-14 Christian Alzmann – Season 2, Episode 6
MCA-15 Brian Matyas – Season 2, Episode 7
Sketch Cards Checklist
139 artists.
Jeff Abar
Jason Adams
Marlo Agunos
Steve Alce
Nick Allsopp
Thomas Amici
Angel Aviles
Kelly Baber
Jerold Bahr
Norviento Basio
Adam Beck
Jonathan Beistline
Angelina Benedetti
Tina Berardi
Bobby Blakey
Brandon Blevins
Ashlee Brienzo
John Bruce
Semra Bulut
Carlos Cabaleiro
Joshua Caleb King
Neil Camera
Dwayne Carpenter
Patricio Carrasco
Kursat Cetiner
Başak Çetinkaya
Oscar Chavez
Kevin Cleveland
Chris Colyer
Alexander Connell
Joe Corroney
Jamie Cosley
Carolyn Craggs
Vincenzo D'Ippolito
Candice Dailey
Jason Davies
Gorkem Demir
Jim Dickson
Garrett Dix
Dean Drummond
Marcia Dye
Antni Ellison
Madison Emerick
Gabe Farber
Keith Farnum
Brett Farr
Rees Finlay
Ryan Finley
Dave Fowler
Andrew Fry
Jude Gallagher
Robert Garcia
Gerard Garcia Jr.
Jonty Gates
Patrick Giles
Mick and Matt Glebe
Sammy Gomez
Dan Gorman
Kevin Graham
Lindsey Greyling
Nick Gribbon
Allen Grimes
Seth Groves
Ingrid Hardy
Robert Hendrickson
Rich Hennemann
Jessica Hickman
Matthew Hirons
Brad Hudson
Darren James
Mohammad Jilani
Karl Jones
Frank Kader
Chris Kay
Dan Lawler
Eric Lehtonen
Benjamin Lombart
Erik Maell
Paul Maitland
Jay Manchand
Ashley Marsh
Michael Mastermaker
Jim Mehsling
Alex Mines
Jake Minor
Solly Mohamed
Rich Molinelli
Logan Monette
Jason Montoya
Michael Munshaw
Jamie Murdock
Dawn Murphy
Mark Necchi
Marsha Parkins
Don Pedicini Jr.
Darrin Pepe
Andrew Perkins
Lucas Peverill
John Pleak
Jason Queen
Brent Ragland
Maggie Ransom
Michelle Rayner
Barry Renshaw
Jamie Richards
Francisco Rivera
Daniel Riveron
Rodney Roberts
Scott Robinson
Andrew Sanchez
Frank Sansone
Ryan Santos
Brent Scotchmer
Mayumi Seto
Anil Sharma
Cyrus Sherkat
Paul Shiers
Tim Shinn
Ward Silverman
Shaow Siong
JM Smith
Veronica Smith
Jason Sobol
Mike Stephens
Bob Stevlic
Matt Stewart
Matthew Sutton
Dan Tearle
Rob Teranishi
RJ Tomascik
Phillip Trujillo
Huy Truong
Wayne Tully
Rutvig Vaid
Kevin P. West
Trent Westbrook
Gavin Williams
Zach Woolsey
Adam Worton
Star Wars Visions Concept Art Checklist
15 cards.
Parallels:
Green Refractors – /50
Orange Refractors – /25
Black Refractors – /10
Red Refractors – /5
Superfractors – 1/1
SWV-1 The Duel
SWV-2 Lop & Ochō
SWV-3 Lop & Ochō
SWV-4 The Duel
SWV-5 The Duel
SWV-6 The Duel
SWV-7 Tatooine Rhapsody
SWV-8 Tatooine Rhapsody
SWV-9 The Ninth Jedi
SWV-10 Tatooine Rhapsody
SWV-11 Tatooine Rhapsody
SWV-12 The Ninth Jedi
SWV-13 Lop & Ochō
SWV-14 Tatooine Rhapsody
SWV-15 T0-B1
Wielders of the Lightsaber Checklist
20 cards.
Parallels:
Green Refractors – /50
Orange Refractors – /25
Black Refractors – /10
Red Refractors – /5
Superfractors – 1/1
WL-1 Luke Skywalker
WL-2 Anakin Skywalker
WL-3 Darth Vader
WL-4 Darth Sidious
WL-5 Darth Maul
WL-6 Count Dooku
WL-7 Kylo Ren
WL-8 Rey
WL-9 Finn
WL-10 Ahsoka Tano
WL-11 Kanan Jarrus
WL-12 Ezra Bridger
WL-13 Yoda
WL-14 Mace Windu
WL-15 Obi-Wan Kenobi
WL-16 Qui-Gon Jinn
WL-17 General Grievous
WL-18 Kit Fisto
WL-19 The Grand Inquisitor
WL-20 Seventh Sister