2021 Topps Star Wars Chrome Legacy Details
2021 Topps Star Wars Chrome Legacy marks the second time this year that the Force is getting the chromium treatment. But while Star Wars Chrome Galaxy focuses on art, Chrome Legacy is about stories and characters.
Hobby boxes come packaged as a pair of mini boxes, each with six packs. There's two hits per master hobby box, at least one of which is either an autograph or sketch card.
2021 Topps Star Wars Chrome Legacy Checklist Overview
While the base set covers a lot of ground, it doesn't touch on all aspects of the Star Wars Saga. Rather, it's the more recent films and TV shows:
The Rise of Skywalker
Rogue One
Solo
The Mandalorian
The Clone Wars
Rebels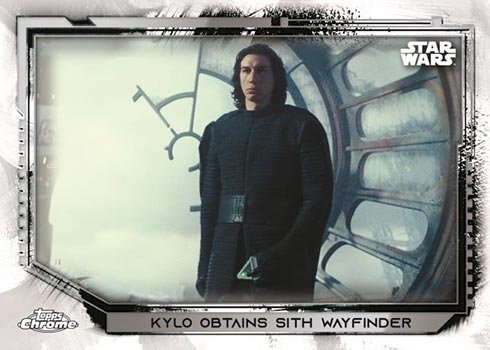 The checklist highlights key story moments.
Every base card has a handful of parallels, all of which are standard to Topps Chrome:
Refractors – 1:3 packs
Blue Refractors – /99
Green Refractors – /50
Orange Refractors – /25
Black Refractors – /10
Red Refractors – /5
Superfractors – 1/1
Autographs and Other Inserts
The bulk of the product's autographs come from three similar themes, each of which comes with a slightly different design: Age of Republic, Age of Rebellion, Age of Resistance.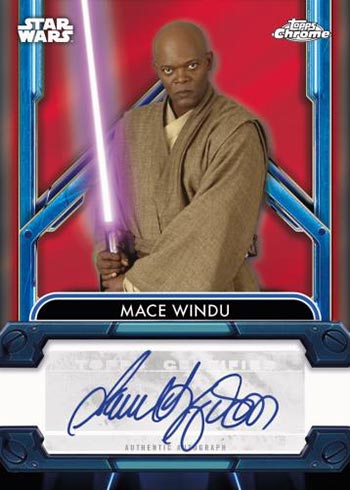 Parallels are similar to those used in the base set: Blue Refractors (/99), Green Refractors (/50), Orange Refractors (/25), Black Refractors (/10), Red Refractors (/5) and Superfractors (1/1).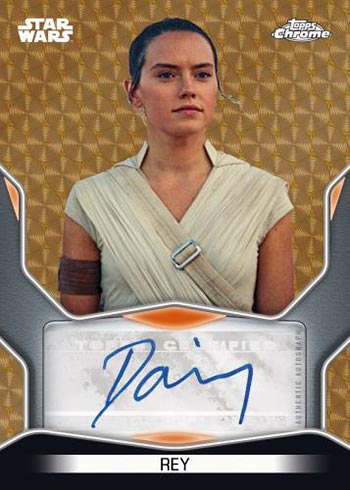 Dual Autographs are also part of the product.
Original artwork is found on Chrome Legacy's sketch cards. In addition to traditional cards, there are also shaped versions.
Commemorative Ship Medallions are the third type of hit. Base versions come with serial numbers along with their Refractor parallels: Green (/50), Orange (/25), Black (/10), Red (/5) and Superfractors (1/1).
2021 Star Wars Chrome Legacy has three additional insert sets: Mandalorian Concept Art, Visions Concept Art and Wielders of the Lightsaber. Each also has Green Refractor (/50), Orange Refractor (/25), Black Refractor (/10), Red Refractor (/5) and Superfractor (1/1) versions.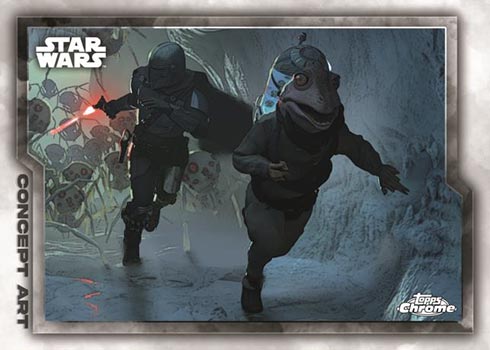 2021 Topps Star Wars Chrome Legacy trading cards at a glance:
Release date (subject to change): October 20, 2021
Cards per pack: Hobby – 5
Packs per box: Hobby – 12
Boxes per case: Hobby – 8
Set size: TBA
What to expect in a hobby box:
Autographs or Sketch Cards – 1 Total
Additional Autographs, Sketch Cards or Medallion Cards – 1
Refractors – 4
The full 2021 Topps Star Wars Chrome Legacy checklist will be up as soon as it's available, likely shortly before the product comes out.