2021 Topps Now Turn Back the Clock Baseball Checklist, Team Set Lists and Details
When you click on links to various merchants on this site, like eBay, and make a purchase, this can result in this site earning a commission.
The game of baseball has a long and storied past. 2021 Topps Now Turn Back the Clock looks to chart some of that. Combining a "This Day in History" format with the Topps Now on-demand structure, the aim is to highlight big moments on the day they happened.
Each day features a new card released on the Topps website. Like the similar 2020 Turn Back the Clock set, the design mimics the 1987 Topps Baseball subset.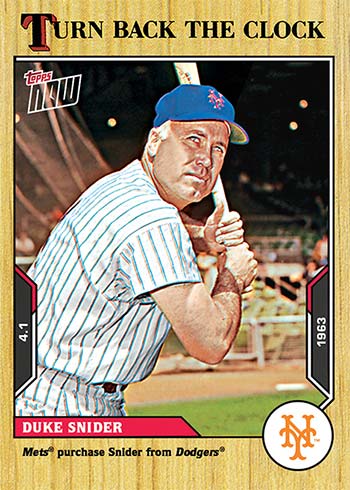 Each card is available for one day on the Topps website. The cost is $9.99 for a single card, $29.99 for five, $49.99 for ten and $79.99 for 20. Another option for collectors to consider is eBay. During the initial on-sale period, sellers moving in bulk usually have singles available for $5-$6.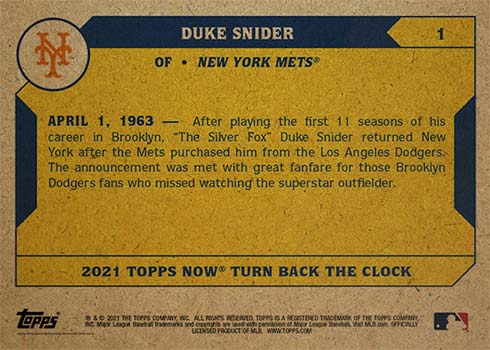 2021 Topps Now Turn Back the Clock cards have two parallels, Cherry (/7) and Ash Wood (/3). These are randomly inserted into orders and replace the regular base card.
Base
2021 Topps Now Turn Back the Clock Checklist
This checklist will continue to evolve in the months ahead. Print runs will be added as they're announced. If you're looking for a particular card, click on the links to see what's available on eBay.
Parallels:
April
1 Duke Snider – Mets Purchase Snider from Dodgers (April 1, 1963) – 647
2 Cecil Fielder – Power Hitter Steals Second for First Time (April 2, 1996) – 444
3 Tom Seaver – Mets Win the Lottery for Young Arm (April 3, 1966) – 886
4 Sammy Sosa – "Slamming Sammy" Joins the 500 Club (April 4, 2003) – 462
5 Larry Walker – Colorado Rockies Slugger Hammers 3 HRs (April 5, 1997) – 315
6 Billy Williams – Connects for Walk-Off HR on Opening Day (April 6, 1971) – 377
7 Ted Williams – "The Kid" Takes the Helm in Washington (April 7,1969) – 503
8 Hank Aaron – Connects for 715th HR, Passes Ruth as HR King (April 8, 1974)
9 Rickey Henderson – Records 800th Career Stolen Base (April 9, 1989) – 471
10 Ken Griffey Jr. – "The Kid" Kicks Things Off (April 10, 1989) – 909
11 Don Drysdale – Aces Goes Yard on Opening Day Again (April 11, 1959) – 395
12 Nolan Ryan – Back in the Swing of Things, Right-Hander Homers (April 12, 1980) 686
13 Rollie Fingers – Passes Lyle for Most Saves in AL History (April 13, 1985) – 421
14 William Howard Taft – Commander-in-Chief Tosses the First Pitch (April 14, 1910) – 617
15 Cal Ripken Jr. – "The Iron Man" Rips His 3,000th Hit (April 15, 2000) – 1,061
16 Steve Garvey – Breaks NL Consecutive-Games-Played Record (April 16, 1983) – 405
17 Mike Schmidt – 4 HRs Helps Power Phillies to Victory (April 17, 1976) 613
18 Roberto Clemente – Rookie Hits 1st Career HR (April 18, 1955) 960
19 Major League Baseball – 1st Ever MLB Game Played in Hawaii (April 19, 1997) – 332
20 David Ortiz – Red Sox Slugger Ignites a Turning Point (April 20, 2013) – 933
21 Willie Stargell – 3 HRs, 5 RBI Fuel 10-2 Romp of Braves (April 21, 1971) – 399
22 John Smoltz – Reaches 3,000 Career Strikeouts (Aprill 22, 2008) – 351
23 Jackie Robinson – Swipes Three Bags in the Same Inning (April 23, 1954) – 650
24 Mike Piazza – Launches 3rd Grand Slam in the Same Month (April 24, 1998) – 274
25 Dwight Gooden – 19-Year-Old Strikes Out 10 Batters (April 25, 1984) – 479
26 Alex Rodriguez – Drives in Career-Best 10 Runs (April 26, 2005)
27 Chipper Jones – Passes Mantle on RBI List Among Switch-Hitters (April 27, 2011)
28 Bryce Harper – Phenom Makes Highly Anticipated MLB Debut (April 28, 2012) 421
29 Stan Musial – 1,000 Games at 2 Different Positions Sets Record (April 29, 1960) 495
30 Bob Feller – Fireballer Tosses Second Career No-Hitter (April 30, 1946) – 345
May
31 Nolan Ryan – "The Nolan Express" Records 7th No-Hitter (May 1, 1991) – 780
32 Chipper Jones – Braves Win Behind Walk-Off, 2-Run HR (May 2, 2012) – 365
33 Fergie Jenkins – 4th Pitcher to Reach 100 Wins in AL and NL (May 3, 1980) – 283
34 Willie Mays – "Say Hey" to the New NL HR King (May 4, 1966) – 620
35 Mike Piazza – 352nd HR as Catcher Sets MLB Record (May 5, 2004) – 419
36 Babe Ruth – 20-Year-Old Pitcher Launches First Career HR (May 6, 1915) – 1,372
37 Justin Verlander – Tosses 2nd No-Hitter of Career (May 7, 2011) – 388
38 Catfish Hunter – Hurls 10th Perfect Game in AL History (May 8, 1968) – 304
39 Bryce Harper – 6th HR in 3 Days Is a Walk-Off Bomb (May 9, 2015) – 281
40 Nomar Garciaparra – 3-HR, 10-RBI Night Includes 2 Grand Slams (May 10, 1999) – 285
41 Tom Seaver – 8-Inning Gem Leads to 100th Career Win (May 11, 1972) – 457
42 Pedro Martinez – Fires CG, 2-Hit SHO with 15 Ks vs. Orioles (May 12, 2000) – 309
43 Stan Musial – Pinch-Hit Situation Results in 3,000th Career Hit (May 13, 1958) – 478
44 Carl Yastrzemski – Completes the Cycle in 5-for-5 Effort (May 14, 1965) – 397
45 Roberto Clemente – Continues Red-Hot May with 3 HRs, 7 RBI (May 15, 1967) – 604
46 Mark McGwire – Launches Career-Best, 545-Foot Home Run (May 16, 1998) – 436
47 Hank Aaron – 1st Player Ever to Reach 3,000 Hits and 500 HRs (May 17, 1970) – 644
48 Edgar Martinez – Ties MLB Record with 5 HRs Over 2-Game Span (May 18, 1999) – 246
49 Cy Young – 1st and Only Player to Reach 500 Career Wins (May 19, 1910) – 555
50 Steve Carlton – Moves Into 2nd on All-Time K List with 3,510 Ks (May 20, 1983) – 278
51 Mike Trout – Youngest Player in AL History to Hit for the Cycle (May 21, 2013) – 1,337
52 Ken Griffey Jr. – Joins Exclusive List with 200 Career Reds HR (May 22, 2008) – 579
53 Roy Campanella – Solo HR, Grand Slam Leads Dodgers Win (May 23, 1952) – 299
54 John Smoltz – 200 Wins, 150 Saves Mark 1st Ever (May 24, 2007) – 260
55 Ralph Kiner – Launches 300th Career Home Run (May 25, 1953) – 303
56 Hank Aaron – 3rd Player Ever to Reach 500 HRs, 500 Doubles (May 26, 1969) – 462
57 Paul Konerko – Launches 400th Career HR with the White Sox (May 27, 2012) – 360
58 Mariano Rivera – 1st Yankees Pitcher to Record 300 Saves (May 28, 2004) – 418
59 Rickey Henderson – Sets AL Stolen Bases Record at 893 (May 29, 1990) – 450
60 Dennis Eckersley – Racks Up 12 Ks in No-Hitter (May 30, 1977) – 350
61 Ty Cobb – 1st Player in MLB History to Record 1,000 XBHs (May 31, 1925) – 734
June
62 Phil Niekro – Niekro Brothers Set Record for Most Combined Wins (June 1, 1987) – 264
63 Lou Gehrig – First Baseman Shines in 1st Start (June 2, 1925) – 1,059
64 Randy Johnson – Claims 2nd Place on All-Time Strikeouts List (June 3, 2008) – 226
65 Don Drysdale – Sets MLB Record with 6th Consecutive CG SHO (June 4, 1968) – 278
66 Albert Pujols – Launches Walk-Off HR in Back-to-Back Games (June 5, 2011) – 401
67 Tim Lincecum – 1,000 Ks in 1st 5 Seasons Marks Historic Start (June 6, 2011) – 336
68 Eddie Murray – No. 33 Retired in Oriole Park at Camden Yards (June 7, 1998) – 361
69 Alex Rodriguez – Youngest Player Ever to Reach 400 HRs (June 8, 2005) – 262
70 Mike Trout – Selected 25th Overall in the 2009 MLB Draft (June 9, 2009) – 2,753
71 Tony La Russa – 2nd Manager Ever to Manage 5,000 Games (June 10, 2011) – 301
72 Mark McGwire – Homers in 3 Consecutive At-Bats in Win (June 11, 1995) – 288
73 Dock Ellis – Twirls Complete-Game No-Hitter (June 12, 1970) – 490
74 Ted Williams – Sets Record with Multiple 3-HR Games in One Season (June 13, 1957) – 757
75 Reggie Jackson – 2 HRs, 10 RBI Highlight Offensive Explosion (June 14, 1969) – 361
76 Ken Griffey Jr. – 6th Youngest Player to Reach 100 HRs (June 15, 1993) – 610
77 Dontrelle Willis – Rookie Fires CG, 1-Hit Shutout (June 16, 2003) – 190
78 Lou Brock – Clubs Historic 460-Ft. HR at Polo Grounds (June 17, 1962) – 346
79 Clayton Kershaw – Racks Up 15 Ks in Complete-Game, No-Hitter (June 18, 2014) – 328
80 Dwight Gooden – Hurls 7 IP, Fans 9 to Reach 100th Career Win (June 19, 1989) – 382
81 Max Scherzer – Records 10 Ks in Near-Perfect CG, No-Hitter (June 20, 2015) – 336
82 Manny Ramirez – 4-for-5, 6 RBI Lead Way for Indians Win (June 21, 1997) – 218
83 Stan Musial – Passes Ty Cobb as MLB All-Time Total Bases Leader (June 22, 1962) – 406
84 Jim Thome – Becomes All-Time Leader with 13th Walk-Off HR (June 23, 2011) – 337
85 Dave Winfield – Becomes Oldest Player Ever to Hit for Cycle (39) (June 24, 1991) – 300
86 Sammy Sosa – Leaps Rudy York for Most HRs in a Single Month (June 25, 1998) – 288
87 Edgar Martinez – Passes Griffey Jr. for Most RBI in Club History (June 26, 2003) – 211
88 Tim Wakefield – Ties Clemens for Club-Record with 382nd Start (June 27, 2009)
89 Mariano Rivera – Tallies 1st Career RBI, Reaches 500 Career Saves (June 28, 2009)
90 Willie Stargell – Pirates Slugger Reaches 400 Career HRs (June 29, 1977) – 398
91 Bob Lemon – Fires No-Hitter in 1st Season as Full-Time Starter (June 30, 1948) – 256
July
92 Andy Pettitte – Becomes Yankees All-Time Strikeouts Leaders (July 1, 2013) – 307
93 Derrek Lee – Grand Slam, 3-Run HR Pace Career-High 7 RBI (July 2, 2009) – 253
94 Larry Doby – Indians Retire No. 14 for Larry Doby (July 3, 1994) – 370
95 Mark McGwire – Hits 16th-Inning HR for 2nd Straight Game (July 4, 1988) – 375
96 Lou Gehrig – Inside-the-Park Grand Slam Highlights 2-HR Game (July 5, 1934) – 701
97 Edgar Martinez – Launches 3 HRs to Lift Mariners to Victory (July 6, 1996) – 210
98 Buster Posey – 1st Career Grand Slam Highlights 2-HR Game (July 7, 2010) – 326
99 Ted Williams – Walk-Off HR Seals MLB All-Star Game Win (July 8, 1941) – 432
100 Mike Piazza – Named 1996 MLB All-Star Game MVP (July 9, 1996) – 509
101 David Ortiz – Leaps Harold Baines as the All-Time DH Hits Leader (July 10, 2013) – 295
102 Bo Jackson – Named MLB All-Star Game MVP After Lead-Off HR (July 11, 1989) – 689
103 Moises Alou – Walk-Off Hit Seals Extra-Innings Win for the NL (July 12, 1994) – 190
104 Reggie Jackson – 520-Ft. HR Highlights MLB All-Star Game (July 13, 1971) – 350
105 Ken Griffey Jr. – Only Father-Son Duo with MLB All-Star Game HRs (July 14, 1992) – 679
106 Ty Cobb – 2 Inside-the-Park HRs Cement Victory (July 15, 1909) – 446
107 Nomar Garciaparra – 4-for-4, 5 RBI Lift Red Sox to Big Win (July 16, 1998) – 180
108 Bob Gibson – 2nd Pitcher in MLB History to Reach 3,000 Ks (July 17, 1974) – 381
109 David Cone – Tosses Perfect Game on Yogi Berra Day (July 18, 1999) – 447
110 Cal Ripken Jr. – Slugs 20th HR of Year in 1,500th Consecutive Game (July 19, 1991) – 428
111 Albert Pujols – 3 HRs, 5 RBI Power Cardinals to Victory (July 20, 2004) – 287
112 Hank Aaron – Joins Ruth as Only Players to Club 700 HRs (July 21, 1973)
113 Willie Stargell – Hits for the 18th Cycle in Pirates History (July 22, 1964) – 262
114 Willie McCovey – Earns MLB All-Star Game MVP Honors with 2 HRs (July 23, 1969) – 321
115 Tom Seaver – Mets Retire No. 41 at Shea Stadium (July 24, 1988) – 380
116 Roberto Clemente – Hits Inside-the-Park, Walk-Off Grand Slam (July 25, 1956) – 658
117 Nolan Ryan – Clinches 23rd Consecutive Season with at Least 100 Ks (July 26, 1992) – 498
118 Wade Boggs – Leaps Babe Ruth on All-Time Hits List (July 27, 1998) – 332
119 Darryl Strawberry – Launches 300th Career HR in Walk-Off Fashion (July 28, 1996) – 325
120 Brooks Robinson – Walk-Off HR Seals Extra-Innings Win (July 29, 1972) – 314
121 Alex Rodriguez – Swipes 30th Base to Join the 30-30 Club (July 30, 1998) – 304
122 Jose Canseco – 1st Player with 30+ HRs/100+ RBI in Each of 1st 3 Seasons (July 31, 1988) – 301
August
123 Andrew McCutchen – Notches Career-High 3 HRs, 6 RBI in Win (August 1, 2009) – 289
124 Bob Lemon – 3-Run HR Highlights Complete-Game Shutout (August 2, 1950) – 271
125 Satchel Paige – 41-Year-Old Shines in Anticipated 1st MLB Start (August 3, 1948) – 695
126 Rod Carew – Records 3,000th Career Hit (August 4, 1995) – 276
127 Tom Glavine – Records 300th Career WIn Behind 6.1 IP (August 5, 2007) – 292
128 Darryl Strawberry – 6th Player with 3-HR Game on AL and NL Club (August 6, 1996) – 258
129 Wade Boggs – 1st Player Ever to Hit a HR to Reach 3,000 Hits (August 7, 1999) – 376
130 Randy Johnson – 19 Ks for the 2nd Time in a Single Season (August 8, 1997) – 325
131 Vida Blue – 1st to Earn Win for AL and NL in MLB ASG (August 9, 1981) – 231
132 Harmon Killebrew – 10th Player in MLB History to Hit 500 HRs (August 10, 1971) – 417
133 Babe Ruth – 1st Player in MlB History to Reach 500 HRs (August 11, 1929) – 1,066
134 Greg Maddux – Establishes NL Record with 72 1/3 IP Without a BB (August 12, 2001) – 386
135 Lou Brock – Collects 3,000th Career Hit (August 13, 1979) – 312
136 Ivan Rodriguez – 1st Catcher with 20-HR, 20-SB Season (August 14, 1999) – 255
137 Mark McGwire – Launches Walk-Off Grand Slam to Seal Extra-Innings Win (August 15, 1990) – 298
138 Bob Gibson – Sets NL Record with 7th Season of 200 Ks (August 16,1969) – 353
139 Willie Mays – Leaps Jimmie Foxx for 2nd on All-Time HRs List (August 17, 1966) – 525
140 Andre Dawson – Records Career Knock No. 2,000 (August 18, 1989) – 313
141 Joe Morgan – 2 HRs, 7 RBI Pave Way for Reds Win (August 19, 1974) – 340
142 Ken Griffey Jr. – Inside-the-Park, Walk-Off HR Cements Extra-Innings (August 20, 2001) – 623
143 Vladimir Guerrero – Proels to 1st on Expos All-Time HR List (August 21, 2003) – 321
144 Ernie Banks – 1st Cubs Player to Have His Number Retired (August 22, 1982) – 471
145 Dennis Eckersley – 1st Pitcher to Record 40 SVs in 4 Different Seasons (Aguust 23, 1992) – 330
146 Bob Feller – Twirls 12-K, CG in 1st Start Back from Naval Service (August 24, 1945) – 337
147 Roger Clemens – 1st Pitcher in MLB History to Record 3 Games of 18+ Ks (August 25, 1998) – 348
148 Roy Campanella – 3 HRs to Lead the Dodgers to a 7-5 Win (August 26, 1950) – 287
149 Tommy Lasorda – Reaches 1,000 Career Win as Manager (August 27, 1988) – 216
150 Ryne Sandberg – 1 2B in MLB History with COnsectuive 30-HR Seasons (August 28, 1990) – 534
151 George Brett – Joins Elite Club of Players with 200th Career SB (August 29, 1993) – 483
152 Kent Tekulve – Becomes the 2nd Pitcher to Appear in 1,000 Games (August 30, 1988) – 348
153 Aroldis Chapman – 102-MPH Fastball Highlights Spotless MLB Debut (August 31, 2010) – 263
September
154 Tom Seaver – 8 Consecutive Seasons of 200+ Ks Mark MLB First (September 1, 1975) – 514
155 David Cone – Fires 7 Hitless IP in Return from Surgery (September 2, 1996) – 296
156 Pedro Martinez – 15th Pitcher in MLB History to Reach 3,000 Ks (September 3, 2007) – 333
157 David Ortiz – Collects 2,000th Career Knock (September 4, 2013) – 333
158 Carlton Fisk – Launches 300th Career Home Run (September 5, 1987) – 320
159 Cal Ripken Jr. – 2,131st Consecutive Game Played Sets MLB Record (September 6, 1995) – 772
160 Trevor Hoffman – 1st Pitcher in MLB History to Register 600 Saves (September 7, 2010) – 320
161 Mark McGwire – Sets New MLB Single-Season Record with 62 HRs (September 8, 1998) – 325
162 Robin Yount – Becomes 3rd Young Player to Reach 3,000 Hits (September 9, 1992) – 436
163 Randy Johnson – Records 3,000th Strikeout on 37th Birthday (September 10, 2000) – 239
164 Howard Johnson – 1st NL Infielder to Join the 30-30 Club (September 11, 1987) – 264
165 Sammy Sosa – Becomes 4th Player to Reach a 60-HR Season (September 12, 1998) – 335
166 Mariano Rivera – 2nd Pitcher Ever to Record 600 Career Saves (September 13, 2011) – 387
167 Bo Jackson – Belts 475-Ft Blast for 1st Career HR (September 14, 1986) – 536
168 Jeff Bagwell – Walk-Off HR Highlights 5-Hit Game (September 15, 1992) – 310
169 Jim Thome – 500th Career HR Is a Walk-Off Blast (September 16, 2007) – 332
170 Reggie Jackson – Belts 500th HR on Anniversary of 1st Career HR (September 17, 1984) – 341
171 Tim Raines – 1st in MLB History with 4 Straight Seasons of 70+ SBs (September 18, 1984) – 227
172 Tom Glavine – Shutout Game Fuels Braves' 100th Win of the Season (September 19, 1998) – 292
173 Wade Boggs – 1st Player in 20th Century with 200 Hits in 6 Straight Seasons (September 20, 1988) – 348
174 Brett Gardner – Hits 15,000th HR in Yankees History (September 21, 2014) – 267
175 Andre Dawson – 300th Career SB Puts Dawson in Exclusive Group (September 22, 1990)- 365
176 Moises Alou – Launches Walk-Off Grand Slam (September 23, 1992) – 212
177 Mickey Mantle – Belts Go-Ahead, Game-Winning HR in Extra Innings (September 24, 1960) – 1,010
178 Ken Griffey Jr. – Youngest Player to Reach 350 Career HRs (September 25, 1998) – 655
179 Vladimir Guerrero – Sets MLB Hits Record for Dominican-Born Players (September 26, 2011) – 324
180 Sammy Sosa – 1st NL Player with 6 Straight 40-HR Seasons (September 27, 2003) – 237
181 Tony Gwynn – 8th Batting Title Ties Wagner for Most All-Time (September 28, 1997) – 387
182 Willie Mays – Iconic Snag in Game 1 of the 1954 World Series (September 29, 1954) – 1,060
183 George Brett – Royals Star Records 3,000th Hit (September 30, 1992) – 407
October
184 Roger Maris – Sets MLB Single-Season Record with 61 HRs (October 1, 1961) – 597
185 Dwight Gooden – 1st Pitcher with 200 Ks in First 3 Seasons (October 2, 1986)
186 Miguel Cabrera – Wins 1st Triple Crown Since Yastrzemski in 1967 (October 3, 2012)
187 Mike Schmidt – Go Ahead, 2-Run HR Clinches NL East Divison (October 4, 1980)
188 Manny Ramirez – Walk-Off, 3-Run HR Cements Game Two of ALDS (October 5, 2007)
189 Phil Niekro – 18th Pitcher in MLB History to Win 300 Games (October 6, 1985)
190 Rickey Henderson – Becomes 25th Member of the 3,000 Hits Club (October 7, 2001) – 313
191 Edgar Martinez – Hits Walk-Off Double to Clinch '95 ALDS (October 8, 1995) – 232
192 Dennis Eckersley – Sets MLB Postseason Record with 4 Saves (October 9, 1988) – 238
193 Mickey Mantle – Walk-Off HR Seals Game 3 of World Series (October 10, 1964) – 777
194 Andy Pettitte – Ties John Smoltz for Most Postseason Wins (15) (October 11, 2009) – 325
195 Paul Molitor – Sets World Series Record with 5 Hits in One Game (October 12, 1982)
196 Bill Mazeroski – Belts Walk-Off HR to Win 1960 World Series (October 13, 1960)
197 Chris Chambliss – Walk-Off HR Sends Yankees to World Series (October 14, 1976)
198 Brooks Robinson – Named 1970 World Series MVP (October 15, 1970)
199 Eddie Murray – 2-HR Game Clinches World Series Title (October 16, 1983)
200 Robin Yount – Multiple 4-Hit Games Set World Series Record (October 17, 1982)
201 David Ortiz – Back-to-Back Walk-Offs Keep Red Sox Alive (October 18, 2004) – 370
202 Barry Ztio – 7.2 Scoreless IP Lead NLCS Game 5 Win (October 19, 2012) – 231
203 Reggie Jackson – 2 RBI Doubles Seal World Series Game 6 (October 20, 1973) – 369
204 Johnny Bench – 2-HR, 5-RBI Effort Seals World Series MVP (October 21, 1976) – 287
205 Albert Pujols – Historic Effort Guides Cardinals Big Win (October 22, 2011) – 295
206 Joe Carter – Walk-Off , 3-Run HR Cements World Series Win (October 23, 1993) – 455
207 Greg Maddux – 1st Pitcher to Win 3 Straight Cy Young Awards (October 24, 1994) – 485
208 Gaylord Perry – 1st Pitcher to Win Cy Young Award in AL & NL (October 25, 1978) – 264
209 Edgar Renteria – Walk-Off Hit Leads to Marlins 1st World Series Title (October 26, 1997) – 218
210 Manny Ramirez – Named 2004 World Series MVP (October 27, 2004) – 302
211 Bob Gibson – Earns NL Cy Young Award & NL MVP Award (Octobre 28,1968) – 240
212 Tom Seaver – 22-Game Winner Earns 1st NL Cy Young Award (October 29,1969) – 422
213 George W. Bush – Throws 1st Pitch Before Game 3 of World Series (October 30,2001) – 1,175
214 Ryne Sandberg – Announces He Is Coming Out of Retirement (October 31, 1995) – 412
Autographs
Versions:
Blue – /49
Purple – /25
Red – /10
Orange – /5
Gold – 1/1
17A Mike Schmidt
27A Chipper Jones
64A Randy Johnson
82A Manny Ramirez
89A Mariano Rivera
102A Bo Jackson
134A Greg Maddux
147A Roger Clemens
159A Cal Ripken Jr.
169A Jim Thome
170A Reggie Jackson
206A Joe Carter
Checklists
#1-100 (July 9)
Checklist Top