2021 Topps Luminaries Baseball Highlights Royalty and Mastery Through Autographs
Kings and masters make their presence known in 2021 Topps Luminaries Baseball. The premium-level release is all autographs. Hobby boxes have a lone card, which is numbered to 20 or less.
2021 Topps Luminaries Baseball Checklist Overview
Since Luminaries made its debut in 2017, the majority of the checklist is covered by three broad themes: Home Run Kings, Hit Kings and Masters of the Mound. 2021 is no different.
For all three, there are both autographs and autograph relics that have on-card ink and print runs of 15 copies. Standard autograph parallels include Red (/10), Blue (/5), Purple (/3) and Black (1/1). Autograph relics have additional Blue (/10), Purple (/3) and Black (1/1) versions.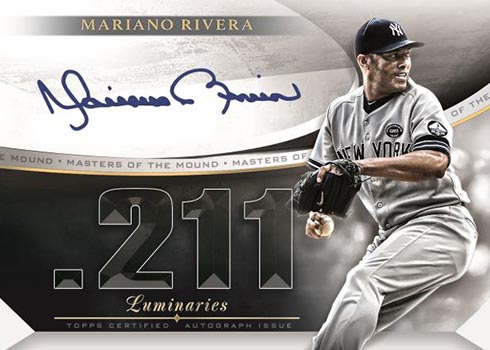 Adding another layer are autograph patch cards (/15). One-of-one Black are the lone parallels for these.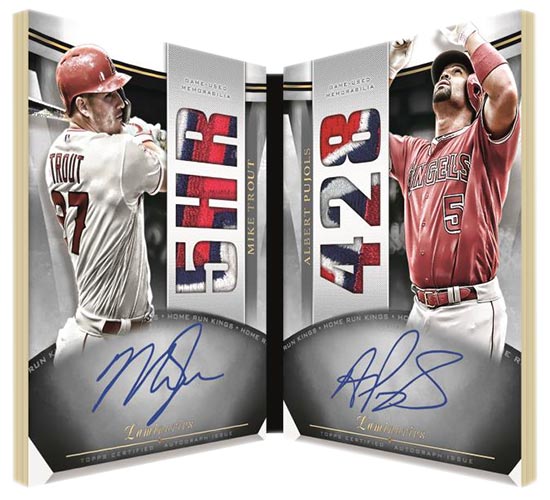 Hit Kings and Home Run Kings have both dual and triple autograph patch cards. Masters of the Mound have dual patches. Although everything in the product is available in small numbers, these multi-player cards are especially tough as they're all one-of-ones.
Big Books
One of the things that has helped Luminaries stand out over the years is its massive book cards. They're back.
Ultra Book Cards are available for all three themes. They fold out to six panels and have ten total signatures.

Ultimate Book Cards go even further — much further — with 40 autographs.
For both book types, cards are one-of-a-kind.
With the card maker celebrating seven decades in the sport in 2021, they've got one 70 Years of Topps Baseball Platinum Celebration Book Card. Appropriately enough, it has 70 autographs covering multiple generations of stars.
Additional Autographs
In 2020, Topps added a fourth theme to Luminaries. Spark of Light highlights young players in a variety of ways. These include autographs, dual autographs, autograph patch and dual autograph patch cards.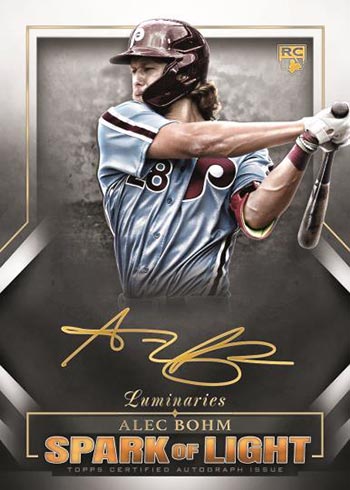 Base versions for all four combinations max out at 20 copies.
One-of-one Cut Signatures take on four different formats. First up is standard cuts. Others add either a relic piece, bat knob or second signature.
Rounding out the 2021 Topps Luminaries Baseball checklist are Letters Book Cards (1/1). These have hard signatures and a jumbo piece from a game-used letter taken from a jersey.
2021 Topps Luminaries Baseball cards at a glance:
Release date (subject to change): August 11, 2021
Cards per pack: Hobby – 1
Packs per box: Hobby – 1
Boxes per case: Hobby – 12
What to expect in a hobby box:
Recent Topps Luminaries Baseball releases:
The full 2021 Topps Luminaries Baseball checklist and team set lists will be up once they're available, likely shortly before the release comes out.