2021 Topps Heritage High Number Baseball Checklist, Team Set Lists and Details
When you click on links to various merchants on this site, like eBay, and make a purchase, this can result in this site earning a commission.
2021 Topps Heritage High Number Baseball heads back to 1972 to fill in the overall checklist with stars not in the earlier set, rookies and players with new teams.
The fundamentals remain the same with a retro design, a handful of inserts and the promise of either an autograph or memorabilia card per hobby box.

2021 Topps Heritage High Number Baseball Checklist Overview
The High Number base set is a continuation of what started in the original 2021 Heritage set. Bookending the checklist are another 225 cards starting at #501.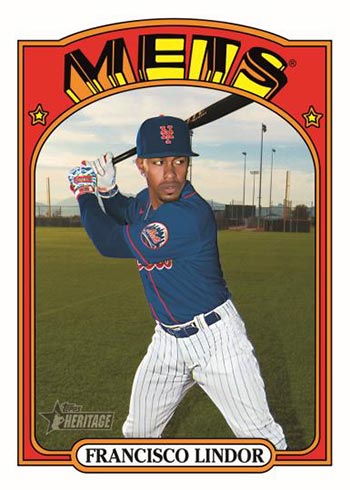 Traditional for Heritage are the short prints, which cover the final 25 cards in the set.
Base parallels include Black Border (50 copies each) and Flip Stock (five copies each), which are printed on the opposite side of the sheet. Both of these are hobby exclusives.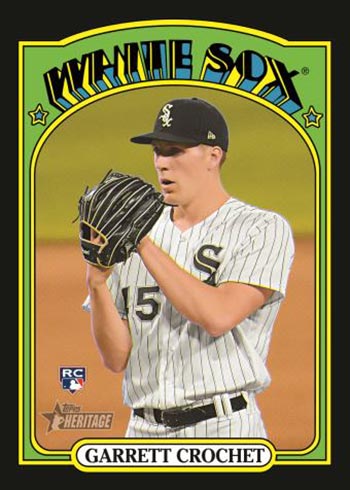 Chrome versions return, covering 100 cards in the set. These have their own Refractor (/572), Red (/372), Black (/72), hobby-only Gold (/5) and Superfractor (1/1) parallels. There are also Purple Hot Box Refractors that are randomly inserted in hobby and retail blaster boxes.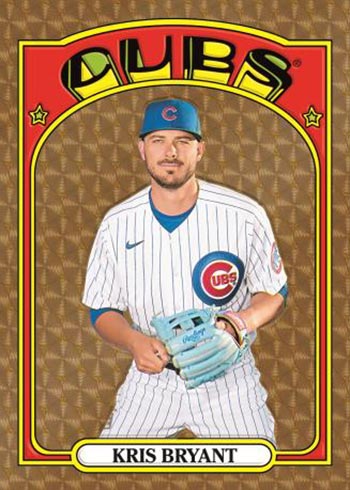 Mini cards, which have 100 copies each, shrink down 50 base cards for special versions.
2021 Topps Heritage High Number Baseball variations come in a variety of forms including Action Image, Team Name Color Swap, City Uniforms (formerly Throwbacks), Nickname and Missing Stars. These are similar to variations found in 2021 Topps Heritage.
Following a production error in 2021 Topps Heritage, the missing Cavan Biggio base card (#216) is available here as well.
Autographs and Memorabilia Cards
Heritage has never been a product that's primarily about traditional hits. And while they are a secondary focus, there's still one autograph or a memorabilia card per hobby box.
Real One Autographs remain the anchor for the signatures. Featuring on-card signatures, base versions are signed in blue ink. Special Edition Red Ink parallels, which have no more than 72 copies each, are also available.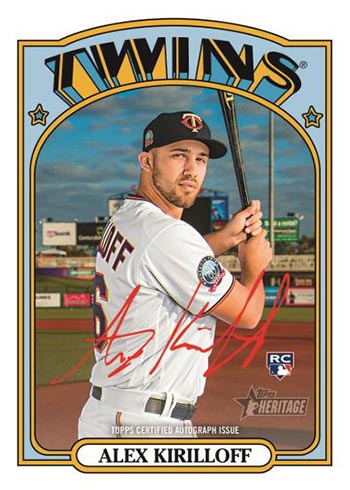 1972 World Series Champions Autographs (/99 or less) commemorate the Oakland Athletics' win over the Cincinnati Reds. Signers were all members of the championship team and, like the Real One Autographs, everything is on-card.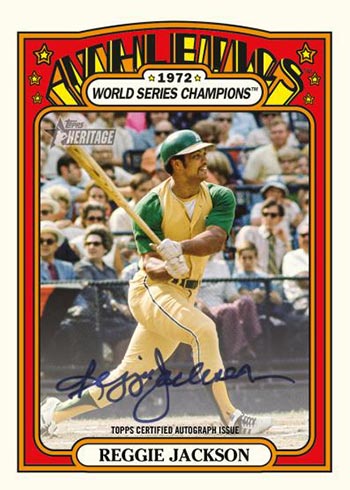 On the memorabilia side, Clubhouse Collection is the central theme. Parallels for regular versions are available in Gold (/99) and Patch (1/1). Dual (/72), Triple (/25) and Quad (/10) Clubhouse Collection cards are also available with multiple players. These also have one-of-one patch parallels.
Exclusive to hobby, Clubhouse Collection Autograph Relics (/25 or less) and Dual Autograph Relics (/10 or less) feature hard signatures.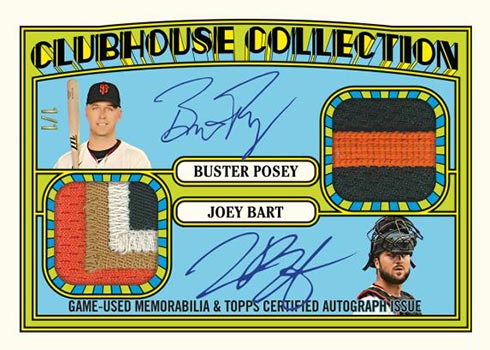 Rounding out the autographs are extremely scarce cut signatures from baseball stars and celebrities who were big in 1972. These are all one-of-ones.
Additional Inserts
A couple of insert sets in 2021 Topps Heritage High Number Baseball are specific to the events of 1972.
1972 World Series Highlights center of the players and big moments of the seven-game series between Oakland and Cincinnati.
Clemente 3,000 puts the spotlight on milestone hits from Roberto Clemente's legendary career.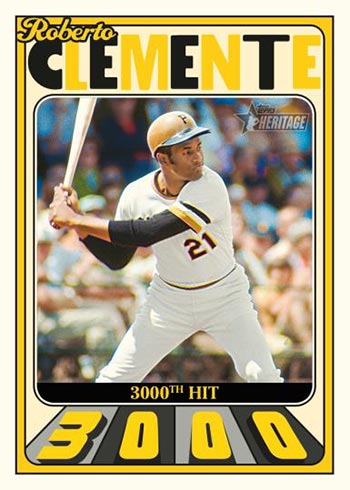 Other insert sets include Award Winners, Combo Cards, Now and Then, and Rookie Performers.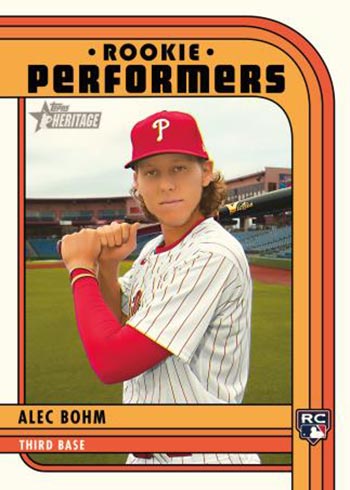 Hobby boxes also come with a special box loader card.
1972 Topps Oversized offers jumbo versions of select base cards.
Borrowing from the 1972 inserts are 1972 Baseball Posters.
Finally, there's 1972 Topps Originals. These are buybacks of original 1972 Topps baseball cards with a special commemorative foil stamp. Basically, they take something old and make it a little different.
2021 Topps Heritage High Number Baseball cards at a glance:
Cards per pack: Hobby – 9
Packs per box: Hobby – 24
Boxes per case: Hobby – 12
Set size: 225 cards
Release date: December 8, 2021
Shop for 2021 Topps Heritage High Number Baseball boxes on eBay:
What to expect in a hobby box:
Autographs or Memorabilia Cards – 1 Total
Box Loaders – 1
2021 Topps Heritage High Number Baseball Checklist
You can also download a customizable spreadsheet copy of the checklist:
Please note that print runs for cards without serial numbers have not been announced.