2021 Topps Garbage Pail Kids Food Fight Checklist and Details
When you click on links to various merchants on this site, like eBay, and make a purchase, this can result in this site earning a commission.
For its first major release of 2021, the GPK gang have got the munchies. 2021 Topps Garbage Pail Kids Food Fight raids the fridge, the cupcoard, the grocery store and plenty of places in between.
Sticking with recent years, both hobby and hobby collector configurations, each with its own assortment of cards and exclusives. Hobby display boxes take a more basic approach while collector boxes feature more inserts and the promise of either an autograph, sketch card or patch card.
2021 Topps Garbage Pail Kids Food Fight Checklist Overview
The base set is a 200-card affair with 100 different food-centric gags and characters, each with the usual A-B name variations.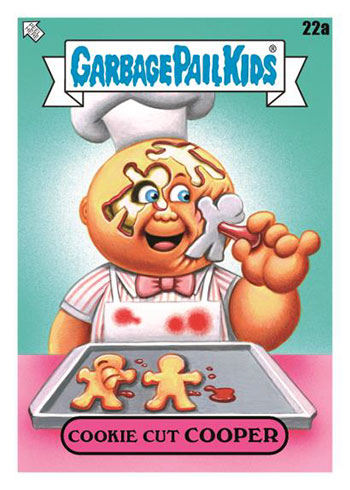 Parallels come in several different colors, each with a themed (and long) name. Booger Green are one per hobby display pack. Hobby collector packs come with a Pepper Black card. Retail exclusives include Jelly Purple (1 per fat pack) and Mustard Yellow (1:5 blaster packs). Parallels round out with Spit in Your Food Blue (/99, display boxes and retail only), Saucy Red (/75, hobby collector only), Fool's Gold (/50) and one-of-one Printing Plates. Artist Autographs can also be found with on-card signatures.
Inserts
The 2021 GPK Food Fight checklist has some additional inserts. Like the parallels, there's a little juggling as to what pack types to find them in.
You Are What You Eat depicts GPK characters as food. These are only in display boxes.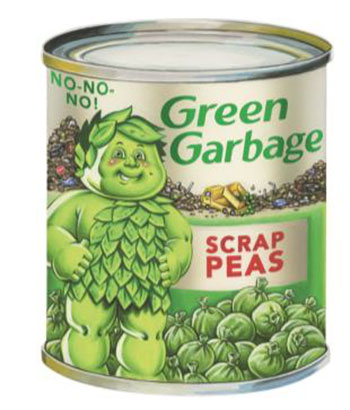 Hobby collector inserts include GPK Food Wacky Packages, which are one per box. There's also Wacky Packages Jumbo Patch cards, which are considered one of the product's premium inserts.
Inside each collector box is a special bonus pack that has a pair of Mini Magnets. The full set of these has two dozen magnets.
The growing world of cooking shows and celebrity chefs get skewered in the aptly titled Celebrity Chefs. These are three per retail blaster value box. Another retail exclusive is The Cereal Aisle, which reimagines classic breakfast characters as GPKs. Two of these are in each fat pack.
Sketch cards come in a few forms. Regular cards with original GPK art are in hobby display packs. Shaped and three-panel Triptych Sketch Cards are hobby collector only. Loaded Sketch Puzzles and Panoramic Sketch Cards are only in certain retail configurations.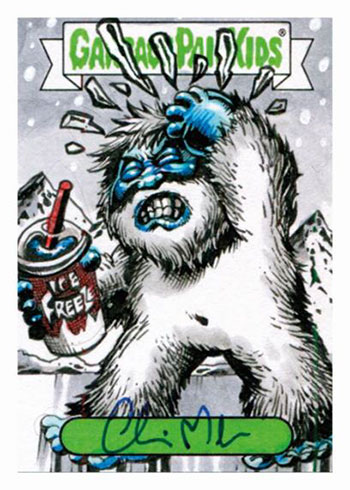 2021 Topps Garbage Pail Kids Food Fight trading cards at a glance:
Cards per pack: Hobby – 8, Hobby Collector – 8
Packs per box: Hobby – 24, Hobby Collector – 24
Boxes per case: Hobby – 8, Hobby Collector – 8
Set size: 200 cards
Release date: February 24, 2021
Shop for 2021 Topps Garbage Pail Kids Food Fight boxes on eBay:
What to expect in a 2021 Topps Garbage Pail Kids Food Fight hobby box:
Booger Green Parallels – 24
What to expect in a hobby collector box:
Autographs, Sketch Cards or Manufactured Patch Cards – 1
GPK Food Wacky Packages – 1
Pepper Black Parallels – 24
Magnet Cards – 2 (bonus pack)
2021 Topps Garbage Pail Kids Food Fight Checklist
You can also download a spreadsheet copy of the checklist:
Base
Base Set Checklist
200 cards.
Shop for base sets on:
Parallels:
Booger Green – (1 per hobby/display pack)
Jelly Purple – (1 per retail fat pack)
Pepper Black – (1 per hobby collector pack)
Mustard Yellow – (1:5 blaster packs)
Spit in Your Food Blue – /99 (display and retail only)
Saucy Red – /75 (hobby collector only)
Fool's Gold – /50
Printing Plates – 1/1 (each has Black, Cyan, Magenta and Yellow versions)
Artist Autographs – "a" cards only
1a Wax MAX
1b Gummy GUNTHER
2a PIPER Bag
2b Buttercream MAXINE
3a DAWSON Cookies
3b Choke-a-Lot CHIP
4a Noodle HARRIET
4b BETTY Spaghetti
5a Lemon NADINE
5b Zesty ZOE
6a Hard SHELLY
6b Taco TIM
7a Allergic NICK
7b PETE Nut Allergy
8a SHIRLEY Temple
8b GRETTA Dine
9a Flakey FRAN
9b ScabbySCARLET
10a Three-Course MEL
10b Third Helping THEO
11a Soupy CANDICE
11b Mm Mm GOODEN
12a DAN Opener
12b SID Lid
13a BRAD Pit
13b Ripened RICARDO
14a Flatu-LANCE
14b BART Face
15a Doughnut HoleJOEL
15b Doughnut DON
16a SAWYER Sauce
16b Fresh FISCHER
17a Dipping DERRICK
17b Melting MILES
18a Hot Dog DAVE
18b Condiment CODY
19a Tenderized TRAVIS
19b Pounded PARKER
20a Decay RAY
20b Rotting ROB
21a Stick-Up STANLEY
21b Meltdown MARK
22a Cookie Cutter COOPER
22b Baked BRENT
23a Drppy SKIPPY
23b Ridiculous REESE
24a TITO Burrito
24b TEX Mex
25a Junkatarian JOHN
25b Snack Attack JACK
26a Funnel FINLEY
26b Over ETTA
27a Pokey PENNY
27b Picky MICKEY
28a Cola WARREN
28b Battling BEV
29a Served SAMMY
29b Food Fight FELIX
30a Garbage Pail SID
30b Trashy TREY
31a Finger Lick KEN
31b Fried HANS
32a Twin KEITH
32b Creamed PHIL
33a Butchered BUTCH
33b CHUCK Steak
34a Grated GRADY
34b Foot Cheese CHARLIE
35a Takeout TOM
35b CARLO Mein
36a Moldy MOLLY
36b Loaf of FRED
37a LIVY Linguine
37b Maca-RONNIE
38a Kern AL
38b Pop COREY
39a WES Quick
39b PETER Pellets
40a Paleolithic PAUL
40b HUNTER Gatherer
41a CHERRY on Top
41b Ice Cream Sun-DEE
42a JOE Blow
42b OWEN Bubbles
43a Finger NEIL
43b Peckish PINKY
44a Peeping PAIGE
44b MARSHA Mallow
45a Cotton KANDY
45b Sugar SHEENA
46a Ice Cream SANDY
46b Split BRIT
47a Uu-Oh RIO
47b KAREEM Filling
48a Prized PRESLEY
48b PERRY Premium
49a GRADY Grapefruit
49b Sour SCOTT
50a HAL n' Oats
50b Quaker QUINN
51a Bib BOB
51b Messy JESSE
52a BLEU Spew
52b STEVE Heave
53a Unaware EDDIE
53b Stuck in KEITH
54a CHET Zit
54b CHAD R. Cheese
55a Barf Out AL
55b BILLY Up
56a Squeeze LUIS
56b Whizzing WINTHROPE
57a Micro WADE
57b Zapped ZACH
58a ADAM Bomb
58b Blended BILLY
59a Raostin' RONAN
59b Toast TED
60a Lobster LONNY
60b Boiled BONNIE
61a Spitting SPENCER
61b Vindictive VINNIE
62a HERSCHEL Squirts
62b CHUCK Let
63a Food Selfie STEPHIE
63b Last MILA
64a Chomping CHAD
64b Denture DONALD
65a Bloody MARY
65b TONI Tomato
66a Assault TED
66b SAUL Shaker
67a Pinched PEPPER
67b Over-Seasoned SEAN
68a Vegan TEGAN
68b No Meat PETE
69a Balut LUKE
69b BO Lut
70a Sweet RUTH
70b Cavi-DEE
71a KINGSTON Cake
71b MARTY Gras
72a POE Tato
72b Tater TODD
73a Whipped Cream KEN
73b Cool WHIT
74a Play PAUL
74b Concession STAN
75a Funnel Cake DRAKE
75b Board WALKER
76a Snow Cone CONNER
76b JOE Cone
77a Starving ART
77b Still Life STAN
78a Stomping STELLA
78b Fermented FRIEDA
79a Gummy GUS
79b Chewy CHARLES
80a Let SAUL Go
80b LOGAN Lobby
81a Spicy SPENCER
81b Flavor PHIL
82a Termite TERRY
82b Protein PATRICK
83a Buzzed BARRON
83b Honey BEA
84a Hydrate TATE
84b Drink UPTON
85a Deveined VALERIE
85b Shrimpy SHERYL
86a Getting Ahead NED
86b Feastin' EASTON
87a Ring POPPY
87b BILLIE Bling
88a DILLON Pickles
88b Sick VLAD
89a Spacey STACY
89b Janet PLANET
90a Cheesy CHESTER
90b Charred CHUCK
91a COOKIE Pusher
91b Thin MINDY
92a Spilled MILT
92b MARY Dairy
93a Haggis HAMISH
93b Kilted KYLE
94a Sorry CHARLIE
94b Alba COREY
95a Flea FLO
95b Parasite PERRY
96a WOODY Blocks
96b Insect ISAAC
97a Jarring JESSICA
97b Preserved PRISCILLA
98a Refined REGGIE
98b CONNOR-Seur
99a Fridge FRANKIE
99b Bad Food BRAD
100a Irritable LOWELL
100b Inflamed COLIN
Insert
2021 Topps Garbage Pail Kids Food Fight Inserts Checklists
Celebrity Chefs Checklist
16 cards.
3 per blaster box.
Buy on:
1a Ralphing RACHAEL
1b Roasting RAY
2a Deboned BOBBY
2b Fillet FLAY
3a Goopy GRAHAM
3b Eyeglass ELLIOT
4a Iron MASAHARU
4b Magical MORIMOTO
5a Wreckin' ROBERT
5b Impossible IRVINE
6a GUY Fiery
6b Flavortown FIERI
7a Grinding Gears GORDON
7b Raw RAMSAY
8a Cooking CARLA
8b Food HALL
The Cereal Aisle Checklist
24 cards.
2 per fat pack.
Buy on:
1a Crunch BARRY
1b Captain CLAY
2a Unlucky LUKE
2b Charmin' CHAD
3a Count CHUCK
3b KENT Chocula
4a Boo BERYL
4b DREW Berry
5a Tricked KIT
5b TRIXIE Cereal
6a Brainless BERT
6b Freaky FRANK
7a Grreat NATE
7b Tiger TONY
8a Froggy FREDDY
8b Dig-In DUNCAN
9a BRYCE Crispy
9b Snapped SYDNEY
10a Soiled SAM
10b Fruity LUPE
11a Sugary CRISPEN
11b Sweet SIMON
12a Psycho SONNY
12b Cuckoo COCOA
Garbage Pail Food Wacky Packages Checklist
10 cards.
1 per hobby collector box.
Buy on:
WP-1 Green Garbage
WP-2 Orville Red-Blockers
WP-3 Moonbeam Hippie Bread
WP-4 Dweebler Microchips Deluxe
WP-5 Kool Ache
WP-6 Twit Kat
WP-7 Morbid Salt
WP-8 Trans-Planted Nuts
WP-9 Boogzooka
WP-10 Kentucky Fried Garbage
Refrigerator Magnet Cards Checklist
24 cards.
2 per hobby collector box bonus pack.
Buy on:
M-1 Junkfood JOHN
M-1 Big MACK
M-2 Slobby ROBBIE
M-2 RAY Decay
M-3 Babbling BROOKE
M-3 Apple COREY
M-4 JOE Blow
M-4 SAM Burger
M-5 Jelly KELLY
M-5 Mushy MARSHA
M-6 PATON Pie
M-6 Smelly SALLY
M-7 Fishy PHYLLIS
M-7 Slimy SAM
M-8 Leaky LOU
M-8 Fat MATT
M-9 Cracked JACK
M-9 Basking ROBIN
M-10 DWIGHT Bite
M-10 ANDY Apple
M-11 Soft Boiled SAM
M-11 Lizard LIZ
M-12 Drippy DAN
M-12 ROD Wad
Wacky Packages Patch Cards Checklist
10 cards.
Hobby collector only.
Buy on:
WP-BB Hurtz Baked Bears
WP-BR Baby Runt
WP-G Gadzooka
WP-GM Glutton Sloppy Brown Mustard
WP-KA Kook-Aid
WP-OFQ Old Fashioned Quacker Oats
WP-PB Peter Pain Peanut Butter
WP-SB Soggy Babies
WP-TC Taster's Choke
WP-W Weakies
You Are What You Eat Checklist
10 cards.
Hobby/display packs only.
Buy on:
1a Cheesey CAESAR
1b Pepa RONNIE
2a Wintry WENDY
2b FrostyFRANCHESCA
3a Shaky SHAWN
3b Clowny CLANCY
4a Booger BOB
4b Big BOYD
5a Burger KINGSLEY
5b FLYNN Broiled