2021 Topps Big League Baseball Checklist, Team Set Lists and Details
When you click on links to various merchants on this site, like eBay, and make a purchase, this can result in this site earning a commission.
2021 Topps Big League Baseball isn't your hits-centric release chock full of autographs and other low-numbered delights — and the price tag to reflect it. And while the more modest price may be a bonus for young collectors, Big League continues its shift away from necessarily being a "kids" product like it was framed in its 2018 debut. And there's some irony because this is a product that includes toys.
Like 2020 Topps Big League, there are two different box configurations, traditional hobby and hobby collector. As far as the cards go, the only difference between the is the number of packs. However, hobby collector boxes also come with a retro-style figure from Super7.
2020 Topps Big League Baseball Checklist Details
The base set lands with 300 cards, which is bigger than many but not exactly comprehensive. Besides 245 total vets and rookies, the checklist includes such subsets as Award Winners, Highlights and Big League Best.
The design is relatively clean and may bring some 1982 Topps vibes for some thanks to the swooping nameplate.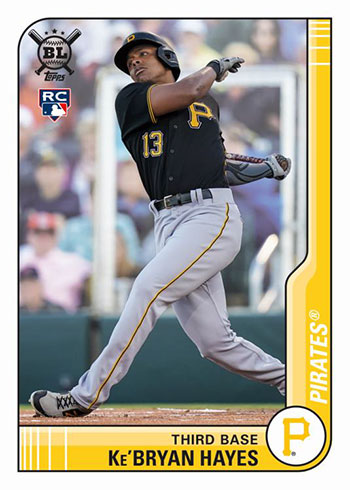 Parallels come in a handful of colors:
Orange
Rainbow Foil – /100
Black and White – /50
Blue Foil – /25
Black Foil – /15
Red Foil – 1/1
Autographs and Inserts
Similar to Opening Day, autographs aren't a guarantee at the hobby box level. However, they are found in a couple of spots on the checklist.
Big League Autographs covers a broad spectrum of players.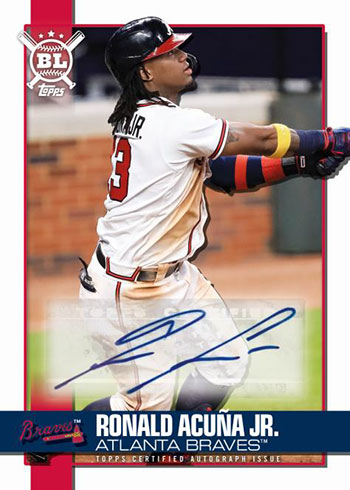 Young players make up Opening Act Autographs.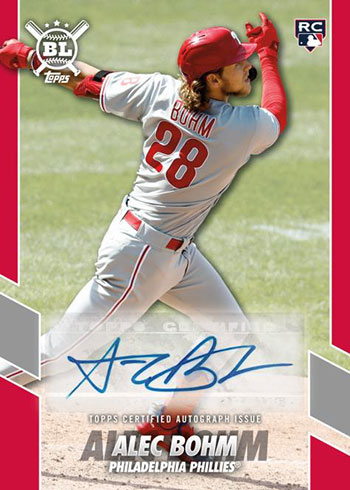 In addition to their base versions, both of these have Electric Orange (/99) and Red Foil (1/1) parallels.
2021 Topps Big League Baseball has a few other insert sets that flesh out the checklist.
Defensive Wizards (1:4 packs) is the lone returning theme. Spotlighting players with slick gloves, these ooze '80s with their aesthetic.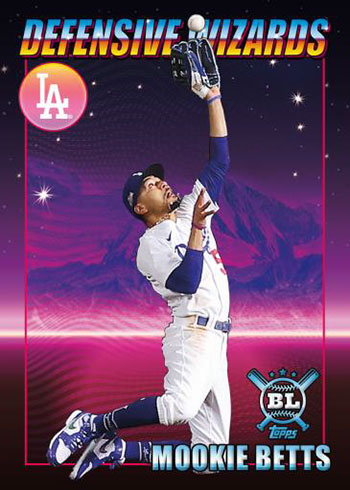 This isn't the only insert set to focus on defense. Wanted (1:4 packs) follows suit with more players known for their prowess with the glove.
Taking over from the Star Caricatures is Art of the Game (1:4 packs), which take an artistic look at MLB players.
Home Team Traditions digs into some of the ballpark fun found around the league.
Finally, there's Souvenirs (1:4 packs), which highlights power hitters and their long home runs that give fans in the stands something to take with them.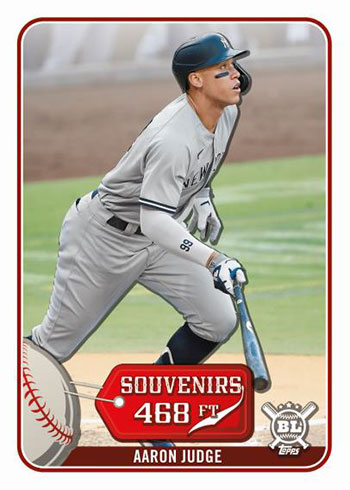 Defensive Wizards, Souvenirs and Wanted also have autograph versions for select cards. These are tough, though, with just 25 copies each.
2020 Topps Big League Baseball Super7 Figures
Hobby collector boxes are smaller that hobby boxes as far as packs go. They have just five compared to regular hobby's 18. However, the smaller number of baseball cards is made up for with an action figure.
For the second year in a row, Topps is partnering with Super7 for this. A total of ten figures are available, however there are a few different types of packaging cards to expand the chase:
1983 Cardback
1959 Cardback – 1:4 boxes
1983 Image Variation Cardback – 1:10 boxes
1959 Image Variation Cardback – 1:20 boxes
On top of these, all four of these have one-of-one Gold versions.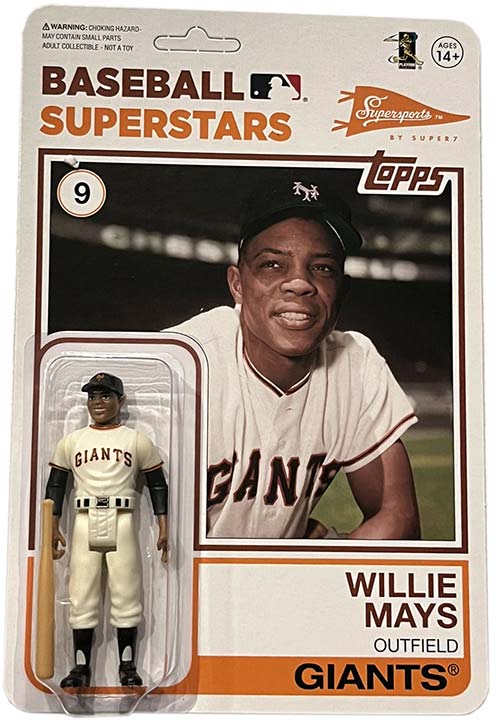 Massive Delays
2021 Topps Big League Baseball finally arrived in shops on April 20, 2022. That was almost a full year after the product's originally announced May, 2021 release date. While delays are normal, the length of this one and the number of times it was pushed back was exceptional.
Topps never gave a reason for the late arrival.
2021 Topps Big League Baseball cards at a glance:
Cards per pack: Hobby – 10, Hobby Collector – 10
Packs per box: Hobby – 18, Hobby Collector – 5
Boxes per case: Hobby – 20, Hobby Collector – 16
Set size: 300 cards
Release date: April 20, 2022
Shop for 2021 Topps Big League Baseball boxes on eBay:
What to expect in a hobby box:
Art of the Game – 4
Defensive Wizards – 4
Souvenirs – 4
Wanted – 4
Parallels – 18
What to expect in a hobby collector box:
Parallels – 5
Super7 Figures – 1
2021 Topps Big League Baseball Checklist
You can also download a customizable spreadsheet copy of the checklist:
Please note that print runs for cards without serial numbers have not been announced.