2021 Topps Allen & Ginter Baseball Checklist, Team Set Lists, Odds and Details
When you click on links to various merchants on this site, like eBay, and make a purchase, this can result in this site earning a commission.
For fans of the line, 2021 Topps Allen & Ginter Baseball will likely arrive like a slice of homemade apple pie — a familiar but comfortable hug that hits all the right spots. But it's also Allen & Ginter so that means words like "eclectic," "varied" and even "weird" can be thrown around with accuracy.
Part of the familiarity is the configuration. Twenty-four-pack hobby boxes have three total hits, which can include autographs, memorabilia card, century-old buybacks and Rip cards.
As always, Allen & Ginter might have baseball in its name, but it gets its identity by branching beyond the sport.
2021 Topps Allen & Ginter Baseball Checklist Overview
The base set is another thing that isn't changing, at least as far as size goes. It totals 350 cards, 50 of which are short prints. It's a mix of the standard vets and rookies as well as some retired stars. Athletes in other sports and figures from the broader popular culture are also part of the Allen & Ginter experience.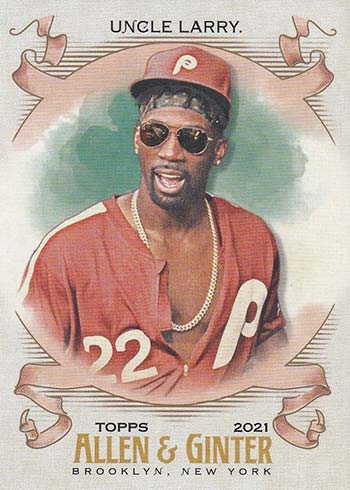 As far as standard-sized parallels go, there aren't a lot of them. One-of-one Glossy versions can be found for all 350 cards. The 300-card shell set also has Silver Portrait versions that are exclusive to randomly inserted hobby hot boxes.
More plentiful in the parallel department are the tobacco-sized minis, which land one per pack:
Mini – (one per pack, SP 1:13 packs)
Allen & Ginter Back Mini – (1:5 packs, SP 1:65 packs)
Black – (1:10 packs, SP 1:130 packs)
No Number – (50 copies each)
Brooklyn Back – /25
Glossy – 1/1
Wood – 1/1 (hobby-exclusive)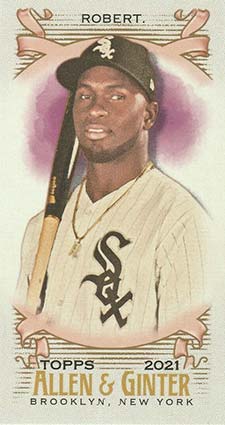 Printing Plates (1/1) are done for the mini cards, however, they're in packs with frames to make them full-sized.
A trio of additional partial parallels are available for 150 cards:
Stained Glass Mini – (25 copies each)
Framed Cloth Mini – /10
Metal Mini – (three copies each)
Autographs and Memorabilia Cards
Typically, Allen & Ginter has some of the most popular autograph cards of the year, ranking alongside Heritage's Real One Autographs. The framed mini format returns with signatures coming on-card. Like the base set, variety is another key with baseball players intertwining with other athletes, celebrities and public figures.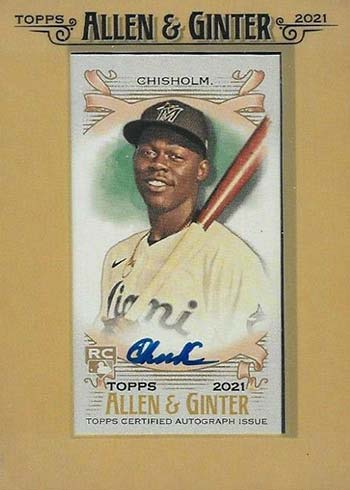 Parallels include Black Frame (/25) and Red Ink, which are only available in hobby packs.
Autographed Relic Book Cards and Autographed Relic Dual Book Cards add memorabilia. With print runs of just ten copies, though, they're tough.
Cut Signatures return, although they're even more scarce as they're all one-of-a-kind.
Memorabilia cards are, once again, available with three different formats. Full-Sized Relics have two different designs and deep checklists that are more than just diamond stars. There's also Framed Mini Relics that are baseball-only.
Shifting away from the game are two tough relic inserts. DNA Relics (/25) return with more fossil pieces. Mythical Relics (/25) fall more in the fun realm with faux pieces that match up with legendary figures and tales. Both of these are hobby-exclusives.
Rip Cards and Exclusives
Rip Cards return at a rate of two per hobby case (approximately 1:6 boxes). Additional exclusive cards are in each of these but to get to them, you have to tear the original. It's a collector's dilemma — keep what's known in top condition or essentially destroy it and take a chance on what inside.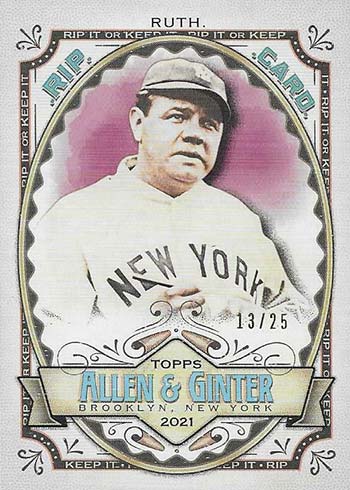 The regular Rip Cards checklist has 100 different cards, each serial numbered. Dual Rip Cards double up the number of mini inner cards.
Boxloader Rip Cards return for another year. These have three exclusive minis.
The majority of the inner cards are Mini Exclusives that expand the Mini parallel set by another 50 cards, making it 400 total cards. These have Metal (/3) and Wood (1/1) parallels. Mini Stained Glass Exclusives are also available at a rate of one per Boxloader Rip Card.
Artist Originals are one-of-one pieces of artwork on the mini canvas.
Other Inserts
2021 Topps Allen & Ginter Baseball has several other insert sets that expand its checklist in both baseball and beyond, regular sized and minis.
Full-sized inserts include Historic Hits. The 50-card set features lots of moments including walk-offs and records.
T51 Murad Reimagined takes the original 1911 set in a new direction. Besides regular inserts, these also have Framed Cloth Variations (/51). This isn't the first time that Topps has used T51 Murad as inspiration. It was the subject of a standalone basketball set in 2008-09.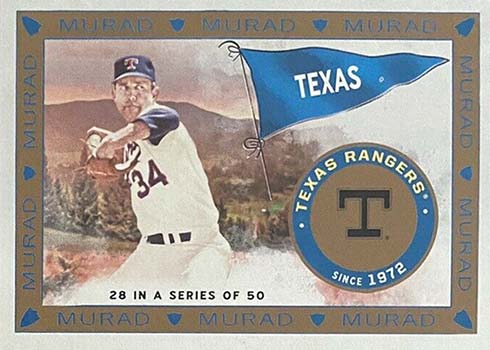 Four additional insert sets venture out into the natural world. Sharks are featured in Deep Sea Shiver. Select cards also have relic versions that max out at ten copies each. Rallying Back highlights animals that have bounced back in numbers over the years after being in danger of extinction. Birds of a Feather talk about parrots while Arboreal Appreciation celebrate trees.
A total of 100 Allen & Ginter Framed Originals can be found in packs. These go back to when Allen & Ginter was a tobacco company in the late 1800s and using trading cards as a premium in their products like toys in the bottom of cereal boxes. Each buyback is different and numbered as a one-of-one.
Mini Inserts
Six mini insert sets stress variety as well.
Mascots IRL is the only one connected to MLB. These look at mascots "in real life." That translates into literal interpretations of bears, baseballs and brew masters.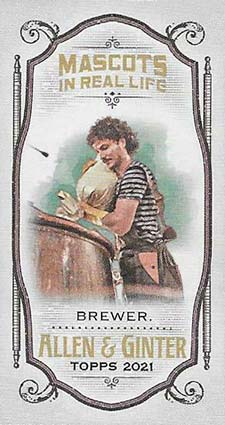 Far, Far Away looks to space while Good for You highlights healthy things. World's Largest shrinks things down for mini cards and Hats Off showcases what some consider to be fashionable.
2008 Allen & Ginter had a set of mini inserts that looked at leaders from all corners of the world. A lot has changed in the years since so 2021 Topps Allen & Ginter World Leaders revisits the concept.
Boxloaders
Every hobby box comes with an oversized boxloader card. These fall under a handful of categories.
Basic Allen & Ginter Boxloaders have jumbo versions of base cards covering top players and rookies. Autographs come with on-card ink and print runs of 15 or less.
N43 Boxloaders are back for another year. Autographs (/15) are also available for select cards.
Mini World's Largest cards get blown up with a topper version.
2021 Topps Allen & Ginter Baseball cards at a glance:
Cards per pack: Hobby – 8, Blaster – 6
Packs per box: Hobby – 24, Blaster – 8
Boxes per case: Hobby – 12
Set size: 350 cards
Release date: August 11, 2021
Shop for 2021 Topps Allen & Ginter Baseball boxes on eBay:
What to expect in a 2021 Topps Allen & Ginter Baseball hobby box:
Autographs, Memorabilia Cards, Rip Cards or Allen & Ginter Originals – 3 Total
Mini Parallels – 24
Boxloaders – 1
2021 Topps Allen & Ginter Baseball Checklist
You can also download a customizable spreadsheet copy of the checklist:
Please note that print runs for cards without serial numbers have not been announced.
Recent Allen & Ginter Baseball Sets: