2021 Score Football Checklist, Team Set Lists and Details
It's understandable that tradition play a role in a product that's been around since 1989. 2021 Score Football does that in a few ways while also laying the groundwork for some new potential traditions down the road. Customary for the last several years, it's the launching point for a new NFL football card season.
Sticking with a jumbo format for hobby, boxes have four autographs and a bunch of additional inserts and parallels.

2021 Score Football Checklist Overview
Score always has a big checklist. Here, it starts with 300 veterans.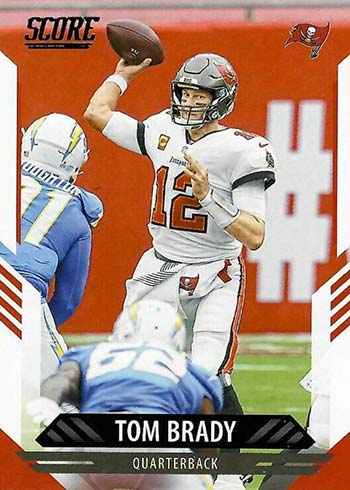 Another 100 Rookies, which combine to land 90 per hobby box, also make their presence known. However, given the release date's close proximity to the draft, first-year players are pictured and listed with the college teams.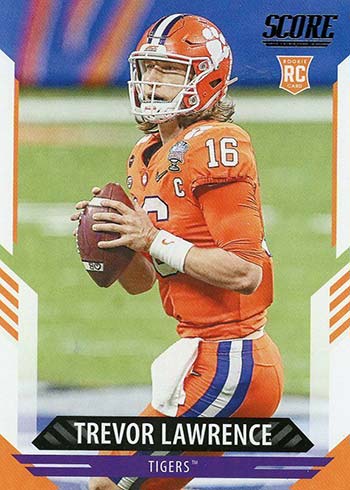 Parallels available in hobby packs include:
Scorecard
Showcase – /100
Gold Zone – /35
Red Zone – /20
Die-Cut – /10
First Down – /10
End Zone – /6
Gem Masters – 1/1
Die-Cuts are new for 2021 and exclusive to hobby.
Autographs and Other Inserts
Although there are some places on the 2021 Score Football checklist reserved for veteran ink, Rookie Autographs are where most of the product's signatures are found. These are nearly identical to base cards, adapted for the addition of the autograph. Parallels come in Gold Zone (/50 or less), Artist Proof (/35), Red Zone (/20), First Down (/10), End Zone (/6) and one-of-one Gem Masters.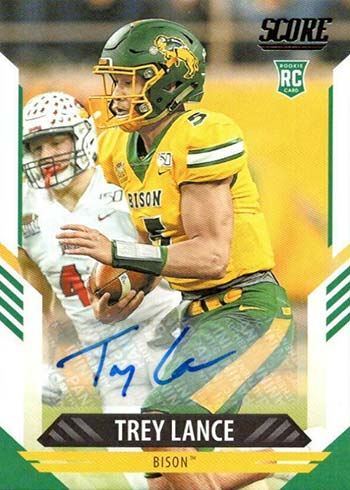 One of the most dependable parts of Score is its mix of inserts. This year, several return but some are new.
Tom Brady TD Tribute looks at the quarterback's career by creating a different card for every touchdown he's thrown his illustrious career. Only in hobby and one per box, building the set will be a challenge.
Other inserts available in hobby packs include All-Hands Team, Breakthrough, Celebrations, Fantasy Stars, Hot Rookies, NFL Draft.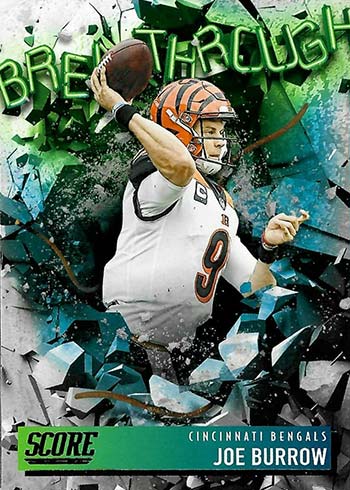 There's also the rare lenticular Base Dynamics and Intergalatic.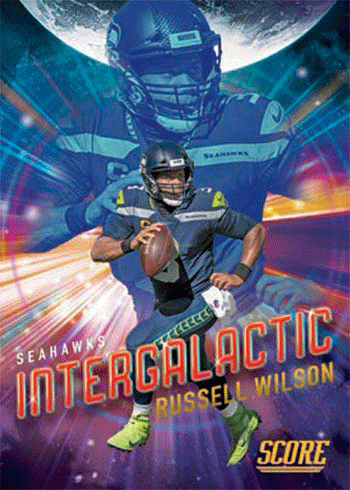 2021 Score Football cards at a glance:
Release date: May 12, 2021
Cards per pack: Hobby – 40
Packs per box: Hobby – 10
Boxes per case: Hobby – 12
Set size: 400 cards
Shop for 2021 Score Football boxes on eBay:
What to expect in a hobby box:
Autographs – 4
Tom Brady TD Tribute – 1
Additional Inserts – 36
Parallels – 10
2021 Score Football Checklist
You can also download a customizable spreadsheet version of the checklist:
Please note that print runs for cards without serial numbers have not been announced.
Recent Score Football sets: