2021 Panini Prizm Baseball Checklist, Team Set Lists and Details
We've had Zebra Prizms and Tiger Prizms. Now 2021 Panini Prizm Baseball is introducing Giraffe Prizms to its expansive rainbow. It's one of several additions to the product.
Hobby boxes come with three autographs and more than a dozen parallels.

2021 Panini Prizm Baseball Checklist Overview
All together, the base set has 250 cards. But like the last could of years, it comes in three tiers making some cards easier to find than others. The player selection is a mix of veteran stars, rookies and retired greats.
Of course, because it's Prizm, there are a lot of colors and patterns to chase among the parallels. Hobby boxes deliver 15 total Prizms, three of which are serial numbered. Besides these, specific colors at the box level include three Silver Prizms, four Blue and five Red.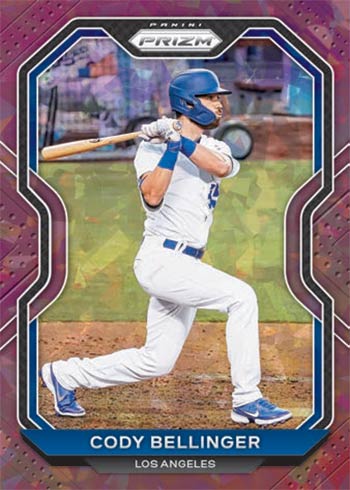 The new Giraffe Prizms are exclusive to hobby packs.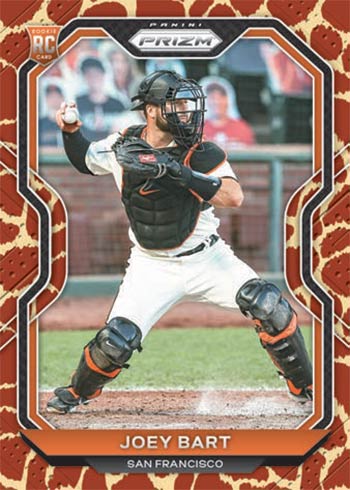 Each 12-box hobby case has one Hot Box. Inside these are 24 Navy Blue-Carolina Blue Prizms. These are a Hot Box-exclusive.
When all of the different configurations in 2021 Panini Prizm Baseball are taken into account, base cards have 42 total parallels.
Inserts and Autographs
2021 Prizm Baseball has several different insert sets. Some are on the common side, others are anything but.
On the tough side, Color Blast return for another year. They're joined by a new short print insert, Lava Flow.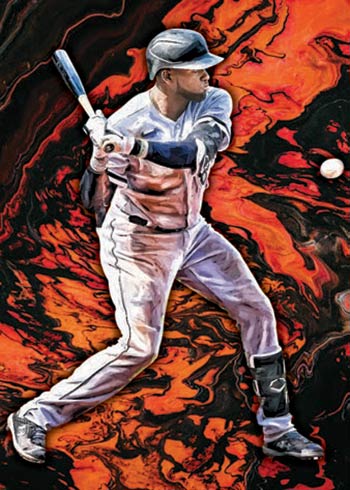 Other insert themes include Rookie Class, Fireworks, Illumination, Lumber Inc.
Similar to the base set, many of the insert sets in 2021 Panini Prizm Baseball have a generous amount of parallels.
As far as hits go, autographs have a few different takes. Signatures and Pro Penmanship take an inclusive approach to player select.
Rookie Autographs goes deep on young players with 100 different signers. Jo Adell, Casey Mize and Cristian Pache are among the rookie signatures to look for. Each has more than 20 parallels.
2021 Panini Prizm Baseball cards at a glance:
Cards per pack: Hobby – 12
Packs per box: Hobby – 12
Boxes per case: Hobby – 12
Set size: 250 cards
Release date: August 13, 2021
Shop for 2021 Panini Prizm Baseball boxes on eBay:
What to expect in a hobby box:
Autographs – 3
Blue Prizms – 4
Red Prizms – 5
Silver Prizms – 3
Additional Numbered Prizms – 3
2021 Panini Prizm Baseball Checklist
You can also download a customizable spreadsheet copy of the checklist:
Please note that print runs for cards without serial numbers have not been announced.
Recent Prizm Baseball releases: