2021 Panini Luminance Football Checklist, Team Set Lists and Details
2021 Panini Luminance Football is a set to find lots of action photograph. Like past years for the line, though, it does so with some additional flair.
Offering a broad mix of elements, hobby boxes include four hits, three of which are autographs. Collectors will also find four inserts and five parallels spread across the four packs in each box.

2021 Panini Luminance Football Checklist Overview
The base set is an action-packed affair. Luminance once again uses a borderless, full-bleed approach. Lighting comes into play to give the cards both an even more distinct look as well as to spotlight the players. Modern font choices make the minimalist approach to layout standout further.
For rookies, 2021 Luminance is one of the first products of the year to list them with their NFL teams. Images still show them in their college threads, though.
Parallels include Gold (/299), Blue (/99), Green (/75), Orange (/50), Teal (/35), Red (/25), Pink (/10), and Platinum (1/1). These are done with holographic stock.
Autographs and Other Inserts
Year One Signatures RPS feature on-card autographs from key players in the 2021 NFL Draft. Unlike the base set, players are with their college teams for these for both the team name and photo. Parallels use different colored ink including Red, Green and Purple. Select cards also have variations.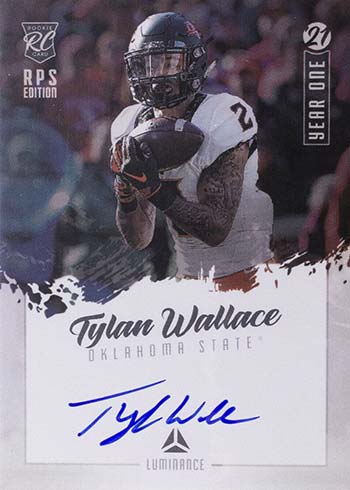 Doubling up the rookie ink are Year One Dual Signatures. The on-card theme carries over to these.
For Rookie Luminance Autographs, cards stand out a little more thanks to the holographic foil stock they're printed on.
Portrait Signatures is one of the places on the 2021 Panini Luminance Football checklist where collectors will find veterans. The design for these lightens things up compared to the base set. Photographs get more up-close and personal. Parallels include Gold (/49 or less), Green (/25 or less) and Platinum (1/1).
Illuminated Ink and Autograph Jerseys are two additional spots with veteran signatures. Both have Gold (/49 or less) and Platinum (1/1) versions. Autographs Jerseys Green top out at 25 copies while it's 10 for Illuminated Ink Green.
Among Luminance's memorabilia offerings is Jumbo, which gets its name from the over-sized swatches. Gold (/49 or less), Green (/25 or less) and Platinum (1/1) carry over as the parallels for these.
Luminance has several other insert sets. Far Out and the 30-card Radiance rank among the tougher ones to build.
Speedy players past and present are part of Flash.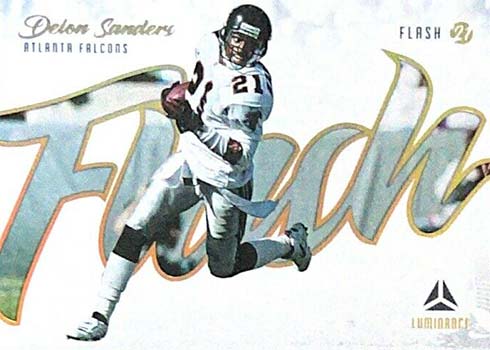 There's also Jubilee, Moments and Risings, all of which are SSP inserts according to Panini.
2021 Panini Luminance Football cards at a glance:
Cards per pack: Hobby – 10
Packs per box: Hobby – 4
Boxes per case: Hobby – 12
Set size: 200 cards
Release date: July 9, 2021
Shop for 2021 Panini Luminance Football boxes on eBay:
What to expect in a hobby box:
Autographs – 3
Memorabilia Cards – 1
Inserts – 4
Parallels – 5
2021 Panini Luminance Football Checklist
You can also download a customizable spreadsheet copy of the checklist:
Please note that print runs for cards without serial numbers have not been announced.
Recent Panini Luminance Football releases: