2021 Panini Immaculate Football Adds New Memorabilia, Sticks with Lots of Autographs
Everything about 2021 Panini Immaculate Football is on the high side of high-end cards. Not only is the checklist focused almost entirely on autographs and memorabilia, but even what goes into those has a little bit more than most other lines. That means more on-card signatures, unique memorabilia, patches and various autographed memorabilia combinations.
Hobby boxes have six cards, five of which are hits. It's the same for 1st Off the Line boxes, which will be available through Panini's website. However, among the promised FOTL hits is a limited Rookie Patch Autograph and Premium Edition Rookie Patch card.
2021 Panini Immaculate Football Checklist Overview
Rookie Patch Autographs continue to be a cornerstone in Immaculate. These Rookie Cards are the first of the season to combine patches and on-card signatures from this year's freshman class. Base versions have no more than 99 copies each with additional parallels available in Gold (/25 or less), NFL Shield (1/1) and Platinum (1/1). Premium Edition versions can be found in 1st Off the Line boxes.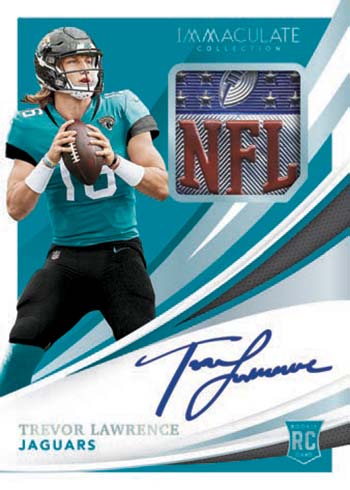 This isn't the only place on the Immaculate checklist to find first-year autograph patch cards. Other similar themes include Premium Patch Rookie Autographs and Immaculate Number Rookie Patch Autographs.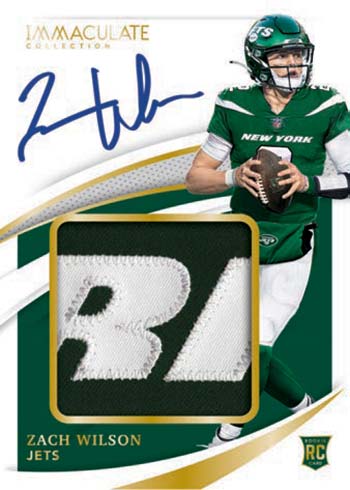 Expanding outside of just rookies are Immaculate Player Collection Autographs. There's also Nameplate Nobility Signatures that take a jersey letter and add an autograph on an additional acetate layer.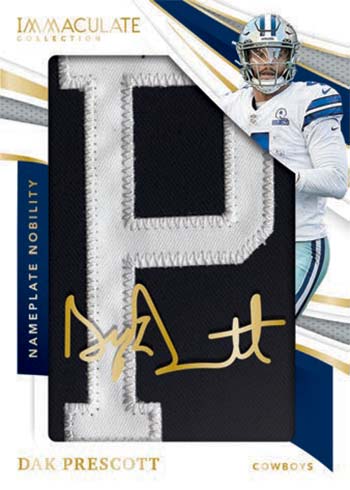 For those who prefer signatures directly on the card over labels or stickers, there is a handful of additional inserts. These include Comeback Signatures, HOF Signatures, Immaculate Moments and Signature Moves.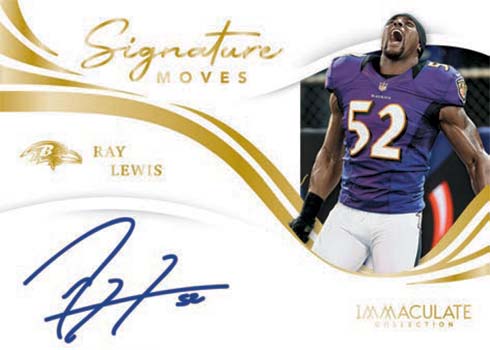 Cleat Impressions Autographs highlight players' footwear alongside their signature.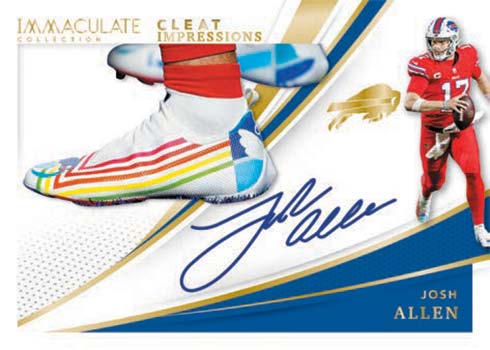 Clearly Immaculate Rookie Jerseys and Gatorade Sideline Towels are among the new additions to the product.
Rookie Reserve cards (/5 or less) have three swatches on display.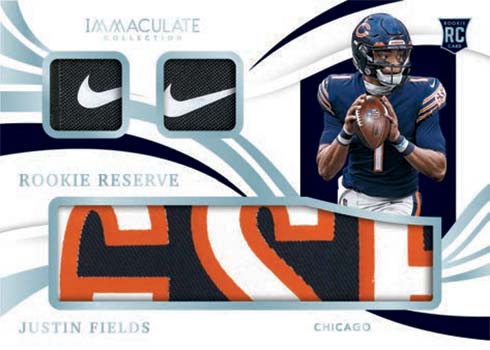 Dual NFL Shields are all one-of-ones.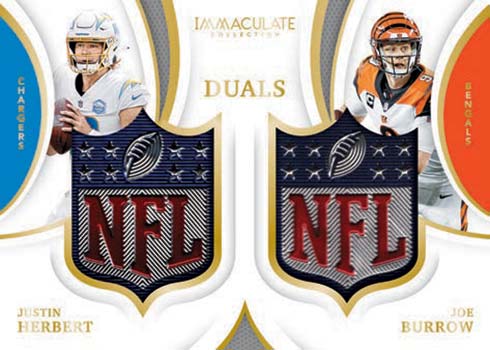 The brand has a long history of going deep with different types of memorabilia. Here, jumbo swatches of cleats, gloves, helmets, caps, team logos, brand logos, laundry tags and NFL Shields are all possible.
2021 Panini Immaculate Football cards at a glance:
Cards per pack: Hobby – 6, 1st Off the Line – 6
Packs per box: Hobby – 1, 1st Off the Line – 1
Boxes per case: Hobby – 6, 1st Off the Line – 6
Set size: TBA
Release date (subject to change): December 29, 2021
What to expect in a hobby box:
Autographs or Memorabilia Cards – 5 Total
Base Cards or Parallels – 1 Total
What to expect in a 1st Off the Line box:
Rookie Patch Autographs (/18) – 1
Premium Edition Rookie Patch – 1
Additional Autographs and Memorabilia Cards – 3 Total
Emerald Parallels – 1
Recent Panini Immaculate Football releases:
The full 2021 Panini Immaculate Football checklist and team set lists will be up as soon as they're available, likely shortly before the product's release.