2021 Panini Chronicles Draft Picks Basketball Mega Box Break
With no 2021-22 basketball product release on the immediate horizon, collectors will have to turn to Panini Chronicles Draft Picks for their new card fix. Those who haven't purchased cards in awhile may be in for a slight sticker shock. Hanger Boxes run $16, Blasters $27.50, and Megas a whopping $50.
Curiously enough, the Blasters, significantly more expensive, contain only 20 cards compared to Hangers, which offer 30. Mega Boxes yield 60 cards per.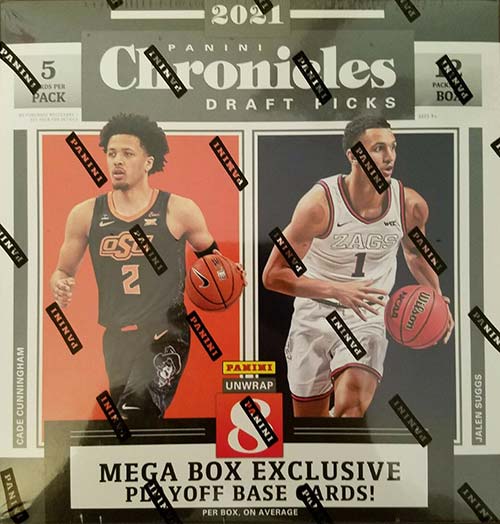 Here are the highlights from a Chronicles Draft Mega Box containing 12 packs with five cards per pack. Collectors can expect to pull eight Mega Box exclusive Playoff base cards and one exclusive Green Opti-Chrome parallel.
Chronicles:
Cade Cunningham, Josh Christopher, Ayo Dosunmu, Tre Mann, Cameron Thomas, Franz Wagner, Chris Duarte, Jaden Springer, Greg Brown
Donruss:
Jalen Green, Scottie Barnes, Jalen Suggs, Jared Butler, Kai Jones, Jonathan Kuminga, Corey Kispert, Moses Moody, Franz Wagner, Brandon Boston Jr. (Green)
Hoops Retro:
Greg Brown, Isaiah Jackson, Davion Mitchell, Scottie Barnes, Jalen Johnson, Jaden Springer, Ziaire Williams, Franz Wagner, Kai Jones, Jonathan Kuminga
Luminance:
Cade Cunningham, Jalen Suggs, Matthew Hurt, Keon Johnson, Luka Garza, Scottie Barnes, Evan Mobley, Raiquan Gray, Herbert Jones, Joel Ayayi (Green)
Essentials:
Moses Moody, Franz Wagner (Green)
Recon:
Ayo Dosunmu, Isaiah Jackson (Green)
Marquee:
Jalen Suggs, Ziaire Williams
XR:
Cameron Thomas
Gala:
Scottie Barnes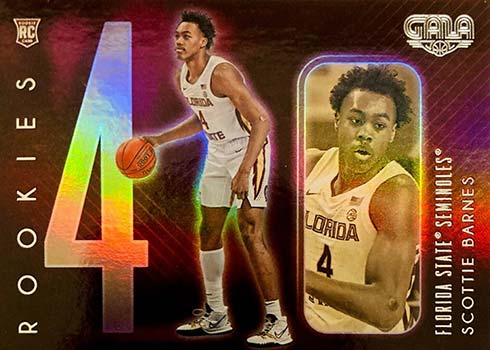 Donruss Optic:
Jalen Johnson
Flux:
Cameron Thomas
Select:
Moses Moody
Playoff:
Jalen Green, Evan Mobley, Scottie Barnes, Jalen Johnson, Moses Moody, Keon Johnson, Ziaire Williams, Ayo Dosunmu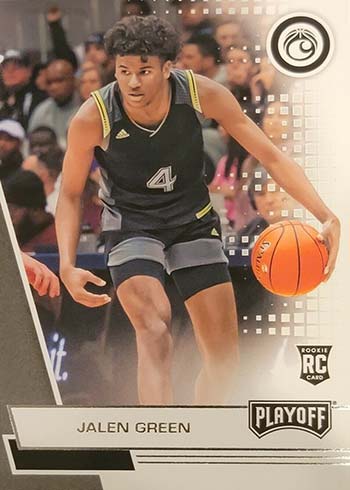 Green Opti-Chrome:
Jared Butler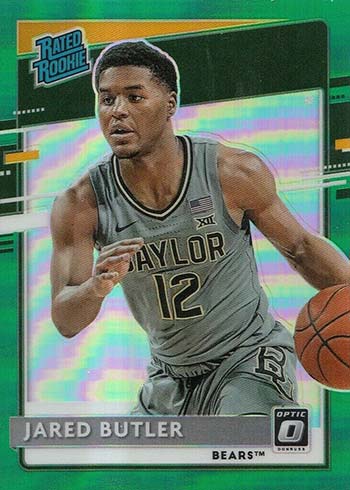 Prestige Bonus Shots Signatures:
Troy Baxter Jr.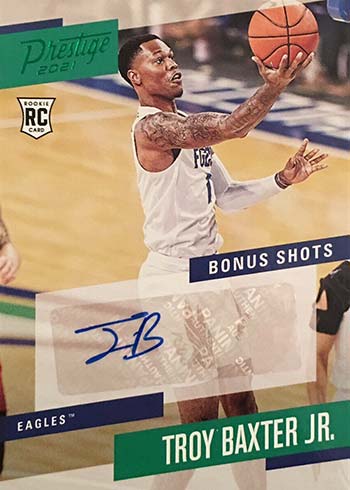 Overall, a fun product to open. Retail shelves seem well-stocked so tracking some down shouldn't be a problem. Also, pulling an autograph, though it's not a major name, was a surprise as signatures are not guaranteed. The exclusive Opti-Chrome Green cards look quite good.
Consider Chronicles Draft a decent present-day dalliance for collectors eagerly awaiting the first product containing the new rookie crop in pro uniforms.