2021 Leaf Signature Football Checklist and Details
2021 Leaf Signature Football cards have a couple of things going on — and it all revolves around autographs.
Packaged in a blaster format, each box has four autographs, one of which is guaranteed to be a Hall of Famer.

The checklist is divided up into two sections. Neither is particularly big or filled with a large number of parallels. It's all kept simple and to the point.
Hall of Fame Autographs highlight players who are recognized as the very best to ever play the game. Not all are hobby superstars, but there are some strong names like Andre Reed, Lenny Moore and Y.A. Tittle. Joe Montana is the big headliner of the product.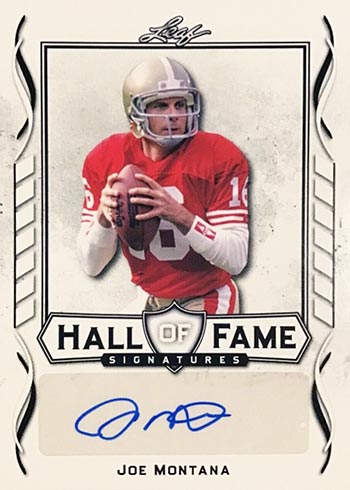 The remaining autographs draw from 2021 draft picks and prospects.
Autographs and Hall of Fame Autographs all have Blue and Green parallels.
2021 Leaf Signature Football at a glance:
Cards per pack: 4
Packs per box: 1
Boxes per case: 20
Release date: September 10, 2021
Shop for 2021 Leaf Signature Football boxes on eBay:
What to expect in a hobby box:
Hall of Fame Autographs – 1
Additional Autographs – 3
2021 Leaf Signature Football Checklist
Autographs Checklist
39 cards.
Parallels:
BA-ARJ Asim Rose Jr.
BA-AS1 Anthony Schwartz
BA-ASJ Asante Samuel Jr.
BA-BJ1 Brevin Jordan
BA-BK1 Brenden Knox
BA-BS1 Ben Skowronek
BA-CB1 Christian Barmore
BA-CBJ Carlos Basham Jr.
BA-CP1 Cornell Powell
BA-DF1 Dez Fitzpatrick
BA-FF1 Feleipe Franks
BA-GR1 Gregory Rousseau
BA-HL1 Hunter Long
BA-IB1 Ian Book
BA-IM1 Israel Mukuamu
BA-ISM Ihmir Smith-Marsette
BA-JC1 Jabril Cox
BA-JH2 Jevon Holland
BA-JJ2 Jermar Jefferson
BA-JMK Javon McKinley
BA-JO1 Jayson Oweh
BA-JS1 JaCoby Stevens
BA-KG1 Kenneth Gainwell
BA-KH2 Khalil Herbert
BA-KP2 Kwity Paye
BA-MB1 Matt Bushman
BA-MW1 Marvin Wilson
BA-NC1 Nico Collins
BA-PS1 Penei Sewell
BA-PS2 Patrick Surtain II
BA-PWJ Pooka Williams Jr.
BA-RBJ Rico Bussey Jr.
BA-RW1 Rashad Weaver
BA-SS3 Stevie Scott III
BA-TA1 Tutu Atwell
BA-TB1 Tarik Black
BA-TR1 Trey Ragas
BA-TS3 Tedarrell Slaton
BA-WJ1 Warren Jackson
Hall of Fame Autographs Checklist
29 cards.
Parallels:
HOF-AR1 Andre Reed
HOF-BB1 Bobby Bell
HOF-BL1 Bob Lilly
HOF-BS1 Billy Shaw
HOF-CC1 Curley Culp
HOF-CJ1 Charlie Joiner
HOF-DR1 Dave Robinson
HOF-DS1 Dwight Stephenson
HOF-EB1 Elvin Bethea
HOF-ET1 Emmitt Thomas
HOF-JC1 Jim Covert
HOF-JDL Joe DeLamielleure
HOF-JM1 Joe Montana
HOF-JR1 Johnny Robinson
HOF-LB1 Lem Barney
HOF-LL1 Larry Little
HOF-LM1 Lenny Moore
HOF-ML1 Marv Levy
HOF-MR1 Mel Renfro
HOF-PK1 Paul Krause
HOF-RB1 Robert Brazile
HOF-RG1 Ray Guy
HOF-RJ1 Rickey Jackson
HOF-RY1 Ron Yary
HOF-TM1 Tom Mack
HOF-WL1 Willie Lanier
HOF-WR1 Willie Roaf
HOF-WS1 Will Shields
HOF-YAT Y.A. Tittle