2021 Donruss Racing Checklist and Details
2021 Donruss Racing has a lot going on. It's kind of like a driver's firesuit with all of its different sponsor logos. Every glance offers a different perspective. For this set of NASCAR racing cards, it means a mix of base cards, lots of parallels and parallel styles, the inclusion of a couple of different brands and plenty of inserts.
There's also autographs and memorabilia cards, which combine to land three times total in every hobby box.

2021 Donruss Racing Checklist Overview
The base set has 200 cards. But within those 200 cards are several subsets that bring a mix of themes and designs. In addition to the main driver-focused base cards, there are Rated Rookies, Race Kings and Cars. There's also Retro 1988, which delves into the brand's past, specifically the baseball set that had everybody chasing for Gregg Jefferies back in the day.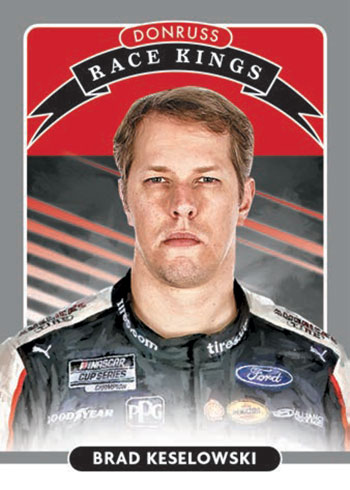 At the hobby level, parallels come in nine levels. Silver are the most common, averaging one per hobby pack. Others include Red, Navy Blue, Green, Purple, Pink, 5th Anniversary, Black Trophy Club and Printing Plates. Hobby boxes come with nine numbered parallels.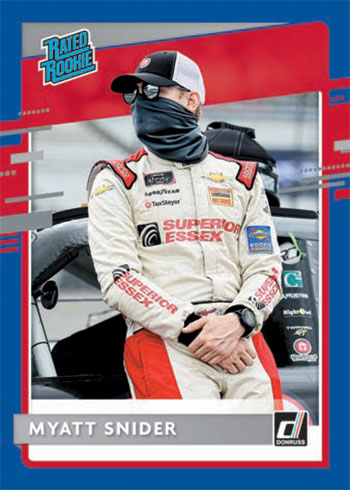 Moving over to retail, Orange cards are only in blasters while fat packs have Carolina Blue.
Donruss Optic returns for another year. These put a separate chromium spin on the main set, falling one per pack.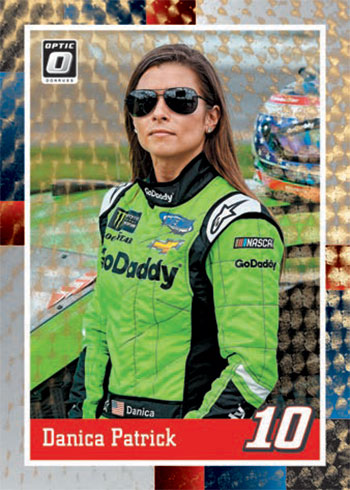 Optic isn't the only Panini brand appearing in 2021 Donruss Racing. There's also Contenders with it's ticket-inspired design and Cracked Ice parallels.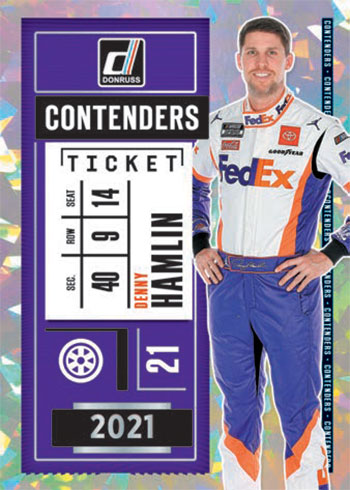 Inserts come in a variety of themes including Action Packed, Aero Package, Classics, Dominators, Elite Series and Retro Series.
The 2021 Donruss Racing checklist has some short print inserts as well. The returning Downtown is joined by Blank Slate, Sketchworks and Watercolors.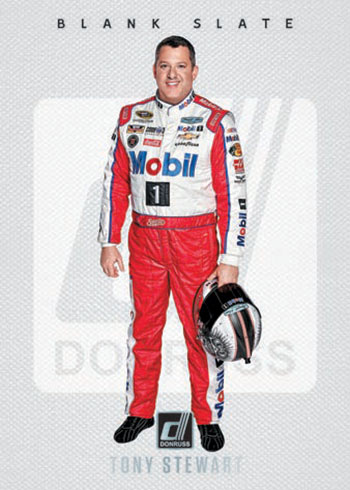 As far as hits go, there's one autograph and two memorabilia cards per hobby box.
Signature Series has autographs from a mix of present and past drivers. Timeless Treasures Materials Signatures have ink and memorabilia. Both of these come with Red, Holo Gold and Holo Black parallels.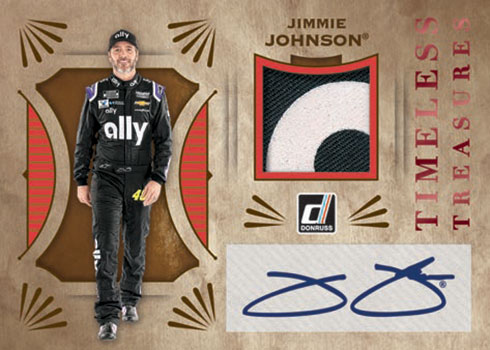 Race Day Relics focuses on memorabilia. Firesuits, tires and sheet metal can all be found in these cards. Red, Holo Gold and Holo Black versions are available here as well.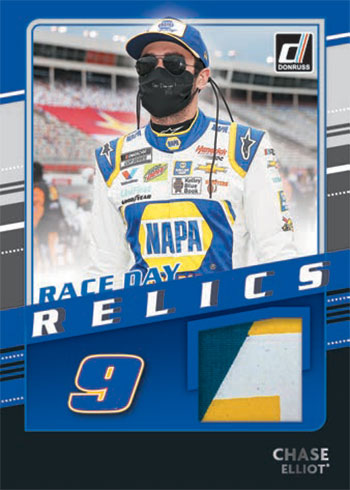 2021 Donruss Racing cards at a glance:
Cards per pack: Hobby – 8, Blaster – 8, Fat Pack – 30
Packs per box: Hobby – 24, Blaster – 7, Fat Pack – 12
Boxes per case: Hobby – 20, Blaster – 20, Fat Pack – 20
Set size: 200 cards
Release date: February 3, 2021
Shop for 2021 Donruss Racing boxes on eBay:
What to expect in a hobby box:
Autographs – 1
Memorabilia Cards – 2
Inserts – 24
Optic Cards – 24
Numbered Parallels – 9
Silver Parallels – 24
What to expect in a blaster box:
Orange Parallels – 7
Silver Parallel – 7
Numbered Parallels – 1
Optic Orange Pulsar Parallels – 4
Additional Optic Cards – 7
2021 Donruss Racing Checklist
Please note that print runs for cards without serial numbers have not been announced.
You can also download a spreadsheet copy of the checklist:
Base
Autographs
Memorabilia
Inserts