2021 Donruss Baseball Checklist, Team Set Lists and Details
2021 Donruss Baseball features the brand's usual mix of variety. It's a bit of a throwback but there are plenty of modern elements. Collectors will find their autographs and memorabilia cards in every hobby box but they're also land lots of base cards and inserts. Familiar inserts that go way back collide with new ones. You get the idea.
Hobby boxes have three total hits — two autographs and one memorabilia card. There are also nearly 30 parallels seeded in the 24-pack boxes.

2021 Donruss Baseball Checklist Overview
Rated Rookies are a core part of the base set. More than 30 Rookie Cards are part of the checklist, drawing from the large number of top prospects who made their MLB debuts during the shortened 2020 season.
Collectors can look for a lot of parallels across the product. The most common in hobby packs are Holo Blue, which average out to one per pack. Getting a little more historic are the one per box Liberty parallels and Independence Day, which land four per box.
Donruss' insert lineup sees Elite Series, Dominator and The Rookies return for another year. All three a part of the brand's legacy, particularly in the '90s.
Whammy and its trademark caricature illustrations get a new batch of players. Rated Prospects are also back, putting a slightly different spin on top players still working up to the majors.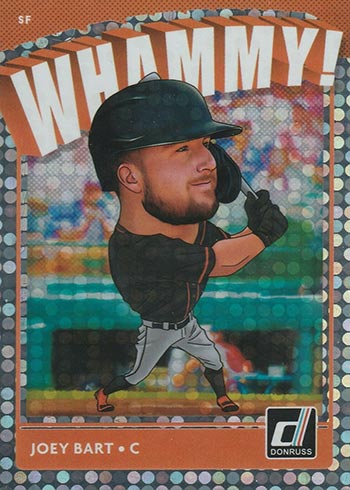 New Unleashed inserts take players out into the wild with an illustrated backdrop.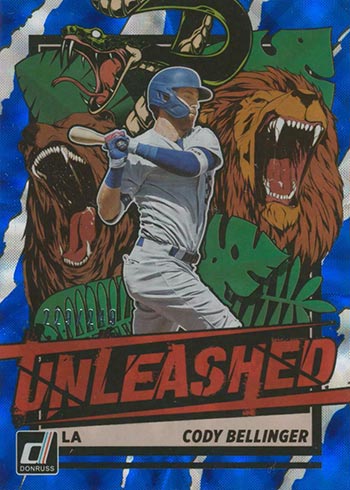 Trending is another debut in 2021 Donruss.
The 1987 Donruss Baseball design is the foundation for both autographs and memorabilia cards. According to Panini, the Retro 1987 Materials checklist is a big one with nearly 100 cards covering vets, prospects and legends.
Other autograph themes include Classified Signatures, Signature Series, Short and Sweet Signatures, and Classics Autographs.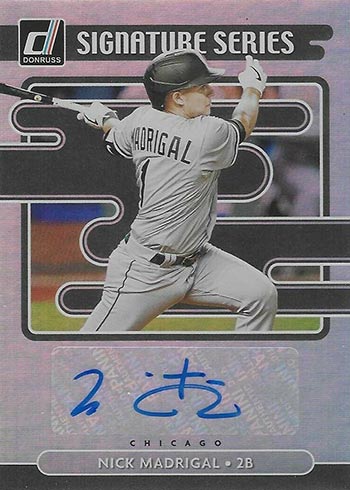 Fans of the San Diego Chicken will find near cards of the iconic mascot (and star of The Baseball Bunch), including autographs.
2021 Donruss Baseball cards at a glance:
Cards per pack: Hobby – 8
Packs per box: Hobby – 24
Boxes per case: Hobby – 16
Set size: 264 cards
Release date: March 12, 2021
Shop for 2021 Donruss Baseball boxes on eBay:
What to expect in a hobby box:
Autographs – 2
Memorabilia Cards – 1
Parallels – 29
2021 Donruss Baseball Checklist
Please note the print runs have not been released for cards without serial numbers.
You can also download a customizable spreadsheet version of the checklist:
Recent Donruss Baseball releases: