2021 Bowman x Keith Shore Baseball Checklist and Details
Baseball card collectors have become accustomed to Keith Shore's signature style through both Topps Project 2020 and Topps Project70. Now the artist has a collaboration that's all his. 2021 Bowman x Keith Shore Baseball is an ode to 1989 Bowman Baseball. More specifically, the set's Ken Griffey Jr. Rookie Card.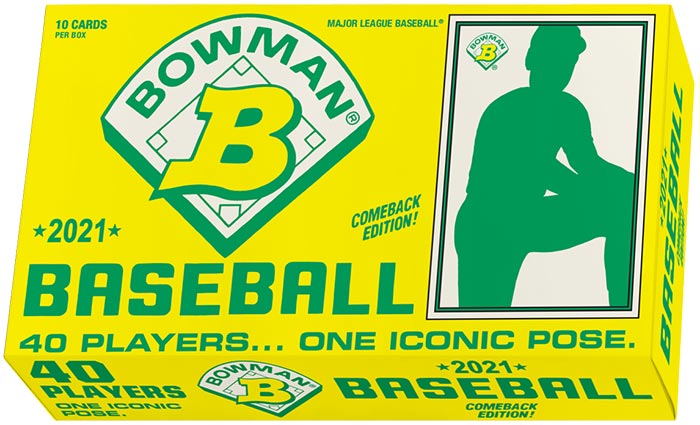 2021 Bowman x Keith Shore Baseball Checklist Overview
When complete, the set will have 40 cards. Not only does every one adopt the 1989 Bowman design — including the taller dimensions of 2.5″ by 3.75″ — but all 40 cards use the same crouching pose as the '89 Griffey RC.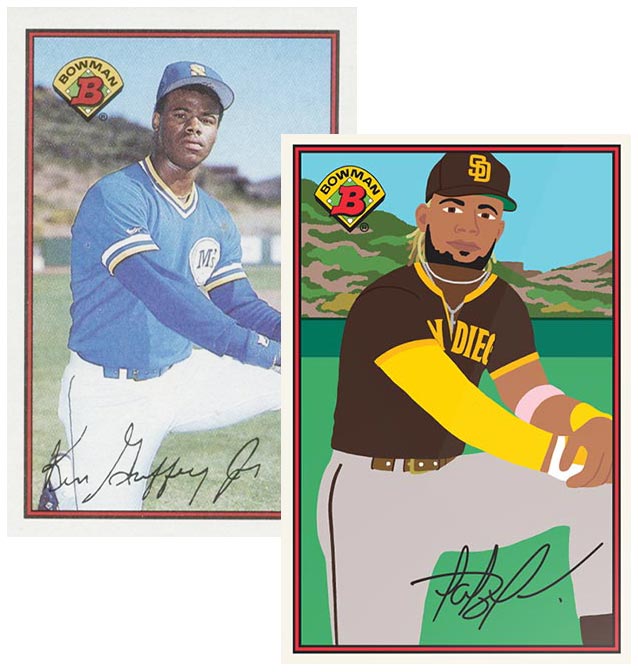 Sold through the Topps website, it's broken down into four separate ten-card waves. Each is available for one week.
Each box costs $19.99 and comes with all ten cards for the week. So while collectors will have to buy multiple boxes over the four-week run, there's no chasing the base set.
But that's not to say there aren't chase elements. Foil parallels are randomly inserted in the following colors:
Green – /99
Purple – /25
Red – /10
Orange – /5
Gold – 1/1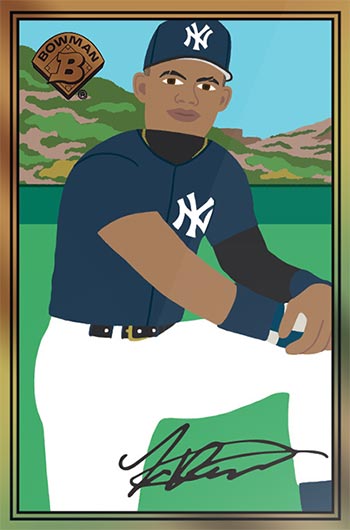 Each week also has a different Ken Griffey Jr. card that has just 100 copies.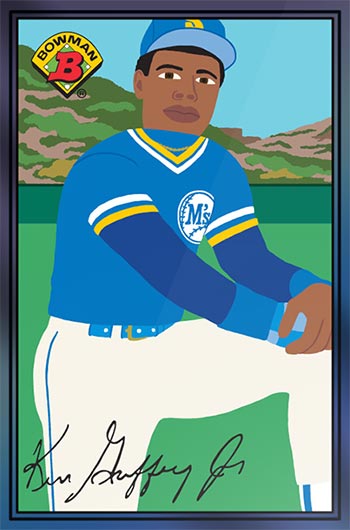 2021 Bowman x Keith Shore Baseball is a print-on-demand release. This means that it will be available for the full seven days. Print runs will be based on what's ordered.
Silver-framed Artist Proofs and autographs for select cards are also part of the release, although these are sold separately.
2021 Bowman x Keith Shore Baseball cards at a glance:
Release date: May 3, 2021
Cards per pack: 10
Packs per box: 1
Set size: 40 cards
2021 Bowman x Keith Short Baseball Checklist
Base Set Checklist
40 cards.
Parallels:
Green Foil – /99
Framed Artist Proofs – /89 (sold separately)
Purple Foil – /25
Red Foil – /10
Orange Foil – /5
Gold Foil – 1/1
Wave 1
Available: May 3
Print Run: 7,015 boxes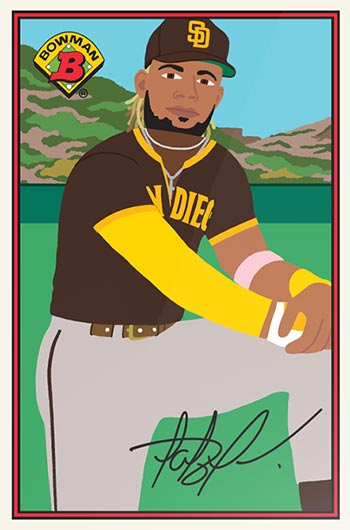 1 Mike Trout, Los Angeles Angels
2 Francisco Lindor, New York Mets
3 Max Scherzer, Washington Nationals
4 Fernando Tatis Jr., San Diego Padres
5 Freddie Freeman, Atlanta Braves
6 Alec Bohm, Philadelphia Phillies
7 Dylan Carlson, St. Louis Cardinals
8 Joey Bart, San Francisco Giants
9 Jasson Dominguez, New York Yankees
10 Wander Franco, Tampa Bay Rays
Wave 2
Available: May 10
Print Run: 3,864 boxes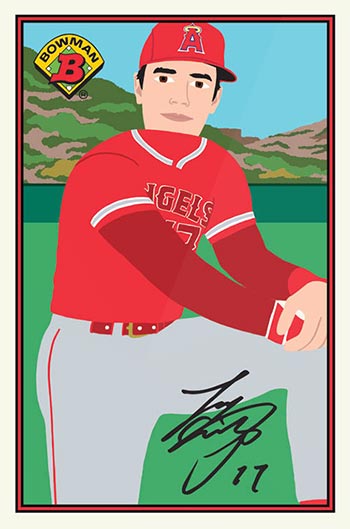 11 Juan Soto, Washington Nationals
12 Bryce Harper, Philadelphia Phillies
13 Shohei Ohtani, Los Angeles Angels
14 Aaron Judge, New York Yankees
15 Vladimir Guerrero Jr., Toronto Blue Jays
16 Ryan Mountcastle, Baltimore Orioles
17 Nick Madrigal, Chicago White Sox
18 Alex Kirilloff, Minnesota Twins
19 CJ Abrams, San Diego Padres
20 Spencer Torkelson, Detroit Tigers
Wave 3
Available: May 17
Print Run: 3,422 boxes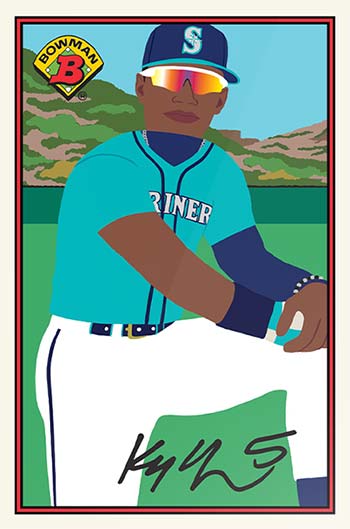 21 Kyle Lewis, Seattle Mariners
22 Cody Bellinger, Los Angeles Dodgers
23 Gleyber Torres, New York Yankees
24 Casey Mize, Detroit Tigers
25 Bobby Dalbec, Boston Red Sox
26 Cristian Pache, Atlanta Braves
27 Heston Kjerstad, Baltimore Orioles
28 Bobby Witt Jr., Kansas City Royals
29 Deion Sanders, New York Yankees
30 Bo Jackson, Kansas City Royals
Wave 4
Available: May 24
Print Run: TBA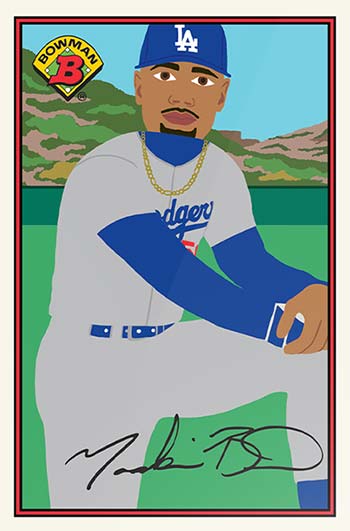 31 Gerrit Cole, New York Yankees
32 Mookie Betts, Los Angeles Dodgers
33 Ronald Acuna Jr., Atlanta Braves
34 Jacob deGrom, New York Mets
35 Bo Bichette, Toronto Blue Jays
36 Jo Adell, Los Angeles Angels
37 Ke'Bryan Hayes, Pittsburgh Pirates
38 Jarred Kelenic, Seattle Mariners
39 MacKenzie Gore, San Diego Padres
40 Ken Griffey Sr., TBA
Ken Griffey Chase Cards
4 cards.
1 per weekly wave.
100 copies each.
Autographs
Sold separately.
1 Mike Trout, Los Angeles Angels – Green /89, Purple /25, Red /10, Orange /5, Gold 1/1
12 Bryce Harper, Philadelphia Phillies – Green /89, Purple /25, Red /10, Orange /5, Gold 1/1
15 Vladimir Guerrero Jr., Toronto Blue Jays – Green /89, Purple /25, Red /10, Orange /5, Gold 1/1
29 Deion Sanders, New York Yankees – Green /89, Purple /25, Red /10, Orange /5, Gold 1/1
30 Bo Jackson, Kansas City Royals – Green /89, Purple /25, Red /10, Orange /5, Gold 1/1
33 Ronald Acuna Jr., Atlanta Braves – Green /89, Purple /25, Red /10, Orange /5, Gold 1/1
Checklist Top