2021 Bowman Chrome Mega Box Variations Guide
If you're busting a 2021 Bowman Baseball Mega Box, be on the lookout for some stealth SSP card. 2021 Bowman Chrome Mega Box Variations, which are only found in the exclusive packs, highlight ten of the key prospects on the checklist.
Austin Martin, Wander Franco, Spencer Torkelson and Blaze Jordan are among those on the variations checklist.
Landing 1:310 packs, these cards are tough, particularly when you factor in that just two of the exclusive packs are in each Mega Box.
Cracking the 2021 Bowman Chrome Mega Box Variations Code
On the Image Variations scale, these aren't the most obvious out there. With many sharing similar sorts of photos, memorizing them all is tough.
A couple of numbers? Not so much.
The code method does work in confirming Mega Box variations. Like many other Topps sets, flip the card over and look at the fine print. Specifically, put your finger on the CMP code at the end and look at the last three digits. This code, which is meant for production purposes, identifies card types. When it comes to telling apart base and variations, these are the code endings. you need to know:
Base – 697
Variations – 723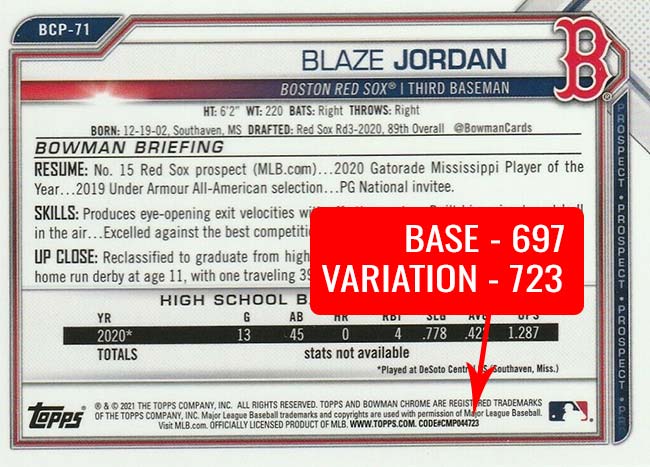 Other card types are going to have different codes. For the purposes of finding variations, they don't really matter.
2021 Bowman Chrome Mega Box Variations Checklist
Here's a quick variations checklist so you can see who has SSP versions at a glance. If you're looking for a specific card, click on the links to see what's available on eBay.
BCP-3 Zac Veen
BCP-34 Nick Gonzales
BCP-55 Austin Hendrick
BCP-57 Wander Franco
BCP-71 Blaze Jordan
BCP-87 Austin Martin
BCP-96 Spencer Torkelson
BCP-125 Aaron Sabato
BCP-129 Garrett Mitchell
BCP-138 Heston Kjerstad
2021 Bowman Chrome Mega Box Variations Gallery
BCP-3 Zac Veen, Colorado Rockies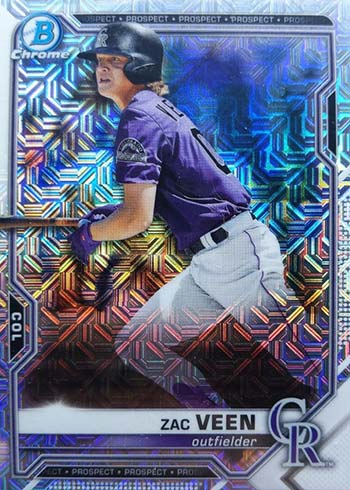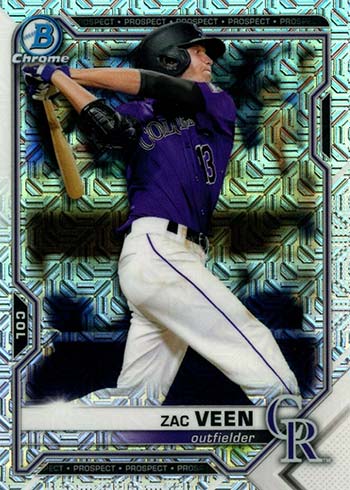 BCP-34 Nick Gonzales, Pittsburgh Pirates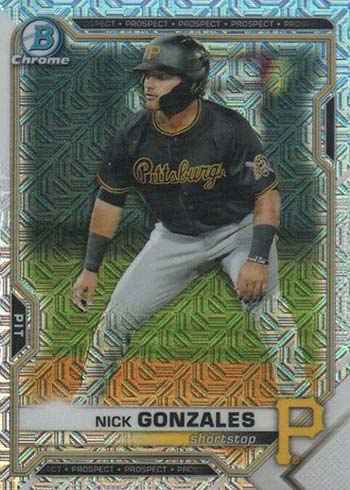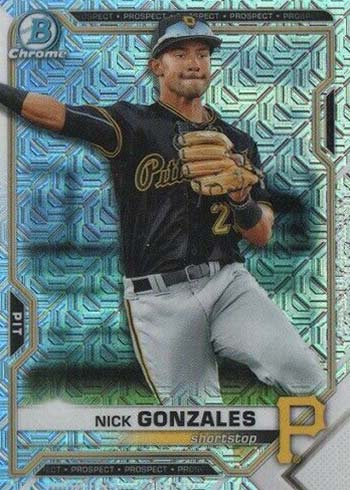 BCP-55 Austin Hendrick, Cincinnati Reds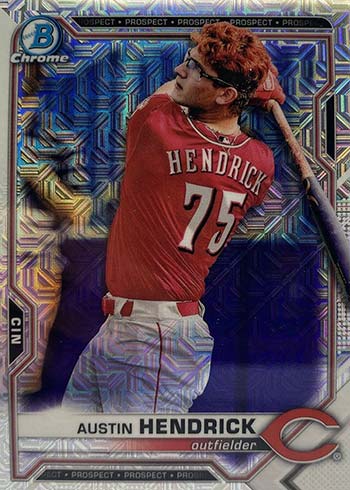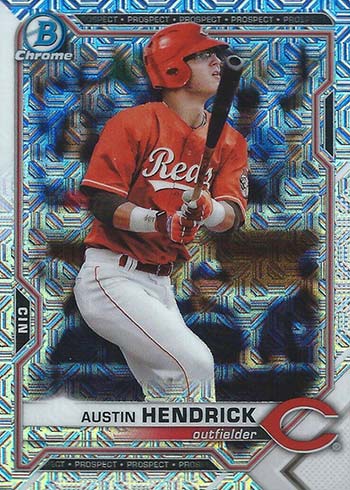 BCP-57 Wander Franco, Tampa Bay Rays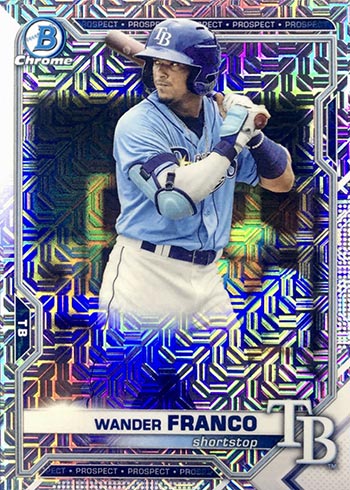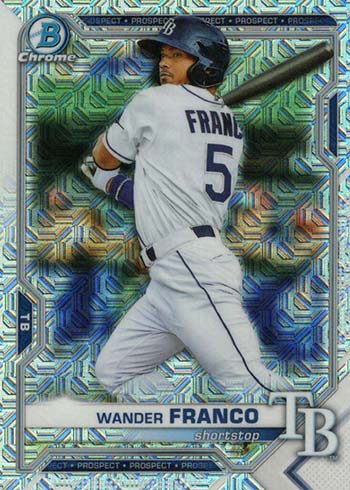 BCP-71 Blaze Jordan, Boston Red Sox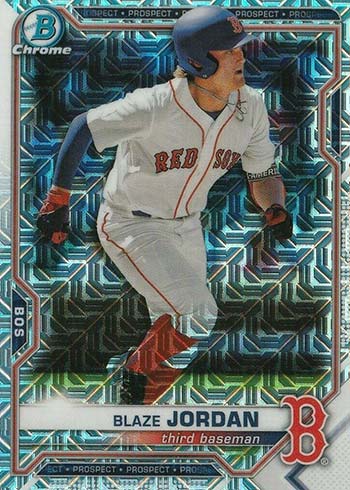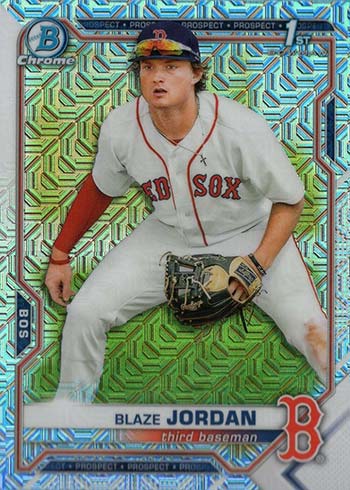 BCP-87 Austin Martin, Toronto Blue Jays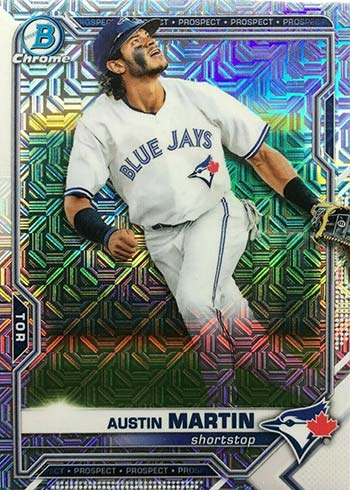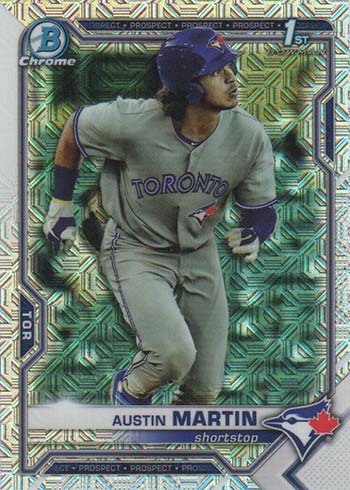 BCP-96 Spencer Torkelson, Detroit Tigers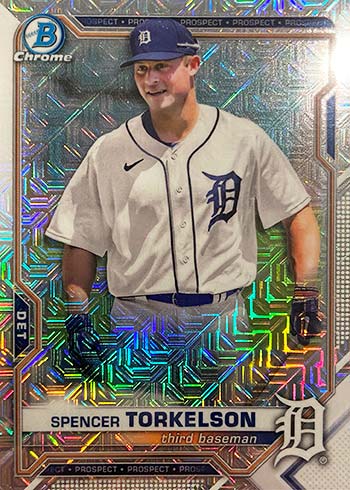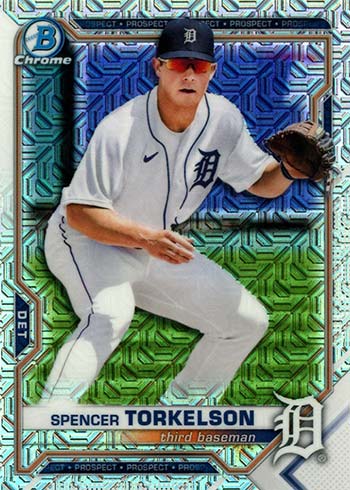 BCP-125 Aaron Sabato, Minnesota Twins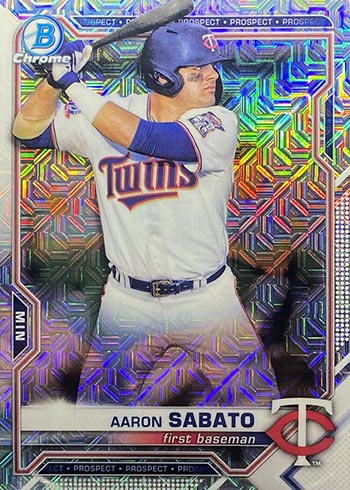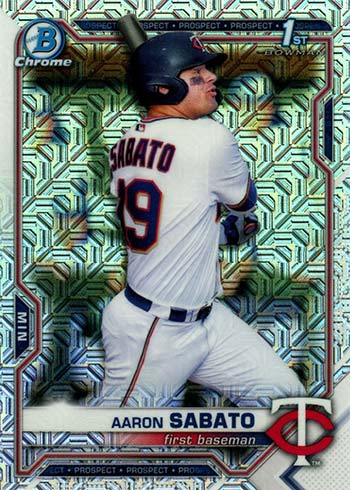 BCP-129 Garrett Mitchell, Milwaukee Brewers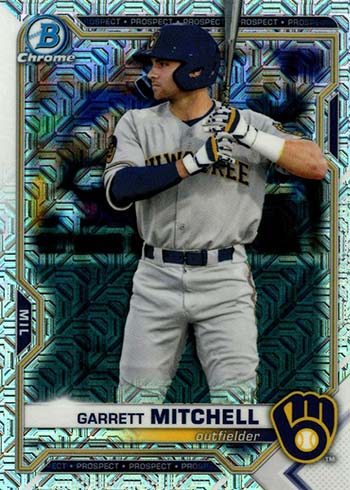 BCP-138 Heston Kjerstad, Baltimore Orioles