2021-22 Upper Deck Tim Hortons Hockey Cards Checklist, Team Set Lists and Details
2021-22 Upper Deck Tim Hortons Hockey kicks off a new card season (even if there are still some more 2020-21 sets to come).
The overall 2021-22 Tim Hortons hockey cards configuration appears to be a familiar one. There's a 125-card base set complimented by a handful of inserts — some returning, some new.
See also: 2021-22 Upper Deck Tim Hortons Team Canada Hockey Cards Checklist and Details
Once again, it's exclusive to Canadian restaurants. With border openings still in flux, that could add a layer to the chase for American's living on the other side of the line wanting to partake in some short international travel for a double-double and a pack or 20 of hockey cards.
2021-22 Upper Deck Tim Hortons Hockey Checklist Overview
For a traditional set, a 125-card checklist would feel pretty small. But for a food-issue set such as this, it's massive. As has been the case since Upper Deck and Tim Hortons partnered up for their first hockey card set in 2015-16, it's done on foil stock.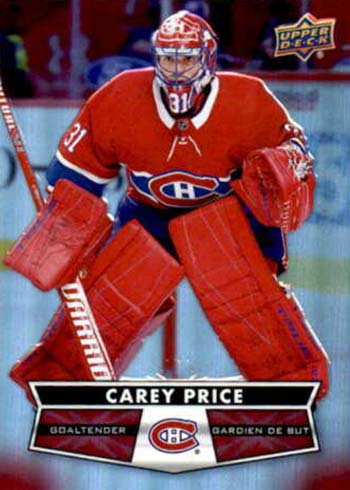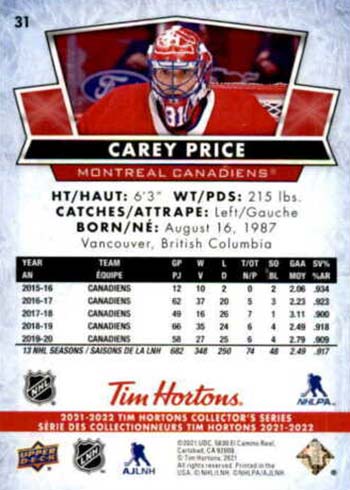 Players on the 2021-22 Upper Deck Tim Hortons Hockey checklist are pretty much all veteran stars from across the NHL. The lone exception? The set's namesake, Tim Horton.
Red Die-Cuts are back for the third consecutive year. At 50 cards, it's the biggest of the 2020-21 Tim Hortons Hockey insert sets. The layout gives them the appearance of a parallel only with a red backdrop and rounded corners. However, numbering is different and photos are also changed up.
Superstar Showcase and the returning Gold Etchings both use foil as well.
Hockey Heroes opts for lenticular technology, creating a 3-D effect. These appear to be the toughest of the main insert sets, which should see them command a premium as player and team collectors vie with set and master set builders.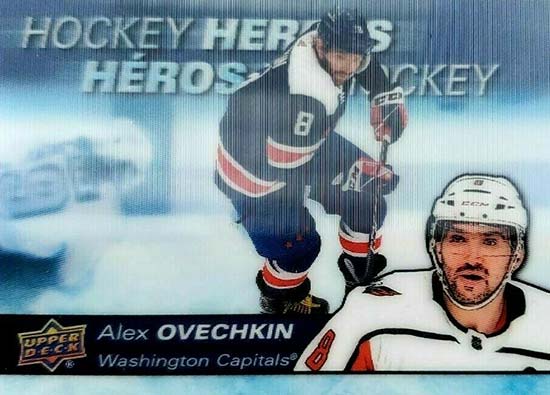 Other insert sets include NHL Canvas, Photo Finish and the youth-centric ProMotion. Each has 15 cards.
A couple more extremely scarce inserts return. First, there's a redemption for a 2021 NHL Draft Pick card. The player has yet to be announced. In the past it has been the first overall pick. These are 1:12,000 packs with 1,517 copies available.
Another Wayne Gretzky Tribute card is also on the checklist. Similar to the Draft Pick card, this one's 1:12,000 packs.
Autographs and Memorabilia Cards
Like every year, autographs and memorabilia cards look to be extremely tough to pull. They're also inserted as prize redemptions.
Autographs have four different themes. Tim Hortons spokesmen, Sidney Crosby and Nathan MacKinnon have 87 and 100 copies each of their Superstars Signatures cards. Colton Parayko is this year's Timbits Autograph.
Broader in scope are the 15-card NHL Signatures (1:7,200 packs) and NHL Jersey Relic Signatures (1:121,365 packs), which has six players.
On the strictly memorabilia side, there's NHL Jersey Relics (1:1,800 packs), which has 18 players.
Sold separately, there's also a binder to house a collection of 2021-22 Tim Hortons hockey cards.
2021-22 Tim Hortons Hockey Cards: Promotion Basics
Kicking off on Wednesday, October 27, the 2021-22 Tim Hortons hockey cards promotion is scheduled to run through December 8. That said, it's possible packs could run out sooner depending on the store or location.
As has been the case in the past, three-card packs are $1.99 on their own. Collectors grabbing a coffee or other drink at the same time can get a pack for $0.99 (one per drink purchase).
In the past, some restaurants have organized trade nights to bring collectors together and help each other out. Due to the pandemic, they're putting a pause on that this year. However, according to the Tim Hortons website, they're hoping to have them again in 2022. Read between the lines and that gives a likely answer to those wondering whether there'll be a 2022-23 Tim Hortons hockey card set.
For the previous few years there has been a digital Collect to Win component with prizes. That's not happening in conjunction with the 2021-22 Tim Hortons Hockey cards. There are still prizes, but they're found in packs this time around in the form of "Golden Tickets."
The grand prize is a trip for two to an NHL game and a personal meet-and-greet with Sidney Crosby. Other prizes include five trips to the 2022 Stanley Cup Final, 100 bikes, 200 NHL Live subscriptions and 500 $50 Tim Hortons gift cards.
Those finding a redemption for a prize or prize card can enter their code at the Upper Deck Tim Hortons website.
In case you're curious about print runs, according to Tim Hortons, there are at least 18,204,800 packs available.
All the official rules, including the fine print, are available here.
2021-22 Upper Deck Tim Hortons Hockey cards at a glance:
Cards per pack: 3
Packs per box: 100
Boxes per case: 8
Set size: 125 cards
Release date: October 27, 2021
Shop for 2021-22 Upper Deck Tim Hortons Hockey cards on eBay:
2021-22 Upper Deck Tim Hortons Hockey Checklist
You can also download a customizable spreadsheet version of the checklist:
Please note that print runs for cards without serial numbers have not been announced.
Recent Upper Deck Tim Hortons Hockey cards releases: