2021-22 Upper Deck Premier Hockey Checklist, Team Set Lists and Details
When you click on links to various merchants on this site, like eBay, and make a purchase, this can result in this site earning a commission.
2021-22 Upper Deck Premier Hockey sits near the top of the card maker's high-end portfolio. Not only is there a high concentration of autographs and memorabilia cards, but many take on additional premium elements.
At the box level, each has six cards. Of those, one's an autograph patch card. It's joined by another autograph, a pair of memorabilia cards and two base cards.
2021-22 Upper Deck Premier Hockey Checklist Overview
The 150-card base set is broken down into three sections: Veterans (/299), Legends (/99) and Rookies (/399). Each pack has either a base version or parallel for one rookie and either a vet or retired star.
Parallels include Gold (Veterans /65, Legends /25, Rookies /65) and Platinum (1/1). Rookies also have Bronze (/199) and Purple (/10) versions.
Being Premier, select cards also have memorabilia and autograph versions. Veterans have Jersey (1:3 packs), Autograph (1:8 packs), Premium Memorabilia, Gold Autographs, Fight Strap (/5), Neckline (/3), and Platinum Autographs (1/1). Legends get Jersey (1:300 packs), Autographs (1:300 packs), Gold Autographs, and Platinum Autographs (1/1). Finally, Rookies get Jersey (1:2 packs), Autographs (1:4 packs), Patch (/49 or /25), Gold Autographs (/35 or /15), Fight Strap (/15), Neckline (/3) and Platinum Autographs (1/1).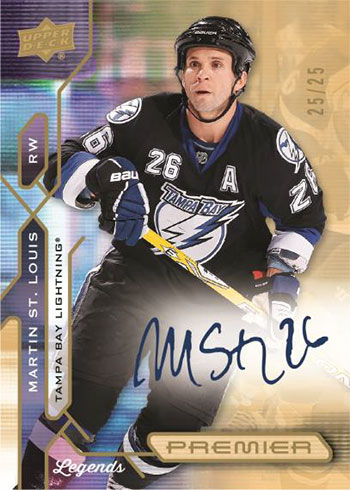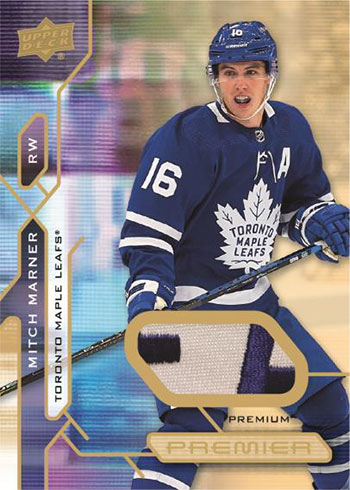 All About Acetate
With one per hobby box, the combination of autographs, patches and acetate stock play a central role in 2021-22 Upper Deck Premier Hockey.
Acetate Rookie Patch Autographs highlight the year's first-year slate. These come in two tiers, with each numbered to either 249 or 99. Additional Gold (/65 or /35) and Platinum (1/1) versions are also available.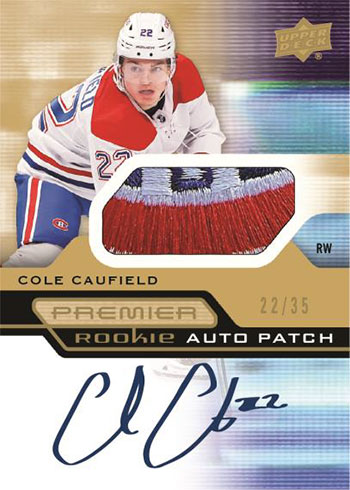 Horizontal Acetate RPA cards (/99 or /49) flip things on their side. Although the numbers are smaller, there are Gold (/25 or /15) and Platinum (1/1) versions here as well.
Veterans get in on the Acetate Autograph Patch action as well. Base versions have 35 copies or less with additional Gold (/10 or less) and Platinum (1/1) parallels.
Taking it back almost two decades, 2002-03 Rookie Patch Autographs (/49 or less) use the original design and apply it to this year's freshman slate.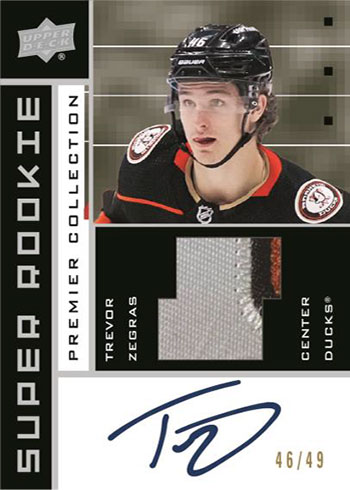 Star System is a new additional to 2021-22 Upper Deck Premier Hockey. Mixing veterans and rookies, the design presents a backdrop for either autographs or autographs and patches.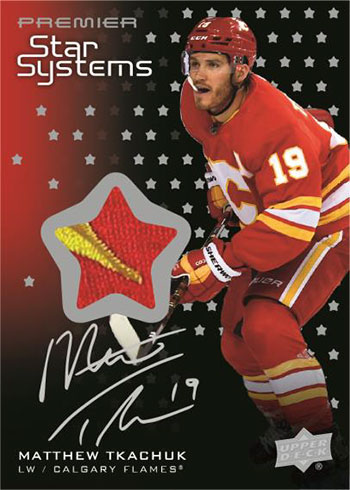 Additional Autographs
Premier Signature Seating is another insert set making its debut. Rookies are 1:8 packs, veterans land 1:10 and legends are 1:30. Gold Section parallels have five copies each.
Premier Rookie Autograph Materials (/99 or /25) incorporate four memorabilia windows that spell out "2021." Patch parallels have 15 copies and Logo Patch versions are one-of-ones.
Current players, past stars and rookies are all a part of 20th Anniversary Autographs. None of these have more than 100 copies.
Memorabilia Cards
2021-22 Upper Deck Premier Hockey has a lot of different memorabilia offerings. Among them are several "Mega" themed inserts that come with oversized pieces. Jerseys Duos, Trios and Quads go the multi-swatch route with different players. All have Patch parallels.
Premier Mega Patch returns with swatches that take up much of the card's front. Included are Chest Logos, Commemorative Logos, Shoulder Logos and Sleeve Numbers.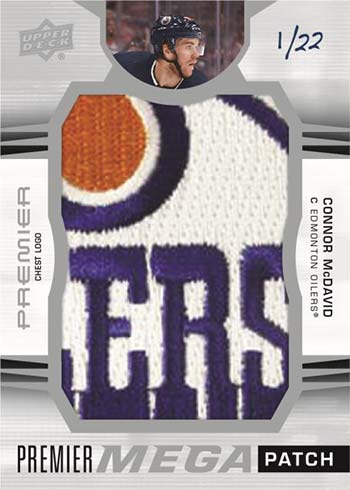 Rookie Patch-Taculars take a similar route, albeit with a checklist that's exclusive to first-year players. Chest Logos (/25) are the base version. From there, collectors can find Gold Shoulder Logo (/5) and Black Logo Button (1/1) parallels. Dual Rookie Patch-Taculars have similar print runs and levels only with two players instead of one.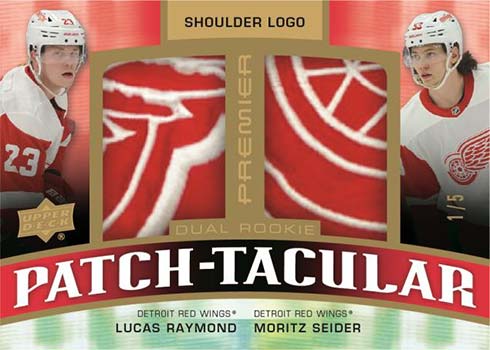 Premier Gear (/49) returns with multiple jersey swatches. Parallels include Patch (/10) and Tag/Button (1/1). Similar Rookie Premier Gear cards have 99 copies for the standard jersey card, 25 for Patch parallels and three for Tag/Button versions.
More multi-memorabilia cards are available in Premier Dual, Triple and Quad Jerseys (/99 or less).
Premier Attractions Jersey (/99 or less) and 20th Anniversary Jersey (/300) cards are among the other relics in 2021-22 Premier.
2021-22 Upper Deck Premier Hockey cards at a glance:
Cards per pack: Hobby – 6
Packs per box: Hobby – 1
Boxes per case: Hobby – 10
Set size: 150 cards
Release date: October 4, 2023
What to expect in a hobby box:
Acetate Autograph Patch Cards – 1
Additional Autographs – 1
Memorabilia Cards – 2
Base Cards or Parallels – 2
2021-22 Upper Deck Premier Hockey Checklist
You can also download a customizable spreadsheet copy of the checklist:
Please note that print runs for cards without serial numbers have not been announced.
Recent Upper Deck Premier Hockey releases: