2021-22 Upper Deck MVP Hockey Checklist, Team Set Lists and Details
When you click on links to various merchants on this site, like eBay, and make a purchase, this can result in this site earning a commission.
For the first time in several years, 2021-22 Upper Deck MVP Hockey isn't the first set out of the gate for the season. That distinction went to 2021-22 Upper Deck Tim Hortons Hockey. However, that was a promo set of sorts, available exclusively through the restaurant chain in Canada.
The date might have changed, but MVP is the first full mainstream release of the season. Not surprisingly, it's sticking with its entry-level roots.
2021-22 Upper Deck MVP Hockey Checklist Overview
The base set is a moderate 250 cards total. The first 200 make up the shell set. The remaining 50 High Series and Rookies are short prints. While in shorter supply, they're not exceptionally tough, with one landing every other hobby pack.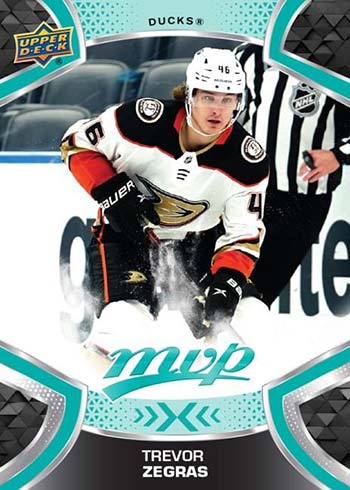 All 250 cards have a handful of parallels. New for 2021-22 is Ice Battles, which are 1:2 packs for the shell set and 1:5 packs for short prints. These have different backs that let collectors create their own Pack Wars game. Instead of stats, players are ranked in five categories: Awareness, Skill, Speed, Strength and Overall.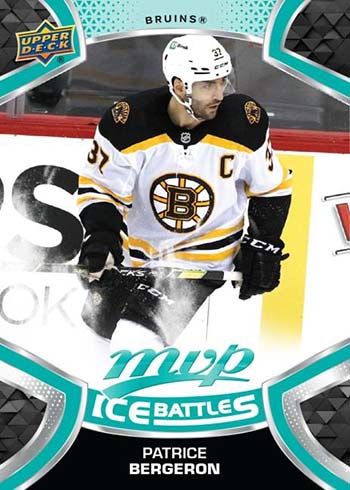 Other parallels include:
Silver Script – (1:5, SP – 1:20)
Super Script – /25
Black Super Script – /5
Printing Plates – 1/1
Select short prints also have Magenta Autograph parallels. These are tough, landing 1:400 hobby packs.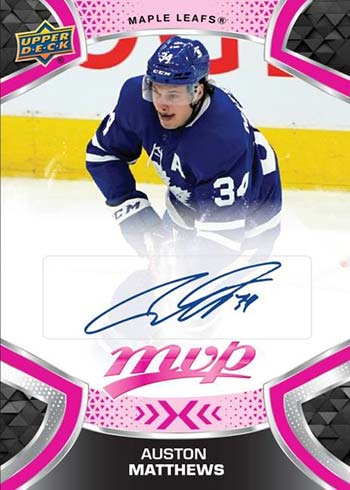 Rookie Redemptions return. Once again taking a divisional approach, get one of these and you'll get a handful of rookie updates. Individual redemptions fall 1:400 hobby packs.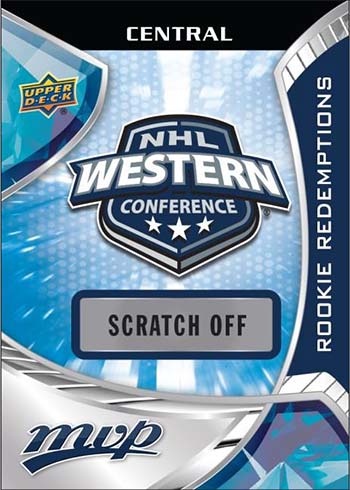 There's also a 2021 NHL #1 Draft Pick SP Redemption which is 1:1,250 packs. A Gold parallel is ten times more rare at 1:12,500 packs.
Inserts
The fun and games in 2021-22 Upper Deck MVP Hockey doesn't end with the Ice Battles parallels. Mascot Gaming Cards (1:5 packs) are modelled after popular trading card games like Pokemon and Magic: The Gathering. Only, instead of calling on the power of Pikachu, it's Gritty and company. Mascot Gaming Cards also have Patterned Foilboard parallels that average one per hobby box.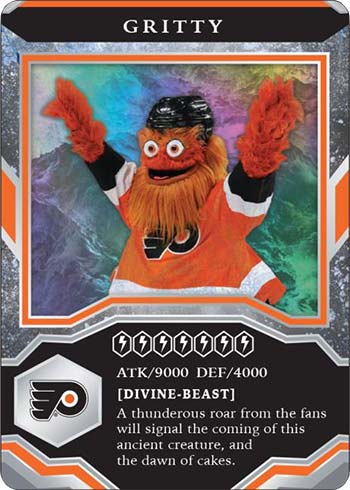 20th Anniversary models itself of the 2001-02 MVP Watch design. Base versions are 1:5 packs. The parallels star with Gold (1:36 packs) and Super Scripts (/25).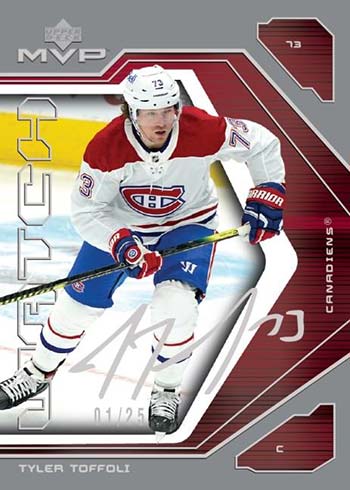 They're also the basis for die-cut Colors and Contours, which come in Gold (/250), Green (/20) and Purple (/3).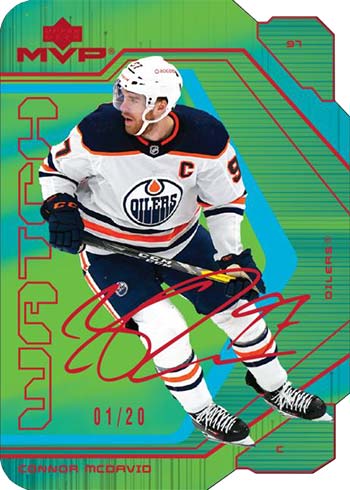 Hart Attack (1:13 packs) and Before and After (1:9) are two more insert debuts in 2021-22 Upper Deck MVP Hockey. Both of these have Gold parallels as well.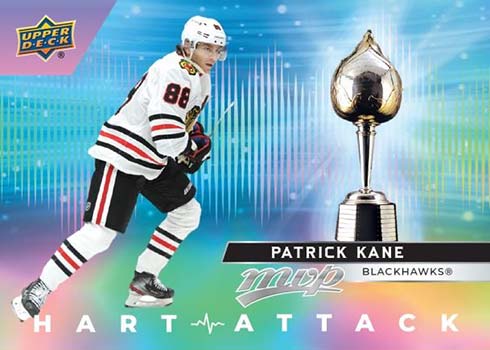 2021-22 Upper Deck MVP Hockey cards at a glance:
Cards per pack: Hobby – 8
Packs per box: Hobby – 20
Boxes per case: Hobby – 20
Set size: 250 cards
Release date: December 29, 2021
Shop for 2021-22 Upper Deck MVP Hockey boxes on eBay:
What to expect in a hobby box:
Premium Inserts or Autographs – 1
20th Anniversary – 5
20th Anniversary Parallel or Colors and Contours – 1 Total
Before and After or Hart Attack – 4 Total
Mascot Gaming Cards – 4
Mascot Gaming Cards Patterned Foil – 1
Ice Battles Parallels – 14
Silver Script Parallels – 5
Base Short Prints – 10
2021-22 Upper Deck MVP Hockey Checklist
You can also download a customizable spreadsheet copy of the checklist:
Please note that print runs for cards without serial numbers have not been announced.
Recent Upper Deck MVP Hockey releases: