2021-22 Donruss Soccer Kaboom Gallery
2021-22 Donruss Soccer Kaboom inserts bring a lot of energy with their over-the-top design. Like other Kaboom cards from other sports and previous soccer releases over the last few years, they're proving to have tremendous power on the secondary market as well.
A tough insert in 2021-22 Donruss Soccer, the set has 20 total cards. The checklist is centered primarily on the top current international stars. However, the final card in the set marks the Kaboom debut of David Beckham.
Erling Haaland, Lionel Messi and Cristiano Ronaldo are among the other superstars in 2021-22 Donruss Kaboom.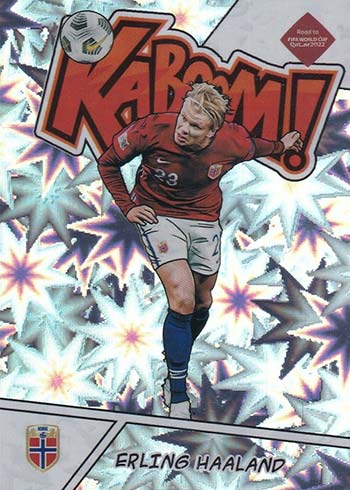 The insert set is exclusive to hobby packs. They're a case hit, meaning there's one in about every 12 hobby boxes. Specific print runs for the cards haven't been announced.
This is the fourth time Kaboom inserts have appeared in a Panini soccer product. After making their debut in 2017-18 Select, more were included in 2019-20 and 2020-21 Panini Prizm Premier League.
Shortly after the release of 2021-22 Donruss Soccer, several key singles were easy sellers at more than $1,000. Multiple Haaland's closed on eBay for more than $5,000. Up next was Messi with initial copies topping $2,000. Several others were moving at over $1,500.
2021-22 Donruss Soccer Kaboom Checklist
Here's a quick look at the 2021-22 Donruss Kaboom checklist with a full gallery below. If you're looking for a particular card, click on the links to see what's currently available on eBay.
1 Lionel Messi, Argentina
2 Kai Havertz, Germany
3 Vinicius Jr., Brazil
4 Kylian Mbappe, France
5 Luka Modric, Croatia
6 Robert Lewandowski, Poland
7 Jadon Sancho, England
8 Zlatan Ibrahimovic, Sweden
9 Ansu Fati, Spain
10 Neymar Jr., Brazil
11 Cristiano Ronaldo, Portugal
12 Heung-Min Son, Korea Republic
13 Paul Pogba, France
14 Bukayo Saka, England
15 Frenkie de Jong, Netherlands
16 Joao Felix, Portugal
17 Erling Haaland, Norway
18 Gianluigi Donnarumma, Italy
19 Rodrygo, Brazil
20 David Beckham, England