2021-22 Bowman University Football Variations Guide
The 2021-22 Bowman University Football Variations bring some alternate photos to the checklist, not to mention tough SSP odds.
Variations look like regular base Refractors as far as layout and design go. To that end, they can be easy to miss if you're not expecting them or don't know what to look for. It's a similar pattern to what the card maker does regularly in baseball sets, not to mention football when they held the NFL license.
Although there's no general theme for all of the variations, many do take a more casual approach with players in warm-up or practice gear. Often, ear buds replace helmets as well. But this isn't the case for all of the SSPs.
Further complicating things is the fact that several players on the 2021-22 Bowman University Football checklist have multiple base cards. So if you're just flipping through a stack by players, you might think you've got a variation when it's a separate card. Making things messier still, some variations have different card numbers than the featured player's base card.
Variations carry 1:524 hobby pack odds, so they're rare. That works out to about 1:22 2021-22 Bowman University boxes or roughly 1:2 cases.
Code Confirmation
A second way to spot an SSP can be found on the back. It's not intentional and, for some, it's hard to make out. But the code at the end of the fine print has an easy key that confirms short prints. The code changes for different cards types, specifically the end part. When it comes to telling base cards from variations, these are the code endings you need:
Bowman Chrome Base – 706
Variations – 724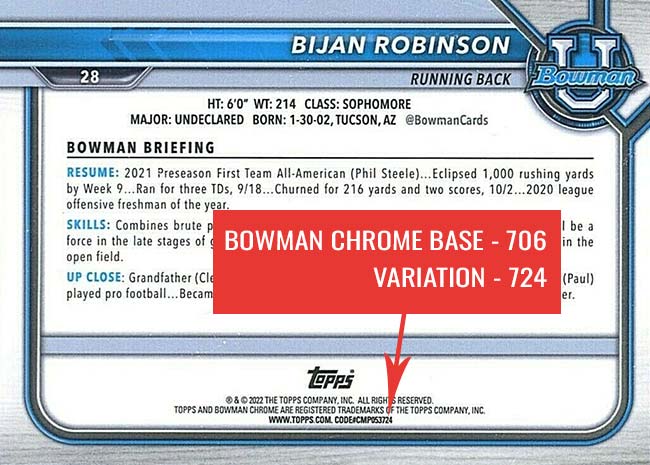 With some players having multiple base cards and variations with different card numbers, the code method might be the easiest way to confirm a variation, even if a magnifying glass is required.
2021-22 Bowman University Football Variations Checklist
Topps did not include variations on the checklist they put out so it's not yet known how many are in the product. The following is a list of confirmed SSP cards. If you're looking for a particular card, click on the links to see what's currently available on eBay.
More will be added as they're confirmed.
2 D.J. Uiagalelei
4 Bryce Young
5 Matt Corral
14 Chris Olave
28 Bijan Robinson
29 Malik Willis
30 Spencer Rattler
32 Sam Howell
2021-22 Bowman University Football Variations Gallery
2 D.J. Uiagalelei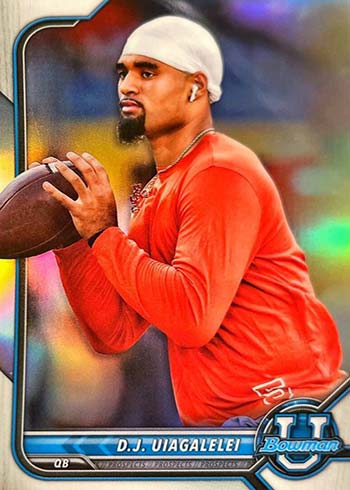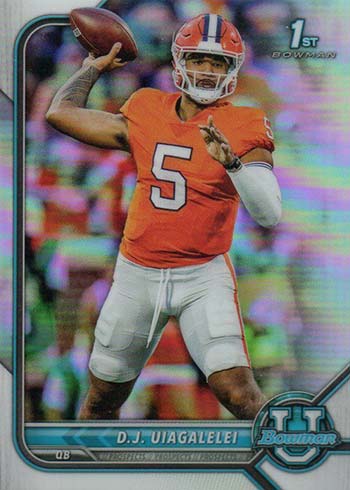 4 Bryce Young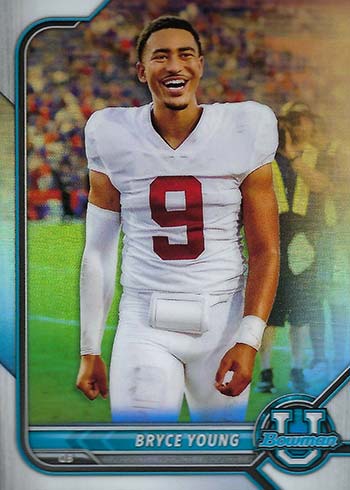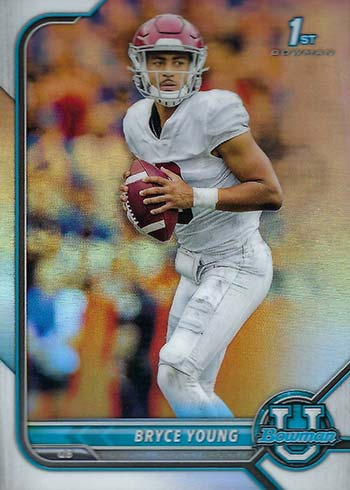 5 Matt Corral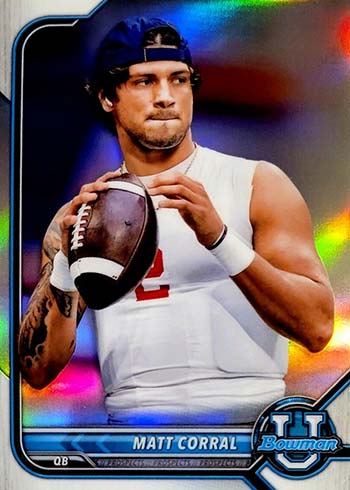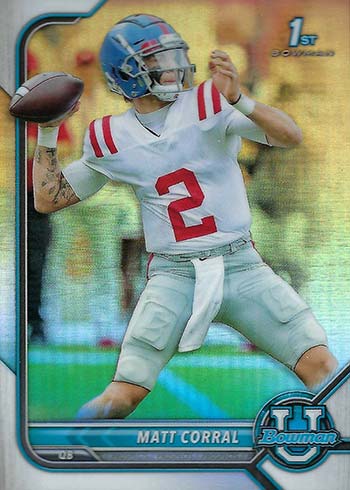 14 Chris Olave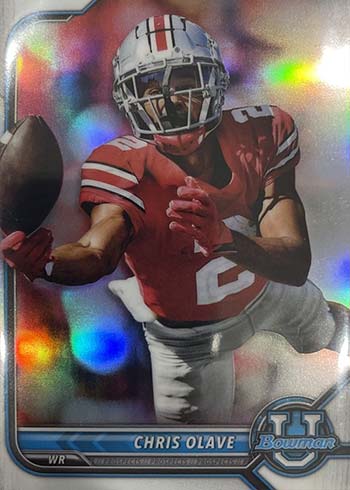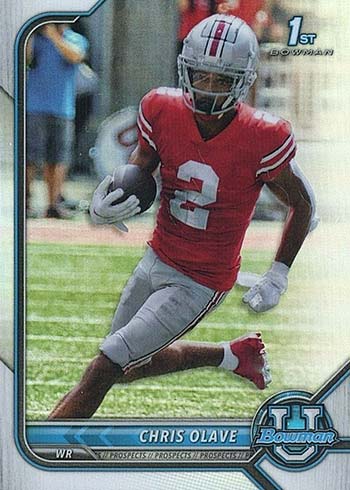 28 Bijan Robinson
Spencer Rattler is #28 in the base set.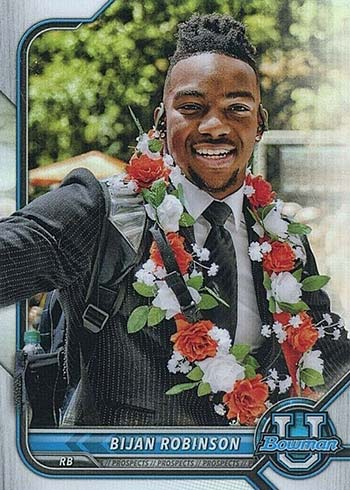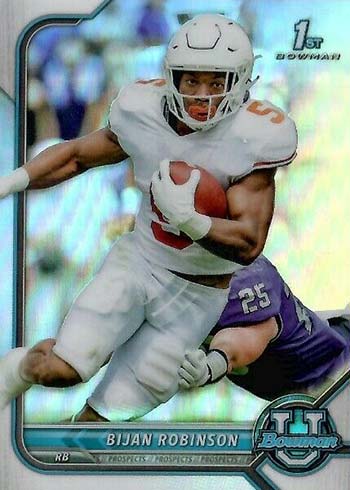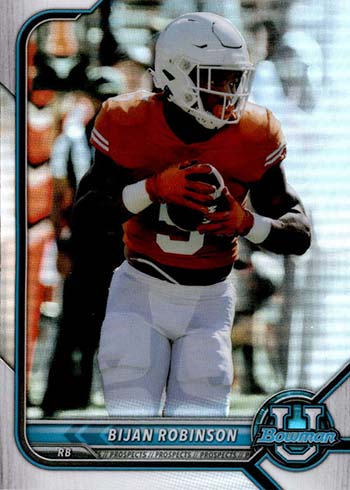 30 Spencer Rattler
Tyler Shough is #30 in the base set.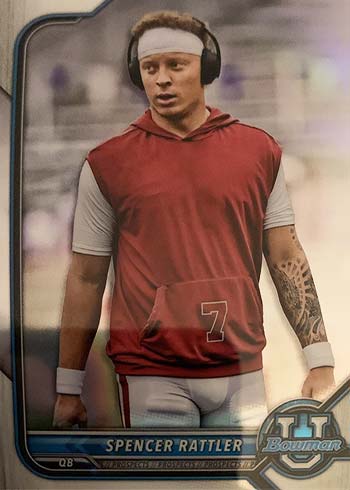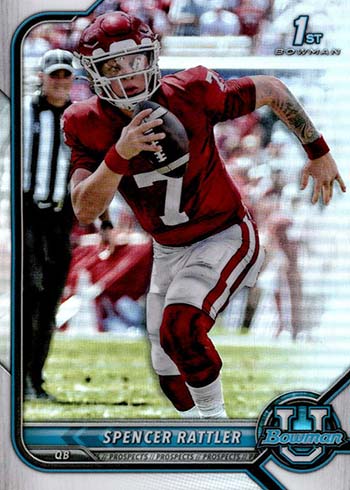 32 Sam Howell
Taulia Tagovailoa is #32 in the base set.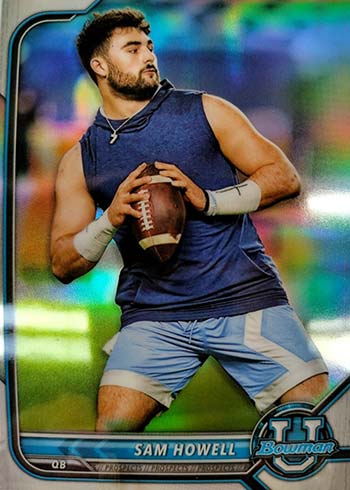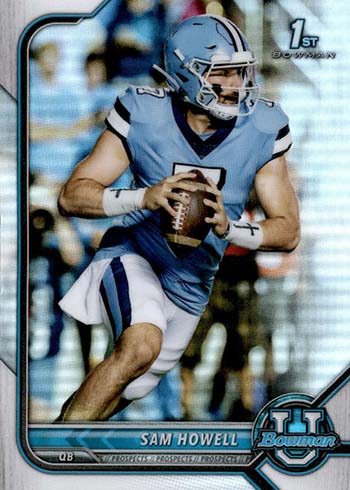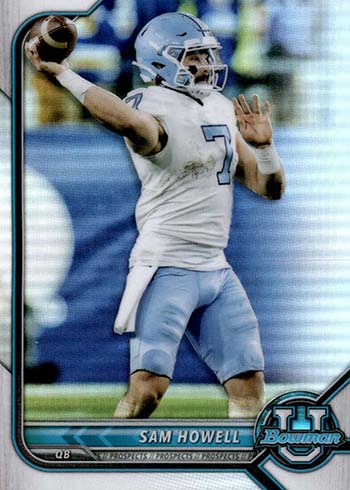 33 Malik Willis
Brandon Peters is #33 in the base set.